Ben Solo runs from the Jedi towards a dark salvation as the seeds are planted for his emergence as Kylo Ren in Charles Soule's The Rise of Kylo Ren #1.
Warning: This article contains plot points for The Rise of Kylo Ren #1.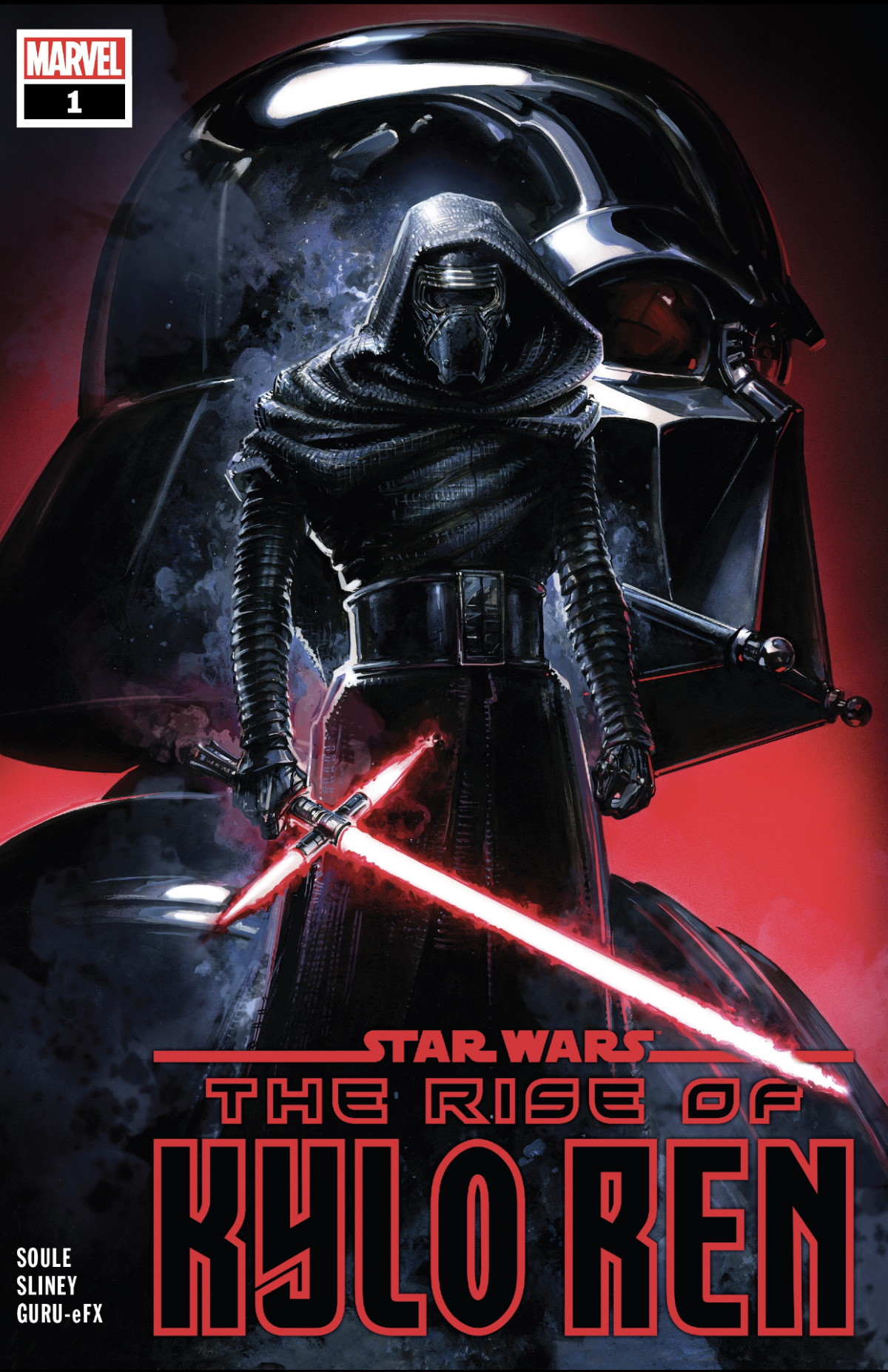 The Rise of Kylo Ren #1
Writer: Charles Soule | Artist: Will Sliney | Colorist: Guru-eFX | Letterer: VC's Travis Lanham | Cover Artist: Clayton Crain | Assistant Editor: Tom Groneman | Editor: Mark Paniccia
From The Force Awakens and The Last Jedi, Star Wars fans know that Kylo Ren is Ben Solo, the son of Rebellion heroes Leia Organa and Han Solo, and the nephew of the galaxy's last Jedi, Luke Skywalker. Star Wars fans also know that Luke senses a great darkness in Ben, and in a moment of weakness, he almost killed his nephew. From there, Ben destroyed Luke's fledgling Jedi Order and eventually became Kylo Ren, the right hand of Supreme Leader Snoke. But, what happened in between all of that? What caused Ben's fall in the first place? Charles Soule, with the aid of Will Sliney, seeks to answer that question in the new limited series: The Rise of Kylo Ren. In the first issue, readers learn a little of the Knights of Ren and Ben's escape from the Jedi and Soule provides some early clues as to Snoke's seduction of the most promising Jedi in the galaxy.
The Knights of Ren
The Rise of Kylo Ren #1 opens on a wintry world a long time ago. Two wanted criminals hide in a small ice cave and are approached by a shirtless, scarred man wearing a strange helmet that introduces himself as Ren, although that is not his name. Ren wants Karrst, one of the two huddling men, to join him and his companions, who have just slaughtered Sector Security forces hunting them down for a large number of murders. Ren tells Karrst that a "friend" told them about Karrst and how he can "touch the shadow." This makes Karrst a prime candidate to join them.
Ren explains "the Ren" to Karrst. It is a group dedicated to its ends, of which it never stops to contemplate. They devote themselves to the shadow's touch. Now, they want Karrst to do the same. In order to join their order, he must pay the price of a "good death": his brother, Filin. Karrst never gets the opportunity to pay the price, because Filin guns him down instead. There is one problem though, Filin can't touch the shadow, and Ren puts an end to him. This meeting of the Ren ends with them contemplating that although this didn't work out, "the master" will find someone else for them soon enough.
It seems obvious that the "Shadow" is another word for the Force or the dark side of the Force. The character that introduced himself as "Ren" uses a red lightsaber. The price of admission, a "good death," seems like a very dark side requirement. The question that remains is who is the Master of the Ren? Also, where did this sect of Force users come from? This is undoubtedly one of the larger mysteries of the series. It is also notable that in just a few pages, the reader learns more about the Knights of Ren than in all of the movies combined.

Consequences
Next, The Rise of Kylo Ren #1 turns to the aftermath of Kylo and Luke's confrontation. Kylo stands among the ruins of Luke Skywalker's Jedi Temple. Some of his fellow Jedi arrive, and they are in disbelief. They cannot sense Luke in the Force, or any of the other Jedi. To his credit, Ben doesn't deny what happened, although it is his version of events. He freely admits to the other Jedi that Luke is dead, even though readers know that isn't the case. Ben then gets very defensive. He openly boasts that he was stronger than Luke Skywalker. Then something odd happens, Ben tries to leave without violence. Viewers of the sequel trilogy are likely surprised by this. The Jedi won't let him leave though and they press the issue. Eventually, Ben disables one of them and leaves. That isn't the end of the story, and one Jedi, Voe, directs a pursuit of Ben in their ship. She demands that Ben be brought to justice. Eventually, Ben disables their vessel.
Twice. Twice Ben had the opportunity to destroy these Jedi, and twice he decided not to do it. He let them live both times after taking action to disable them. Keep in mind that Ben Solo eventually becomes known as the Jedislayer. However, despite Ben's comparatively non-violent means, the Jedi just keep coming. These aren't the Jedi of the Old Republic, and it is unlikely that Luke would have approved their tactics. Vengeance isn't the Jedi way after all. It is hard to fault them though. The Jedi revolve around Luke now, and they believe him dead and gone.
Eventually the Jedi collect themselves. They are forced to take a moment to reflect, and in that moment they realize they need to learn what happened before they bring in the rest of the Republic to pursue Ben. They know Ben as something other than as a murderer, and they must get to the truth. Interestingly enough, the truth at this moment is that Ben hasn't killed anyone. Although he brought the roof down on Luke, he didn't kill him. Luke cut himself off from the Force. It isn't also clear that he destroyed the Jedi temple. To Ben's horror, the temple exploded for as of yet determined cause.

Snoke
Ben next flees to Snoke. In The Rise of Kylo Ren #1, it is just Snoke, and not Supreme Leader Snoke. This Snoke isn't exactly the same person viewers met in the movies either. First, Snoke resides in a station that is dominated by organic material. Vines grow around the station's rings. Inside the station, Snoke is dressed similar to what many readers might interpret as a druid or cleric of some sort. He also embraces Ben and professes how pleased that Ben came to him. This is hardly the arrogant task master of Age of Resistance: Supreme Leader Snoke #1.
There are a few other things of note. First, Snoke bears the scars of some battle. Ben attributes them to something Luke did. Second, Snoke deflects some of Ben's anger and expresses quite a bit of sympathy and empathy for Ben's plight. This is very similar to Chancellor Palpatine's relationship with Anakin. These are some early clues as to how Snoke sunk his claws into Ben Solo.
Concluding Thoughts on The Rise of Kylo Ren #1
The Rise of Kylo Ren #1 springs from an unfortunate place of misunderstanding and regret that occurred in The Last Jedi when Luke was uncertain about what to do about the influence Snoke already exhibited over his nephew. In that moment of weakness, Luke thought to do something rash, but when that moment passed, the damage had already been done. Ben awoke from his slumber to find his uncle hovering over him, lightsaber drawn, and he feared for his life. He struck back at Luke out of fear for his own safety. It is hard to blame him.
Ben then took what seemed like the only option open to him. He fled to Snoke. The Rise of Kylo Ren #1 doesn't explain yet how those two met and forged a bond. Star Wars fans know from The Force Awakens that at least Leia blamed Snoke for Ben's fall. She knew that Snoke twisted Ben's heart. Her hope had been that Luke could save Ben from falling to the dark side. Unfortunately that didn't work.
Snoke seems to flatter Ben's ego. Ben carries a great deal of pride about his own abilities. In addition, Snoke compounds his flattery of Ben's ego with empathy and understanding. At least in The Rise of Kylo Ren #1, he welcomes Ben to his sanctuary without any judgment. He listens patiently to Ben and deflects any concern for himself with concern for Ben and his future. The trap was set and sprung.
Charles Soule has proven with Poe Dameron, Darth Vader, and Lando that he can consistently write great Star Wars stories. So far, The Rise of Kylo Ren seems to follow in that same vein of quality. There is plenty of intrigue to hook the reader and just enough detail to begin to answer the questions Star Wars fans have leftover from the movies. With The Rise of Skywalker fresh in theaters, this should be a popular read with Star Wars fans.
Dennis Keithly is a graduate of the University of Missouri, North Texas attorney, husband, father of two, and co-host of Starships, Sabers, and Scoundrels. In addition to Star Wars, Dennis is a fan of science fiction, fantasy, and super heroes in general. When not engaged in fictional universes, Dennis is reading a good book or watching the NHL, football, or studying the NFL draft.