Who will ultimately wield the Infinity Gems? The fate of the galaxy hangs in the balance in The Infinity Gauntlet #6.
This article contains plot details for The Infinity Gauntlet #6.
The Infinity Gauntlet #6
Writer: Jim Starlin | Pencils: Ron Lim | Inkers: Josef Rubinstein | Letters: Jack Morelli | Colorists: Max Scheele and Evelyn Stein | Editor: Craig Anderson | Chief: Tom DeFalco
Infinity Gauntlet #6 brings the "war" for control of the Infinity Gems to an unanticipated close. In the last issue, Nebula overcame her nearly undead existence to seize control of the Infinity Gauntlet from Thanos just as he was acclimating to control of all reality as the new "Eternity." Nebula enacted swift retribution against Thanos and banished him to the void of space. However, Dr. Strange and Adam Warlock rescued him for the fight against Nebula. Warlock reasoned with Thanos that it was Thanos himself that permitted his defeat because he didn't believe himself worthy of wielding its power. Thanos accepted Warlock's insight and agreed to confront Nebula. The Infinity Gauntlet #6 details this conflict and delivers the fate of the galaxy.
 The Distraction
Warlock, Thanos, Silver Surfer, and Dr. Strange arrive at Nebula's citadel in deep space. However, Nebula is incapable of seeing Warlock. Dr. Strange and Silver Surfer reason that is because Warlock is standing outside reality and inhabits a realm outside chaos and order. It is from here, that Warlock springs his trap. However, this explanation is unsatisfactory. In a series full of narration and exposition, this panel would have benefitted with some additional explanation. Regardless, it is sufficient to convey that Nebula, despite her cosmic awareness with the Infinity Gauntlet, doesn't realize Warlock is around.

Nebula Undoes Thanos's Damage
Fans of the Marvel Cinematic Universe might be surprised by Nebula's handling of the Infinity Gauntlet. The films portray Nebula as a character that gets things done through force and relentless behavior. Compassion hasn't been a major character trait for her. Things are different in The Infinity Gauntlet #6. Once Thanos is incapacitated, she declares that his reign was a blasphemy. With the careful caveat that she retains possession of the gauntlet, she declares everything will return to its state of being twenty-four hours ago.
Nebula's declaration goes into immediate effect. The heroes find themselves back on Earth. Those lives that Thanos snuffed out with a snap of his fingers are restored. The Earth is returned to its natural orbit. This issue proclaims that most will have no memory of what happened. Others will suffer under the knowledge of how helpless they were. To the relief of many Marvel fans, this also means that beloved heroes, such as Captain America, Iron Man, and Spider-Man, have been brought back to life.
The restoration of the galaxy would have been a fitting conclusion to this story, but there is much more to tell. Although she was careful about how she phrased her reversion of the galaxy, Nebula was just careless enough not to mention that she would remain in her current state. Therefore, she ended up as the same wretched zombie creature she was before. However, that mistake was rectified with a single thought from Nebula just as Thanos made a play for the gauntlet.
The temporary reversion of Nebula was largely unnecessary. Granted, these panels demonstrate that perhaps Nebula wasn't of the appropriate mind frame for handling the gauntlet. However, it reduced management of the Infinity Gems into proclaiming wishes to a genie. It also added an unnecessary page to this already long issue.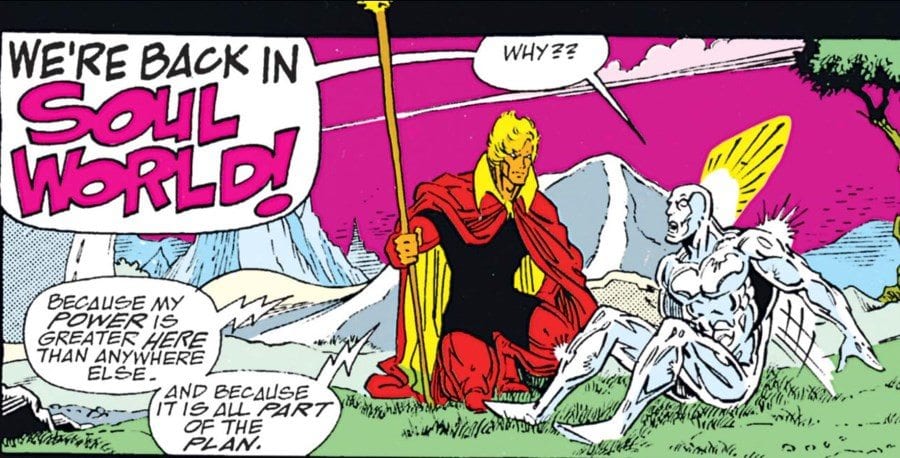 Warlock Makes His Play
With Nebula engrossed by the distraction Thanos provides, Warlock makes his move. He reaches for the gauntlet and disappears. The gauntlet lets out some sort of discharge which strikes Silver Surfer in the chest and causes him to collapse. Nebula misunderstands what happened and blames Dr. Strange. She punishes him by encasing his hands in some sort of crystalline substance.
Then Nebula's lack of forethought strikes again. The cosmic beings returned and confronted her. This issue, which is otherwise full of narration, could have used some more in the panels that followed. It is unclear whether the panel that follows is the cosmic beings launching their assault against Nebula, or whether it is Silver Surfer's perception. Regardless, the next panel is two-thirds of a page and depicts some sort of yellow and orange energy flowing out of the center of the panel. Or is it into the panel? It is hard to say.
Either way, Silver Surfer comes to and finds himself in the Soul Gem with Adam Warlock. From, there he plans on launching his attack. Warlock professes to have planned and anticipated all this unfolding. It seems like a bold claim. He claims the cosmic beings current attack is planned and meant as a distraction. Thanos then narrates the aftermath and explains how this wouldn't have worked on him, but Nebula doesn't think on a multiplane level.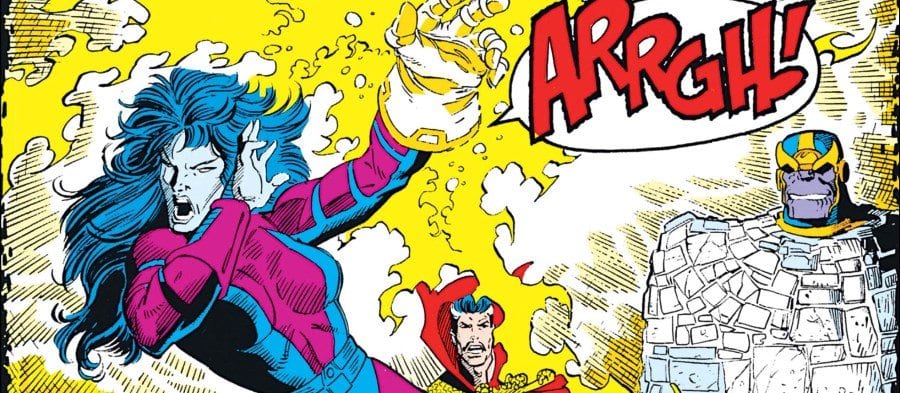 Warlock's Plan
From the Soul Gem, Warlock has entered "Soul World." From there, his power is at its height. He brought Silver Surfer with him to create a spiritual anchor. Surfer observes how detached Warlock is from all things, and in response, Warlock explains his emotional nerves were cauterized, and that it was necessary because the universe needs saving. Apparently, he is just the man to do it. Inside Soul World, Warlock's form fills to inhabit the Soul Gem, and he uses its connection to the other gems to seize control of the Infinity Gauntlet from Nebula just as she proclaims her omnipotence.
As Adam makes his attack on the gauntlet, Thanos and Dr. Strange free themselves from her binds. Dr. Strange then opens a portal for Thor, Drax, the Hulk and Starfox. This is a little distracting because earlier in the issue, the four of them were all teleported to different locations when Nebula restored the galaxy to its prior state. It is a nitpick, but this seems like a rushed portion of the narrative. There is no explanation how they reunited, nor was there any hint that was in the works. As they attack Nebula, she loses control of the gauntlet. Before anyone can claim it, Warlock emerges and seizes it for himself.
A New Supreme Being
With the Infinity Gauntlet at his disposal, Warlock takes control of the situation. First, he frees the cosmic beings. One of the other heroes, and it is difficult to tell which, addresses him as a "new supreme being." Warlock doesn't dispute this accolade, and instead states he will deal with all matters in his own fashion. Both Thanos and Warlock protest his possession of the gauntlet, but Warlock responds that his right to the power it holds is secured by his possession. Furthermore, he issues a threat: seek not to dispute his claim.
Warlock promises to use the power of the gauntlet wisely. He also christens Silver Surfer, Thor, and Doctor Strange as his de facto disciples. The new supreme being believes they know his soul from gazing into the depth of his heart. Therefore, they know he is a "god who can be trusted." None of them are satisfied. Silver Surfer points out that they knew him before he became all powerful. Dr. Strange adds that this amount of power is certain to corrupt. Warlock retorts that their option was a cosmic despot, and before Thanos game to power, they in fact lived under tyranny. Warlock claims the difference is now that he brings order instead of letting chaos reign supreme.
There is an attempt to garner sympathy for Warlock in The Infinity Gauntlet #6. It is arguable whether it succeeds. Warlock has the weight of the universe and all of reality on his shoulders. He claims some responsibility but offers no explanation why he must carry out this role or why he is the only one capable of doing so. In addition, there is no explanation why this power can't be put out of the reach of anyone. These obvious doubts may be what troubled Dr. Strange, Silver Surfer, and Thor so much. And who can blame them? Warlock casually sacrificed heroes and cosmic gods to Thanos and Nebula without ever actually explaining his plan to assume control. And now, Warlock would have everyone take his word that he can be trusted, and he will do what is right. Warlock is simply arrogant.
The Fate of Thanos and Nebula
The Infinity Gauntlet #6 wraps up most of the major story lines for the series. Starfox claims custody of Nebula in the name of the Sovereign State of Titan. He claims that Titan shall judge and imprison her. Warlock agrees and sends them on their way. As a side note, one must wonder exactly they will charge her with and put her on trial for. She came into possession of the Infinity Gauntlet and undid the chaos Thanos created. Then she was attacked by the cosmic beings. When attacked, she defended herself. Granted, such details matter little on such an epic scale, but Nebula might have a compelling case with the right intergalactic attorney.
Thanos takes Warlock's victory poorly to say the least. Unwilling to live in imprisonment, a thermonuclear device on his belt. Before the device detonates, Thor hurls him into deep space with Mjolnir. After the device exploded, the assembled heroes presume Thanos dead. However, that is not the case.
After dismissing the heroes, Warlock finds Thanos on a distant world. In the end, Thanos is left to contemplate all he has learned. He comes to terms with the fact that Warlock now bears a burden that he isn't sure he wants anymore. Thanos seems content to live his life eking out a living from the soil. However, anyone familiar with Thanos knows this resolution doesn't last too long.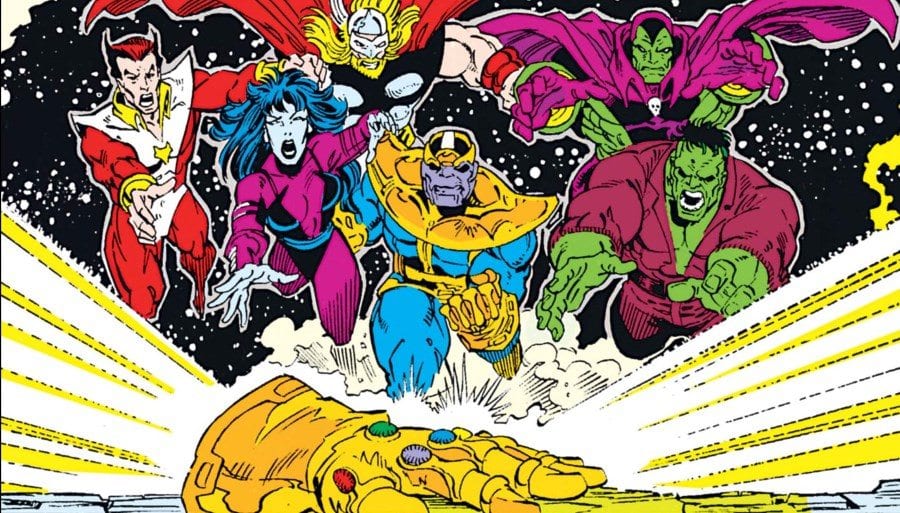 Concluding Thoughts on The Infinity Gauntlet #6 and The Series
The Infinity Gauntlet series is largely a story about Thanos and Warlock. They are the primary players in this drama. Although Captain America, Hulk, Spider-Man, Iron Man, and some of the other biggest faces in Marvel are included in this story, they are just pawns in the cosmic struggle between greater beings. In fact, other than Dr. Strange, this story doesn't require or really need any of the heroes the average comic book fan is familiar with. Warlock could have rounded up another team from some other world and still accomplished his victory over Thanos. Alas, the likes of the Avengers and the X-men were included to capture the attention of the average fan.
The Infinity Gauntlet contained elements of both the epic myth and the hero's journey. Thanos claims Warlock desired nothing more than to spend his time in the confines of Soul World, but now he has the responsibility of the galaxy thrust upon him. Perhaps Warlock is entitled to some sympathy for answering the call however reluctantly that answer was. Thanos's struggle against the galaxy, the resistance he encountered, and his downfall certainly contain poetic elements. Of course, this series featured the rise and fall of Gods and the titanic struggle of mortals against supreme beings.
This series is frequently cited as a masterpiece of storytelling in comics. Beauty is indeed in the eyes of the beholder. It has inspired scores of stories since its release. However, much of the appeal of this series is in the promise that the heroes of the Marvel galaxy team up to take down the galaxy's biggest villain. In that regard, the story doesn't deliver on its promise. The heroes are there, and they do team up. But, they are ancillary to core plot of this series. This story is about a titanic struggle between Thanos and Warlock.
Overall, The Infinity Gauntlet #6 concludes an intriguing story. There are a few dropped storylines throughout. For instance, the Kree and the Skrull were set for war, but the outcome of that conflict was never addressed. Readers expecting an event with the Avengers and their allies at their core may be disappointed. Anyone wanting to know more about Thanos ahead of Avengers: Infinity War, on the other hand, will learn plenty of useful information.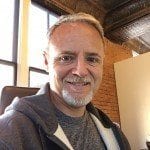 Dennis Keithly is a graduate of the University of Missouri, North Texas attorney, husband, father of two, and co-host of Starships, Sabers, and Scoundrels. In addition to Star Wars, Dennis is a fan of science fiction, fantasy, and super heroes in general. When not engaged in fictional universes, Dennis is reading a good book or watching the NHL, football, or studying the NFL draft.