Thanos wins it all and loses it all in The Infinity Gauntlet #5.
This article contains plot details for The Infinity Gauntlet #5.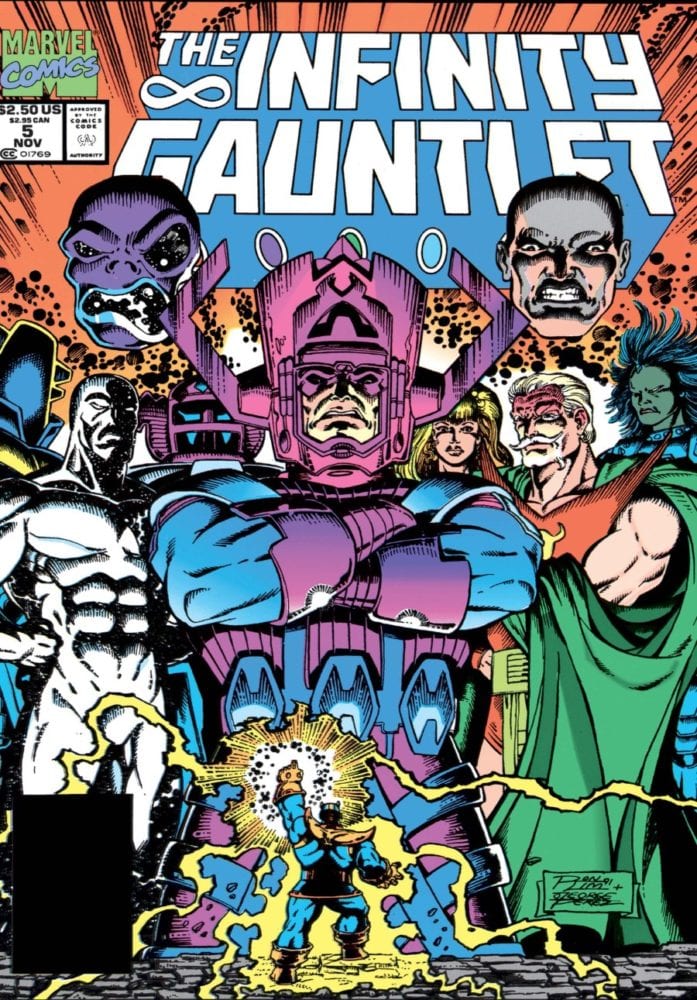 The Infinity Gauntlet #5
Writer: Jim Starlin | Pencils: George Perez | Inkers: Josef Rubinstein | Letters: Jack Morelli | Colorists: Max Scheele | Editor: Craig Anderson | Chief: Tom DeFalco
The Infinity Gauntlet #5 is the penultimate issue of the series. Earth's heroes failed in their mission to defeat Thanos. Now, a fully powered Thanos prepares for battle against the cosmic forces of the galaxy that have aligned against him. Their combined might, and reality, itself cannot defeat him. Yet, Thanos's quest comes to a screeching halt in The Infinity Gauntlet #5.
Battle of the Cosmic Forces
The issue commences with the battle between Thanos and the cosmic champions of the universe. Chaos, Order, Galactus, Celestials, and others each take their shots at the Mad Titan. Every one of them fails. At the end of their battle, all of Thanos's challengers are now his prisoners. Then Eternity itself arrives and confronts the assault on his control of the universe. Thanos ultimately wins and takes Eternity's place.
Was the battle epic? Yes, in scope. Visually epic? Not really. Much of the action and conflict is portrayed as swirling colors and flashes of light. The battle presents a storytelling issue: how exactly would an artist portray a clash of such grand cosmic significance? The answer is that such a conflict is probably beyond the human mind to comprehend. Other artists have attempted such portrayals in the past. For example, take the painting Archangel Michael fights Archangel Lucifer by Lorenzo Lotto from 1550. Archangels are beings of unfathomable power. Witnessing the conflict between such beings is likely human interpretation. It likely wouldn't include swords and a physical slugfest. Yet, Lotto portrayed this conflict almost as a battle between brothers.
For another example, take The Fall of Rebel Angels, by Pieter Bruegel, as another example. That too was an epic conflict between heaven and hell, but an actual battle between those forces is something humans likely couldn't comprehend. Bruegel used a metaphor that both he and the intended audience could interpret and understand. The result is a portrait of a conflict between beautiful heavenly creatures armed with swords on one side and monsters on another.
Therefore, Perez's portrayal of the battle through bright, flashy colors, swirling lines depicting energy and force, and super explosions is likely the best representation of such a battle that would make sense to a reader. Indeed, Dr. Strange tried to look upon this battle and was horrified by what he saw. Regardless, the entire conflict carries an epic scope replete with betrayals and reversing fortunes that culminates in Thanos's ultimate victory.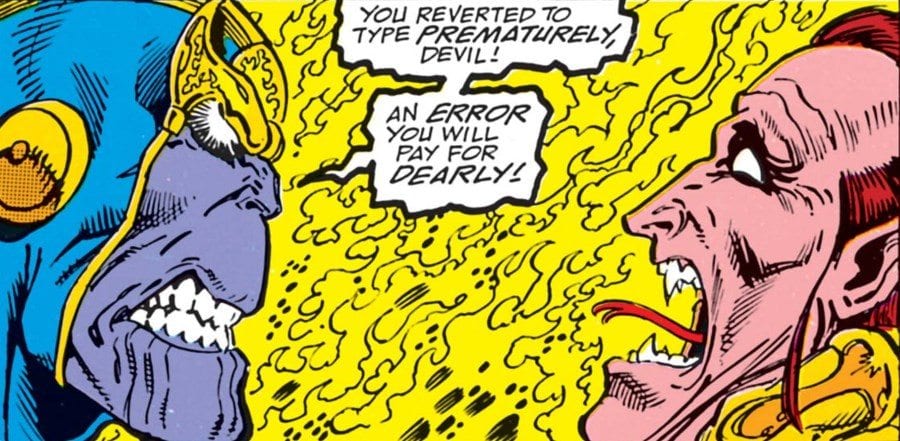 The Betrayals
In the middle of the battle, Thanos has the entities of Love and Hate defeated when he is suddenly engulfed in flames. Mephisto finally turned on Thanos. The betrayal is hardly a surprise. Mephisto's decision to counsel and aide Thanos has been an ongoing mystery. It was patently clear that Mephisto had an ulterior motive, and Eros commented upon it as recently as issue #4 of this series. Then, Eros pondered why Mephisto counseled Thanos to give the heroes a fighting chance. Despite this, Mephisto's motivations are a little unclear. Perhaps he wanted the Infinity Gauntlet for himself. Or, maybe his motive was to save the galaxy, which was on the verge of utter destruction brought on by Thanos's mad whims and the resulting conflict. Given that it is Mephisto, his actions were most likely borne out of self-interest.
Mephisto wasn't the only one to turn on Thanos. Just as Thanos prepared to destroy Mephisto, Mistress Death intervened. Thanos was crestfallen. The pain was evident on his face. After all, it was Mistress Death that revived Thanos in the first place and bestowed upon him the quest to eliminate half the life in the universe that started this entire epic. However, Thanos embraced her quest in the belief that he could win her affections, which simply wasn't possible. He misread her reactions to his antics as a desire for bigger and bolder tributes and displays of affection. Only at this moment did it occur to Thanos that he would never win her heart. With that realization came new focus. He then declared himself to be divinity, and such emotions were only a burden.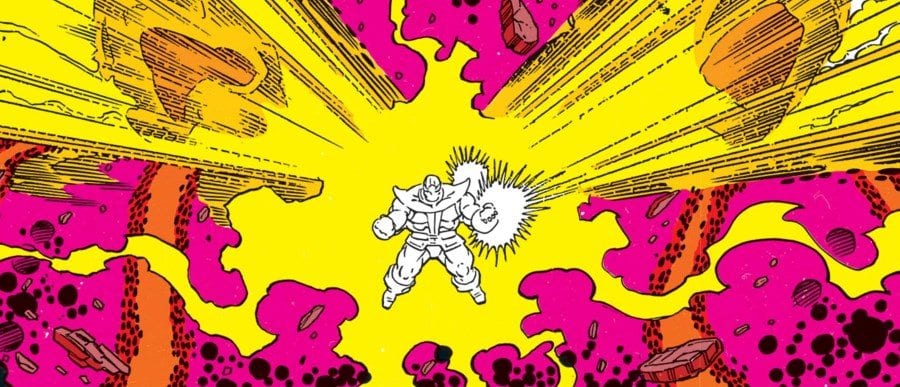 Thanos's Weakness – Unworthiness
In The Infinity Gauntlet #2, Vision counseled She-Hulk that the Avengers stood very little chance of defeating Thanos. In fact, when they defeated Thanos in the past, Vision concluded it was because Thanos desired defeat from within, even if the didn't realize it or would admit it. This observation by Vision was foreshadowing future events.
Thanos's battle against the various cosmic champions resulted in his taking the mantle of "Eternity" and control of reality. In his arrogance, he proclaimed his body as something "no longer needed." Everyone was in awe of his transformation. Everyone, but one person: Nebula. On the cusp of death and fueled by hatred shambled over to Thanos's body and seized the Infinity Gauntlet.
Removed from the source of his power, Thanos was stripped of his self-proclaimed divinity, and the power of the gauntlet was in Nebula's hands. Later, after Adam Warlock and Dr. Strange rescue Thanos from floating through the void of space, Warlock confronts the Mad Titan with a truth to acquire his assistance fighting Nebula. From his time in the soul gem, Warlock learned that Thanos believes himself unworthy of such power. Three times Thanos overcame incredible odds "to gain the ends [he] desired," and three times he subconsciously provided the means of his defeat.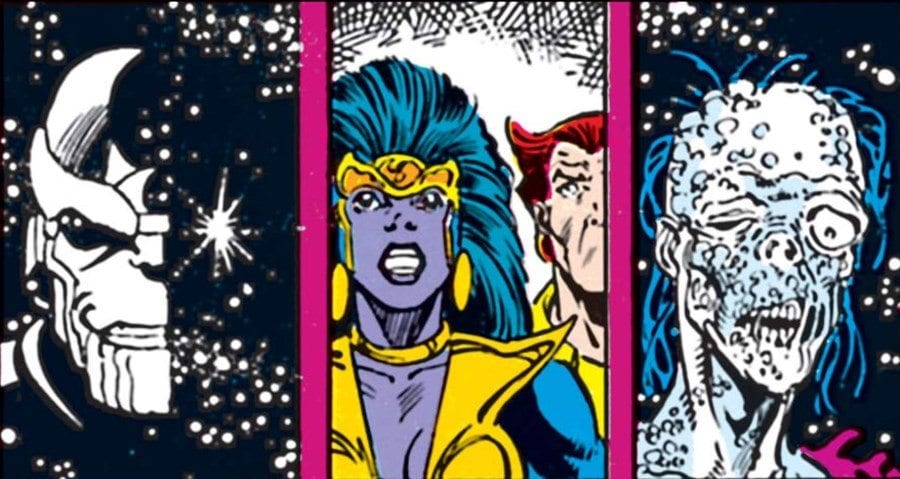 The New Threat
With Thanos defeated, the galaxy now faces a new threat. The Infinity Gauntlet rests in the hands of an unstable woman incapable of handling it. Her mind was not prepared and the sudden omnipotence will likely crush her mind. Therefore, Warlock assembles yet another team to fight her. This team consists of himself, Dr. Strange, and Silver Surfer.
Thanos is plucked from the void of space. He and Terraxia were sent there by Nebula. Unfortunately, Thanos didn't think to protect Terraxia from the void when he created her, and she died from the lack of oxygen. With the core of his team in place, Doctor Strange retrieves some of the heroes Thanos previously defeated.
Hulk and Drax are returned from the prehistoric era. Thor, despite having been turned to glass and shattered, also returns. Doctor Doom and Starlord also emerge from Dr. Strange's portal. Warlock has Dr. Strange send this collection of heroes to fight Nebula. He agrees with Thanos that they haven't one chance in a million of success and they know it. However, given that Warlock was less than forthcoming in the prior issue on their chances, one wonders if they truly do. Regardless, Warlock and Thanos also agree that they have a one in a million chance of success.
Nebula – The Confrontation
The heroes arrive as Nebula is settling into her new power. Despite attacking her in mass, Nebuala easily defeats them and imprisons them in stone. She senses three beings prepared to confront her. Then a portal opens and Dr. Strange, Warlock, Thanos, and Silver Surfer emerge. For some reason, Nebula only addresses "two little friends." Obviously, she sees Thanos because she addresses him directly. It is unclear precisely who she isn't including in her count of allies.

Final Thoughts on The Infinity Gauntlet #5
Considering how huge a villain Thanos is in the Marvel universe, it is a little surprisng he was defeated in the penultimate issue of The Infinity Gauntlet. In addition, the manner in which he met his downfall was an interesting twist. Starlin hinted at something to come with Nebula in the earlier issues. As noted earlier, Vision planted the seeds for Thanos leaving himself vulnerable for defeat in issue two. Plus, in The Infinity Gauntlet #4, Starfox/Eros made a point of mentioning Nebula and the pitiful state she was in. Given her deplorable condition, it was a miracle she could even grab the gauntlet at all.
The Infinity Gauntlet #5 shifts the tone of the story overall. After the conclusion of the battle between Thanos and the cosmic entities, the story becomes less of an epic myth, and resembles a more traditional comic book fare. In a matter of moments, Thanos went from the role of villain to ally of the heroes. While Thanos isn't a hero, and is largely acting out of self-interest, such side swapping is commonplace in comic books.
The conclusion to this story is next in The Infinity Gauntlet #6. Warlock has brought the confrontation to this. He and his allies must divest Nebula of the gauntlet, and the Infinity Gems need to be put out of the reach of not only the mortals, but the other cosmic entities that might seek to take advantage of their power. This is where the epic myth can resume. They have a one in a million chance. The fate of the galaxy rests on their shoulders.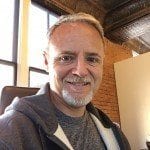 Dennis Keithly is a graduate of the University of Missouri, North Texas attorney, husband, father of two, and co-host of Starships, Sabers, and Scoundrels. In addition to Star Wars, Dennis is a fan of science fiction, fantasy, and super heroes in general. When not engaged in fictional universes, Dennis is reading a good book or watching the NHL, football, or studying the NFL draft.