Time to get back to business with yet another oversized ReFlicktions episode with just about every movie we've seen this past month.
It's been a while since The Deucecast Movie Show crew — Mikey, Dave, and #TwitterlessDrEarl round up all of the films seen in the last four or five weeks and get ready to spill the beans on their reviews.
Dave lists his 23 films, Dr Earl gives his five or six, while Mikey presents another list of around 78 movies (some of which he never even mentions… just too much…)
Movies discussed include:
Another Round (Hulu)

Atlantis: The Lost Empire (Disney+)

Begin Again (TubiTV)

The Black Cauldron (Disney+)

Back in Time (Hulu; Peacock)

Bill & Ted Face the Music (EPIX)

Borat Subsequent Movie Film (Hulu)

Boss Level (Hulu)

The Buddy Games (Hulu)

Chaos Walking (theater)

Cherry (AppleTV+)

The Color Purple (Hulu)

Coming 2 America (Amazon Prime)

Concrete Cowboy (Netflix)

Cop Out (Netflix)

Zack Snyder's Dawn of the Dead (AMC classics)

The Dig (Netflix)

Enemy (Showtime)

Extract (Amazon Prime)

The Father (for rental)

Force of Nature (Amazon Prime)

Ghostheads (Amazon Prime)

Hurricane Heist (Netflix)

The Godfather Coda: The Death of Michael Corleone (Showtime)

Godzilla vs Kong (HBO Max; In theaters)

Greenland (rental)

Ice Age: Collision Course (Disney+)

Ice Age: Continental Drift (HBO Max)

Ice Age Dawn of the Dinosaurs (Hulu)

I Am Not Your Negro (Netflix/Amazon Prime/Hulu)

Inside Lehman Brothers (Prime)

Kid 90 (Hulu)

The Kings Speech (HBO Max)

The Last Blockbuster (Netflix)

Lincoln (HBO Max)

Live by Night (HBO Max)

Made You Look (Netflix)

Minari (for rental; theaters)

Money Plane (Hulu)

Moxie (Netflix)

Nomadland (Hulu)

No Safe Spaces (Amazon Prime)

Operation Varsity Blues (Netflix)

The Orange Years: Nickelodeon Story (Hulu)

Over the Moon (Netflix)

Peninsula (Hoopla)

Peppermint (Netflix)

Promising Young Woman (for rental)

Sh*thouse (Showtime)

Stallone… Frank, That Is (Amazon Prime)

The SpongeBob Movie: Sponge on the Run (Paramount+)

Social Animals (Amazon Prime)

Sundown: The Vampire in Retreat (Amazon Prime)

Synchronic (Hoopla)

Tom & Jerry (HBO Max)

Tracks (TubiTV )

Undefeated (Netflix)

United States vs Billie Holiday (Hulu)

A Vigilante (Amazon Prime)

Warhorse (Netflix)

WeWork (Hulu)

Wine Country (Netflix)

Wolf Warrior (Amazon Prime)

Wolf Warrior 2: Wolf Harder (Hulu)

Yes Day (Netflix)
---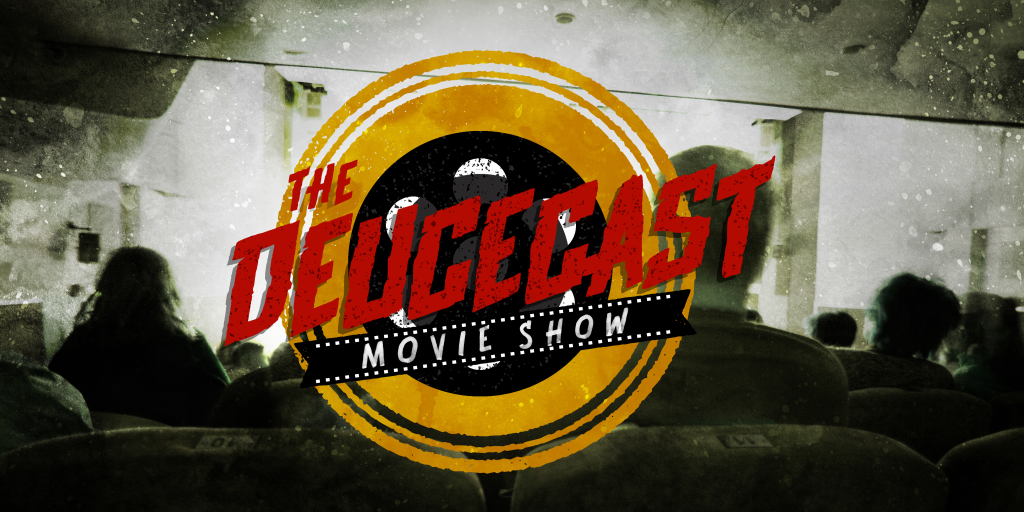 The Deucecast Movie Show is a podcast done by movie fans for movie fans of all kinds. Hosts Mikey, Dave, and featured friend of the show #TwitterlessDrEarl, along with a rotating cast of fun guests, discuss all sorts of movies–from new to old, fantastic to craptastic and everything in between.  Expect themed episodes, feature lists, favorite movies, and tournaments pitting movie against movie or actor against act because we love a good bracket. Play along with movie games like "Denzel" or "The Ryan Philippe Game," then participate in voting in the annual Deucie Awards and yell at us when someone defends a Damon Wayans movie as "nearly the perfect film." If you love movies, then you'll love The Deucecast Movie Show! We love to interact with our listeners so please subscribe to the podcast and send us an email, tweets, and comments as you listen at your leisure. The more the merrier, so thanks for tuning in!