As we get one step closer to the Academy Awards we discuss some more recent movies on back to back ReFlicktions.
The conclusion to the mondo giganto big huge ReFlicktions episode from last week, this time starting in 1990, hitting 2000 quickly, and then moving onto 2020 and 2021 movies.
It's Mikey and Dave for the whole shebang, as #TwitterlessDrEarl is in for the first half and then has to go perform an emergency appendectomy.
And here are ALL the movies reviewed in this episode…
Metropolitan (1990) HBO Max; Showtime
Schindler's List (1993) Peacock
Psycho Beach Party (2000) for rental
Spirited Away (2001) HBO Max
Master & Commander (2003) Amazon Prime
Sunshine (2007) Hulu
Martha Marcy May Marlene (2011) HBO Max
The Benchwarmers (2006) Starz
Idiocracy (2006) HBO Max
Playing for Keeps (2012) Netflix
A Simple Favor (2018) for rental
The Bridge (doc) (2006) for rental
Client 9 (doc) (2010) Amazon Prime; TubiTV
The Flaw (doc) (2011) Amazon Prime
Nomadland (2020) Hulu
The Land (2021) in theaters
Out of the Clear Blue Sky (2012) for rental
Wolfwalkers (2020) Apple TV+
Bring It On: All or Nothing (2006) Starz
The Tooth Fairy (2010) Disney+
One Night in Miami (2020) Hulu
Possesser (2020) Hulu
Lost Soul: The Doomed Journey of Richard Stanley's Island of Dr Moreau (2014) Amazon Prime
Voyeur (doc) (2017) Netflix
You Belong to Me: Sex Race Murder in the South (doc) (2015) Amazon Prime
The Tax Collector (2020) Hulu
Run.Hide.Fight (2020) Daily Wire
Tread (doc) (2019) Netflix
The Orange Years: Nickelodeon (2018) for rental
The Witches (2020) HBO Max
Overcomer (2019) Starz
The Turkey Bowl (2019) Amazon Prime; Hulu
The Rhythm Section (2020) Hulu; Amazon Prime
The Nest (2020) for rental
First Cow (2020) Showtime
The Silencing (2020) Amazon Prime
Judas & the Black Messiah (2020) HBO Max
The Binge (2020) Hulu
Friendsgiving (2020) Netflix
12 Hour Shift (2020) Hulu
In & Of Itself (doc) (2020) Hulu
Pieces of a Woman (2020) Netflix
Da Five Bloods (2020) Netflix
The King of Staten Island (2020) HBO Max
I'm Your Woman (2020) Amazon Prime
Superintelligence (2020) HBO Max
Sonic the Hedgehog (2020) Hulu; Amazon; EPIX
I'm Thinking of Ending Things (2020) Netflix
The Croods: A New Age (2020) for rental
You're Next (2011) Hulu; Amazon Prime; EPIX
Locked Down (2020) HBO Max
Irresistible (2021) HBO Max
Outside the Wire (2020) Netflix
Crip Camp (doc) (2020) Netflix
Dick Johnson is Dead (doc) (2020) Netflix
The Marksman (2021) in theaters
The White Tiger (2021) Netflix
The Little Things (2020) for rental
The Dig (2021) Netflix
The Map of Tiny Perfect Things (2021) Amazon Prime
Palmer (2021) AppleTV+
Boys State (doc) (2020) AppleTV+
Bliss (2021) Amazon Prime
I Care a Lot (2020) Netflix
Malcolm & Marie (2021) Netflix
---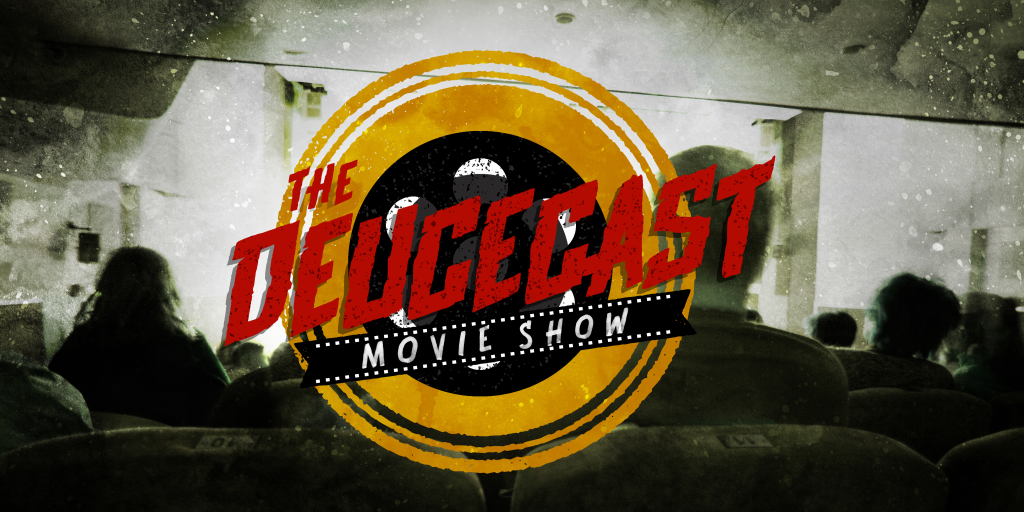 The Deucecast Movie Show is a podcast done by movie fans for movie fans of all kinds. Hosts Mikey, Dave, and featured friend of the show #TwitterlessDrEarl, along with a rotating cast of fun guests, discuss all sorts of movies–from new to old, fantastic to craptastic and everything in between.  Expect themed episodes, feature lists, favorite movies, and tournaments pitting movie against movie or actor against act because we love a good bracket. Play along with movie games like "Denzel" or "The Ryan Philippe Game," then participate in voting in the annual Deucie Awards and yell at us when someone defends a Damon Wayans movie as "nearly the perfect film." If you love movies, then you'll love The Deucecast Movie Show! We love to interact with our listeners so please subscribe to the podcast and send us an email, tweets, and comments as you listen at your leisure. The more the merrier, so thanks for tuning in!