The 2020 retrospective episodes continue with a discussion of the movies that were older that we watched for the first time.
The review of 2020 films and pop culture continues, as it's time for the first of a couple of Top Ten Lists. In this one, Mikey, Dave, and #TwitterlessDrEarl talk about the films that were NOT from 2020, but from all years previous.
It's the Top 10 of NOT 2020, ranking the best films seen that didn't come out in the last 12 months. And to add to the group, The Offspring of the Pride of Stone Mountain South Georgia, Lil G, Garrison Ryfun joins the show to take his rightful place as #DrEarl's Pretentawan Learner.
Several foreign films make the list as the guys get bougee… lots of old films on the list, as the crew pretends to be important… and of course, everyone cuts Footloose.  A little Korean cinema talk… some Lily James news… Armie Hammer did what?… Mikey's Studio Ghibli kick… Lil G's fave zombie movie… Dave's obsession with a dead reporter… #DrEarl's Buckley love…
Films discussed and where they are streaming:
Anatomy of a Murder (1959) (rental)
The Ascent (1977) (Criterion; rental)
Bad Education (2019) (HBO Max)
Blow the Man Down (2019) (Amazon Prime)
Christine (2016) (Netflix) (this is the film referenced in "Kate Plays Christine")
Downhill (2020) (HBO Max)
Everything Beautiful is Far Away (2017) (Amazon Prime)
Footloose (2011) (Amazon Prime; Hulu; Epix)
Force Majeure (2014) (Hulu)
The French Connection (1971) (Starz)
The Help (2012) (Netflix)
The In-Laws (1979) (Hoopla; rental)
The Invisible Guest (2016) (Netflix)
Jodorowsky's Dune (rental)
Just Mercy (2019) (HBO Max)
Kate Plays Christine (2016) (rental)
Knife in the Water (1962) (HBO Max)
The Lonely Guy (1984) (rental)
The Man Who Would Be King (1975) (HBO Max)
Memories of Murder (2003) (rental)
Motherless Brooklyn (2019) (HBO Max)
My Man Godfrey (1938) (Amazon Prime; TubiTV)
Nausicaa of the Valley of the Wind (1984) (HBO Max)
Paddington (2014) (DirecTV; TNT/TBS)
The Perfect Storm (2000) (rental)
Polytechnique (2009) (Amazon Prime; TubiTV)
Prospect (2018) (Netflix)
Ready or Not (2019) (Cinemax; rental)
Rebecca (1940) (unavailable for streaming)
Scott Pilgrim vs the World (2010) (Netflix)
Sideways (2004) (Starz)
The Spanish Prisoner (1998) (rental)
Sweet Smell of Success (1957) (rental)
Tell Me Who I Am (2019) (Netflix)
Three Identical Strangers (2018) (Hulu)
Train to Busan (Amazon Prime)
Wild Rose (2019) (Hulu)
Your Name. (2016) (rental)
---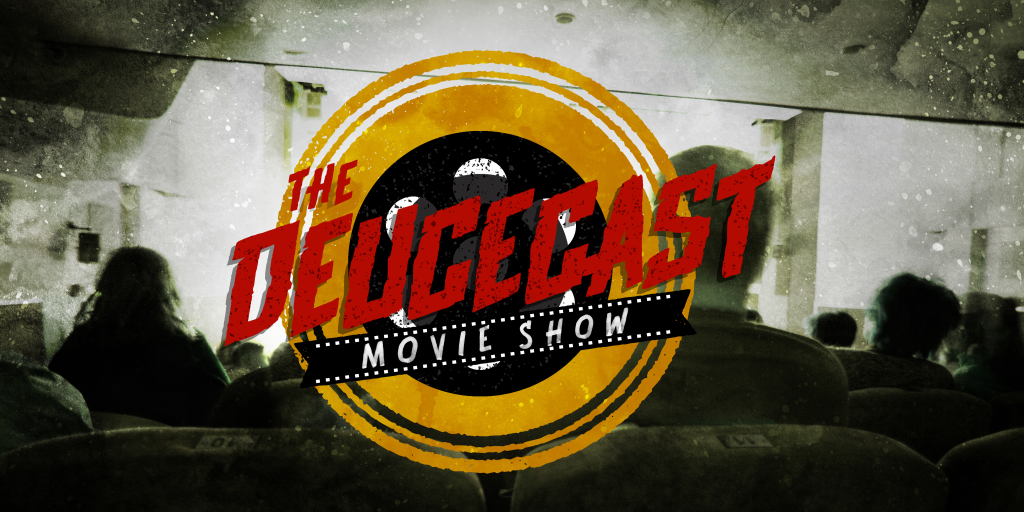 The Deucecast Movie Show is a podcast done by movie fans for movie fans of all kinds. Hosts Mikey, Dave, and featured friend of the show #TwitterlessDrEarl, along with a rotating cast of fun guests, discuss all sorts of movies–from new to old, fantastic to craptastic and everything in between.  Expect themed episodes, feature lists, favorite movies, and tournaments pitting movie against movie or actor against act because we love a good bracket. Play along with movie games like "Denzel" or "The Ryan Philippe Game," then participate in voting in the annual Deucie Awards and yell at us when someone defends a Damon Wayans movie as "nearly the perfect film." If you love movies, then you'll love The Deucecast Movie Show! We love to interact with our listeners so please subscribe to the podcast and send us an email, tweets, and comments as you listen at your leisure. The more the merrier, so thanks for tuning in!