There are movies that come on as you're searching through the guide that you'll watch whatever part they are on.
The Deucecast Movie Show loves its classic films and masterpiece films and favorite films… but there are also those particular movies that no matter how good or bad they are, the channel isn't getting turned at all once its on.  And Mikey, Dave, and #TwitterlessDrEarl have just such a Top Five.
First up, the co-host of the Sandcrawler Podcast, Michael "Shine Sweet Freedom" "Keep Forgettin" "Takin' It to the Streets" MacDonald, aka Mac, joins the show for a great discussion about Star Wars Collectibles — how to price, how to seek, the "white whale" of the collectors arena — and then presenting his latest find (it's a dandy).  Mac is making his first appearance in two years, having joined the show in Ep 333, "Canadian Bacon"
Then a new game where the words in the titles add up (and where Dave fails miserably), then a top five on movies that we just can't stop watching when they are on.  When you flip channels, see the movie, and you go there… and no matter where you are at what point in the movie, you keep it there to watch part if not the rest of the film. Some blockbusters, some personal faves, some old classics, and some modern day hits.
Movies Discussed (and where to find them at current record time)
Alien (HBO Max)
Best in Show (rental)
The Big Lebowski (Starz)
The Bodyguard (Amazon Prime)
Bright Lights, Big City (HBO Max)
Caddyshack (Fubo; Sling)
Cannonball Run (not streaming)
Diehard 2: Die Harder (HBO Max)
A Few Good Men (Fubo; DirecTV)
Glory (rental)
Grown-Ups (Amazon Prime; Hulu)
The Highlander (Amazon Prime)
Jaws (HBO Max)
Lawrence of Arabia (Watch TCM)
The Magnificent Seven (2016) (DirecTV; USA)
Mallrats (rental)
Marvel's The Avengers (Amazon Prime; Disney+)
Men with Brooms (Amazon Prime; Hulu)
Ocean's Eleven (rental)
The Secret of My Success (HBO Max)
Tombstone (rental)
---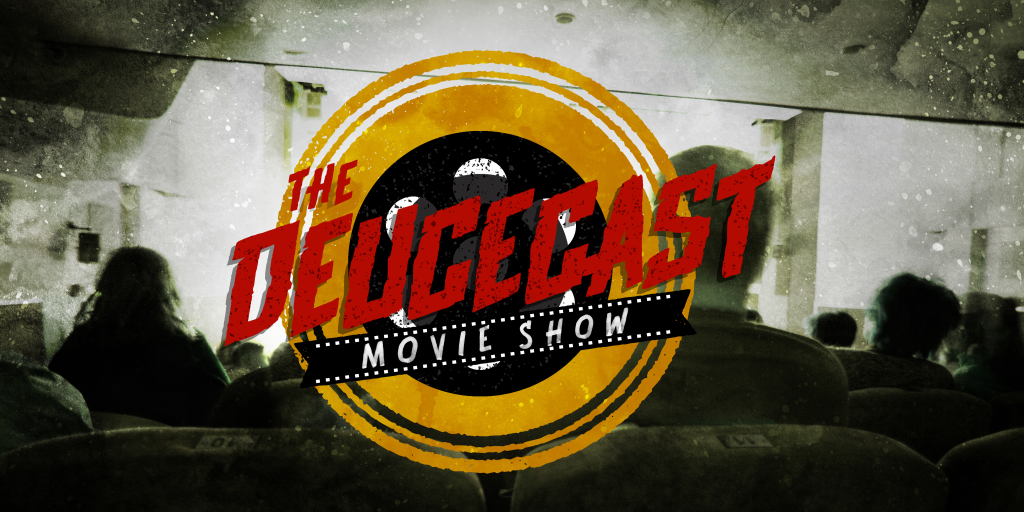 The Deucecast Movie Show is a podcast done by movie fans for movie fans of all kinds. Hosts Mikey, Dave, and featured friend of the show #TwitterlessDrEarl, along with a rotating cast of fun guests, discuss all sorts of movies–from new to old, fantastic to craptastic and everything in between.  Expect themed episodes, feature lists, favorite movies, and tournaments pitting movie against movie or actor against act because we love a good bracket. Play along with movie games like "Denzel" or "The Ryan Philippe Game," then participate in voting in the annual Deucie Awards and yell at us when someone defends a Damon Wayans movie as "nearly the perfect film." If you love movies, then you'll love The Deucecast Movie Show! We love to interact with our listeners so please subscribe to the podcast and send us an email, tweets, and comments as you listen at your leisure. The more the merrier, so thanks for tuning in!