There's no horror like VHS horror!
The video store. It's dying.
Many won't even step foot in one.
A shame really, it was a foundation of so many childhoods. We use to bike up to our local video store, a place called Movie Mania. This place was massive. Aisles and aisles of 7 3⁄8 × 4 1⁄16 × 1 inch goodness with small paper tags swinging from a hook just below them. The 70's and 80's were a golden age of movie rentals. That's a fact. In fact I still occasionally dream about strolling the aisles and checking out all the obscure horror movies on the shelves. Horror was something I got into at a really young age. Eight years old to be exact.
Quickly franchises like Friday the 13th, Nightmare on Elm Street and Halloween were old news. The draw then was for the more obscure titles, with odd yet enticing covers. Some of these I was able to check out. Some I'd hunt later based only on vague recollections of what the cover looked like. And some are still out there waiting to be found.
They Don't Make 'em Like They Used Too
Nostalgia is quite powerful. Some things that were loved during formative years don't stand the test of time. But horror films from the VHS boom era are just not made like that anymore. Even the artwork and style are unique. There is a trend now to converting modern DVD and Blu-Ray artwork to resemble a more classic vintage style.
The cinematography and lighting. The music that's either suspenseful and eerie or sometimes fantastically cheesy and bad. And those effects!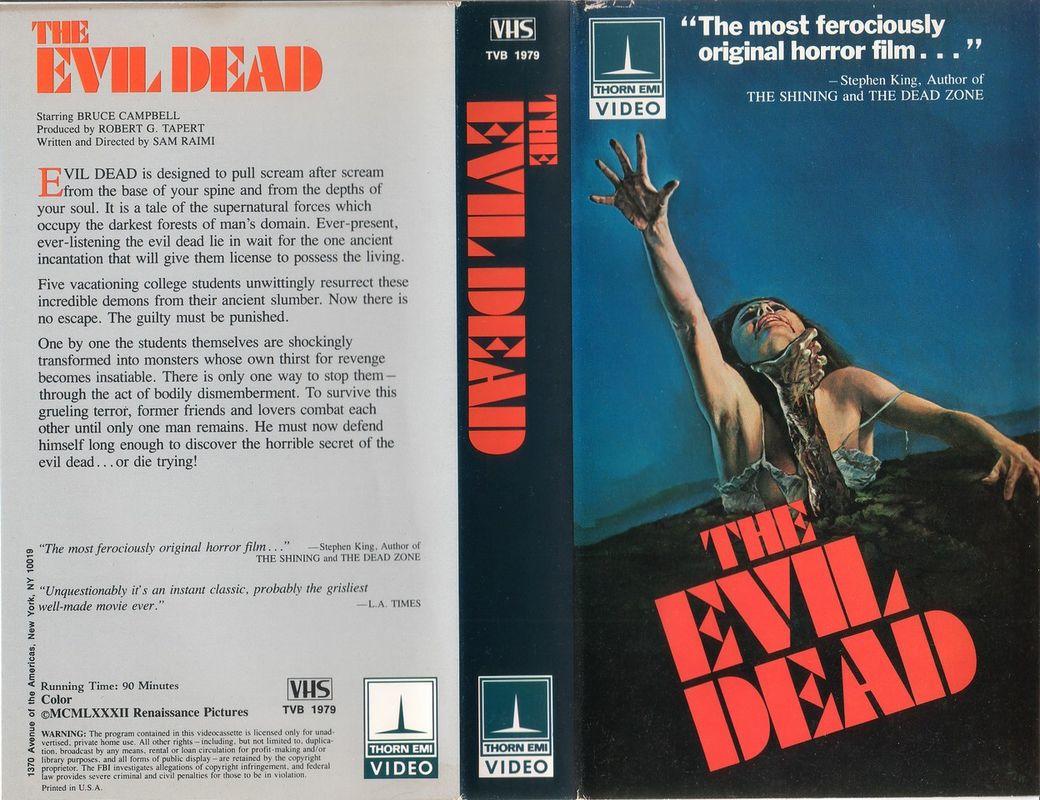 During the horror heyday, directors and special effects and make-up artists were usually working with a very small budget. What would come out of that would be either incredible or horrible. But somehow both still worthy of seeing. Horrible puppets. Terrible fake blood. Sets shaking. They all added to the ridiculousness of what was already more than likely an equally ridiculous plotline. Even the acting was mostly terrible. Stiff dialogue and emotionless character portrayals were abound throughout this time. I guess a small budget means hiring strangers and friends for your movie. The enjoyment from these films is from watching those characters die anyway. They're just fodder so they won't be up for an Academy Award anytime soon.
Once CGI became more dominantly used however, the low budget became more of a turn off than a stamp of approval. It just couldn't endear itself to becoming an eventual cult classic.
A perfect example is The Evil Dead. The make-up in this film is not very good. The undead look a little comical but it doesn't matter. They still come across as terrifying. All it takes is a little audio tweaking to their voices and some good lines like "I'll swallow your soul" and it gets the job done. And although the undead creatures in the film aren't groundbreaking themselves, the cinematography was. Some of the angles were off-center, throwing off the viewers balance. The sequences where the point of view is the camera screaming through the woods after the campers was pulled off exceptionally and achieves its desired effect.
Children Shouldn't Play With Dead Things is one of those that is so spectacularly bad in the acting department. This one is hard to track down but if you can it's worth it.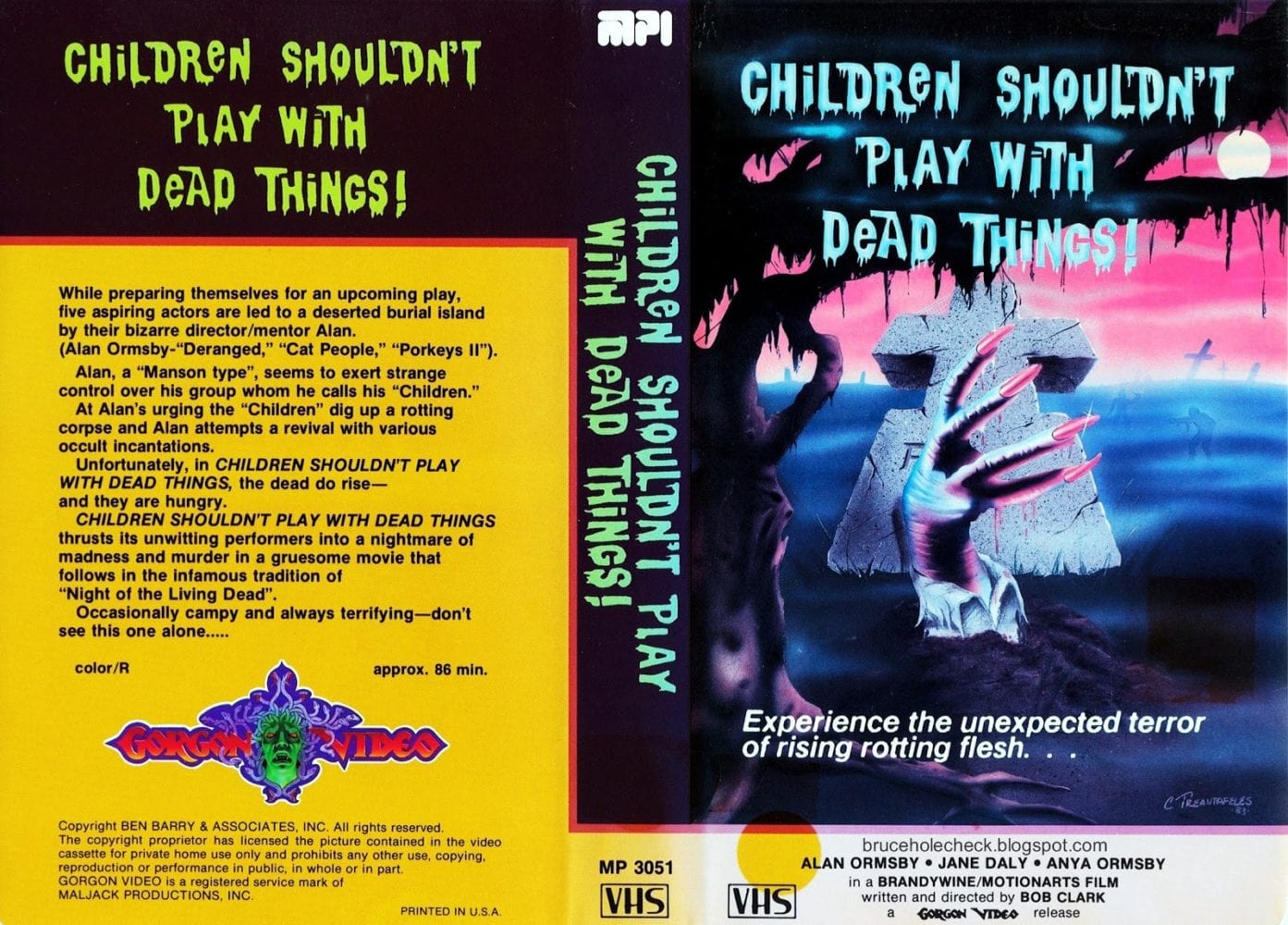 It's An Art
VHS horror used to have some crazy box art too. It's amazing to think how they were able to get away with some of the artwork on these.
One such film is 555. Massacre Video has some good ones but this one by far takes the cake. Bright pink with a severed head. Imagine seeing that today at the video store. At the tender age of 8. Or Ghoulies with its creature in the toilet gracing the cover? Faces of Death from Gorgon Video was extremely controversial at the time. The box is simple enough, just a skull and logo, until you read the warning at the bottom. Doesn't matter that most of the footage is fake. The cover has already pulled you in. If ghastly realistic gore and death is what people wanted this is where they got it. There was no internet yet.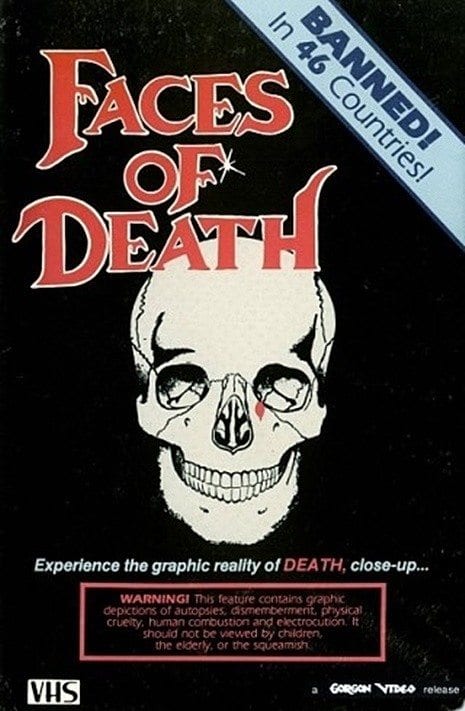 Hell Night is another classic with Linda Blair climbing on the cover. There was nothing unique or special about the movie itself but the cover made it stand out among the others on the shelves. Squirm was notable for its disgusting art of a skull covered in worms.
Suspiria had a tagline of "The only thing more terrifying than the last 10 minutes of this film are the first 90!" on the front that led me to hunt it down much later. That line is spot on as well. It's a scary and stunning film that is still sought after today.
Some were completely unassuming and uninteresting. Intriguing and eerie in its simplicity. The Amityville Horror is one of greatest scary movies of all time but you'd never tell from looking at the cover.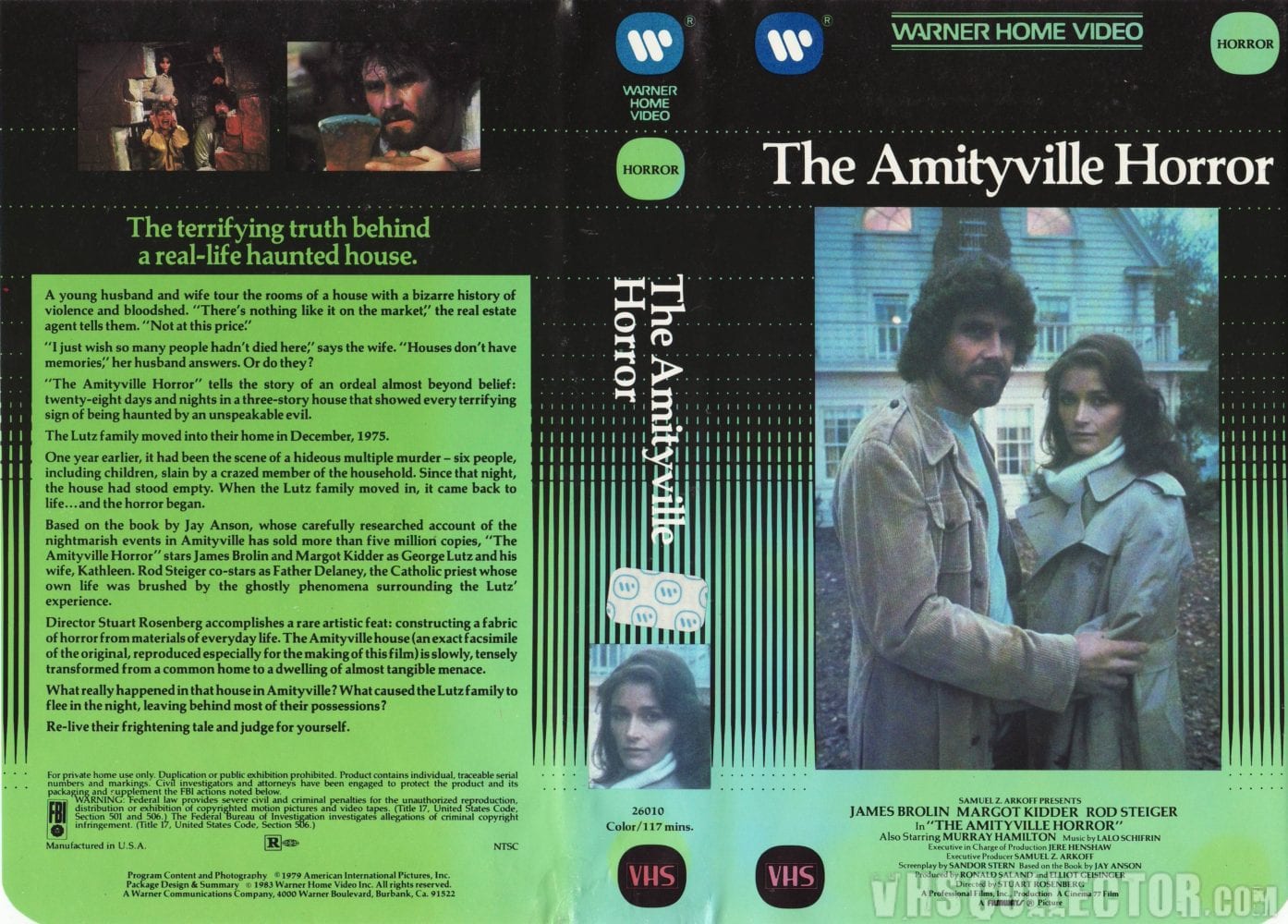 Bust Out The VCR
Most of these have lived on become cult classics and made the transition to DVD and Blu-Ray. But for every Hellraiser and Childs Play there's The Mutilator. Watching in the original format however is part of the charm. There's an entire market out there of VHS collectors and some of their VHS horror collections are astonishing.
While some are pretty rare, many of these can be found online. Ebay, Amazon, Craigslist, etc…. You'll even be able to find them at garage sales and Goodwill stores. Find yourself a refurbished VCR and your're all set.
There are still some good old fashioned video stores around, in fact there's still one in my area that uses little orange tags to rent out movies. And its got a pretty good horror section. Not VHS horror but DVD horror.
It'll have to do.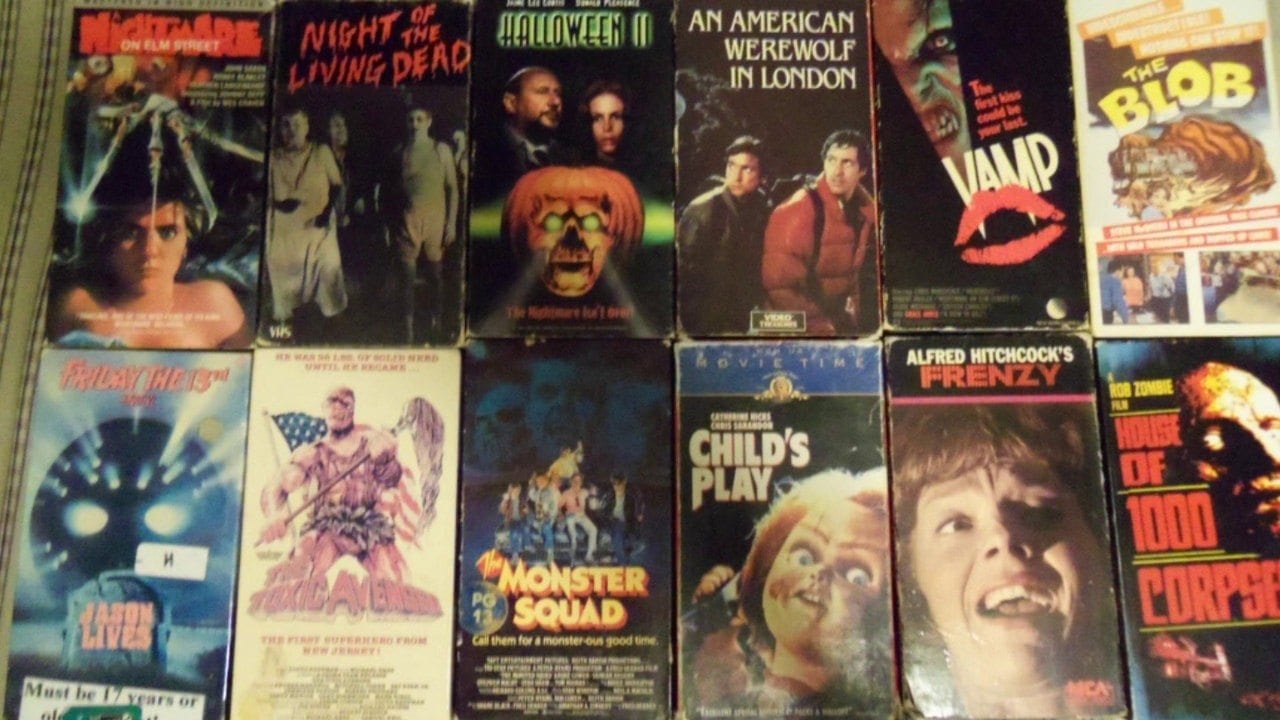 Mike Harris hails from the suburbs of Chicago and has been a fan for most of his life. Working as an industrial radiographer and raising a family with his wife take up most of his time, but there's always room for Star Wars books and podcasts! Just looking to give back to Star Wars and the fan community, it's been a source of fun and learning for him for so long.