"Divide and Conquer" the Inhumans Royal Family, but don't count them out yet. Jay and Josh ponder how our heroes will reunite to defeat their foe on Terrigen Dreams: An Inhumans Podcast!
"Divide and Conquer" the Inhumans if you hope to destroy them. That's what Maximus has done, but he shouldn't rest on his lunar laurels quite yet.
---
Terrigen Dreams #103: Divide and Conquer
It seems that Black Bolt has a mysterious human ally named Dr. Declan on his way to help. Gorgon prepares for a fight against Auran and some dangerous Inhumans loyal to Maximus. Karnak contemplates life without the ability to strategize. Crystal tries to get to Earth with Lockjaw. And Medusa finally finds Black Bolt, only to have him snatched away before the reunion. The chase continues this week. Jay and Josh discuss all the actions and quietly ponder how wise it would be to get matching face tattoos on this week's episode of Terrigen Dreams: An Inhumans Podcast!
---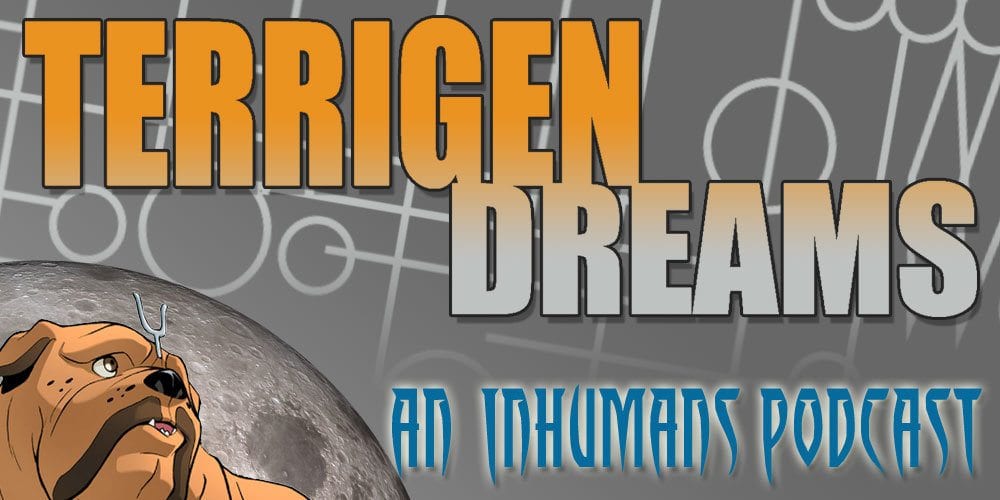 Click the image above for the homepage and older episodes.
Do you have what it takes to be Inhuman? Join Josh Stolte and "Jovial" Jay Shepard as they delve into the mythology of Marvel's Inhumans television series and comics on this weekly show dedicated to the discussion of the Inhumans.
Each episode of Terrigen Dreams addresses the characters, plot and comic references for the television series episode, all done with Josh and Jay's unique insight into the world of Attilan. So grab your Terrigen crystals and hold on tight. The adventure is just getting started!
Terrigen Dreams is part of Josh and Jay's "Superhero Suite" of podcasts, all featured on RetroZap! If you've liked this episode, be sure to check out the duo's other shows, including Green Justice: An Arrow Podcast, Scarlet Velocity: A Flash Podcast, and Agents of SHIELD: Case Files. While each show has its own distinctive flair, you can expect the same spot-on analysis, humor and polished production that this podcasting team has been known for year after year, season after season.