Chuck E Cheese's Pizza Time Theater celebrates forty years as the popular place for hyperactive youngsters revel in rivalry as they learn both budgeting and gambling in pushing tokens into the slots and pulling tickets out in long streams of valuable paper.
JediShua and shazbazzar remember their days with Chuck E Cheese as well as Fats Geronimo at Showbiz Pizza as Swamp Angel lifts his foot off the accelerator and lends some creativity to explain why he was driving faster with more intensity.
---
      
---
[iframe url="http://html5-player.libsyn.com/embed/episode/id/5748654/height/90/width/1000/theme/custom/autonext/no/thumbnail/yes/autoplay/no/preload/no/no_addthis/no/direction/backward/no-cache/true/render-playlist/no/custom-color/089efc/" height="90″ width="1000″ scrolling="no" allowfullscreen="allowfullscreen webkitallowfullscreen mozallowfullscreen oallowfullscreen msallowfullscreen"]
---
Whether Mouse or Rat, Chuck E Cheese Turns Forty
It's a sordid tale of a sworded adventure through a maze of assorted games of skill and chance in hopes of gaining sufficient experience points to gain the treasure awaiting members of this party featuring gigantic creatures both fearsome and funny who strive to help the gamers along the way to the goal.  Nope.  It's not Dungeons & Dragons.  It's Chuck E Cheese, and he's turning forty this year as we recall our fun times at the Pizza Time Theater since 1977.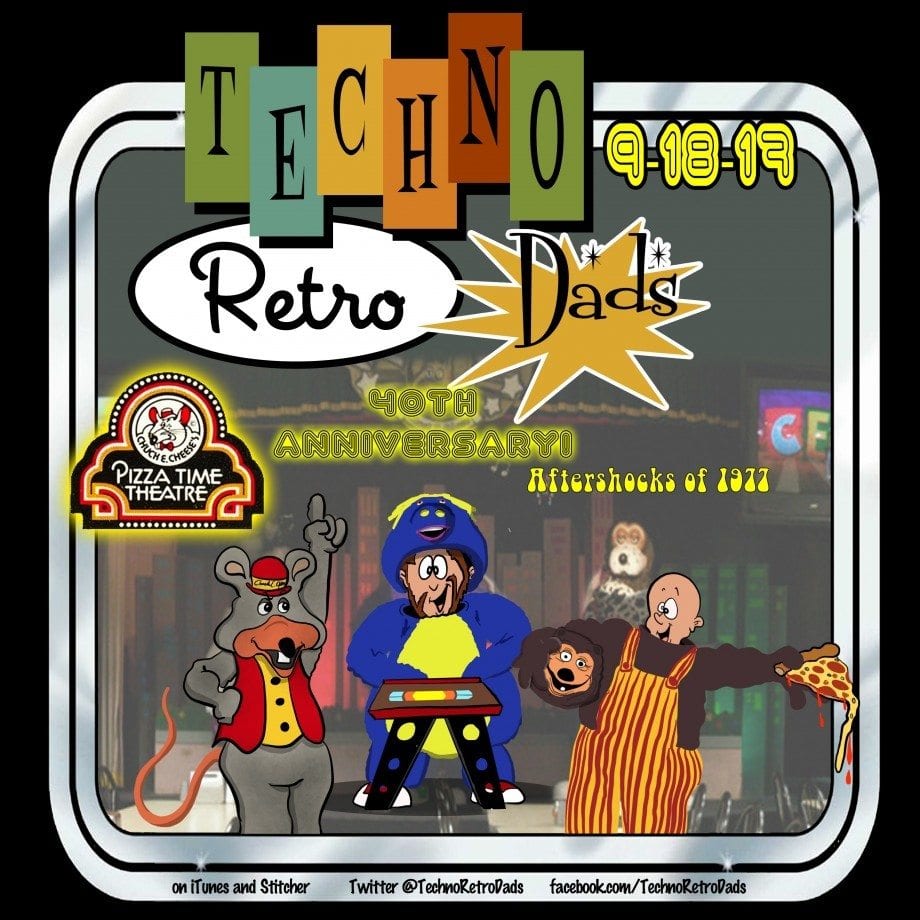 In the NEWS…
Chuck E Cheese is breaking up the band — at least in some locations.  A brand new board game  of The Dark Crystal is available this fall; it looks totally cool!  JediShua gets shazbazzar all excited about a judge ruling on grammar rules that might sound good on School House Rock. Buffy and Ralph Hinkley are getting rebooted whether we like it or not.  And (as everyone knows by now) J.J. Abrams will direct another film in the Star Wars saga.
We Love Our Cereal
Kellogg's joins the ranks of other companies committed to 100% renewable energy.  The Cereal Box in Arvada is hiring.
Aftershocks of 1977
It's time to take a trip to see Chuck E Cheese and see just how much has changed over the past 40 years (and how many things have stayed the same).  These Aftershocks include the great Toys in the Attic that kids can "buy" with their winnings from the casino-styled games in this TechnoRetro Arcade.  From spinning tops to flying frisbees, from video games to skee ball, Chuck E Cheese and Showbiz Pizza has entertained kids for years while adults have endured the less-than-stellar pizza and snacks at these iconic party zones.  And if the fun wasn't enough, the 'Dads reveal the relationship between Chuck E Cheese and Atari — the details are shocking!
Don't forget to rate and review TechnoRetro Dads on iTunes, share us and with us on social media, or lend your voice to our discussion about toys, cereal, or movies and shows from the '70s and '80s by giving the 'Dads your feedback on voice mail at (209) 878-7323 or sending us a message or mp3 via electronic-M to podcast@TechnoRetroDads.com.
Share and enjoy!
---
Join shazbazzar and JediShua each week for a look back at the '70s and '80s as they share the fun and also fandom of their youth with their families, friends, and EarBuds. Topics include TV, film, music, toys, and games of the '70s and '80s as well as franchises which have continued into the 21st Century, like Star Wars, TRON, and Buck Rogers. TechnoRetro Dads is a blend of new stories as old legends are then passed down from one generation to the next.
If you're a TechnoRetro Dad, the child of one, or appreciate the '70s and '80s, then this podcast is definitely for you!