With the passing of Sir Roger Moore this past week, shazbazzar and JediShua remember his role as James Bond in The Spy Who Loved Me.
JediShua and shazbazzar watch 1977's addition to the 007 franchise and play Dig Dug at Flashback Games Retro Arcade before firing up their grills and eating some finger food on this Memorial Day.  It's a great way to finish off the school year!
---
      
---
[iframe url="http://html5-player.libsyn.com/embed/episode/id/5397723/height/90/width/1000/theme/custom/autonext/no/thumbnail/yes/autoplay/no/preload/no/no_addthis/no/direction/backward/no-cache/true/render-playlist/no/custom-color/089efc/" height="90″ width="1000″ scrolling="no" allowfullscreen="allowfullscreen webkitallowfullscreen mozallowfullscreen oallowfullscreen msallowfullscreen"]
---
The Spy Who Loved to Play Dig Dug
Celebrate Memorial Day with shazbazzar and JediShua as they remember Sir Roger Moore with a peek at another 1977 movie featuring Agent 007 of Her Majesty's Secret Service.  Just remember not to scorch your dinner (or hands) on the grill.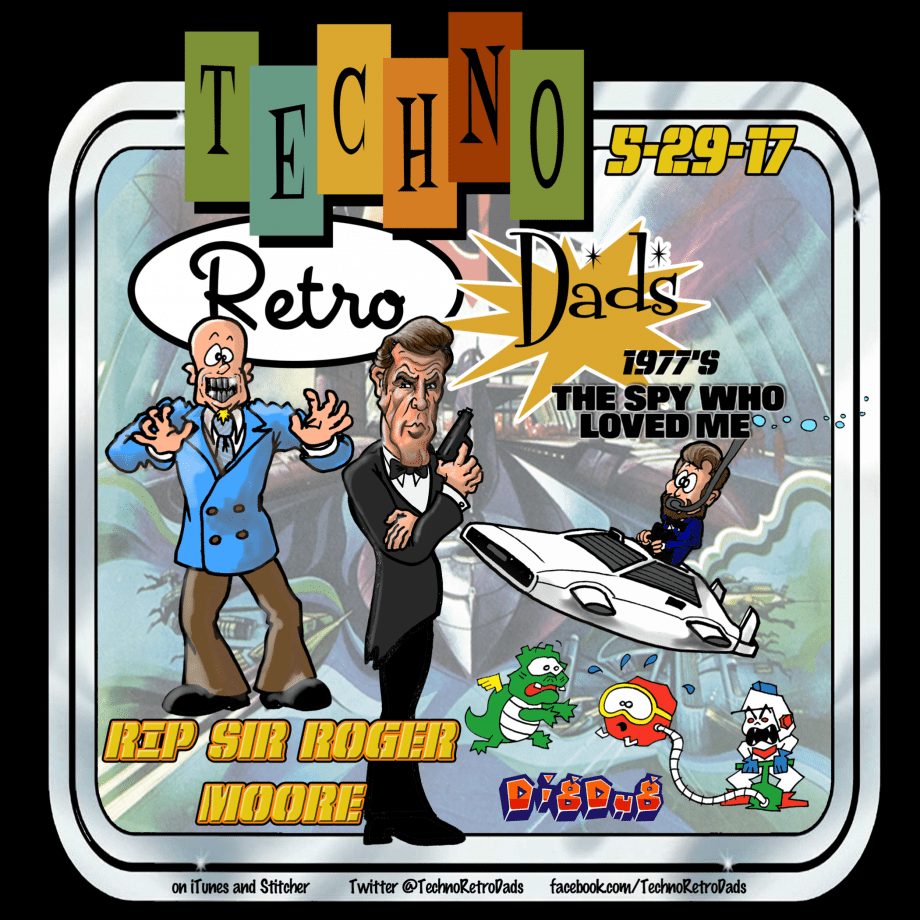 In the NEWS…
Boba Fett is imported from New Zealand…for good!  Daniel Logan becomes a United States citizen.  The memorable Battle of the Network Stars from the '70s and '80s will be returning soon, according to ABC.  More sequels on the horizon as the '80s continue to get represented in pop culture with Top Gun and Spaceballs.  Will there be merchandise?  Will there be controversy?  Will there be tickets sold at the box office?  We think so.
Let's Go to the Movies: The Spy Who Loved Me
The date was 7-7-77 when The Spy Who Loved Me opened in England with a big hit for the James Bond franchise.  With a huge budget and an odd take on Ian Fleming's novel of the same name, this film took some big risks that paid off.  What some consider to be the best Bond movie of all time, The Spy Who Loved Me featured Roger Moore as James Bond, a title song by Carly Simon ("Nobody Does It Better") and a Lotus that can swim underwater!  Discussion drifts from disco, to different actors' representations of 007, to other roles played by Roger Moore.  So fire up your DVD player and revisit this very '70s version of James Bond.
TechnoRetro Arcade: Dig Dug
NAMCO's Dig Dug is arriving at the TechnoRetro Arcade and we're ecstatic. JediShua and shazbazzar discuss their history with the arcade classic and trade notes on their strategies as well as potential backstories for the game and its characters.  PLUS: Bonus audio of the 'Dads playing Dig Dug at Flashback Games Retro Arcade & Grill in Loganville, GA.
Feedback
The Dark Crystal, cereal, and unique pilots for the Millennium Falcon are the big topics of discussion online over the past couple weeks. Don't forget to participate on Twitter or Facebook.
Tune in to this Memorial Day episode for 77 minutes with shazbazzar and JediShua as they remember some of the best times of the '70s and '80s and look forward to what the future has in store.  Don't forget to download last Thursday's "Top Ten" from American Top 40 with Casey Kasem with a definite Star Wars flair.  Lend your voice to the discussion on social media or give the 'Dads your feedback by calling our voice mail line at (209) 878-7323 or sending us a message or mp3 via electronic-M to podcast@TechnoRetroDads.com.
Don't forget to rate and review TechnoRetro Dads on iTunes and Stitcher.
Share and enjoy!
---
Join shazbazzar and JediShua each week for a look back at the '70s and '80s as they share the fun and also fandom of their youth with their families, friends, and EarBuds. Topics include TV, film, music, toys, and games of the '70s and '80s as well as franchises which have continued into the 21st Century, like Star Wars, TRON, Buck Rogers, Battlestar Galactica and The Dark Crystal. TechnoRetro Dads is a blend of new stories as old legends are then passed down from one generation to the next.
If you're a TechnoRetro Dad, the child of one, or appreciate the '70s and '80s, then this podcast is definitely for you!