The buzz around last CES last week in Las Vegas got us thinking about technology. Then we got sidetracked by silliness.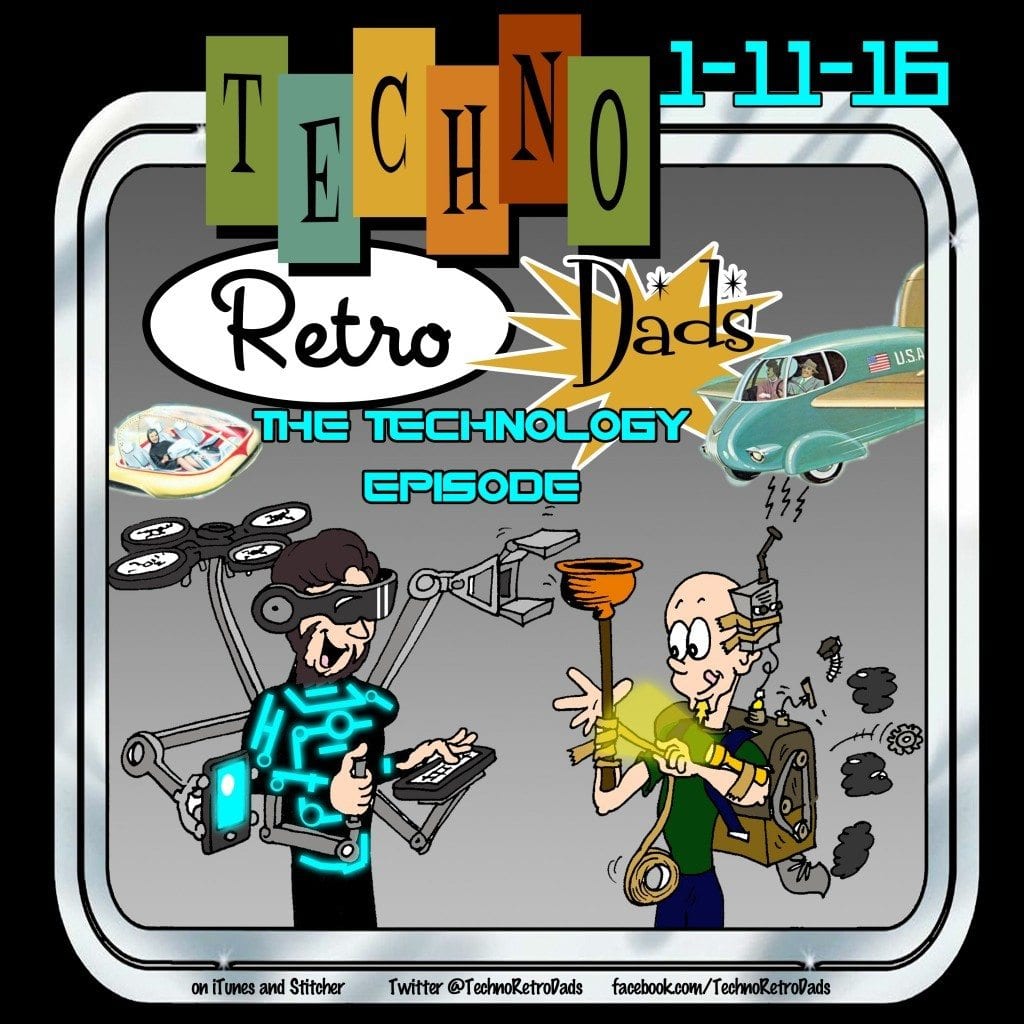 ---
[iframe url="http://html5-player.libsyn.com/embed/episode/id/4069378/height/500/width/920/theme/custom/autoplay/no/autonext/no/thumbnail/yes/preload/no/no_addthis/no/direction/backward/render-playlist/yes/custom-color/089efc/" width="920″ height="500″]
Greetings, Programs!
Have you ever tried to have a discussion about a single topic with a friend, and he keeps interrupting the flow of the conversation with movie quotes, song lyrics, or sidebars about odd words or names? Did you find it frustrating? Were you wondering if this only happens to you?
You're not alone. All the evidence you need is wrapped up in 77 silly minutes of this week's technology-centric TechnoRetro Dads. JediShua and shazbazzar prove their attention span stinks nearly as much as sulfur (soon-to-be known to all mankind as shazbazzarium) as their deficiency is paraded with pride for all the world to hear in this podcast filled with problematic prognostications and spurious speculations.
But that's not all! Their disorderly conduct continues throughout the NEWS about Star Wars in Concert, the Consumer Electronics Show in Las Vegas, in-universe books from the wide world of Ghostbusters, and newly discovered invented elements synthesized by chemists dedicated to completing each and every level of the Periodic Table of Elements.
And if that's not enough to satisfy your appetite, sit down with Nephew Joe for a mixed bowl of cereal as JediShua hosts Sunday Cereal Bar Brunch for his extended family. Listen in as they make their plans for a RetroFuture cereal restaurant that charges by the bowl instead of by the pound. POUND? Just how much cereal does it take to fill Shua's belly?!
PLUS: shazbazzar unearths an eleventy-five year-old article by civil engineer John Elfreth Watkins, Jr. published in the December 1900 issue of Ladies' Home Journal. The imaginative mind of yesteryear proves to be rather accurate in his predictions of the technology that would be familiar over the next century. From wireless telephone networks spanning the globe to pre-packaged cooked meals delivered to the evidently kitchen-less homes of our century, the pre-tech visionary had a firm grasp on the direction that technology would take in the post-industrial age.
The questions that will plague EarBuds' after tuning in this week include, but are not limited to:
How much cold medicine did shazbazzar take?
Who is Solomon Grundy and why is JediShua's dad eating him for breakfast?
When will shazbazzar find the elusive multi-colored BB-8 droid viewer?
What is a single-cell phone?
Where exactly is a woman's boudoir?
So listen in and listen again to this technically silly technological episode of TechnoRetro Dads and make your Monday a fun day.