Spring is here and TechnoRetro Dads want to ride their bicycles!  Get ready for two-wheeled memories of warm weather days in the sunshine of youth with your own bicycle.
                  
---
[iframe url="http://html5-player.libsyn.com/embed/episode/id/4235515/height/500/width/920/theme/custom/autoplay/no/autonext/no/thumbnail/yes/preload/no/no_addthis/no/direction/backward/render-playlist/yes/custom-color/089efc/" width="920″ height="500″]
---
Greetings, Programs!
Spring is here and the 'Dads are a bit feverish to get outside and play in the warm sunshine.  Take a trip back to the carefree days of riding your bike with your friends from morning till night as shazbazzar and JediShua recall the bikes of their youth.  Whether it was a Schwinn, Huffy, Murray, Free Spirit, or Kent, a bicycle was a two-wheeled ticket to freedom — even if you were restricted to simply riding around the block.  A bicycle could become anything you could imagine, from horses to cars to X-Wings or TIE Fighters, and as we got older, our bikes carried us to friends houses, movie theaters, and even Carter Caves!  With the weather getting warmer, it's time to get out your bike and ride.
PLUS: Entertainment is the NEWS this week!  Indy 5 has been announced with an expected release date in 2019 (since Spielberg is tied up in the OASIS with a certain futuristic film at the moment), shazbazzar speculates on Tim Burton's anticipated sequel to Beetlejuice, and JediShua reveals Amazon's plan to resurrect The Tick with Patrick Warburton, whom shazbazzar somehow confused with that guy who played Brisco County, Jr. and starred in Army of Darkness.
Astronaut Scott Kelly stars in the TechnoRetro Dads' SCIENCE LESSON as we discover the effects a year in space has on the body, as well as the impact of returning to Earth after twelve months away from gravity.  One impressive fact: you'll come home taller than you were when you left!
Be sure to participate in the Battle of the Cereals with Batman v Superman cereals in this month's TechnoRetro Cereal challenge on our Facebook page.  And if you want to leave us a voicemail, be sure to call us at (209) TR-TRDad or record a message on your computer or phone and send us an electronic-M to podcast@TechnoRetroDads.com.
Share and Enjoy!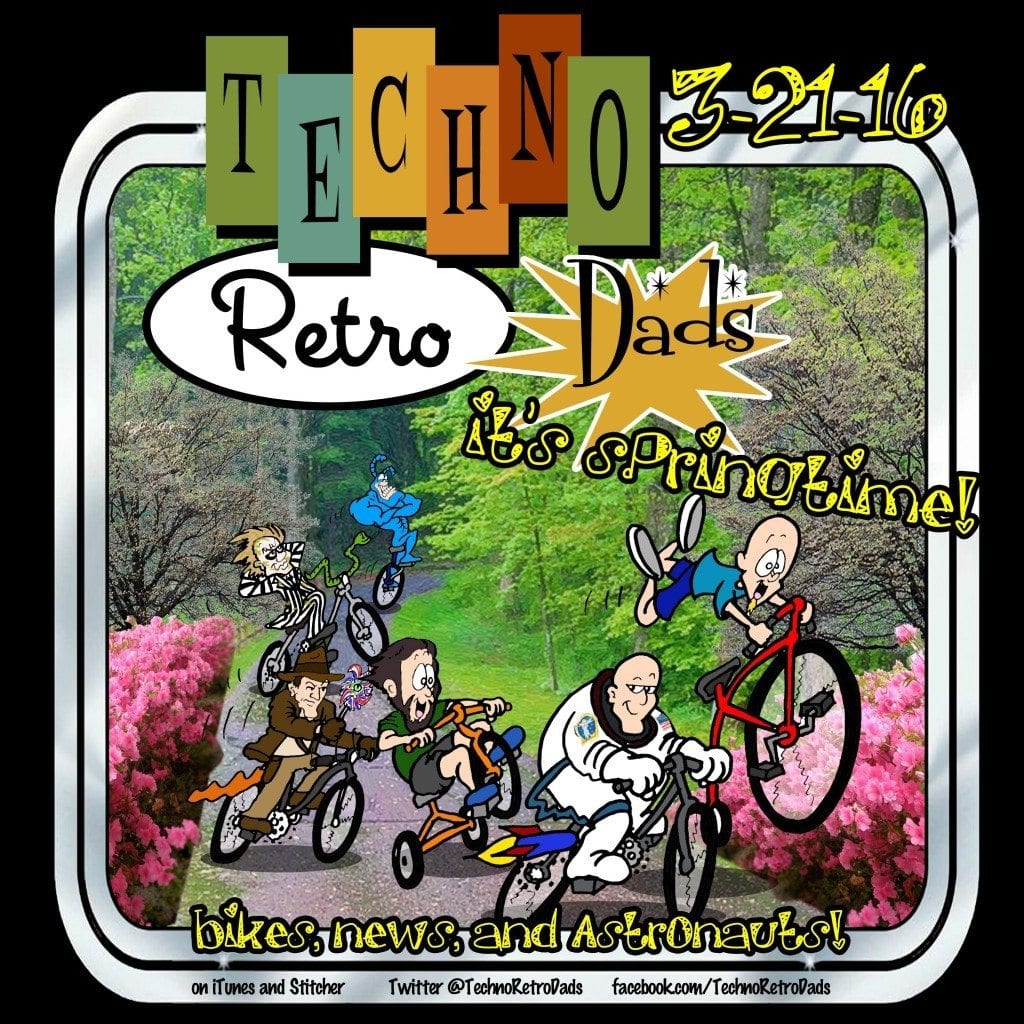 CLICK TO RIDE YOUR BIKE WITH INDY, BEETLEJUICE, AND THE TICK
About TechnoRetro Dads

Join shazbazzar and JediShua each week for a look back at the 70s and 80s as they share the fun and fandom of their youth with their families and friends. Topics include TV, film, music, and games of the '70s and '80s as well as franchises which have continued into the 21st Century, like Star Wars and TRON. TechnoRetro Dads are a blend of new and old as stories are passed down from one generation to the next.

If you're a TechnoRetro Dad, the child of one, or just fondly remember the sci-fi/fantasy properties of the '70s and '80s, then this podcast is for you!