Four notes in the A major arpeggio. Four colors: red, blue, yellow, and green. Four minutes of intense concentration — if you're good. Simon, a simplistic game that gets tough fast, has captivated kids and adults for nearly four decades. Join in!
JediShua and shazbazzar play Hasbro's Simon and fondly remember 1977 fondly as The Making of Star Wars turns forty later this week.
---
      
---
[iframe url="http://html5-player.libsyn.com/embed/episode/id/5726100/height/90/width/1000/theme/custom/autonext/no/thumbnail/yes/autoplay/no/preload/no/no_addthis/no/direction/backward/no-cache/true/render-playlist/no/custom-color/089efc/" height="90″ width="1000″ scrolling="no" allowfullscreen="allowfullscreen webkitallowfullscreen mozallowfullscreen oallowfullscreen msallowfullscreen"]
---
Simon Says Make Star Wars Documentaries
This tempestuous Monday morning we have more questions than answers on TechnoRetro Dads and we're hoping that SIMON will give us the answers. How are porgs like lemmings? Why does football season mean more cowbells? Are there negative impacts of sending your kids to your alma mater? When might philanthropists get confused with philanderers?  Why does Mrs. shaz want to watch The Tick on TV? Where is Hurricane Irma, now?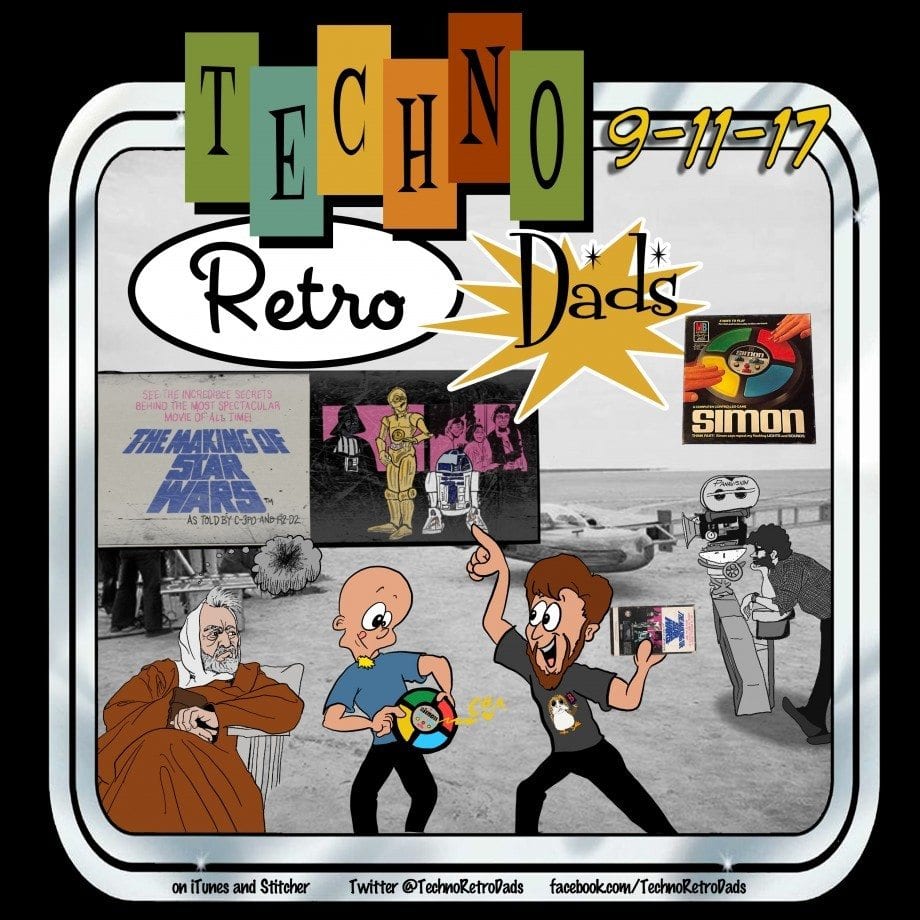 In the NEWS…
The LEGO Movie 2 begins production this fall.The Dark Crystal offers artists the opportunity to see their work make it to television (and win some cash in the meantime). Six Million Dollar Man actor Richard Anderson dies. PLUS: Cool TechnoRetro style TV shows premiere this month.
We Love Our Cereal
Millennials on Big Brother evidently love their cereal, too. Tennessee has cereal on the menu at several non-cereal-cafe establishments (and JediShua wants to visit Nashville, soon). Super Golden Crisp and Super Mario Brothers become partners as Post and Nintendo team-up to bring great games to breakfast.
Aftershocks of 1977
The Making of Star Wars reached force-crazed fans of that galaxy far, far away on September 16, 1977. The documentary aired on television, revealing some behind-the-scenes magic invented by innovative creator George Lucas. Hosted by C-3PO and R2-D2, this TV special thrilled audiences with insights and interviews with the actors and filmmakers that brought space fantasy into pop culture for forty years and counting.
Toys in the Attic
Capitalizing on the Atari Touch Me, invented by Ralph Baer and Howard Morrison, Hasbro released Simon in 1978 with long-lasting success. The game is played by listening to the tones and watching the colored lights in sequence and then pressing the coordinating buttons in the same sequence. It may seem easy, but when distracted by conversation, shazbazzar can't seem to score more than four.
Don't forget to rate and review TechnoRetro Dads on iTunes, share us and with us on social media, or lend your voice to our discussion about toys, cereal, or movies and shows from the '70s and '80s by giving the 'Dads your feedback on voice mail at (209) 878-7323 or sending us a message or mp3 via electronic-M to podcast@TechnoRetroDads.com.
Share and enjoy!
---
Join shazbazzar and JediShua each week for a look back at the '70s and '80s as they share the fun and also fandom of their youth with their families, friends, and EarBuds. Topics include TV, film, music, toys, and games of the '70s and '80s as well as franchises which have continued into the 21st Century, like Star Wars, TRON, and Buck Rogers. TechnoRetro Dads is a blend of new stories as old legends are then passed down from one generation to the next.
If you're a TechnoRetro Dad, the child of one, or appreciate the '70s and '80s, then this podcast is definitely for you!