Who Wants to Live Forever when It's a Kind of Magic with just One Year of Love?  JediShua and shazbazzar watch Highlander again with special guest Michael Nipp.
---
[iframe url="http://html5-player.libsyn.com/embed/episode/id/4201634/height/500/width/920/theme/custom/autoplay/no/autonext/no/thumbnail/yes/preload/no/no_addthis/no/direction/backward/render-playlist/yes/custom-color/089efc/" width="920″ height="500″]
---
Greetings, Programs!
Time passes by so quickly when you're immortal.  It's hard to believe that it's been thirty years since the sword-clashing battle between Connor MacLeod and the Kurgan ended with Clancy Brown losing his head and Christopher Lambert winning the Prize.  Crowned with rock anthems and ballads by Queen, Russell Mulcahy's 1986 classic stand-alone film ushered in decades of sequels, series, and controversies with Highlander, the story of a Scottish boy with a French accent who just wouldn't die.  Instructed by Juan Sanchez Villa-Lobos Ramirez, an Egyptian with a Scottish accent, Connor MacLeod squared off against the Kurgan, a Russian with an inexplicable American accent way back in the 16th Century.  It's a tale that spans the centuries and continues to thrill fantasy fans today.
Michael Nipp from The Deucecast Movie Show joins shazbazzar and JediShua for a glimpse of the kind of magic that made Sean Connery, Christopher Lambert, and Clancy Brown the Princes of the Universe in an imaginative game of life and death where the Prize grants the Highlander the ability to grow old and die.
But that's not all there is to this week's TechnoRetro Dads!  Starlog Magazine makes the  NEWS with a complete digital collection of past issues online.  PLUS: JediShua shares a cereal recipe for National Cereal Day that's sure to be an Escape that's both cheerful and fruitilicious.  And don't forget to join in the Battle of the Heroes in the Batman v Superman Cereal Challenge this month!
In the SCIENCE LESSON, a real-life Solar Sail is almost ready for it's maiden voyage among the stars…or at least to the space surrounding our planet.  Find out how you can get involved in the next wave of space travel before it gets off the ground.
With musical memories and international versions of a cult classic, today's TechnoRetro Dads is 77 minutes of energy that might make you lose your head…figuratively speaking, of course.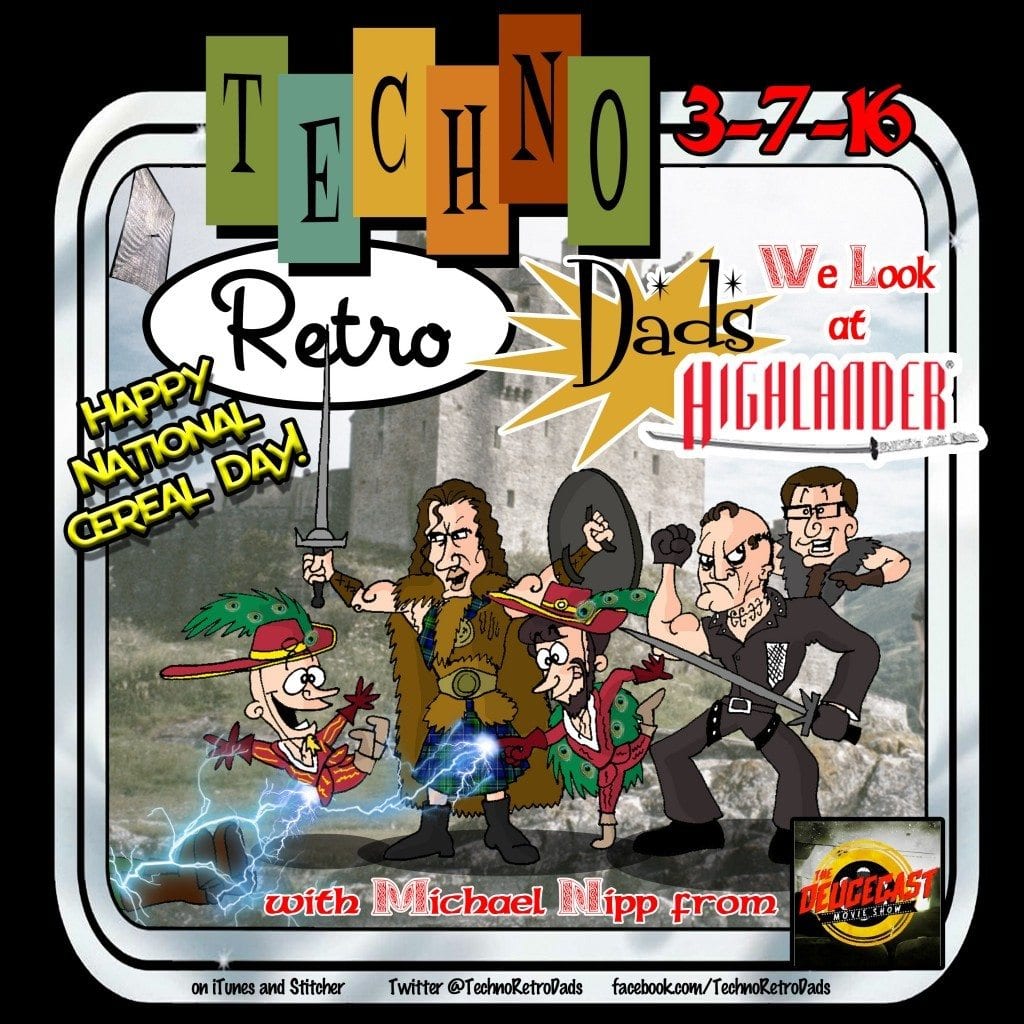 DON'T LOSE YOUR HEAD!  CLICK HERE FOR TECHNORETRO DADS
About TechnoRetro Dads

Join shazbazzar and JediShua each week for a look back at the 70s and 80s as they share the fun and fandom of their youth with their families and friends. Topics include TV, film, music, and games of the '70s and '80s as well as franchises which have continued into the 21st Century, like Star Wars and TRON. TechnoRetro Dads are a blend of new and old as stories are passed down from one generation to the next.

If you're a TechnoRetro Dad, the child of one, or just fondly remember the sci-fi/fantasy properties of the '70s and '80s, then this podcast is for you!