It's fall (well not officially, but school started), and that means Pumpkin Spice must flow.  And the spice is flowing at Krispy Kreme today!
Does your heart melt when you see the neon sign light up at Krispy Kreme?  Does the notion of hot and fresh glazed donuts move your car into the turn lane?  Can you say, "Pumpkin Spice Glazed Donuts, please"?  Today only!
---
      
---
[iframe url="http://html5-player.libsyn.com/embed/episode/id/5720458/height/90/width/1000/theme/custom/autonext/no/thumbnail/yes/autoplay/no/preload/no/no_addthis/no/direction/backward/no-cache/true/render-playlist/no/custom-color/089efc/" height="90″ width="1000″ scrolling="no" allowfullscreen="allowfullscreen webkitallowfullscreen mozallowfullscreen oallowfullscreen msallowfullscreen"]
---
Don't Let the Glazed Go By!
Today only at Krispy Kreme: Pumpkin Spice Glazed Donuts.  The Pumpkin Spice season has officially begun now that we have some sweet Krispy Kreme Hot Glazed donuts seasoned with that delectably delightful blend of cinnamon, nutmeg, ginger, and more.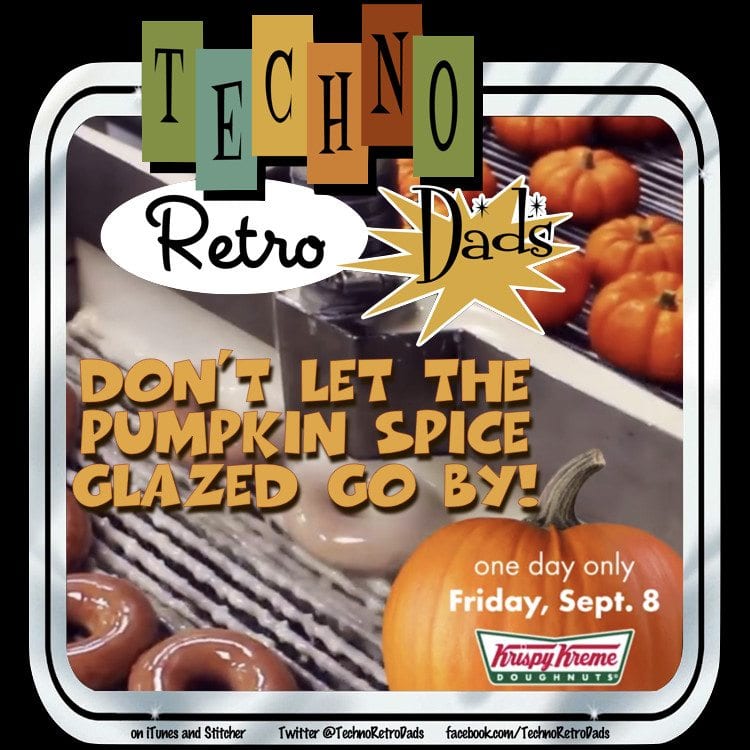 (It's Pumpkin) Spice.  Spice?  Maybe.
Last year's team-up with Steve Glosson and the Big Honkin' Show is especially pertinent today as Krispy Kreme kicks off Pumpkin Spice season with a limited edition of Pumpkin Spice Glazed Donuts.  What do we think about Pumpkin Spice?  It's good.  It's tasty.  And it sells just about anything you need sold…even tires.  Sometimes, though, the hype is just a bit much, and this song explains why.  Thanks to Queen, David Bowie, and Vanilla Ice for the inspiration.
Krispy Kreme (Don't Let the Glaze Go By)
Originally penned and recorded for The Big Honkin' Show in 2016, this parody bit expresses the yearning we all feel when we see the neon light flash into brightness, beckoning us to taste the glory of melt-in-your-mouth sugary sweetness.  Thanks to Bush for making a song that so easily translates into a tribute to Krispy Kreme.
Don't Procrastinate!  Tomorrow Is Too Late!
Join shazbazzar and JediShua by visiting your local Krispy Kreme and make Steve Glosson's day!
TechnoRetro Dads is not affiliated or sponsored by Krispy Kreme.  However, if Krispy Kreme would like to send us some free donuts, we would be happy to eat them (shazbazzar and the shazlings really like chocolate custard and chocolate with sprinkles).
Share and enjoy!
---
Join shazbazzar and JediShua each week for a look back at the '70s and '80s as they share the fun and also fandom of their youth with their families, friends, and EarBuds. Topics include TV, film, music, toys, and games of the '70s and '80s as well as franchises which have continued into the 21st Century, like Star Wars, TRON, and Buck Rogers. TechnoRetro Dads is a blend of new stories as old legends are then passed down from one generation to the next.
If you're a TechnoRetro Dad, the child of one, or appreciate the '70s and '80s, then this podcast is definitely for you!