TechnoRetro Dads love Captain Apollo from Battlestar Galactica, Popeye from the Video Game, Del Rey Books, and more on Valentine's Day.
Join shazbazzar and JediShua as they bid farewell to Richard Hatch, are "Blinded by the Light" by Manfred Mann's Earth Band, and provide instruction and tips for playing the Popeye Video Game in exclusive audio from Flashback Games.
---
      
---
[iframe url="http://html5-player.libsyn.com/embed/episode/id/5078865/height/90/width/1000/theme/custom/autonext/no/thumbnail/yes/autoplay/no/preload/no/no_addthis/no/direction/backward/no-cache/true/render-playlist/no/custom-color/089efc/" height="90″ width="1000″ scrolling="no" allowfullscreen="allowfullscreen webkitallowfullscreen mozallowfullscreen oallowfullscreen msallowfullscreen"]
---
Popeye Catches Olive Oyl's Heart for Valentine's Day
Questions abound on this week's episode of TechnoRetro Dads: What is an 8-Track tape?  What is JediShua saying in French?  Can Olive Oyl's love make Popeye stronger than a can of spinach?  Who is the biggest fan of Battlestar Galactica? Should I stay or should I go?  And, most importantly, are you ready for Valentine's Day tomorrow?  You still have time if you're listening to TechoRetro Dads this Monday morning.  Just another reason to start your work week right every Monday.
In the NEWS…
Even though the Falcons squandered their three quarter lead to fall to the Patriots in overtime, the most exciting moments came at halftime with great commercials as well as trailers for upcoming movies, complete with Johnny Cash music.  We're especially excited about the new Pirates of the Caribbean movie and Guardians of the Galaxy Vol. 2, but Stranger Things 2 really got our #TechnoRetro hearts pumping with Ghostbusters costumes and promises of a return to the Upside Down.  Not all news is good news, though, as we bid farewell to the heroic Viper pilot who started his search for the thirteenth colony on the mythical world of Earth nearly forty years ago.  Battlestar Galactica's original Captain Apollo (and anti-captain Tom Zarek), Richard Hatch, departed this life, leaving us memories of his time on screen and off screen as the good guy who really was a good guy.
Aftershocks of 1977
Beginning in 1977 with the publication of its first original novel, Del Rey Books has brought us forty years of fantasy and science fiction novels including Terry Brooks' Shannara series, shelves full of Star Wars novels, and many more.  Featuring well known authors like Brian Daley and Alan Dean Foster, we re-experienced movies through novelizations as well as continued the stories from far away galaxies to imaginative stories from long ago from childhood to today.
History Lesson
A sweet replicant named PRIS booted up on Valentine's Day last year in Blade Runner, the same day the world was supposed to end according to Ghostbusters 2, while a futuristic AT-TE gets a patent for Weyland Industries thirty-five years into the future.  Also this week, Geordi La Forge will be born, not in France, but in the African Confederation.  And a robbery is foiled by a darker version of Qui-Gon Jinn in Darkman.
Flashback Games TechnoRetro Flashback
After his recent trip to a local video arcade, JediShua recalls playing the Popeye video game and provides some insight as he instructs shazbazzar during last summer's trip to Loganville, Georgia's Flashback Games Grill and Retro Arcade.  Complete with audio footage from July, you'll hear the mastery of JediShua as he tells shazbazzar score more than 1,000 points.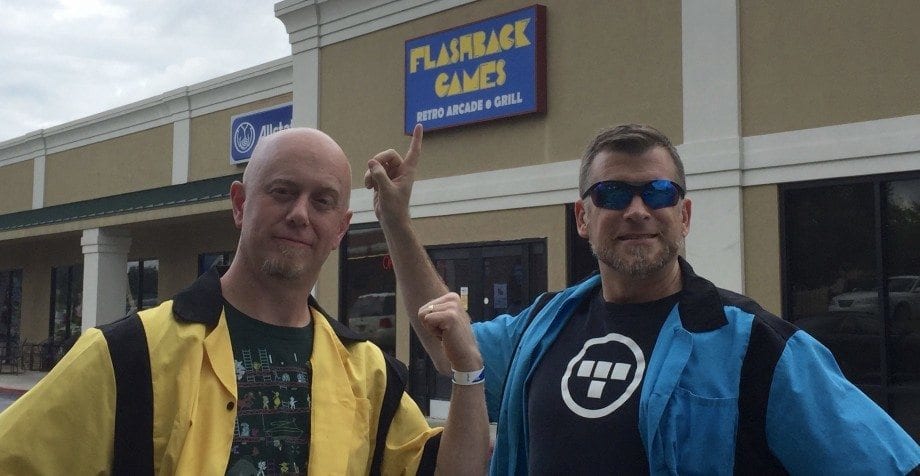 Feedback
Thanks to our EarBuds for making this episode fantastic with their feedback from previous episodes on social media, in electronic-Ms, and even in person.  We respond to Derek Spier, Jeffrey Fischbach, Chris Hamilton, Michael Goldtrap, Joey Letson, and T-Bird Thomas Thompson in our Feedback segment.  Thanks for the comments and corrections you send our way week after week.
So put your finger on the Twitter and tweet @TechnoRetroDads with your answers to our questions as shazbazzar and JediShua continue their trek through the decades in the fog of confusion.  Whether you have some tips to help us make it through the Popeye video game or you want to share your memories of Richard Hatch (from Battlestar Galactica, not Survivor), give us your feedback and let us know what you think by calling our voice mail line at (209) 878-7323 or sending us an electronic-M to podcast@TechnoRetroDads.com.  Don't forget to rate and review TechnoRetro Dads on iTunes!
Share and enjoy!
---
Join shazbazzar and JediShua each week for a look back at the '70s and '80s as they share the fun and also fandom of their youth with their families, friends, and EarBuds. Topics include TV, film, music, toys, and games of the '70s and '80s as well as franchises which have continued into the 21st Century, like Star Wars, TRON, and Battlestar Galactica. TechnoRetro Dads is a blend of new stories as old legends are then passed down from one generation to the next.
If you're a TechnoRetro Dad, the child of one, or just want to relive the joy of the '70s and '80s today, then this podcast is for you!