How many digits of pi can you recite?  After listening to today's episode of TechnoRetro Dads, you're gonna be able to sing many, many more.  Enjoy rounds of circular reasoning and terrific tunes with shazbazzar and JediShua.
                  
---
[iframe url="http://html5-player.libsyn.com/embed/episode/id/4148960/height/500/width/920/theme/custom/autoplay/no/autonext/no/thumbnail/yes/preload/no/no_addthis/no/direction/backward/render-playlist/yes/custom-color/089efc/" width="920″ height="500″]
---
Greetings, Programs!
Are you ready for an hour and pi minutes of great music to celebrate Pi Day on the 14th of March?  The choices on this very special episode will make you deliciously dizzy with some favorites, both old and new, informative and quirky.  Let's go!
From Archimedes to Einstein and beyond, the songs are spinning on our record players Monday with numbers that will go on and on and on and on in a most irrational way on this week's TechnoRetro Dads.  If you want to get in on the fun and add the full versions (or official versions) of these songs to your TechnoRetro turntables (digitally, of course), you can click on the links below to purchase them on iTunes.
"Apples, Peaches, Pumpkin Pie" (Jay & The Techniques)
"You Spin Me Round (Like a Record)" (Dead or Alive)
"Round and Round" (RATT)
"Custard Pie" (Led Zeppelin)
"Circle of Life" (DConstructed)
"Will It Go Round in Circles?" (Billy Preston)
"What Am I Doing Hangin' 'Round?" (Monkees)
"Circles" (Captain & Tennille)
"Circumference (It Just Makes Sense)" (Rhythm, Rhyme, Results)
"Circles" (Edie Brickell & New Bohemians)
"The Circle Is Complete" (High Adventure)
Don't forget to voice your opinion in the Battle of the Cereals with Batman v Superman cereals in this month's TechnoRetro Cereal challenge on our Facebook page.  And if you want to leave us a voicemail, be sure to call us at (209) TR-TRDad or record a message on your computer or phone and send us an electronic-M to podcast@TechnoRetroDads.com.
JediShua and shazbazzar will return next week with 77 minutes of NEWS, CEREAL, SCIENCE, and more next Monday.  Until then, plug in your EarBuds and sing along until you remember the first hundred or so digits of pi.
Share and enjoy!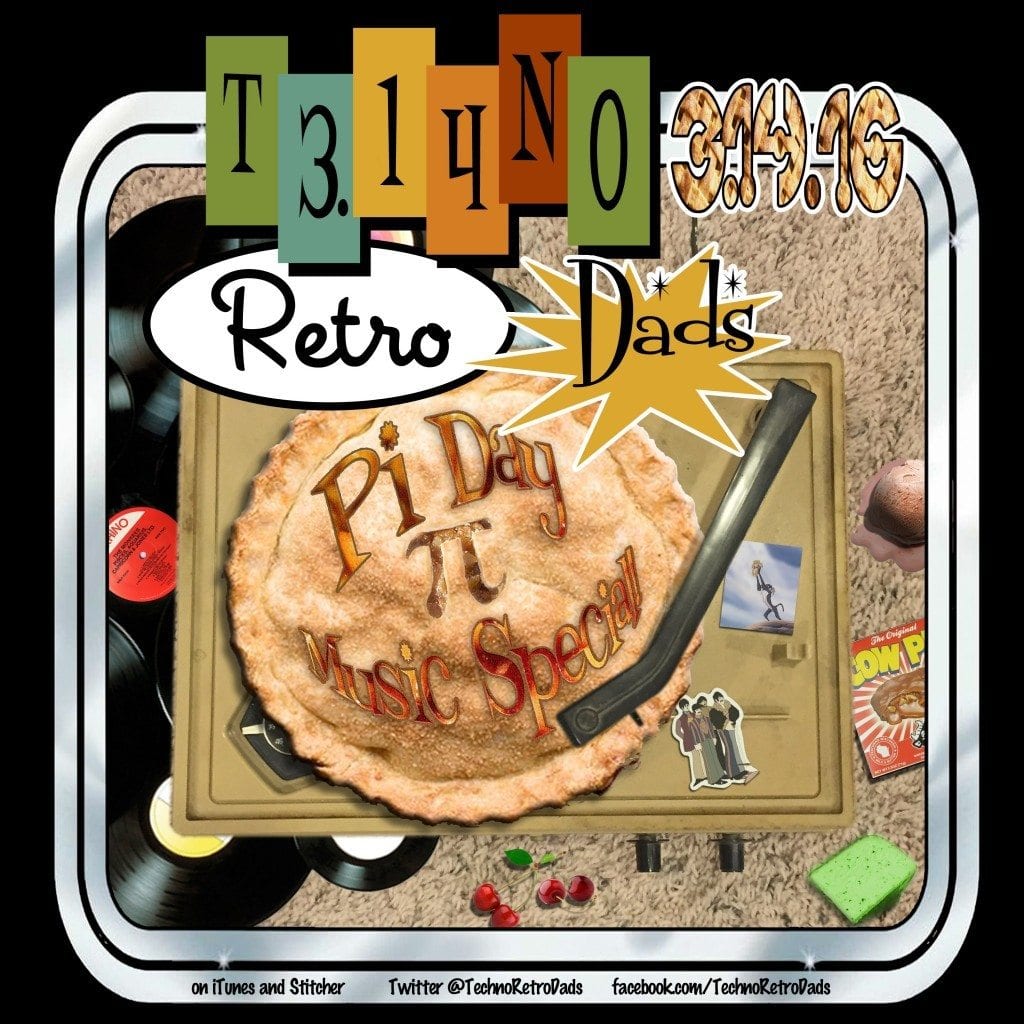 ENJOY A SLICE OF PI AS OUR TURNTABLE SPINS ROUND AND ROUND
About TechnoRetro Dads

Join shazbazzar and JediShua each week for a look back at the 70s and 80s as they share the fun and fandom of their youth with their families and friends. Topics include TV, film, music, and games of the '70s and '80s as well as franchises which have continued into the 21st Century, like Star Wars and TRON. TechnoRetro Dads are a blend of new and old as stories are passed down from one generation to the next.

If you're a TechnoRetro Dad, the child of one, or just fondly remember the sci-fi/fantasy properties of the '70s and '80s, then this podcast is for you!