What?!  La La Land didn't win?  Moonlight sees the light of day on the morning after the Oscars while the 'Dads revisit 1977's winner, Rocky.
JediShua and shazbazzar react to today's news and yesteryear's reviews each week on TechnoRetro Dads.  This week the 'Dads remember Rocky, discover Pac Man's Beatlesque moment, and see retrotastic toys at the recent Toy Fair event.
---
      
---
[iframe url="http://html5-player.libsyn.com/embed/episode/id/5120051/height/90/width/1000/theme/custom/autonext/no/thumbnail/yes/autoplay/no/preload/no/no_addthis/no/direction/backward/no-cache/true/render-playlist/no/custom-color/089efc/" height="90″ width="1000″ scrolling="no" allowfullscreen="allowfullscreen webkitallowfullscreen mozallowfullscreen oallowfullscreen msallowfullscreen"]
---
Oscar Afterparties and Aftershocks
Whether you love the Academy Awards or the Oscars make you grouchy, the morning after Hollywood's most celebrated celebration of La La Land will most assuredly bring joy to your Monday morning and get your work week off to a better than Rocky start.  So get off the Fences and find those long lost toys and Hidden Figures from your Star Wars collection and join shazbazzar and JediShua as the Moonlight gives way to daybreak with the Arrival of the latest episode of TechnoRetro Dads.  So stop Lion there in bed and Hacksaw the dream chains from your dreaming brains before you miss out on the bright day ahead!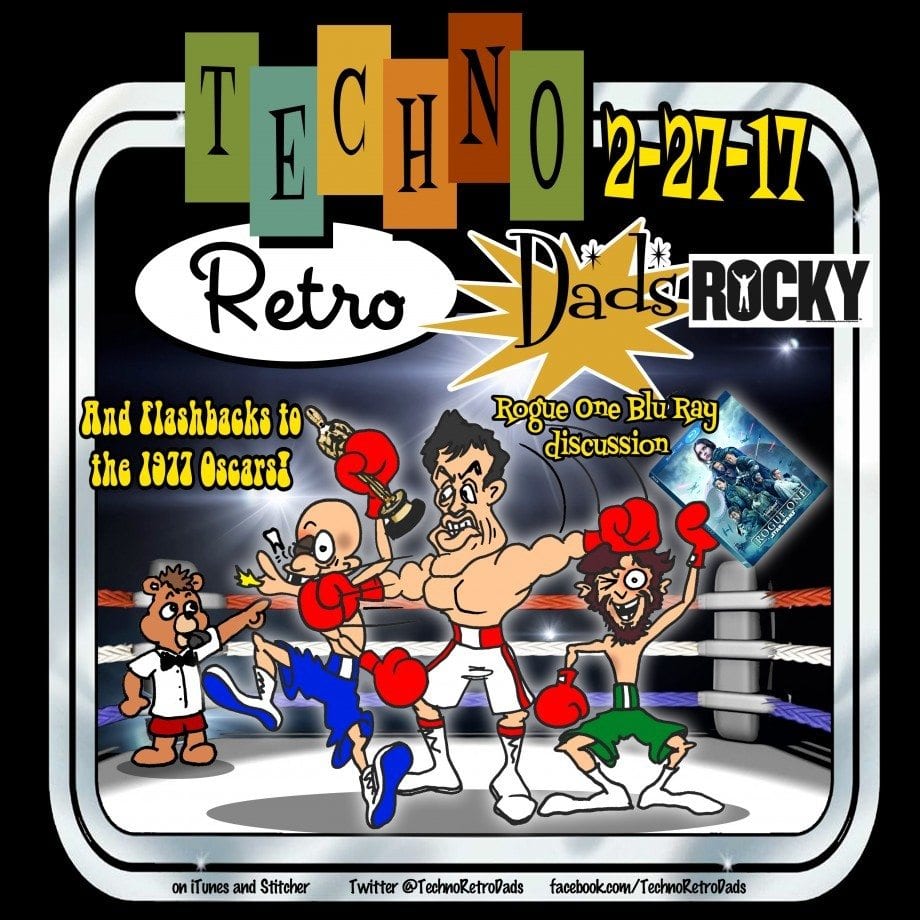 In the NEWS…
Weird Al fills an accordion with loads of vinyl including previously unreleased tracks alongside a complete collection of his works.  Rogue One comes to your home in just over a month on DVD and Blu-ray.  The Last Jedi title discussion reaches a conclusion with French and Spanish titles' explanation of this questionable phrase in English.
Aftershocks of 1977
Find out how the 49th Academy Awards launched the career of an iconic actor when the Best Picture of 1976 featured a nearly penniless man, his dog, and a heart that enabled him to go the distance.  Rocky continues to hit viewers where it counts four decades after its initial release.  JediShua and shazbazzar relate their thoughts about this classic film that put Sylvester Stallone on the Hollywood best list.
Toys in the Attic
With Toy Fair in the rear-view mirror, the 'Dads react to some of the toys that scored with them.  From retrotastic space helmets to booming balloon sabers, and miniaturized arcade cabinets to upgraded talking teddy bears, these toys will be a hit with the X Generation when they go shopping for their kids (or grandkids) this year.
TechnoRetro Speculations
With the announcement of Rogue One on Blu-ray comes speculations and hopes for what could be included in the various packages and exclusives next month.  Although shazbazzar and JediShua don't have any voice in what should be included, they share some of their hopes about the unlikely possibilities as the latest addition to the Star Wars movies gets its first release (of course there will be many, many more releases over the next four decades).
History Lesson
Sam Beckett battles the "Curse of the Ptah Hotep" as an archaeologist sixty years ago.  John Connor celebrates his thirty-second birthday just before the most well-known Weasley turns thirty-six.  A dumb kid realizes that we're not alone in the universe on a back road while Adam Sandler gets smarter.  This week's fictional history is finally truly historical.
TechnoRetro Dads is the perfect cure for your morning after blues after the Oscar after parties.  We would love to hear from our EarBuds via Twitter @TechnoRetroDads or on Facebook, so let us know what you're thinking on social media, or you can give us your feedback and let us know what you think by calling our voice mail line at (209) 878-7323 or sending us an mp3 via electronic-M to podcast@TechnoRetroDads.com.  Don't forget to rate and review TechnoRetro Dads on iTunes!
Share and enjoy!
---
Join shazbazzar and JediShua each week for a look back at the '70s and '80s as they share the fun and also fandom of their youth with their families, friends, and EarBuds. Topics include TV, film, music, toys, and games of the '70s and '80s as well as franchises which have continued into the 21st Century, like Star Wars, TRON, and Battlestar Galactica. TechnoRetro Dads is a blend of new stories as old legends are then passed down from one generation to the next.
If you're a TechnoRetro Dad, the child of one, or just want to relive the joy of the '70s and '80s today, then this podcast is for you!