The Fifth Dimension?  Old news.  Beethoven's Fifth Symphony?  Shallow.  TechnoRetro Dads begin their Fifth Season?  Masterful.
JediShua and shazbazzar embark on the next chapter of TechnoRetro Dads with a shorter episode packed full of urgent news stories, unexpected cereal tastes, and udderly ridiculous Aftershocks of 1977 in an abbreviated show.
---
      
---
[iframe url="http://html5-player.libsyn.com/embed/episode/id/5219137/height/90/width/1000/theme/custom/autonext/no/thumbnail/yes/autoplay/no/preload/no/no_addthis/no/direction/backward/no-cache/true/render-playlist/no/custom-color/089efc/" height="90″ width="1000″ scrolling="no" allowfullscreen="allowfullscreen webkitallowfullscreen mozallowfullscreen oallowfullscreen msallowfullscreen"]
---
Onward into the Fifth Season
With four years behind them, shazbazzar and JediShua begin the fifth season of TechnoRetro Dads with a shorter-than-usual episode (due to time constraints) as we continue to look at news, history, video games, and Aftershocks of 1977.  The year ahead looks fantastic — much better than this episode.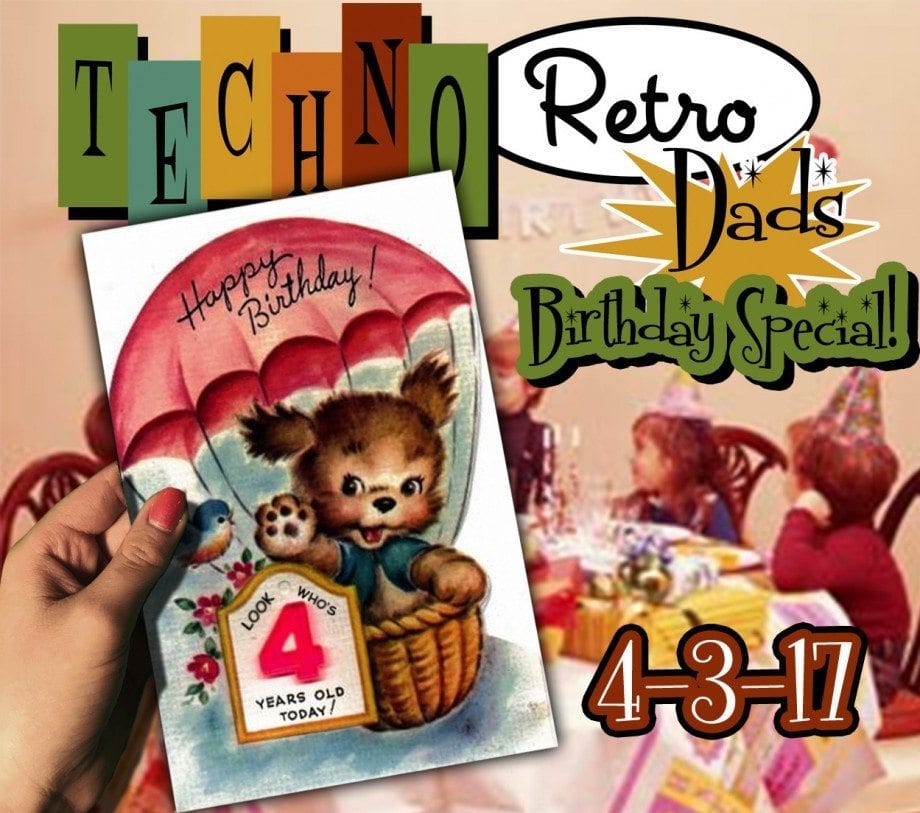 In the NEWS…
An unbelievable amount of news was released this week about Disney, Star Wars, TRON, Indiana Jones, and Ready Player Two.  You won't believe your ears when you hear what we have to say about it!
Some of us Love Our Cereal…
A brand new, unannounced cereal has just unseated Cinnamon Toast Crunch as the all-around best cereal of all time.  What is it?  Tune in to find out.  (We think shazbazzar may have picked up the wrong thing.  He couldn't have been eating the same thing JediShua was eating.)
TechnoRetro Arcade
What could be better than watching Q*bert fall off his pyramid of cubes?  Raking falling leaves!  We're guessing that few people still remember this 1982 interactive arcade game by Gotchlieb.
Aftershocks of 1977
We take a peek back at the Bosco award winning movie from 1977, Danny Pall.  The tragic comedy features a forty-something dad with a neurosis that causes him to revert back to his former years at random and puts everyone in disarray.  Only available on Betamax these days, this one will be hard to find!
History Lesson
Loads of Fictional History of fictional events all occur on the same day — and we're here to chronicle them all!  Find out more by downloading TechnoRetro Dads.
Check out TechnoRetro Dads from the past four years as you await the next episode on April 10th.  Join shazbazzar and JediShua in the fifth season of TechnoRetro Dads as they relive the things that made us who we are today — even those who were too young to remember those times.  Be sure to let us know what you're thinking on social media, or give us your feedback by calling our voice mail line at (209) 878-7323 or sending us a message or mp3 via electronic-M to podcast@TechnoRetroDads.com.  Don't forget to rate and review TechnoRetro Dads on iTunes and Stitcher.
Share and enjoy!
Oops!  This episode was supposed to release on Monday, April 3rd.  Consider this an early listener feature.
---
Join shazbazzar and JediShua each week for a look back at the '70s and '80s as they share the fun and also fandom of their youth with their families, friends, and EarBuds. Topics include TV, film, music, toys, and games of the '70s and '80s as well as franchises which have continued into the 21st Century, like Star Wars, TRON, and Planet of the Apes. TechnoRetro Dads is a blend of new stories as old legends are then passed down from one generation to the next.
If you're a TechnoRetro Dad, the child of one, or just want to relive the joy of the '70s and '80s today, then this podcast is for you!