JediShua and shazbazzar are joined by a full cast of characters for an audio remake of The Star Wars Holiday Special (more or less).
With Steve Glosson, Chris Hamilton, JediAri, Little "A"s, Mike MacDonald, Chase Norton, Sheldon Norton, Scott Ryfun, shAbbeyzzar, shazzyLuke, Joe Tavano and lots and lots of songs from High Adventure and friends.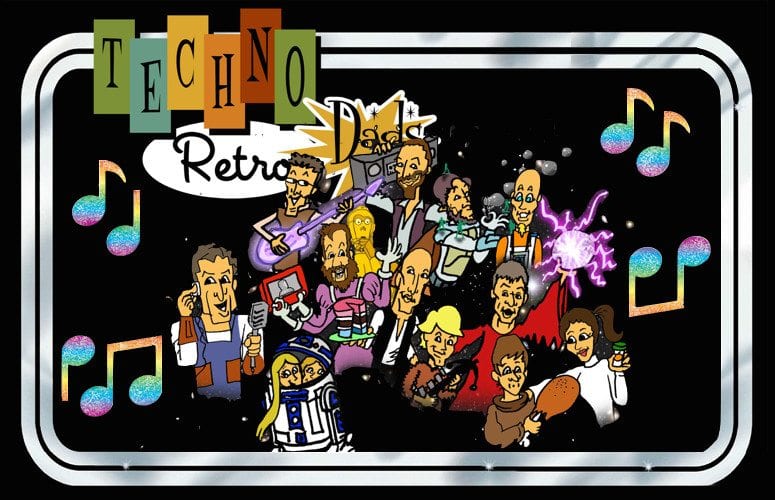 ---
      
---
[iframe url="http://html5-player.libsyn.com/embed/episode/id/4829045/height/90/width/1000/theme/custom/autonext/no/thumbnail/yes/autoplay/no/preload/no/no_addthis/no/direction/backward/no-cache/true/render-playlist/no/custom-color/089efc/" height="90″ width="1000″ scrolling="no" allowfullscreen="allowfullscreen webkitallowfullscreen mozallowfullscreen oallowfullscreen msallowfullscreen"]
---
The TechnoRetro Dads Holiday Special Remix Special Edition
Thirty-Eight years ago, television audiences were invited into the quirkier side of life in that galaxy far, far away on the Star Wars Holiday Special.  Fortunate fans were welcomed into Chewbacca's home to wait with his wife, son, and father for him to come home for Life Day, a celebration of joy and peace among Wookiees.
On 17 November 1978, before most homes had VCRs to record this one-time broadcast, eager Star Wars fans tuned in for an unexpected combination of aliens, stormtroopers, comedy sketches, musical numbers, and the heroes of the movie that captured the consciousness of the world over the past eighteen months.  The resultant two-hour special left some fans befuddled, some frustrated, and some gleeful just to see more adventures of Luke Skywalker, Han Solo, Princess Leia, Chewbacca, C-3PO, and R2-D2.
The Star Wars Holiday Special is a tribute to the late 70s, preserving the flavor of popular television shows and the gaudy glam of disco culture.  Featuring well-known television stars Harvey Korman, Art Carney, and Bea Arthur, what worked well with audiences week after week on sketch comedy shows has been widely panned among viewers since then.  Perhaps it brought the Star Wars galaxy just a little too close to our own.  Musical guests Diahann Carroll and The Jefferson Starship lit up the imagination through sight and sound with their "in universe" performances — one of which, at least, seems entirely inappropriate for family viewing and will make you squirm in your seat.
Making the Holiday Special TechnoRetro
Since first seeing it, shazbazzar and JediShua have held a special affection for the Star Wars Holiday Special, resulting in annual tributes to this memorable moment of our childhoods.  This year, the TechnoRetro Dads Holiday Special remixes segments from the 2014 Holiday Special into a TechnoRetro Special Edition that shows other homes were experiencing the same anticipation and anxieties about friends and families arriving in time for Life Day as Malla, Lumpy, and Itchy experienced in their home.
The Remix
Hopefully, the dialogue will be easier to understand than the grunts and growls of the Wookiees on this special.  Reprising their roles from the earlier version are Sheldon and Chase Norton, Mike MacDonald, Chris Hamilton, Joe Tavano, the Shualings, and musical group High Adventure.  Additionally, the shazlings join in to prepare a meal with help from Steve Glosson, Scott Ryfun lends his voice to the mix, and a few more songs by High Adventure find their way into the story prepared especially for our EarBuds for this Life Day Celebration.
---
About TechnoRetro Dads
Join shazbazzar and JediShua each week for a look back at the '70s and '80s as they share the fun and fandom of their youth with their families and also their friends. Topics include TV, film, music, toys, and games of the '70s and '80s as well as franchises which have continued into the 21st Century, like Star Wars, TRON, Lord of the Rings, and Star Trek. TechnoRetro Dads is a blend of new stories and also old legends are passed down from one generation to the next.
If you're a TechnoRetro Dad, the child of one, or just fondly remember the sci-fi/fantasy properties of the '70s and '80s, then this podcast is for you!