School is back in session for the TechnoRetro Kids, so shazbazzar and JediShua remember the beginning of the school year in the 70s & 80s.
PLUS: Rodney Dangerfield went Back to School as Thorton Melon in the 1986 comedy with Sam Kinison, Burt Young, Robert Picardo, M. Emmet Walsh, Ned Beatty, Kurt Vonnegut, and Robert Downey, Jr.
      
---
[iframe url="http://html5-player.libsyn.com/embed/episode/id/4592023/height/500/width/920/theme/custom/autoplay/no/autonext/no/thumbnail/yes/preload/no/no_addthis/no/direction/backward/render-playlist/yes/custom-color/089efc/" width="920″ height="500″]
---
Lunchboxes, backpacks, Trapper Keepers, pencil cases, ornamental erasers, and a Little Professor calculator are but a few of the things you absolutely had to have when you went back to school after a summer of fun in the sun.  Start your work…er…uh…school week off right with 77 minutes of TechnoRetro Dads as we take a trip back in time to our own school days with essential supplies from the annual "Back to School" sale.
In the NEWS…
Continue your education after school with an updated version of the '70s classic edutational PBS program The Electric Company, now on HBO (alongside Sesame Street) with a new cast featuring schools of superheroes.  Play Dungeons & Dragons online with your friends via Roll20 — a fully interactive and graphically-enhanced way of playing hundreds of classic role-playing games on the GRID (thanks for the heads-up, Sheldon).  The middle school kids from Hawkins may make their way into an 8-bit video game to bridge the gap between the first and second seasons of Stranger Things (thanks, Ryan, for this bit of info).  And, of course, everyone watched the Olympic Games in Rio last Thursday night to see Michael Phelps win another gold medal (while millions awaited the premiere of the latest Rogue One trailer).
We Love Our Cereal
We finally review and rate Tiny Toast according to the TechnoRetro Dads Official Cereal Connoisseur Rating System and find both flavors curiously sweet (shaz thinks they taste like Monster Cereals).  And speaking of Monster Cereals, in an election where you can actually vote in support of a candidate rather than against the one you feel is less qualified than the other, General Mills offers voters a real option online at MonstersVote2016.com.  Plus, Darth Taxus tweets some pics of new cereals hitting stores this month.
Back to School (1986)
JediShua and shazbazzar revisit Rodney Dangerfield's Back to School (PG-13) featuring Sally Kellerman, Burt Young, Ned Beatty, Keith Gordon, M. Emmet Walsh, Sam Kinison, Robert Picardo, Kurt Vonnegut, Jr., and Robert Downey, Jr.  A wealthy clothing entrepreneur decides to venture into the realm of academia as he enrolls in college with his son (that guy from Christine) and a young Tony Stark.  The laughs still resonate, but the color is certainly "off" in the vintage '80s style.
Celebrate the beginning of the school year with TechnoRetro Dads this Monday morning!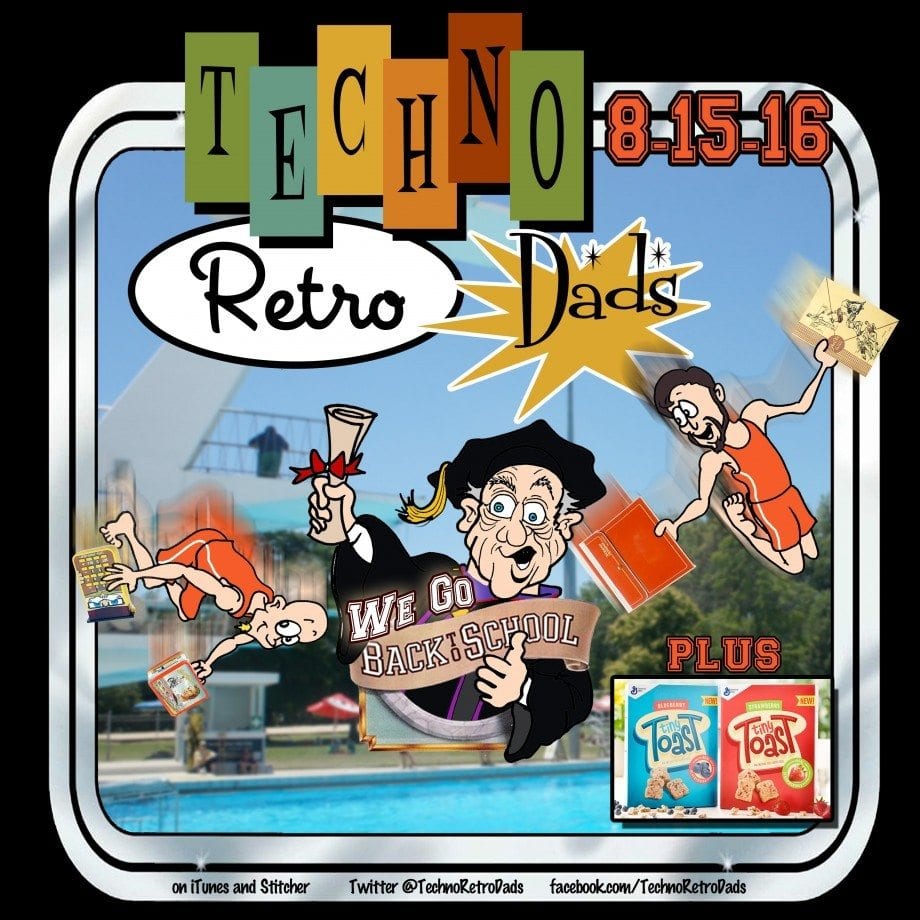 Share and Enjoy!
About TechnoRetro Dads
Join shazbazzar and JediShua each week for a look back at the '70s and '80s as they share the fun and fandom of their youth with their families and also their friends. Topics include TV, film, music, toys, and games of the '70s and '80s as well as franchises which have continued into the 21st Century, like Star Wars, TRON, The Dark Crystal, Transformers, and The Last Starfighter. TechnoRetro Dads are a blend of new and old as stories are passed down from one generation to the next.
If you're a TechnoRetro Dad, the child of one, or just fondly remember the sci-fi/fantasy properties of the '70s and '80s, then this podcast is for you!