JediShua and shazbazzar remember when falling leaves became toys for making crash cushions, obstacle courses, and cool fortresses.
BEWARE: As Halloween draws ever nearer, there may be transient Transylvanians out to draw your blood. As pumpkin spicy as autumn has become, shazbazzar and JediShua still remember the reason the season is called "fall" — falling leaves!
      
---
[iframe url="http://html5-player.libsyn.com/embed/episode/id/4749253/height/90/width/1000/theme/custom/autonext/no/thumbnail/yes/autoplay/no/preload/no/no_addthis/no/direction/backward/no-cache/true/render-playlist/no/custom-color/089efc/" height="90″ width="1000″ scrolling="no" allowfullscreen="allowfullscreen webkitallowfullscreen mozallowfullscreen oallowfullscreen msallowfullscreen"]
---
TechnoRetro Dads remember that toys not only grow on trees, they fall from them and can be used to build mountains, forts, or soften jumps from tree limbs.  Plug in your ear buds, EarBuds for an audio excursion into the past with bits of nostalgia and at the possibility of bites from vampires and leave the raking to us!
In the NEWS…
Jim Henson's Fraggle Rock is remastered and returning to HBO soon.  James Bond and Boba Fett would be proud of a current crowdfunding project by JetPack Aviation.  Take a peek at some incredible concept art from the original live action Batman series from the '60s.  ThinkGeek presses R2-D2 into action yet again with a coffee maker.  The Beatles live in a LEGO Yellow Submarine.  J.C. Reifenberg pops up with "Scum & Villainy" next spring.
Science Lesson
New York Comic Con was the place to be for Star Wars fans' science questions about that galaxy far, far away.  Lightsaber tech (including Kylo Ren's crossguard), hyperspace travel, and planet-obliterating suppressers are all discussed while the tougher questions about jet packs, rocket boots, and astromech communications are left up to the scientific ingenuity of our own JediShua.
History Lesson
Travel through time with DC's Batman, Flash, and Watchmen.  Flashback to the forties with Highlander.  Flux your capacitor back a year with Back to the Future II.
Get your work week started off right with 77 minutes of #TechnoRetro goodness and leave the raking to us (after all, it's the season for falling leaves)! In the meantime, be sure to rate and review us on iTunes and lend your voice by telling us your #TechnoRetro memories via electronic-M (podcast@TechnoRetroDads.com) or via voicemail at (209)TR-TRDAD.  We want to hear from you!
Share and Enjoy.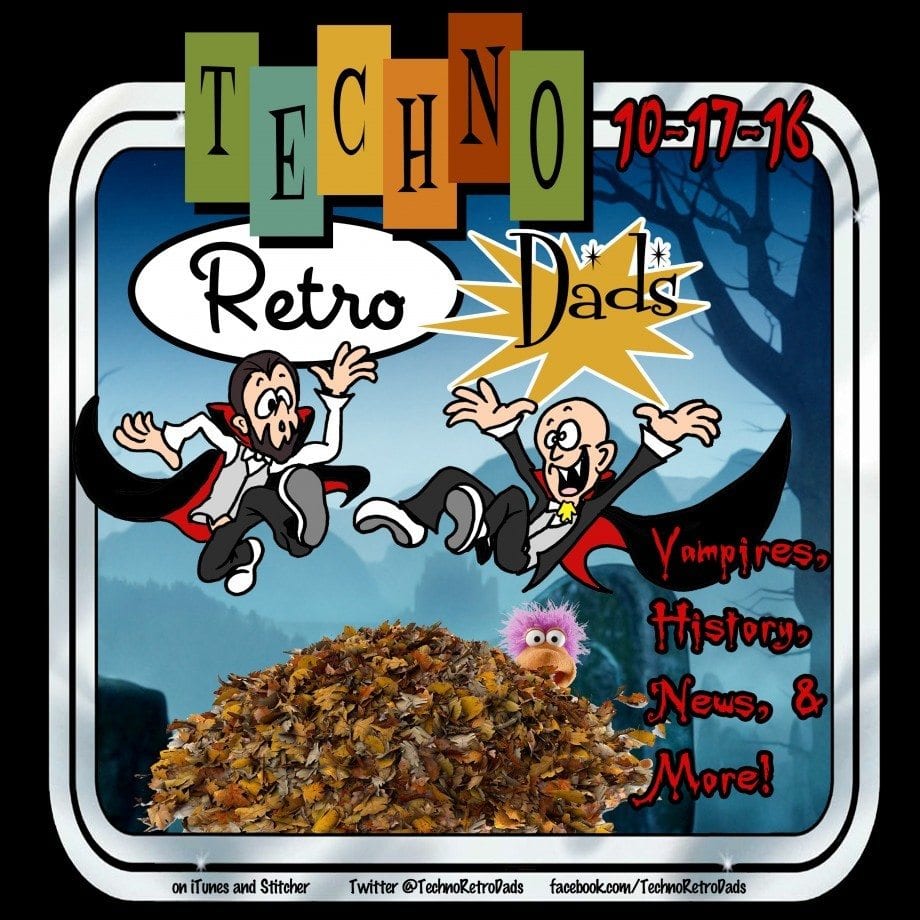 About TechnoRetro Dads
Join shazbazzar and JediShua each week for a look back at the '70s and '80s as they share the fun and fandom of their youth with their families and also their friends. Topics include TV, film, music, toys, and games of the '70s and '80s as well as franchises which have continued into the 21st Century, like Star Wars, TRON, The Dark Crystal, Batman, Highlander, Fraggle Rock, and The Jetsons. TechnoRetro Dads is a blend of new stories and also old legends are passed down from one generation to the next.
If you're a TechnoRetro Dad, the child of one, or just fondly remember the sci-fi/fantasy properties of the '70s and '80s, then this podcast is for you!