Chris Hamilton from Star Wars KidsCast joins shazbazzar and JediShua to talk about dragons and remember the original Pete's Dragon from 1977.
PLUS: News about Ernest Cline's Ready Player One, Steven Spielberg's Ready Player One, Star Wars music news, Highlander rumors, cereal news and the all-new Cereal Gourmet segment. It's Dragon time!
      
---
[iframe url="http://html5-player.libsyn.com/embed/episode/id/4608297/height/500/width/920/theme/custom/autoplay/no/autonext/no/thumbnail/yes/preload/no/no_addthis/no/direction/backward/render-playlist/yes/custom-color/089efc/" width="920″ height="500″]
---
Almost forty years after Disney introduced an invisible animated dragon into the small New England town of Passamaquoddy with snake oil salesmen and sloshed singing, Pete's Dragon is rebooted with a friendly, fuzzy dragon in a lumber town in the northwest. Chris Hamilton from Star Wars KidsCast joins shazbazzar and JediShua to remember the 1977 Disney musical.  But that's not all!  From Falcor to the EberSisk, the 'Dads fly through some of the most memorable dragons on screen over the past five decades. So, put on your purple wings! Grab your Tic-Tac-Toe stick! And warm up your vocal chords for a time-traveling trip back in time to a memorable (whether cherished or not) movie from the minds of '70s kids.
In the NEWS…
Ready Player One is in the news! There's a signature version of the book and pictures from the set of the movie in Birmingham (England, not Alabama). John Williams confirms he's working on Star Wars Episode VIII. Clancy Brown wants to play an Egyptian Spanish peacock in the rumored reboot of Highlander. The Batman animated movie with the voices of Adam West and Burt Ward is coming this November.
We Love Our Cereal
USA Gymnasts will soon appear on boxes of Kellogg's Special K. Ice cream is flavored with cereal milk, and it sounds like it will be "licking the cone good!" Then, a new segment is introduced as two captains team-up for a classic combination of great tastes in your bowl on your TV in the Cereal Gourmet.
Next week we will feature some feedback from EarBuds, new and old, so send us your memories of Pete's Dragon, thoughts about the reboot, or anything else #TechnoRetro via electronic-M to podcast@TechnoRetroDads.com or voice mail to (209) TR-TRDAD or (209) 878-7323 right away!
Your day won't be draggin' when you remember your favorite dragons from days gone by!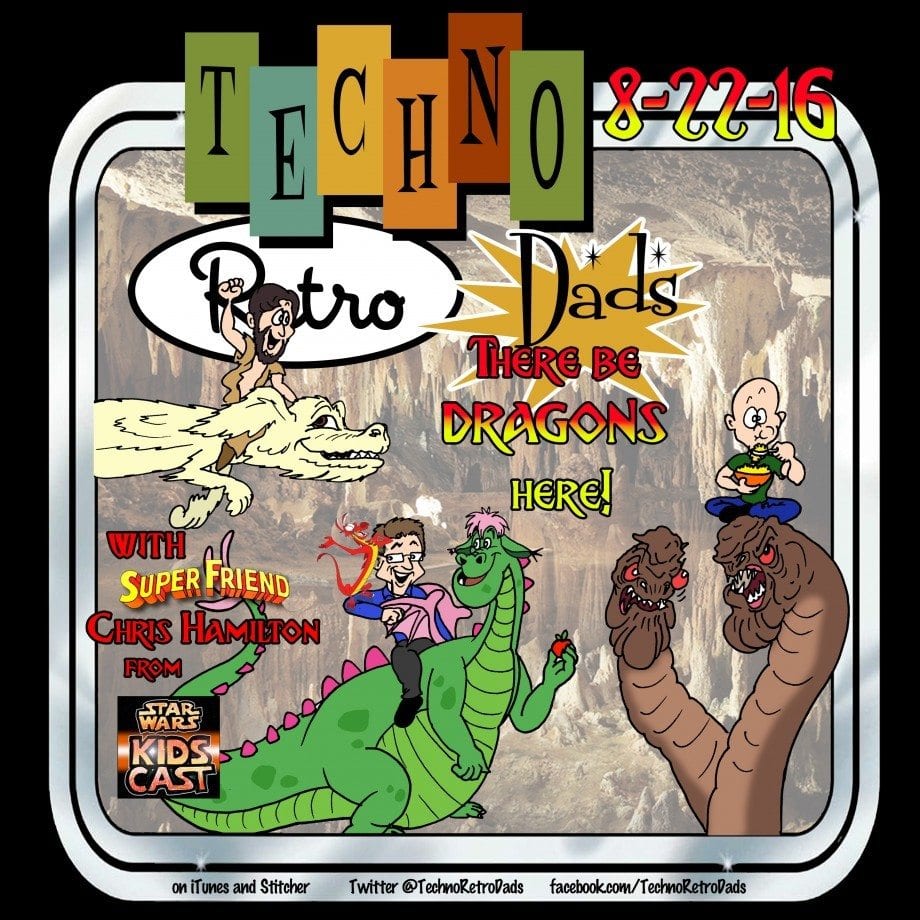 Share and Enjoy!
About TechnoRetro Dads
Join shazbazzar and JediShua each week for a look back at the '70s and '80s as they share the fun and fandom of their youth with their families and also their friends. Topics include TV, film, music, toys, and games of the '70s and '80s as well as franchises which have continued into the 21st Century, like Star Wars, TRON, The Dark Crystal, Pete's Dragon, Transformers, and The Last Starfighter. TechnoRetro Dads is a blend of new stories and also old legends are passed down from one generation to the next.
If you're a TechnoRetro Dad, the child of one, or just fondly remember the sci-fi/fantasy properties of the '70s and '80s, then this podcast is for you!