Disney dominates this freak-week on TechnoRetro Dads with Disney's Halloween Hall O'Fame and The Watcher in the Woods.
SuperFriend Steve Glosson joins JediShua and shazbazzar for a trip back to the weirdo era of live-action Disney with a movie that still haunts the host of The Big Honkin' Show and Geek Out Loud!
Disney's Halloween Hall O' Fame and The Watcher in the Woods
From a Watcher in the Woods, to a spooky cemetery, to a creepy, creaky haunted house, shazbazzar and JediShua crank up the frights to 6.7 as the 'Dads continue to celebrate the fun of Hallowe'en all month long.  Then, Steve Glosson of Disney Vault Talk, Geek Out Loud! and The Big Honkin' Show comes along and amps up the zaniness with memories of Disney's freak-fare of 1980, The Watcher in the Woods.
In the NEWS…
John Rhys-Davies wants another crack at Sallah in the fifth feature of the Indiana Jones film saga.  Zak Penn says his upcoming Matrix movie is neither a reboot nor a continuation.  Well, then, what is it?  Last I checked, it was just a red pill and a blue pill.  I'm starting to think Zak Penn may be a little yellow (not really, it just fit).  Back to the Future gets the kids' book treatment by Quirk Books, in the same stylings as the E.T. book we talked about earlier this year.
We Love Our Cereal
Europe imports American-style cereal in a Spanish cereal cafe.  Once the crazy colors and high sugar content hits the 40something crowd in Spain, everyone will be after that little leprechaun's Lucky Charms!
TechnoRetro Arcade
The spring is stretched.  The knob is released.  The ball bearing is launched into an inclined plane filled with bells, buzzers, lights, and magnets while a demon announces, "Me Gorgar. Me hurt you!"  Williams Electronics released the first talking pinball game in 1979 to both thrill and terrify arcade-goers in the late '70s and early '80s.  The 'Dads needed to have this classic contraption in the Hallowe'en room of the TechnoRetro Arcade simply because of shazbazzar's memories of his first real pinball game, Gorgar.
Disney's Halloween Hall O' Fame
While this 1977 Hallowe'en special isn't completely animated, the frame story featuring Jonathan Winters as a night watchman at Walt Disney Studios is sufficiently outrageous to be called "cartoony".  Like other seasonal specials of this time, Disney's Halloween Hall O' Fame features excerpts from three classic Disney cartoons: Trick or Treat (1952) pits Donald Duck against his nephews who are aided by Witch Hazel in a "trick or trick" war.  Pluto finds himself in the claws of demon cats in Pluto's Judgment Day (1935).  Finally, the Headless Horseman chases Mr. Nose-in-Book, himself, in "The Legend of Sleepy Hollow" portion of The Adventures of Ichabod and Mr. Toad (1949).
The Watcher in the Woods
SuperFriend Steve Glosson joins shazbazzar and JediShua to have his childhood fears drawn out like a being from another dimension being pulled from his world during an eclipse as he exchanges positions with a teenage girl in perhaps the freakiest live-action Disney movie ever, The Watcher in the Woods.  This cult classic is cultish in every sense of the word.  From ghost story to science fiction with seances and (in some versions) trans-dimensional worlds tiled in hexagons, The Watcher in the Woods scared (and scarred) many children of the '80s.  And now, The Lifetime Channel is remaking the movie as directed by Melissa Joan Hart.  But the 1980 film with connections to Ice Castles, James Bond, Escape to Witch Mountain, and Stranger Things is one of the two things Steve fears above all else. It will premiere this weekend.  So whether you couldn't look away or couldn't bear to watch, The Watcher in the Woods would mesmerize, hypnotize, or paralyze with its Bette Davis Eyes!
Feedback
Michael Heicken sends in a vintage pic of three boys in Ben Cooper Star Wars costumes from 1977 with him, his brother, and his friend as Chewbacca, a stormtrooper, and Darth Vader.  Bernadette Marie suggests playing phantasmagoria in a cold, dark basement for enhanced experiences.  Joseph Fuller is interested in collecting Star Wars trading cards and asks for some advice.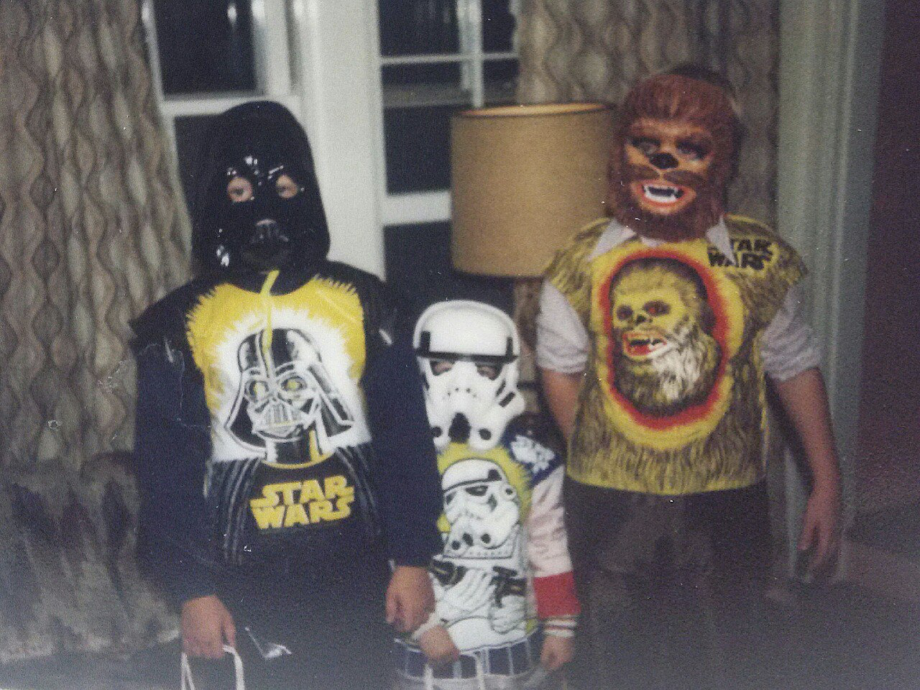 Don't forget to rate and review TechnoRetro Dads on iTunes, share us and with us on social media, or lend your voice to our discussion about toys, cereal, games, or movies and shows from the '70s and '80s by giving the 'Dads your feedback on voice mail at (209) 878-7323 or sending us a message or mp3 via electronic-M to podcast@TechnoRetroDads.com.  Be sure to tune in to Geek Out Loud at GOLiverse on Mixlr for live rewatches of Stranger Things as we get ready for Stranger Things 2.  PLUS: Steve is blogging about the #TeamSteve experience at geekoutonline.com.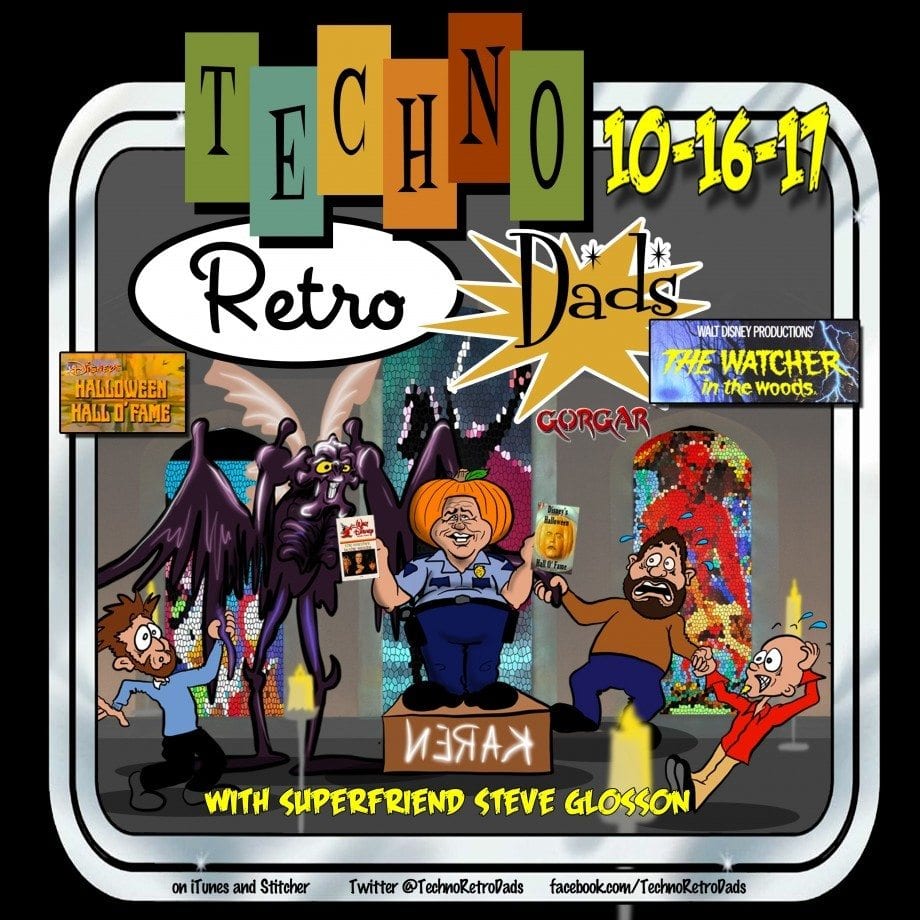 Share and enjoy!
---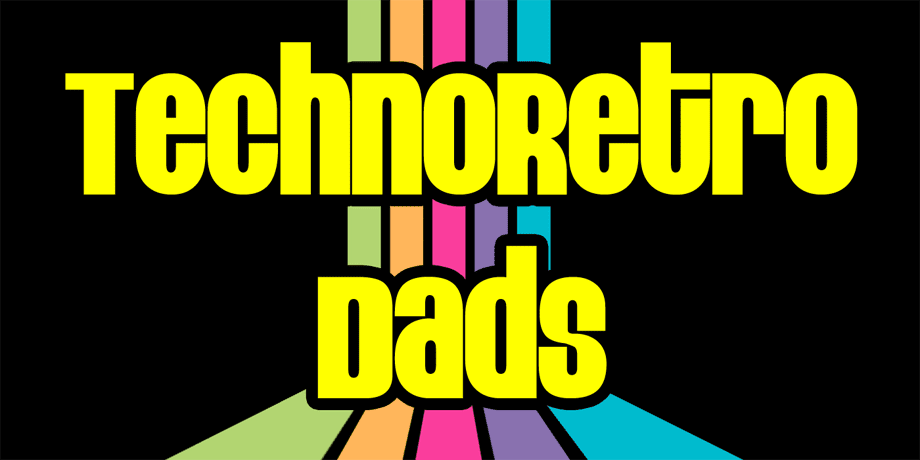 click banner for all episodes and homepage!
Join shazbazzar and JediShua each week for a look back at the '70s and '80s as they share the fun and also fandom of their youth with their families, friends, and EarBuds. Topics include TV, film, music, toys, and games of the '70s and '80s as well as franchises which have continued into the 21st Century, like Star Wars, TRON, and Buck Rogers. TechnoRetro Dads is a blend of new stories as old legends are then passed down from one generation to the next.
If you're a TechnoRetro Dad, the child of one, or appreciate the '70s and '80s, then this podcast is definitely for you!