Before heading outside to check out today's Total Eclipse, tune in to TechnoRetro Dads for river racing fun with Charlie Brown and Toobin'!
JediShua and shazbazzar cap off the summer camp season with whitewater excitement with Race for Your Life, Charlie Brown!  and the arcade classic Toobin'.  PLUS: lots of helpful information about today's Total Eclipse and some spoilers.
---
      
---
[iframe url="http://html5-player.libsyn.com/embed/episode/id/5661069/height/90/width/1000/theme/custom/autonext/no/thumbnail/yes/autoplay/no/preload/no/no_addthis/no/direction/backward/no-cache/true/render-playlist/no/custom-color/089efc/" height="90″ width="1000″ scrolling="no" allowfullscreen="allowfullscreen webkitallowfullscreen mozallowfullscreen oallowfullscreen msallowfullscreen"]
---
Charlie Brown Races for his Life while Toobin' under a Total Eclipse
Total Eclipse.  Yep.  That means we get to see the Dark Side of the Moon.  But since the sun will still be just as bright, unless you're in a place where the eclipse is totally total, you'd better not look up at the eclipse at all without approved eye protection or you'll be like that kid in 2nd grade who skipped school in 1979 to see the eclipse.  Boy is his mom gonna be mad when she finds out about this today!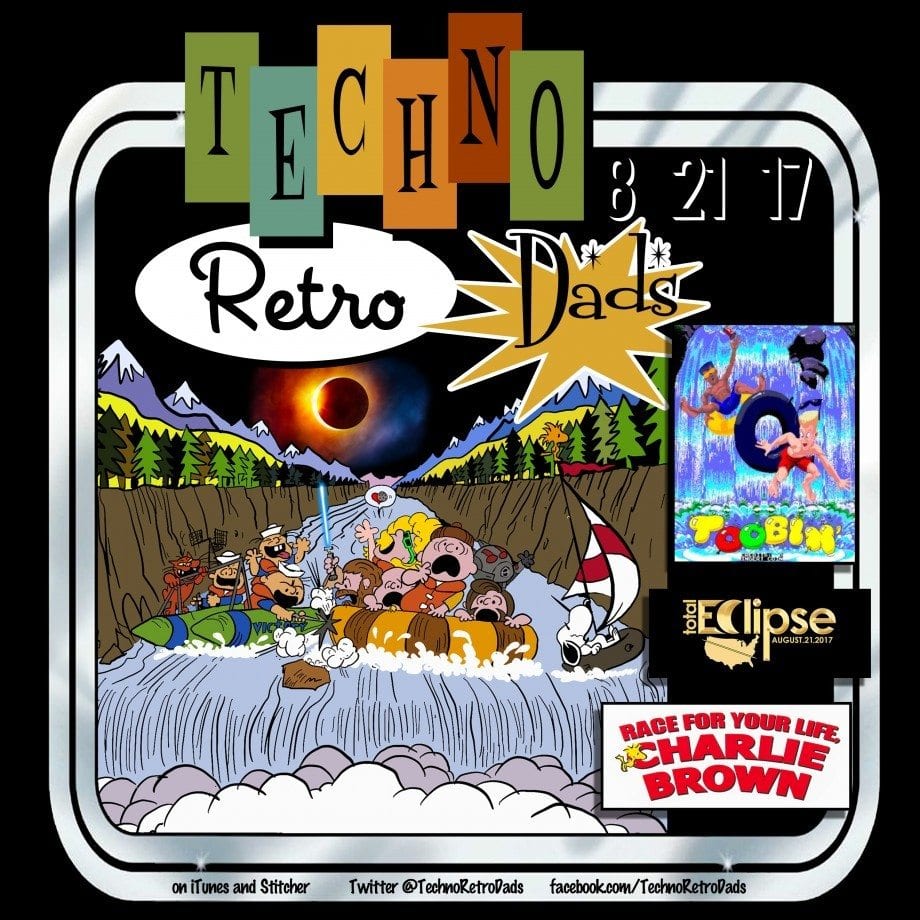 In the NEWS…
The Robot Overlords are going to be indestructible, now that we're providing them with self-repairing polymer synthflesh.  Seriously, have none of these scientists ever watched or read science fiction?  It's looking more and more like an Obi-Wan Kenobi film is in the making.  Ant-Man and Wasp is definitely in the making and one of the 'Dads was on set last week.  PLUS: more ranting about spoilers (not really) and Nerd's Gallery is now on iTunes.
TechnoRetro Arcade
Since the end of camp has come, we remember the good times in the river with the classic arcade game Toobin'.  With Bif and Jet, players can paddle their way downstream in a frantic race to the finish with a couple of buttons reminiscent of Track and Field.  Frustrate fishermen, collect letters, and throw things at your opponents in this game that's just a bit less violent than Race for Your Life, Charlie Brown!
Race for Your Life, Charlie Brown!
In Charlie Brown's first film after the death of long-time soundtrack composer, Vince Guaraldi, 1977 welcomed the ne'er-do-well balding adolescent to the silver screen in a summer camp special with friends and foes alike (and evidently no adult supervision) as Charlie Brown, Linus, Lucy, Peppermint Pattie, Snoopy, and Woodstock brave the rapids in a whitewater race to the finish.  But who will win in the end?  Cat's got your tongue?  Find out when Linus channels his inner Indiana Jones and Snoopy punches out an evil cat in Race for Your Life, Charlie Brown!
Science Lesson
It's all about the eclipse today, in your ear buds and in the sky, as the long-awaited day arrives for the first total eclipse visible in the continental United States since 1979.  JediShua and shazbazzar give you all the info you'll need to make this morning/afternoon an event you'll never forget.  Seize the moment, because who knows if you'll still be able to catch the next one.
Feedback
JediFisch loves Dynomutt.  Wendy Cooper reviews the Periodic Table of Elements.  George Lopez shows us some Gilbert Gottfried cereal and says that shazbazzar narrated A Dog's Purpose.  And Starchaser: The Legend of Orin gets mentioned in the comments.  Sheldon reminds us that Flight of the Navigator turned 31 last week.  Adam calls us back in time to remember Carrie Fisher in The Time Guardian (but it's really not a great movie).  Mike Tarkin calls to correct us.  And Derek and Michael spot some seasonal cereals that are coming before we expected!  Pumpkin Spice, anyone?
Don't forget to rate and review TechnoRetro Dads on iTunes, share us and with us on social media, or lend your voice to our discussion about spoilers, Star Wars, or movies and games from the '70s and '80s by giving the 'Dads your feedback on voice mail at (209) 878-7323 or sending us a message or mp3 via electronic-M to podcast@TechnoRetroDads.com.
Share and enjoy!
---
Join shazbazzar and JediShua each week for a look back at the '70s and '80s as they share the fun and also fandom of their youth with their families, friends, and EarBuds. Topics include TV, film, music, toys, and games of the '70s and '80s as well as franchises which have continued into the 21st Century, like Star Wars, TRON, and Buck Rogers. TechnoRetro Dads is a blend of new stories as old legends are then passed down from one generation to the next.
If you're a TechnoRetro Dad, the child of one, or appreciate the '70s and '80s, then this podcast is definitely for you!