Tune in for a very retro trip with the local rock band down the street as they try hard to learn their song as shazbazzar, JediShua, and Richard Woloski celebrate fifty years of The Monkees!
---
[iframe url="http://html5-player.libsyn.com/embed/episode/id/4165457/height/500/width/920/theme/custom/autoplay/no/autonext/no/thumbnail/yes/preload/no/no_addthis/no/direction/backward/render-playlist/yes/custom-color/089efc/" width="920″ height="500″]
Hey, Hey, all you Monkees!
It's hard to believe, but The Monkees have been in our collective consciousness for fifty years!  Way, way back in 1966, a nifty comedy featuring four Ben Frank types trying to make their way in a world overpopulated by bands of all shapes, sizes, sounds, and silly names.  And even though TechnoRetro Dads shazbazzar and JediShua weren't around when the show premiered in color on NBC, they remember The Monkees from their youth through records, reruns, and their very first rock concert (not The Monkees' first concert, obviously, the 'Dads' first concert).
This week on TechnoRetro Dads, SuperFriend Richard Woloski (Skywalking through Neverland, Talking Apes TV) lends his expert opinions on the "Pre-Fab Four" for 77 minutes of going bananas with good times, trivia, and tunes as they gush in their fandom for the four musical primates as they celebrate the ingenuity of inventing a band for a TV show and ending up essentially launching a musical career that has spanned six decades with fans of all ages.
But it's not all talk.  JediShua and Richard get their chance to prove their expertise as shazbazzar quizzes them Jeopardy-style with Monkee-centric categories like "THAT GIRL"; "COLORS"; "EVERY 'DAY' IS GETTING BRIGHTER"; "LOCATION, LOCATION, LOCATION"; "STATUS SYMBOL LAND"; and "THEY'RE ANIMALS!" Find out who is the big winner in this less-than-impressive imitation of the game show where you ask the questions.
What was your experience with The Monkees?  Did you have a favorite song or memorable episode?  Let us know by tweeting us @TechnoRetroDadds or sending us an electronic-M to podcast@technoretrodads.com. PLUS: Don't forget to chime in on our February Cereal Challenge by eating "SMORZ" cereal and reviewing it in our poll on Facebook.  We'll be talking all about the chocolatey, marshmallowy, graham-cracker cereal next week on TechnoRetro Dads.
Have a Pleasant Valley Monday with 77 minutes of fun with TechnoRetro Dads as you wake up and take on the day. We guarantee your smiles will be brighter and your Head will be filled with songs from a long time ago that are as good today as they were in the late '60s! Share and spread the love!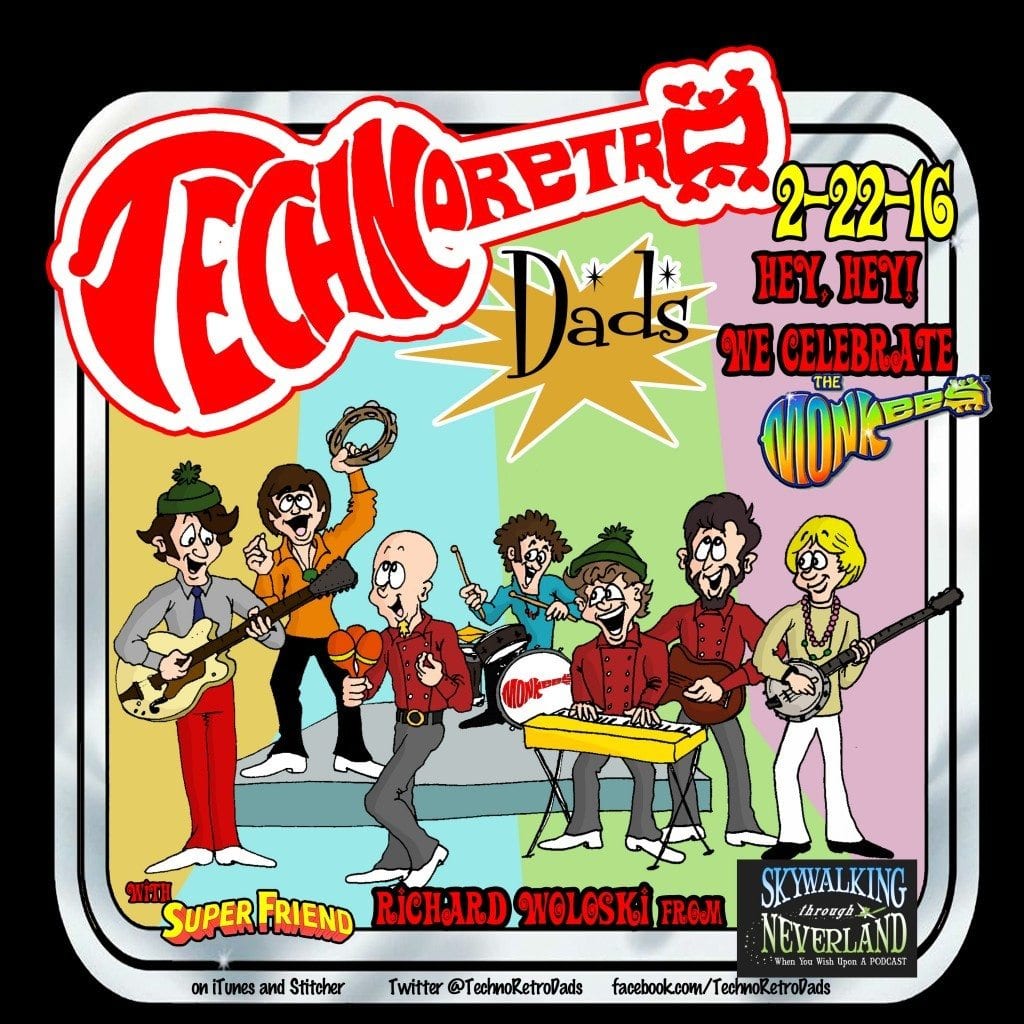 About TechnoRetro Dads

Join shazbazzar and JediShua each week for a look back at the 70s and 80s as they share the fun and fandom of their youth with their families and friends. Topics include TV, film, music, and games of the '70s and '80s as well as franchises which have continued into the 21st Century, like Star Wars and TRON. TechnoRetro Dads are a blend of new and old as stories are passed down from one generation to the next.

If you're a TechnoRetro Dad, the child of one, or just fondly remember the sci-fi/fantasy properties of the '70s and '80s, then this podcast is for you!