Casey Kasem's American Top 40 from this week 40 years ago collides with Spacey Ace'em's TechnoRetro Top 40 for a Star Wars Top Ten!
From funk to rock to country to disco, Billboard's top ten from the week of May 25, 1977 get the Star Wars treatment as shazbazzar and JediShua bring in the talents of Steve Glosson, Mrs. Shua, and High Adventure for a musical special.
---
      
---
[iframe url="http://html5-player.libsyn.com/embed/episode/id/5388724/height/90/width/1000/theme/custom/autonext/no/thumbnail/yes/autoplay/no/preload/no/no_addthis/no/direction/backward/no-cache/true/render-playlist/no/custom-color/089efc/" height="90″ width="1000″ scrolling="no" allowfullscreen="allowfullscreen webkitallowfullscreen mozallowfullscreen oallowfullscreen msallowfullscreen"]
---
American Top 40's Top Ten from the Week of 25 May 1977
Star Wars premiered in theaters 40 years ago today.  And since the number 40 has a nice ring to it, TechnoRetro Dads delve into the archives of American Top 40 with Casey Kasem as a soundtrack for the day.  In a strange turn of events, an alternative version of the radio show came across the airwaves as host Spacey Ace'em counts down the Top Ten from the week of May 25,  1977 and while the tunes sound familiar, the lyrics are a bit odd.  Count down the greatest hits of this week 40 years ago with a flair from that galaxy far, far away.  Special thanks to Steve Glosson, Glen Nelson, High Adventure, Mrs. JediShua, and Scott Ryfun (for moral support).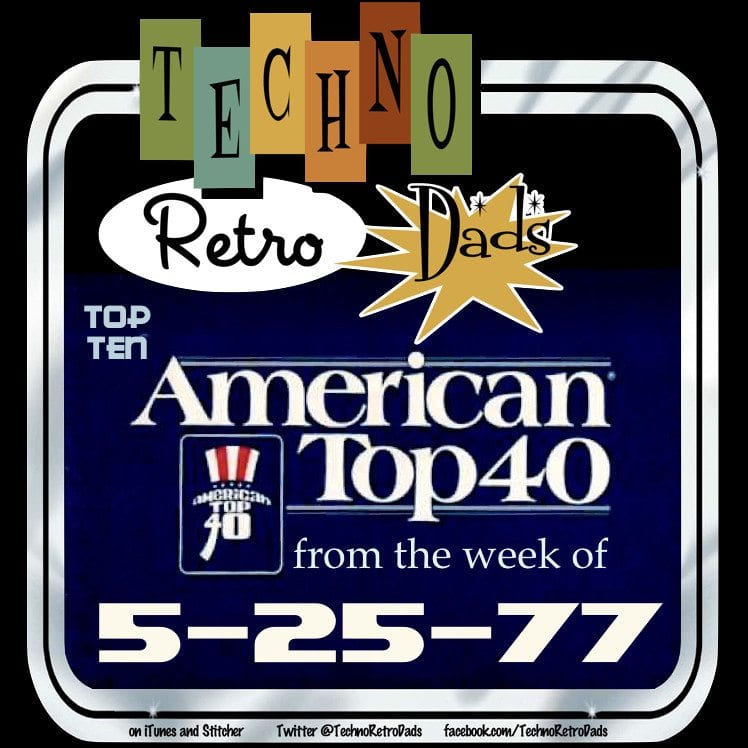 10.  "Feels Like It's Luke's Time"
The British/Georgian band GOLiver takes a peek at the unlikely successes of a fair-haired teenager from Tatooine.
9.  "Lonely Boy"
No, it's not Andrew Gold — but the story of a boy feeling separated from family resonates with artists Red, Blue, Gold as they follow the exploits of an orphan who loses almost everyone close to him before discovering his long lost sister and father.  This dark story has a light side for those who like happy endings.
8.  "You Squeal"
While Star Wars impressed audiences everywhere with its sights, sounds, and storyline, not everyone liked every character.  Gordon Rogers' song formerly topped the Country charts before making it to the Top Ten on TR40's list.  Artoo Detoo's squeaking and squealing didn't hit the right note with one Dad who had taken his family out to watch Star Wars.
7.  "Had Him in My Sight"
Glen Frey told us that smugglers and the Blues blend together well, but long before he recorded "Smugglers' Blues", The Parsecs Blues Band kicked off this tune about a smuggler trying to earn enough money to pay off his debts while avoiding any bounty hunters who are looking to cash him in with Jabba the Hutt.  It's Han vs Greedo with a classic finale worthy of 1977.
6.  "Gonna Fly Now"
Bill Conti meets John Williams as two great movies from two great years mash-up in this soundtrackstic jazzy bit.
5.  "Got to Sell Some Droids"
Jawas have to dance, too.  To fund their habit, they acquire and sell 'droids on their home planet of Tatooine.  It might be hard to understand their speech sometimes, but after listening to Marvin & Robin Jawa's funky bass line, you'll get the message loud and clear.
4.  "Dreams"
Fleetwood Sarlacc tracks the budding love affair between the princess and the pirate as Han and Leia revisit the trope of rich girl/bad boy as she questions whether he is capable of loving anything other than money.
3.  "I'm Kenobi Man"
The second disco/funk tune in this week's top ten is O.B. and the TwinSunshine Band's biopic about a Jedi who leaves the hustle and bustle of the galaxy to hide out on a desert planet and protect the son of Skywalker.  After all, he may be the last hope for everyone.
2.  "When I Need You"
We've all been there.  When you're trapped at work and all you want to do is Star Wars, the need is real.  Maybe singer Shua-O Player just needs to keep some collectables and toys near him at all times to keep his addiction at bay.
1.  "Sir Luke"
It's brassy.  It's jazzy.  It's groovy.  Shazzie Blunder bumps into an instant classic that's gonna have everyone feeling the Force from head toe.
And that's the Top Ten.  Of course, there are a few surprises along the way, so plug in your ear buds, EarBuds, and turn up the tunes.  We're betting you'll be dancing before it's over.
Don't forget this past Monday's episode for 77 minutes with shazbazzar and JediShua this week as they recall how Star Wars affected them and our whole world over the past forty years, and lend your voice to the discussion on social media or give the 'Dads your feedback by calling our voice mail line at (209) 878-7323 or sending us a message or mp3 via electronic-M to podcast@TechnoRetroDads.com.  Please rate and review TechnoRetro Dads on iTunes and Stitcher.
Share and enjoy!
---
Join shazbazzar and JediShua each week for a look back at the '70s and '80s as they share the fun and also fandom of their youth with their families, friends, and EarBuds. Topics include TV, film, music, toys, and games of the '70s and '80s as well as franchises which have continued into the 21st Century, like Star Wars, TRON, Buck Rogers, and Battlestar Galactica. TechnoRetro Dads is a blend of new stories as old legends are then passed down from one generation to the next.
If you're a TechnoRetro Dad, the child of one, or appreciate the '70s and '80s, then this podcast is definitely for you!