RetroZapper shazbazzar connects the serials of the '30s to the Galaxy Far, Far Away….
"Wait a second. I know that sound. That's…that's from Star Wars!" Have you ever been watching an old film like Buck Rogers or Flash Gordon and suddenly were reminded of Star Wars? There's good reason for that.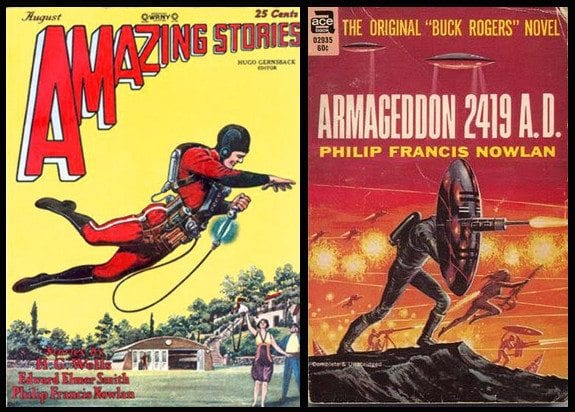 Long ago, at least long ago to those of us born in the 70s or later, author Phillip Francis Nowlan introduced the public to Anthony Rogers, a 20th century veteran of WWI who unwittingly found himself in the 25th century fight for the future of America. The novella "Armageddon 2419 A.D." was first published in Amazing Stories in 1928 with these words of introduction:
HERE, once more, is a real scientifiction story plus. It is a story which will make the heart of many readers leap with joy.

We have rarely printed a story in this magazine that for scientific interest, as well as suspense, could hold its own with this particular story. We prophesy that this story will become more valuable as the years go by. It certainly holds a number of interesting prophecies, of which no doubt, many will come true. For wealth of science, it will be hard to beat for some time to come. It is one of those rare stories that will bear reading and re-reading many times.

This story has impressed us so favorably, that we hope the author may be induced to write a sequel to it soon.

(Excerpt From: Philip Francis Nowlan. "Armageddon 2419 A.D." iBooks.)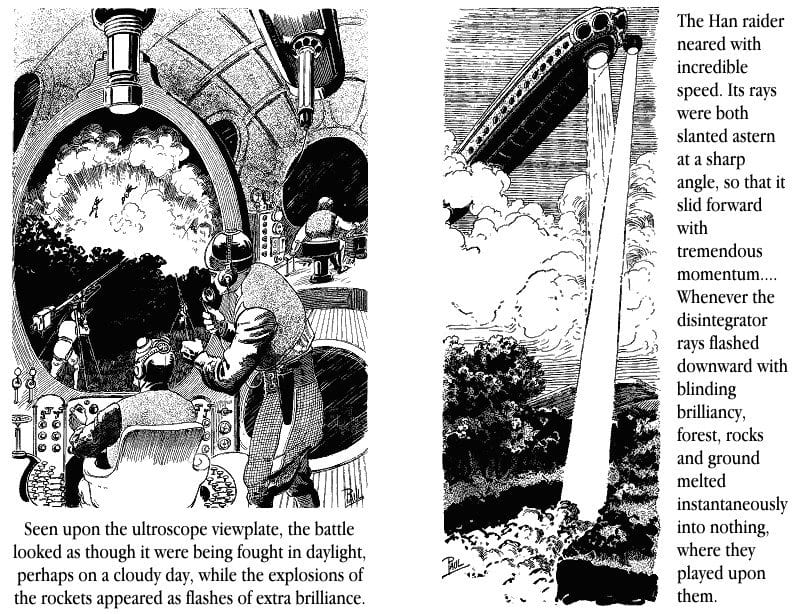 Science Fiction Hits the Funny Pages
Not only were the editors of Amazing Stories impressed with Nowlan's work, but John F. Dille, head of a syndication company for newspapers, was sufficiently interested in the novella to produce a daily comic strip chronicling more adventures in the 25th century. Anthony Rogers became Buck Rogers, and the first science fiction comic strip was born on 7 January 1929. By spring of the next year, a Sunday comic was added due to the growing popularity of Buck Rogers in the 25th Century A.D.  Readers were intrigued with the creativity and imagination evident in these comics and welcomed more science fiction to newspapers' funny pages.
Among these derivations of Buck Rogers was Flash Gordon, created by Alex Raymond and published by King Features Syndicate.  From 1934 to 1940 it was solely a Sunday strip, eventually adding a daily comic in May of 1940. As such, it was heralded as one of the highest quality comics in print, rivaling the long-lived Prince Valiant series. The comic strip created to compete with Buck Rogers rapidly rose in popularity, ultimately outlasting its predecessor.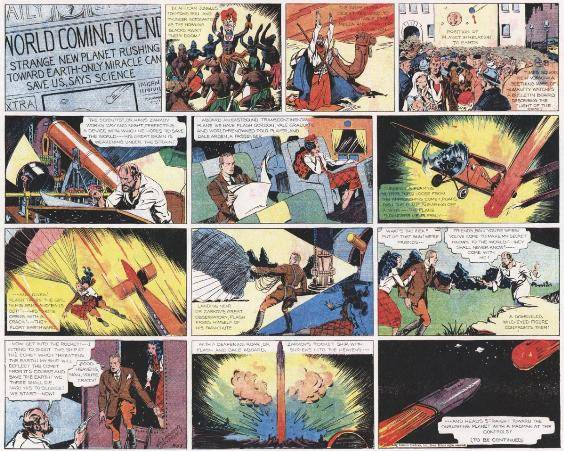 Flash Races Past Buck into the Future
Although Buck Rogers made it into print first, Flash Gordon entered the newest genre of entertainment ahead of the 25th century man. The growth of movie theaters in the 1930s spawned an ingenious means of ensuring ticket sales—serials. Cinematic serials were films presented to the public in short segments (about twenty minutes long) that aired before the feature presentation. Each week, a new chapter of the story was screened alongside news reels and cartoons, making each movie-going experience a three to four hour event. Since new chapters aired each week, theaters were able to consistently get crowds to the box office.
In 1936, the first Flash Gordon serials were played on the silver screen. Starring Larry "Buster" Crabbe as the hero, theater patrons and fans of the comic strips could see and hear the adventures of Flash Gordon, Dale Arden, and Dr. Zarkov battle against Ming the Merciless in living, moving pictures. The success of the serials of 1936 and 1938 caused Universal to try their hand with the other popular science fiction comic of the day, Buck Rogers.  Casting the ever-popular Buster Crabbe as the lead in the 1939 Buck Rogers serials, Buck and his sidekick Buddy challenged the evil Killer Kane for twelve episodes. The fact that both of these popular sci-fi heroes were played by the same actor has caused some confusion over the decades. This would not be the only confusion between the two franchises as time progressed.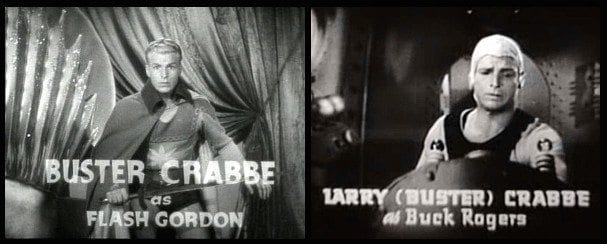 Rogers Bucks Gordon's Lead as He Rockets towards Television
When television sets began appearing in American homes, Buck Rogers made his debut appearance on ABC on 15 April 1950. This short-lived series proved to be forgettable due to the fact that over the eight-month life of the show three different actors played the lead character. Furthermore, no copies and few pictures are known to exist from Buck's first TV series.
Three years later, Flash Gordon landed on television sets across the nation for thirty-nine episodes. Although these episodes have been preserved and can be readily viewed today, they are also less well-known than the serials from the 1930s. It seemed that television audiences of the 50s were less interested in the science fiction of decades past.
Although Buck Rogers and Flash Gordon seemingly failed to generate mass appeal among television viewers, a young George Lucas, enthralled with fantasy and science fiction books and comics, enjoyed both franchises in the early 50s.

Futuristic Flash Gordon Travels through Time to Long Ago….
After graduating from the University of Southern California, George Lucas approached King Features Syndicate to negotiate for the rights to use Flash Gordon characters for a reimagined and updated version of the serials he enjoyed as a child.  After realizing that the effort was cost prohibitive, Lucas decided to invent his own space fantasy and began writing down ideas for what would eventually become Star Wars.
On May 25, 1977, it quickly became clear that the style of the serials of the 30s were ripe for audiences forty years later as Star Wars broke box office records as lines formed around the block to watch the zeitgeist that Lucas had created.  Borrowing "antiquated" ideas like the opening scroll from Flash Gordon, ships, weapons, and characters from Buck Rogers, along with themes from The Hidden Fortress and other old films, the Galaxy Far, Far Away tapped into the collective consciousness of the times.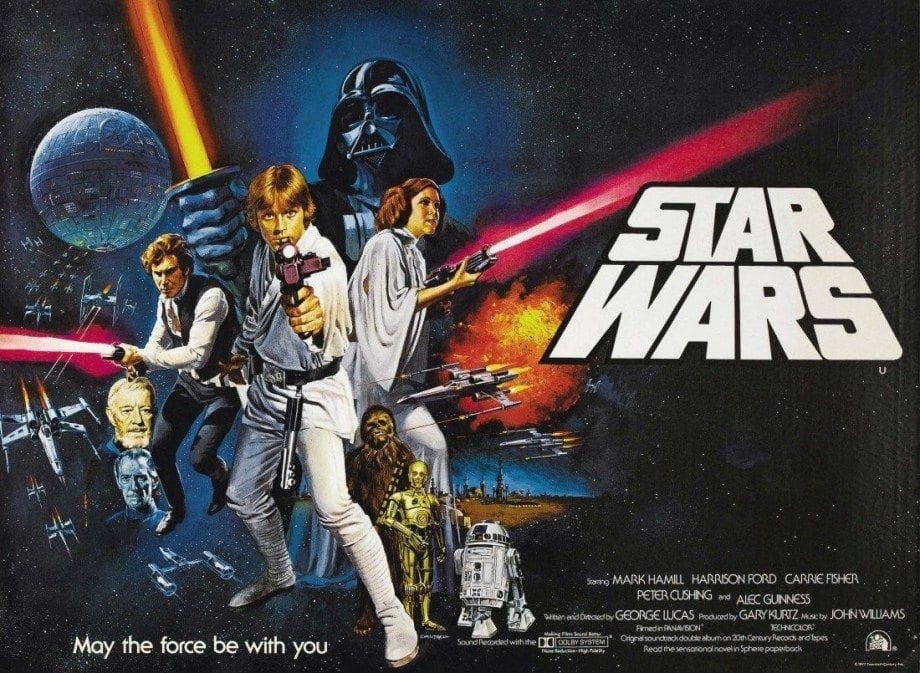 Buck Rogers Follows Star Wars into the Future
Hoping to ride the wave of a resurrected sci-fi frenzy in pop culture, producer Glen A. Larson brought Buck Rogers back to television after his short-lived serial Battlestar Galactica. Used sets and unused concept designs for his 1978 TV series were adapted for an updated version of Buck Rogers in the 25th Century. Upgrading Buck, Wilma, and Huer from earlier incarnations of the franchise, Larson added robotic counterparts, Twiki and Dr. Theopolis, to capture audiences' love for R2-D2 and C-3PO of Star Wars. Effects technology created by George Lucas for his masterpiece were used to make space battles more realistic than viewers had ever seen on their TV screens. The audience responded positively to Larson's efforts, and a second season was approved.
The second season, however, altered the formula that had proven effective.  Buck and Wilma left Earth in search of humans scattered throughout the galaxy. Evidently, Larson wanted to return to the theme of a "lost tribe of man" he had begun in Battlestar Galactica. With new faces and characters to flesh out supporting roles, it seems that Buck Rogers began to borrow from its old competitor, Flash Gordon, by bringing in a bird-like humanoid not-so-subtly named Hawk to accompany Buck on his missions. His prominent similarity to the Hawk Men of Flash Gordon did little to quench the confusion between the two franchises and failed to satisfy audiences' hunger for more sci-fi/fantasy stories.  Buck Rogers in the 25th Century was cancelled after a shortened second season.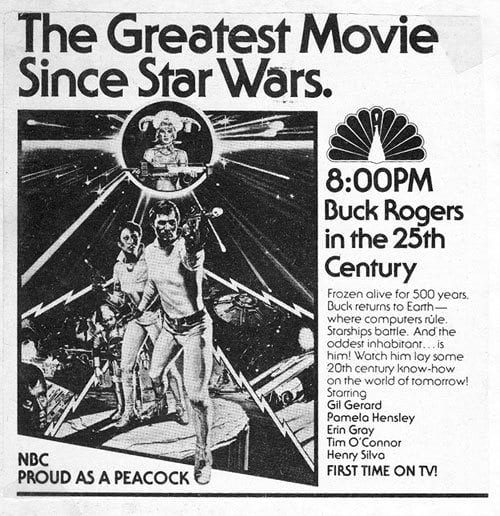 Flash Gordon Seeks to Score at Theaters
Evidently, King Features Syndicate realized their mistake in failing to negotiate a deal with George Lucas and sought to remedy the situation by lending Flash Gordon to Dino De Laurentiis in an effort to ride the coattails of the Star Wars phenomenon. In 1980, movie-goers were promised a new take on nostalgia with a rock'n'roll version of Flash Gordon. Flash became a professional football player who accidentally got involved in an interplanetary conflict with the evil Ming the Merciless, played by Max von Sydow.
Again, technology invented by George Lucas was used to bring back the franchise that had formerly rejected the young filmmaker's request. Filled with corny jokes, campy characters, and a modern soundtrack by Queen, the movie barely covered its $20mil budget at the box office.  However, the movie continues to have a cult following even today as fans enjoy the clear departure from the original comics and serials.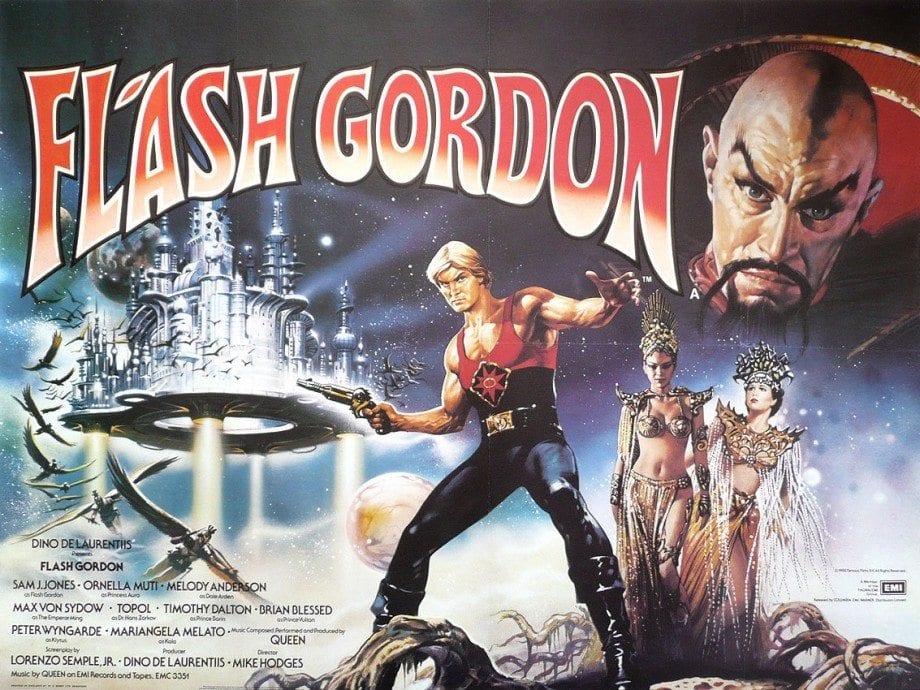 Star Wars Continues its Link to Flash Gordon and Buck Rogers
When George Lucas climbed back into the director's chair to direct The Phantom Menace, he went back to the serials of the 30s for inspiration. Specifically, audio and visual effects from Flash Gordon and Buck Rogers were borrowed in hopes of recapturing the lightning in a bottle that had made the first Star Wars trilogy legendary. Even elements of the plot can be discovered by watching some of the old Flash Gordon serials (hear more about this on this week's episode of TechnoRetro Dads, "The FlashBuck Menace").
Even in the latest installment of the Star Wars saga, The Force Awakens, a key element of Flash Gordon can be seen on screen. Max von Sydow, who played Ming the Merciless in 1980's rendition of the franchise, plays Lor San Tekka, a faithful Force advocate who sacrifices his life to protect the secret location of Jedi Master Luke Skywalker.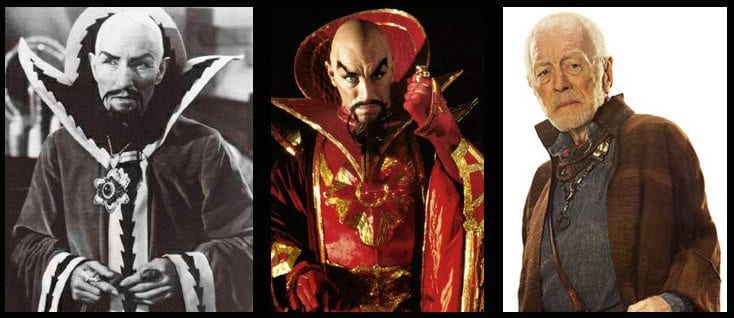 Where Do We Go from Here?
With promises of more Star Wars, Buck Rogers, and Flash Gordon on the horizon, no one can really say what to expect in the future, but as we draw ever nearer to the centennial celebration of Buck Rogers and Flash Gordon, its likely that we haven't seen the last of them or of their influence on pop culture. Stay tuned.
Christian. Husband. Father. TechnoRetro Dad. A child of the '70s and '80s, shazbazzar grew up in a galaxy far, far away even while residing in the land of iron and coal in a small town in northeastern Kentucky. Enthralled with many aspects of science fiction and fantasy, he embraced 3 3/4″ action figures and playsets, a wide variety of games, and all kinds of cartoons, TV shows, and movies in his childhood. Now living in the South, he shares the fun and fandom of his youth with his own kids who, in turn, are introducing him to their own interests.