Hey Hey Ape Fans! Welcome back to Talking Apes TV! This time we're talking about "Screaming Wings!"
We kick off this episode by reviewing the past works of Return to the Planet of the Apes Animation Director, Cullen Houghtaling. Did you even know there were animated series based on Bill & Ted's Excellent Adventure? Police Academy? Mork & Mindy/Laverne & Shirley/Fonz? We're so lucky to have the Internet these days. Then, it's time to talk about the episode "Screaming Wings!"
---
[iframe url="http://html5-player.libsyn.com/embed/episode/id/4507270/height/500/width/920/theme/custom/autoplay/no/autonext/no/thumbnail/yes/preload/no/no_addthis/no/direction/backward/no-cache/true/render-playlist/yes/custom-color/f88405/" width="920″ height="500″]
---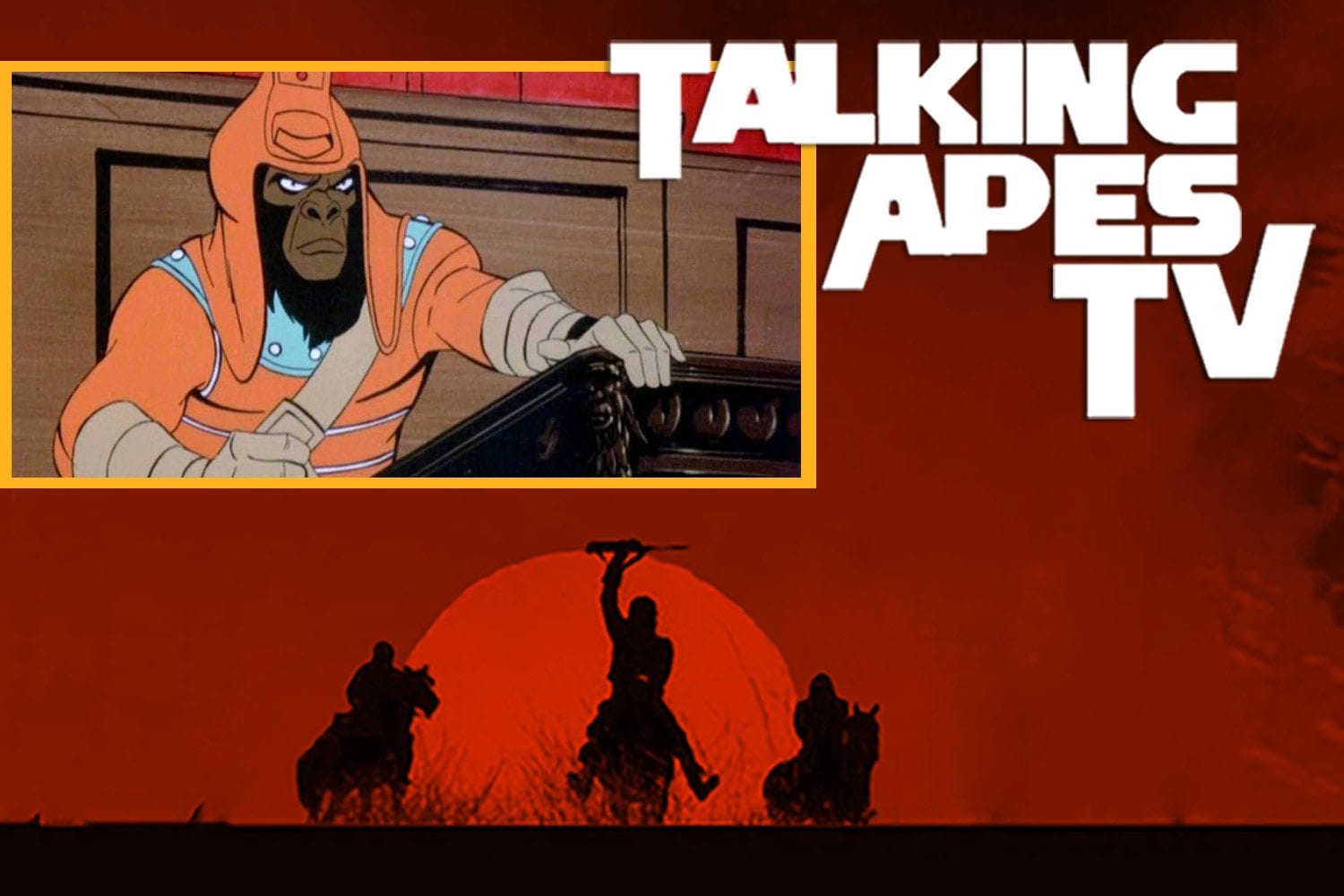 Screaming Wings Synopsis:
As Bill, Jeff, and Judy head for a humanoid settlement they spot human scarecrow targets. Suddenly, a World War II-era fighter plane appears in the sky. Piloted by a gorilla, the aircraft flies toward the scarecrows and drops a net on them. Urko and his Ape army are testing the plane in preparation for planet domination. Now Bill, Jeff and Judy have to steal it if there is any hope for the humanoid race, and, to see if this plane can help them get back home.
We have a blast reviewing this one since there is so much fun stuff here. And finally we're getting a story thread that will start bringing the series together. And we see the side-effects of Urko's helmet which may be on a little too tight in this episode. During a commercial break, we hear a MEGO World's Mightiest Superheroes figure commercial that would never be made today.
Listen, have fun and Go APE!
About Talking Apes TV

This is the podcast that explores the unsung Planet Of The Apes live-action television series and animated series from the early 1970s, and why they still stands up after 40 years. Talking Apes TV is brought to you by your Skywalking Through Neverland friends, Richard Woloski and Mark Oguschewitz, lifelong PotA fans with a wealth of knowledge about the franchise that will amaze. Every episode of Talking Apes TV will delve into one episode of a Planet of the Apes television series, with plenty of quotes, audio and social commentary pulled from each show. Expect funny pop culture references, in-depth analysis and social commentary pulled from each show.

We hope you enjoy checking out these niche 70s sci-fi shows and follow along with Talking Apes TV–only on the RetroZap Podcast Network!