Intelligent humanoids invade Earth and citizens of the Planet of the Apes go crazy with this pending doom!
Hey Hey Apes fans! This is Richard Woloski and I want to welcome you all to Talking Apes TV! If you are new to the show, we are the podcast that just took an entertaining and hard-nosed look at each episode of the live-action Planet Of The Apes TV series from 1974. Now, we're tackling the animated series from 1975 titled Return To The Planet Of The Apes. Please subscribe via the links above to view all the episodes we've amassed in two years.
How do you like our new home at RetroZap.com? We love being a part of such a creative Empire/Resistance and what a great way to kick off 2016! For those of you who have never been here, this is a great pop culture site where you can find articles (some by me), reviews and it is also the home of one of my favorite Star Wars podcasts–Brews and Blasters! RetroZap will also be another stop to get Skywalking Through Neverland.
In this episode of Talking Apes TV we will be discussing Lagoon of Peril, the fifth episode of the Return to the Planet of the Apes animated series, which aired on September 20, 1975. This would have been the third episode.
---
[iframe url="http://html5-player.libsyn.com/embed/episode/id/4071018/height/500/width/920/theme/custom/autoplay/no/autonext/no/thumbnail/yes/preload/no/no_addthis/no/direction/backward/no-cache/true/render-playlist/yes/custom-color/f88405/" width="920″ height="500″]
---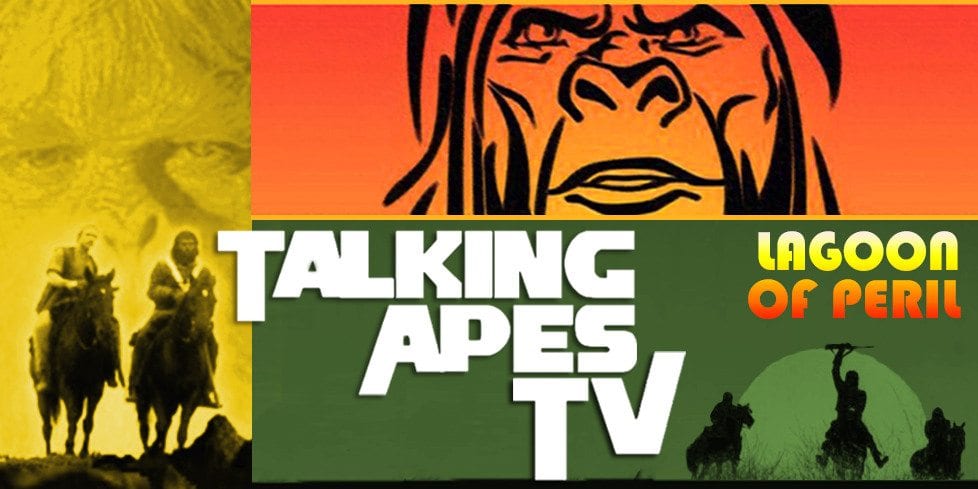 "Lagoon of Peril" Synopsis
Intelligent humanoids invade Earth and citizens of the Planet of the Apes go crazy with this pending doom! Before the high-council and Urko can find Bill and Jeff's sunken ship in the lagoon of peril they must find and destroy it before the apes discover the truth about their existence. And we discover why it is…the lagoon of peril!
About Talking Apes TV

This is the podcast that explores the unsung Planet Of The Apes live-action television series and animated series from the early 1970s, and why they still stands up after 40 years. Talking Apes TV is brought to you by your Skywalking Through Neverland friends, Richard Woloski and Mark Oguschewitz, lifelong PotA fans with a wealth of knowledge about the franchise that will amaze. Every episode of Talking Apes TV will delve into one episode of a Planet of the Apes television series, with plenty of quotes, audio and social commentary pulled from each show. Expect funny pop culture references, in-depth analysis and social commentary pulled from each show.

We hope you enjoy checking out these niche 70s sci-fi shows and follow along with Talking Apes TV–only on the RetroZap Podcast Network!