Talking Apes TV is back to cover the second to last episode in the Return to the Planet to the Apes animated series.
"Invasion of the Underdwellers" aired November 12, 1975.
---
[iframe url="http://html5-player.libsyn.com/embed/episode/id/5258167/height/90/width/920/theme/custom/autoplay/no/autonext/no/thumbnail/yes/preload/no/no_addthis/no/direction/backward/no-cache/true/render-playlist/no/custom-color/f88405/" width="920″ height="90″]
---
---
Show Synopsis
Ape City is being burglarized! Valuable items are stolen from the Museum, Ape Archives, and from ape homes. Into the night, familiar hooded figures sneak into the cemetery where all the stolen items are hidden. In a plot twist, we see that it is Urko and his gorillas who are disguising themselves as Underdwellers in hopes of framing them and convincing Dr. Zaius to declare war on the world below.
However Krador, leader of the Underdwellers, knows this secret and warns Bill, Jeff and Judy. Now they must quickly tell Zira and Cornelious who can let Zauis in on the plan so he can put a stop to it. It may be too late since Urko has already sent a barge full of explosives to destroy the underground territory of the Underdwellers.
We also reveal the winner of the Planet of the Apes: Tales from the Forbidden Zone courtesy of Titan Books. If you entered to win listen to see if you were the lucky Ape. If it is you then send us a direct message on Facebook with your address and the prize is yours! Good luck to all!
Now, GO APE!
---
About Talking Apes TV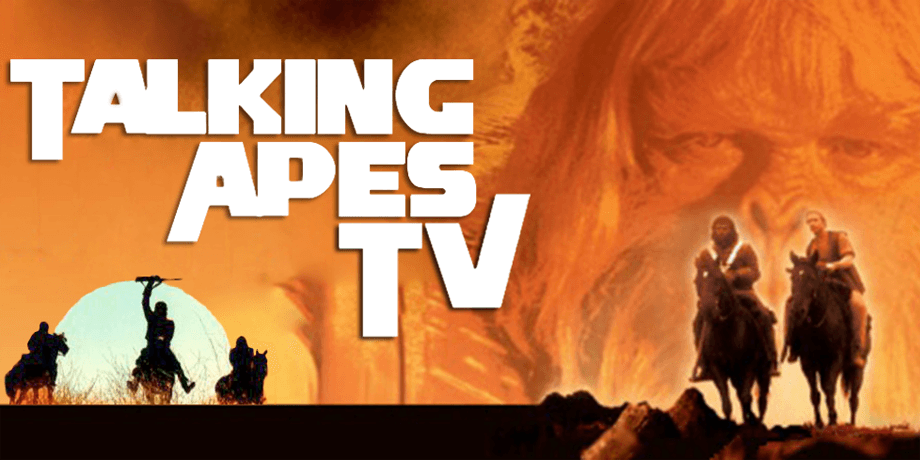 This podcast explores the unsung Planet Of The Apes live-action television series and animated series from the early 1970s. We'll see if and why they still stand up after 40 years. Talking Apes TV is brought to you by your Skywalking Through Neverland friends, Richard Woloski and Mark Oguschewitz. They're also lifelong Planet of the Apes fans with a wealth of knowledge about the franchise that will amaze you. Every episode of Talking Apes TV will delve into one episode of a Planet of the Apes television series. There will also be plenty of quotes, audio and also social commentary pulled from each show. Expect funny pop culture references, of course, and in-depth analysis in each episode.
We hope you enjoy checking out these niche 70s sci-fi shows too! Follow along with Talking Apes TV–-only on the RetroZap Podcast Network!