NEW Talking Apes TV Interview Special!  Ken Mills of Zilch! A Monkees Podcast! and Adam P O'Brien of Jogcast Radio Network join us for some awesome discussion.
---
[iframe url="http://html5-player.libsyn.com/embed/episode/id/4388843/height/500/width/920/theme/custom/autoplay/no/autonext/no/thumbnail/yes/preload/no/no_addthis/no/direction/backward/no-cache/true/render-playlist/yes/custom-color/f88405/" width="920″ height="500″]
---
Hey Hey Apes! We teased at the end of our last episode that we were going to review the episode, 'Screaming Winds' from the Return to the POTA series but we're going to take our customary mid-series break to talk with some friends old and new.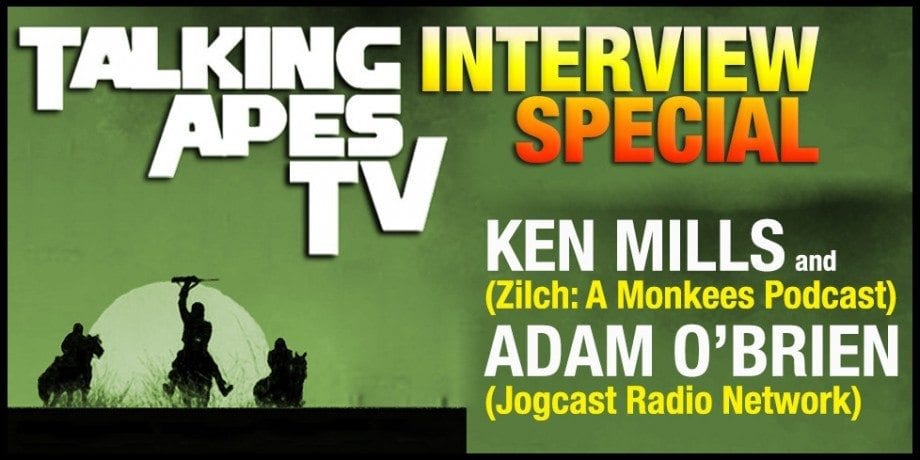 We are very excited to have become fast friends with another simian podcast. Not apes, chimpanzees or orangutans, but Monkees! On our last episode we learned of the many connections between the Planet of the Apes TV series and The Monkees TV series, and we learned this from Zilch: A Monkees Podcast. Creator and host Ken Mills will be joining us to talk childhood Ape stories, his passion for The Monkees and his KISS and Cheap Trick podcasts.
What's an Ape connection without a new jingle? We have two great new Monkees/Apes jingles written by podcast composer Rob Dehlinger. If you thought 'Yabba Dabba Urko' was catchy ring-tone wait until you hear these!
To hear about Ape fandom past and present from the other side of the world, we talk with Adam O'Brien. You may know Adam from the Jogcast Radio Network where he discusses all kinds of fandoms, now he brings his passion to Talking Apes TV.
We give you a very rare clip from the 1974 Macy's Thanksgiving parade (thanks to Angela Rushmere) that featured Planet of the Apes. This is something you've got to hear to believe, and not in a good way.
Now go Ape!
About Talking Apes TV

This is the podcast that explores the unsung Planet Of The Apes live-action television series and animated series from the early 1970s, and why they still stands up after 40 years. Talking Apes TV is brought to you by your Skywalking Through Neverland friends, Richard Woloski and Mark Oguschewitz, lifelong PotA fans with a wealth of knowledge about the franchise that will amaze. Every episode of Talking Apes TV will delve into one episode of a Planet of the Apes television series, with plenty of quotes, audio and social commentary pulled from each show. Expect funny pop culture references, in-depth analysis and social commentary pulled from each show.

We hope you enjoy checking out these niche 70s sci-fi shows and follow along with Talking Apes TV–only on the RetroZap Podcast Network!
Talking Apes TV: Interview Special with Ken Mills and Adam O'Brien