In this Bonus Episode, Taxus and Dennis bring you more coverage of Dallas Fan Expo featuring Steve Blum.
The S3 boys bring you the insights of Zeb Orrelios himself, Steve Blum!
               
---
[iframe url="http://html5-player.libsyn.com/embed/episode/id/4475360/height/90/width/1000/theme/custom/autonext/no/thumbnail/yes/autoplay/no/preload/no/no_addthis/no/direction/backward/no-cache/true/render-playlist/no/custom-color/555555/" height="90″ width="1000″ scrolling="no" allowfullscreen="allowfullscreen webkitallowfullscreen mozallowfullscreen oallowfullscreen msallowfullscreen"]
---
Starships Sabers and Scoundrels Holiday Spectacular #5.5: In Blum
In episode five, Taxus and Dennis brought you their Star Wars coverage from Dallas Fan Expo. In this bonus episode, the guys bring you expanded coverage of the con. Steve Blum was a featured speaker in one panel. S-Cubed-Pod's own Darth Taxus had the opportunity to ask Mr. Blum a question about Rebels and his Star Wars legacy. Other guests asked Mr. Blum about other aspects of his voice acting career. This panel is featured in its entirety on this show.
In addition to Mr. Blum's panel, the guys discuss other aspects of the con, including their favorite cosplay, autograph opportunities, and celebrities. This is a shorter episode than usual, but the guys wanted to share the rest of their experience even if it wasn't Star Wars-centric. Starships, Sabers, and Scoundrels will be back with a regular, full length episode next week including Skystalking for July.
Thanks for joining us for episode five and a half of Starships, Sabers, and Scoundrels!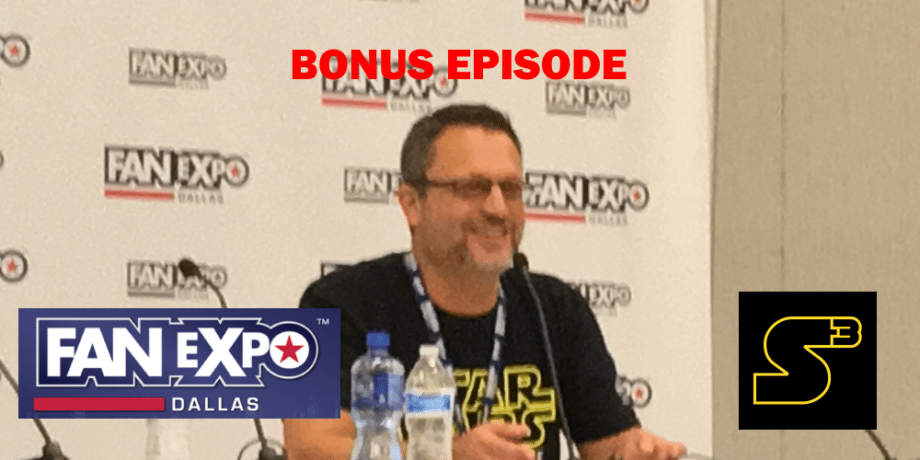 Starships Sabers and Scoundrels Holiday Spectacular Episode #5.5: In Blum
About Starships Sabers and Scoundrels

Welcome Jedi, Sith, smugglers, nerf herders and moof milkers! Starships Sabers and Scoundrels is a bi-weekly Star Wars discussion show and a project started by two first-generation Star Wars fans. Inspired by the Star Wars fan community, RetroZappers Dennis Keithly and Darth Taxus share their take on what's happening in Star Wars! They'll discuss larger topics in the "Hyperthetical" segment. Then, they'll delve into listener feedback with the Darth Taxus-hosted segment, "Silence Fools!" Additionally, movies, books, comics, television, and community news are all on the holotable as the Dark Lord of Tax and Dennis share their fandom for everything from that galaxy far, far away.

Find them on Twitter at @SCubedPod and on Facebook.