Taxus and Dennis catch Rogue One fever, talk Celebration and the Saturn Awards. Featuring Kate Dubinko.
Taxus and Dennis cover all things Rogue One, the Saturn Awards and Celebration Europe with Kate Dubinko from Blabba the Hutt!
               
---
[iframe url="http://html5-player.libsyn.com/embed/episode/id/4495356/height/90/width/1000/theme/custom/autonext/no/thumbnail/yes/autoplay/no/preload/no/no_addthis/no/direction/backward/no-cache/true/render-playlist/no/custom-color/555555/" height="90″ width="1000″ scrolling="no" allowfullscreen="allowfullscreen webkitallowfullscreen mozallowfullscreen oallowfullscreen msallowfullscreen"]
---
Starships Sabers and Scoundrels #6: Sixpence None the Wiser
Just like the Jedi returned in episode six of Star Wars, Darth Taxus and Dennis have returned for another busy episode of Starships, Sabers, and Scoundrels.
The show starts with a look at the recent news. First, The Force Awakens won big at the Saturn Awards in Burbank, California. Then the guys discuss this and other recent news concerning Celebration Europe announcements, Lego Stars Wars: The Force Awakens, and the Lucas Museum of Narrative Art in this episode's news segment.
Next, in this episode's Hyperthetical, our special guest this week is Kate Dubinko from Blabba the Hutt. Kate discusses her excitement for Rogue One with the guys. She also covers her Phoenix Comic Con experience, cosplaying as Maz Kanata, and her plans for Celebration Europe.
The day after Kate talked to the guys, Entertainment Weekly released all their Rogue One coverage. So, Taxus and Dennis discuss the character reveals and other story information that has been released. Don't worry, because there are no spoilers here, just officially released information.
Finally, the listener feedback keeps coming in via email, Tweets, and Facebook. As always, Taxus and Dennis respond in "Silence Fools!"
Thanks for joining us for episode six of Starships, Sabers, and Scoundrels!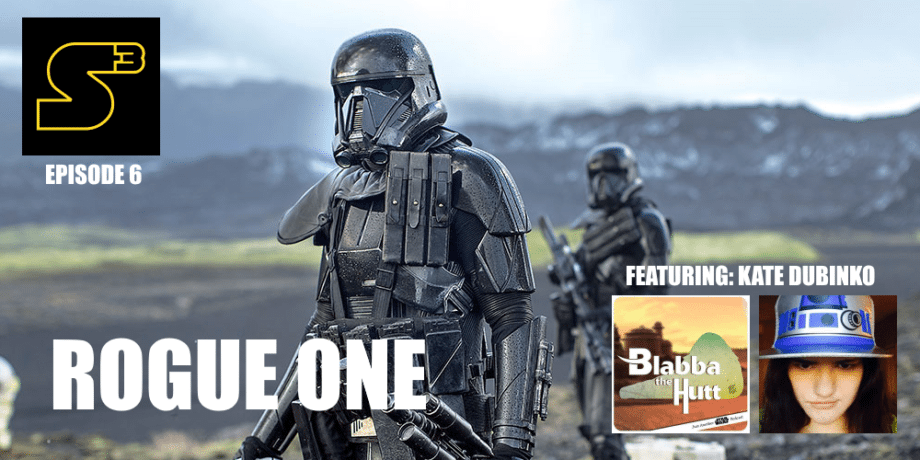 Starships Sabers and Scoundrels #6: Sixpence None the Wiser
About Starships Sabers and Scoundrels

Welcome Jedi, Sith, smugglers, nerf herders and moof milkers! Starships Sabers and Scoundrels is a bi-weekly Star Wars discussion show and a project started by two first-generation Star Wars fans. Inspired by the Star Wars fan community, RetroZappers Dennis Keithly and Darth Taxus share their take on what's happening in Star Wars! They'll discuss larger topics in the "Hyperthetical" segment. Then, they'll delve into listener feedback with the Darth Taxus-hosted segment, "Silence Fools!" Additionally, movies, books, comics, television, and community news are all on the holotable as the Dark Lord of Tax and Dennis share their fandom for everything from that galaxy far, far away.

Find them on Twitter at @SCubedPod and on Facebook.