SCubedPod talks Rebels and what Revenge of the Sith means for Rogue One in this Thanksgiving episode.
Revenge for Thanksgiving Dinner! We discuss Iron Squadron and Revenge of the Sith in episode sixteen.
---
[iframe url="http://html5-player.libsyn.com/embed/episode/id/4852255/height/90/width/920/theme/custom/autoplay/no/autonext/no/preload/no/no_addthis/no/thumbnail/yes/direction/backward/no-cache/true/render-playlist/no/custom-color/555555 /" width="920″ height="90″]
---

---
Starships Sabers and Scoundrels #16: Revenge for Thanksgiving Dinner
The march to Rogue One continues. The movie is less than a month away. In addition, Revenge is said to be a dish best served cold, and this week, the guys are serving a little revenge for Thanksgiving. Therefore, on episode sixteen of Starships, Sabers, and Scoundrels, we take a look at what Revenge of the Sith means for Rogue One.
There are plenty of developments in this week's news. First, Dennis and Taxus Two discuss the Rogue One 360 experience released by Verizon. What do the guys think? Next, Lucasfilm released a new behind the scenes featurette for Rogue One. What, if anything, was revealed about the making of the new movie? Third, Rogue One: Catalyst was released this past week. Dennis and Taxus offer their early impressions of the new Rogue One tie-in novel. Finally, Marvel announced a new miniseries featuring a fan-favorite Sith Lord. Who is it and when does it debut? Hint: he has horns and tattoos. Tune in and find out.
Dallas Fan Days
Up next, Darth Taxus recently had the opportunity to attend Dallas Fan Days. Although this convention was light on Star Wars, there were still elements from the galaxy far, far away to be found. Taxus shares some interviews in this week's show.
Rogue One may be a prequel to A New Hope, but is also the sequel to Revenge of the Sith. What if anything does Revenge of the Sith prepare audiences for in Rogue One? Dennis and Taxus discuss in part two of this week's Hyperthetical.
Iron Squadron
Another episode of Rebels aired this past weekend. RetroZap.com's Courtney Martin stops by to talk "Iron Squadron" with the guys. Can three kids take on the Empire by themselves? Or, does Ezra have to lean on his experience to provide guidance to these young freedom fighters?
Our favorite Wookiee and frequent "guest" returns to debut a new culinary adventure. Somehow, Dennis was persuaded to go along with this. Will he regret it?
As usual, it wouldn't be an episode of Starships, Sabers, and Scoundrels, if the guys didn't address some listener feedback. Of course, this means there is another edition of "Silence Fools!" This time, a loyal listener shares thoughts on the recent Ahsoka novel, and Dennis and Taxus react.
Have a great Thanksgiving! We are thankful that all of you have joined us for sixteen episodes so far. Once again, thanks for joining us for episode sixteen of Starships, Sabers, and Scoundrels.
---
About Starships Sabers and Scoundrels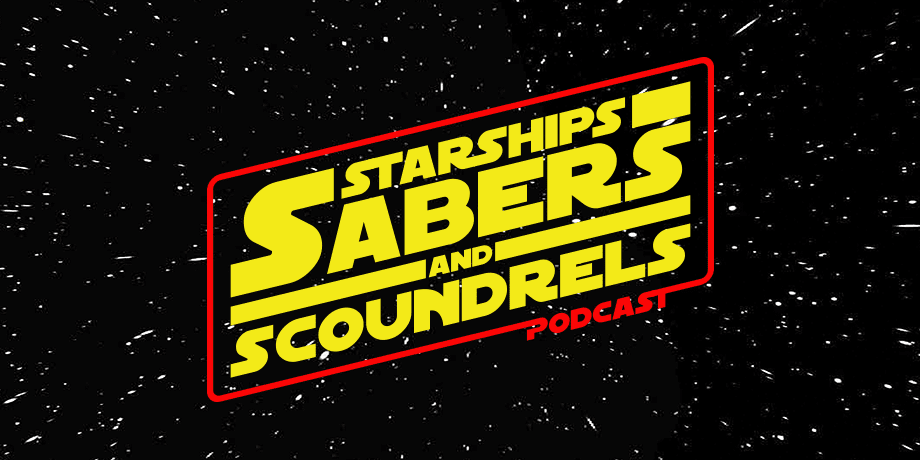 Welcome Jedi, Sith, smugglers, nerf herders and moof milkers too! Starships Sabers and Scoundrels is a bi-weekly Star Wars discussion show and a project started by two first-generation Star Wars fans. Inspired by the Star Wars fan community, RetroZappers Dennis Keithly and Darth Taxus share their take on what's happening in Star Wars! They'll discuss larger topics in the "Hyperthetical" segment. Then, they'll delve into listener feedback with the Darth Taxus-hosted segment, "Silence Fools!" Additionally, movies, books, comics, television, and community news are all on the holotable as the Dark Lord of Tax and Dennis share their fandom for everything from that galaxy far, far away.
Find them on Twitter at @SCubedPod and on Facebook.
Starships Sabers and Scoundrels #16: Revenge for Thanksgiving Dinner