Good news and bad news on the Star Wars video game front, plus Darth Vader #20 and Celebration planning tips!
               
---
[iframe url="http://html5-player.libsyn.com/embed/episode/id/4390449/height/90/width/1000/theme/custom/autonext/no/thumbnail/yes/autoplay/no/preload/no/no_addthis/no/direction/backward/no-cache/true/render-playlist/no/custom-color/555555/" height="90″ width="1000″ scrolling="no" allowfullscreen="allowfullscreen webkitallowfullscreen mozallowfullscreen oallowfullscreen msallowfullscreen"]
---
Starships Sabers and Scoundrels #3: Dommage a Trois
In this the third episode of Starships, Sabers, and Scoundrels, Darth Taxus and Dennis start with the good news and bad news concerning Star Wars video games. Disney Infinity has unfortunately been cancelled, but Battlefront is receiving a sequel. Star Wars Today debuts on Starwars.com and YouTube and James Arnold Taylor shares his thoughts on whether Obi-Wan Kenobi should appear on Rebels.
Celebration 2017 in Orlando is most of a year away. In this episode's "Hyperthetical" segment, Taxus, a veteran of Celebration Anaheim, shares some of his tips for those things you can be doing right now to prepare. Purchasing your admission tickets to the convention, making your travel arrangements, and booking a hotel are all covered in this episode.
In Marvel's Star Wars comics, Darth Vader returns from waging war on Shu-Torun for an audience with the Emperor. At long last, Emperor Palpatine reveals his grand plans to the Dark Lord of the Sith in Darth Vader #20. The guys discuss the plot and the impact on the relationship between the Sith in the second half of Hyperthetical.
Finally, they asked for listener feedback, and you, the listeners came through. Taxus and Dennis respond in "Silence Fools!"
Thanks for joining us for Episode three of Starships, Sabers, and Scoundrels!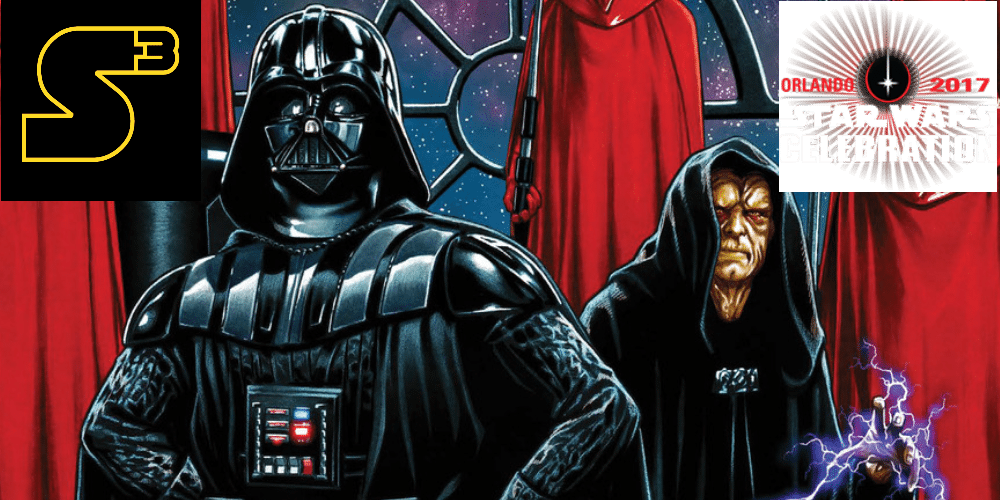 Starships Sabers and Scoundrels #3: Dommage a Trois
About Starships Sabers and Scoundrels
Welcome Jedi, Sith, smugglers, nerf herders and moof milkers! Starships Sabers and Scoundrels is a bi-weekly Star Wars discussion show and a project started by two first-generation Star Wars fans. Inspired by the Star Wars fan community, RetroZappers Dennis Keithly and Darth Taxus share their take on what's happening in Star Wars! They'll discuss larger topics in the "Hyperthetical" segment. Then, they'll delve into listener feedback with the Darth Taxus-hosted segment, "Silence Fools!" Movies, books, comics, television, and community news are all on the holotable as the Dark Lord of Tax and Dennis share their fandom for everything from that galaxy far, far away.