In the latest Scoundrels Special Edition, Dennis and Taxus discuss "Secret Cargo."
Starships, Sabers, and Scoundrels continues their Rebels coverage with their review of "Secret Cargo."
---
[iframe url="http://html5-player.libsyn.com/embed/episode/id/5145585/height/90/width/1000/theme/custom/autonext/no/thumbnail/yes/autoplay/no/preload/no/no_addthis/no/direction/backward/no-cache/true/render-playlist/no/custom-color/555555/" height="90″ width="1000″ scrolling="no" allowfullscreen="allowfullscreen webkitallowfullscreen mozallowfullscreen oallowfullscreen msallowfullscreen"]
---
       
---
Starships, Sabers, and Scoundrels #23.5: Secret Cargo
Welcome to episode 23.5, a Scoundrels Special Edition. On this episode of Starships, Sabers, and Scoundrels, Dennis and Taxus discuss  the latest episode of Rebels, "Secret Cargo." However, Dennis has a little surprise in store for Taxus first.
Trivia
So, what is the big surprise? Regular listeners to the Scoundrel Special Editions will no doubt recall that these have featured trivia lately. Therefore, this episode carries on the tradition. Dennis has a few questions in store for Taxus related to Mon Mothma, Y-Wings, TIE Defenders, and other characters related to "Secret Cargo." How does Taxus do? Also, can you answer these questions?
Gold Squadron
After the trivia, the guys get into "Secret Cargo." While waiting to rendezvous with another Rebel cell, Hera, Ezra, Zeb, and Chopper wait aboard the Ghost in a debris field. An infiltrator droid unexpectedly arrives, and before they can destroy it, the other Rebels, including Gold Squadron, show up. Gold Squadron was featured in both Rogue One and A New Hope. Therefore, Star Wars fans might expect a certain captain to show up. They won't be disappointed.
The Archeron Nebula and TIE Defenders
Although the infiltrator was destroyed, it managed to alert the Empire, which attacks and disables Gold Squadron's freighter forcing them to transfer their "secret cargo" to the Ghost, which just happens to be Senator Mon Mothma. Although some of Gold Squadron and the Ghost escape, Thrawn correctly deduces the Rebels choice of an old smuggler's route through a nebula. He then dispatches a TIE Defender after them.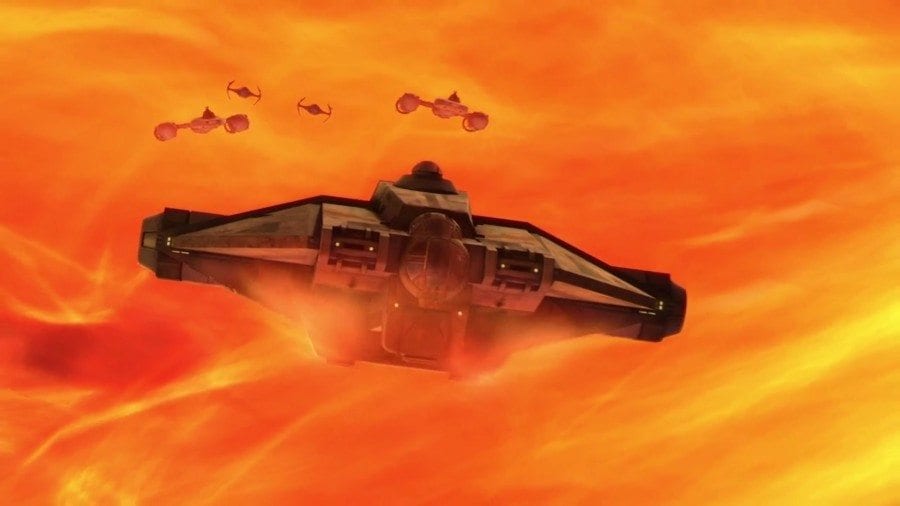 Not an Easy Escape

Despite a few additional casualties, Hera and Gold Squadron successfully evade the Imperial pursuers, but are intercepted by Imperial Star Destroyers on the other side of the nebula. Using an old smuggler's trick, Gold Squadron causes part of the nebula to explode and disable the Imperial ships, allowing the Rebels to escape. Once the arrive at their destination safely, Mon Mothma transmits a speech that summons various Rebel ships together, thereby forming a Rebel fleet.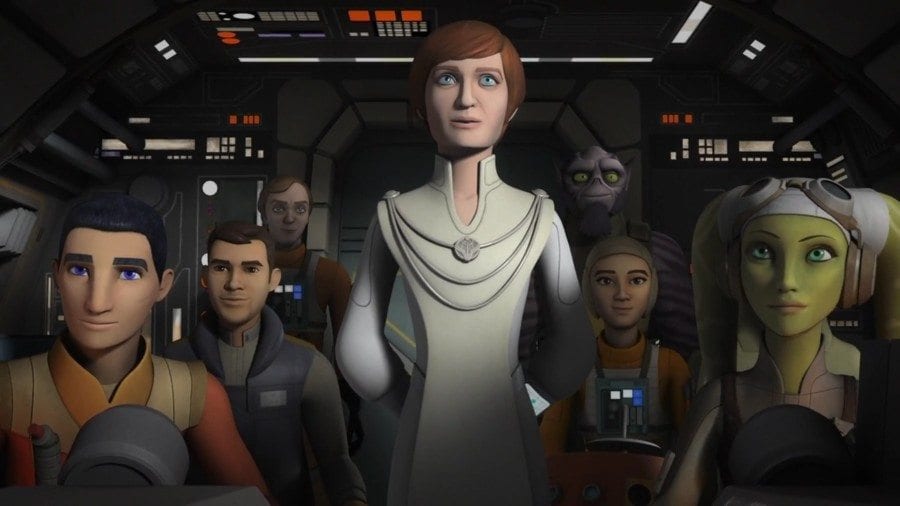 There is plenty to discuss in this episode. So, join Dennis and Taxus analyze "Secret Cargo." Thanks for listening to episode 23.5 of Starships, Sabers, and Scoundrels: Secret Cargo.
---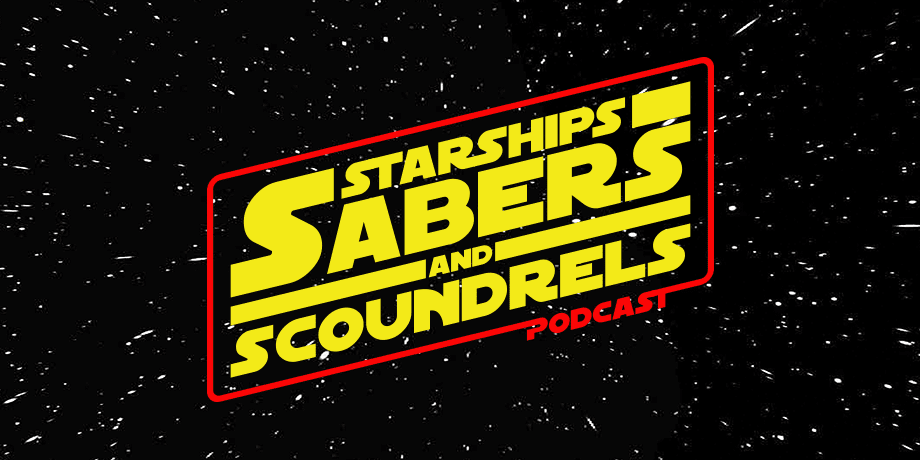 Click the banner for all episodes and homepage!
Welcome to Starships, Sabers, and Scoundrels. This bi-weekly show features two first-generation Star Wars fans. Each episode, RetroZappers Dennis Keithly and Darth Taxus offer their hot space opinions on Star Wars news. Then they engage in Star Wars discussion in the "Hyperthetical" segment. Top ten lists, book reviews, Rebels discussion, and interviews are all on the table. After the Hyperthetical, each episode features listener feedback with Silence Fools.
Social Media and Email
Find the show on Twitter at @SCubedPod. Dennis Keithly can be followed @DJKver2 and Darth Taxus is @DarthTaxus.
Starships, Sabers, and Scoundrels is also on Facebook, which you can find here.
SCubedPod thrives on listener feedback. Therefore, Dennis and Taxus would love to read your email on the show. To reach them, email the show at SCubedPod@RetroZap.com. For instance, have an opinion on Star Wars comics, Rebels, or the comics? We want to hear it. Also, have a question about some Star Wars detail? Send it to us! It doesn't have to be Star Wars.
Finally, Dennis and Taxus would appreciate an iTunes review for the show. Thank you.
Starships, Sabers, and Scoundrels #23.5: Secret Cargo