In this Scoundrels Special Edition, SCubed Pod reviews "Legacy of Mandalore."
Listen to episode 22.5 to get our breakdown of Legacy of Mandalore!
---
[iframe url="http://html5-player.libsyn.com/embed/episode/id/5103384/height/90/width/1000/theme/custom/autonext/no/thumbnail/yes/autoplay/no/preload/no/no_addthis/no/direction/backward/no-cache/true/render-playlist/no/custom-color/555555/" height="90″ width="1000″ scrolling="no" allowfullscreen="allowfullscreen webkitallowfullscreen mozallowfullscreen oallowfullscreen msallowfullscreen"]
---

---
Starships Sabers and Scoundrels #22.5: Legacy of Mandalore
Welcome to another Scoundrels Special Edition of Starships Sabers and Scoundrels. This week, SCubedPod focuses on the latest episode from season three of Rebels: "Legacy of Mandalore." After recovering the Darksaber and learning how to use it in the last couple of episodes, Sabine returns with the weapon to Krownest. Can she recruit her family to join the Rebellion?
Trivia
Before Dennis and Taxus get to this episode of Rebels, they decide to get into the Mandalorian spirit with some trivia. Each of the guys compiled some questions for the other. Who is the bigger Mandalorian expert and how will they do?
Return to Krownest
The story begins with Sabine, Ezra, Kanan, Fenn Rau and Chopper arriving at Krownest. However, the Mandalorians greet her by opening fire. Only after revealing herself to be Sabine Wren does do the hostilities cease. "Trials of the Darksaber" revealed why Sabine fled the Mandalorians. This episode reveals how deep Sabine's conflict with her people runs.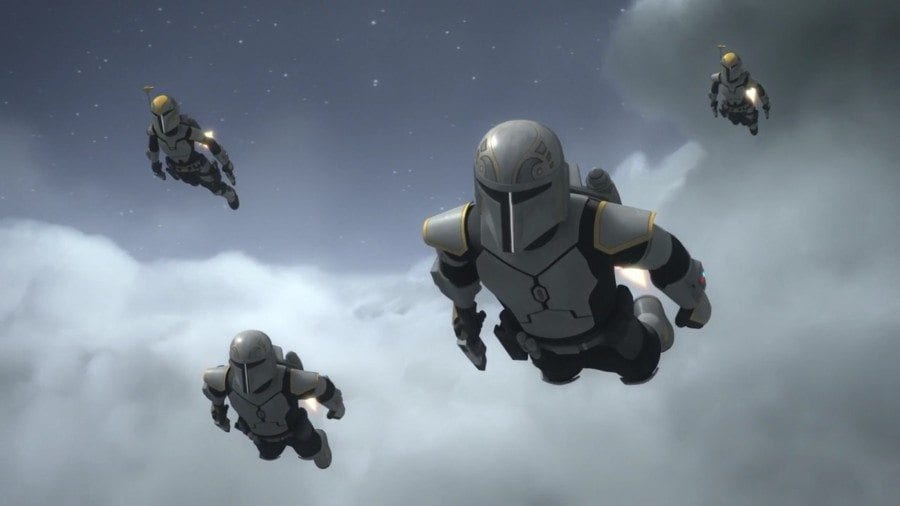 Family Feud
Sabine's relationship with her family complicates her return to Krownest. A deep division with her family emerged when Sabine left the Mandalorians. After all, the Empire employed the weapon Sabine created against Mandalore. While Sabine took refuge with the crew of the Ghost, her family struggled to regain their honor. For example, her brother currently serves Gar Saxon. In addition, Ursa carefully balances loyalty to Gar Saxon with family obligations. Furthermore, Gar Saxon imprisoned Sabine's father. How does Sabine's return impact their struggle?
Sabine's Decision
This episode has repercussions for the rest of the series. For instance, Sabine makes a crucial decision that impacts the crew of the Ghost and her people. What does she decide? Dennis and Taxus this decision and speculate what her decision means for the rest of the season and the series. In addition, Fenn Rau attempts to anoint Sabine as the leader of Mandalore. She refuses. What does this mean? The guys also speculate who might be the future leader of Mandalore.

Bonus Silence Fools!
After the discussion of "Legacy of Mandalore," Dennis, and Taxus conduct a bonus edition of "Silence Fools!" This week, a few readers sent their reactions to this episode. The guys respond and attempt to answer their questions.
Thanks for listening to this Scoundrels Special Edition of Starships, Sabers, and Scoundrels.
---
Welcome Jedi, Sith, smugglers, nerf herders and moof milkers too! Starships Sabers and Scoundrels is a bi-weekly Star Wars discussion show and a project started by two first-generation Star Wars fans. Inspired by the Star Wars fan community, RetroZappers Dennis Keithly and Darth Taxus share their take on what's happening in Star Wars! They'll discuss larger topics in the "Hyperthetical" segment. Then, they'll delve into listener feedback with the Darth Taxus-hosted segment, "Silence Fools!" Additionally, movies, books, comics, television, and community news are all on the holotable as the Dark Lord of Tax and Dennis share their fandom for everything from that galaxy far, far away.
Find them on Twitter at @SCubedPod and on Facebook. Email them at SCubedPod@RetroZap.com.
Starships Sabers and Scoundrels #22.5: Legacy of Mandalore