From the first dedication page of this book, I knew it was going to be amazing: "For Carrie Fisher"
Star Wars: Women of the Galaxy by Amy Ratcliffe is a new hardcover book showcasing the female heroes, villains, rogues, and scoundrels from the Star Wars universe. The book encompasses beings of every kind from the galaxy far, far away. Highlighted are humans, aliens of all different types, and droids. And the women featured are not just from the Star Wars films, but also from comic books and graphic novels, video games, Star Wars television shows (including The Clone Wars, Star Wars Rebels, Forces of Destiny, and Star Wars Resistance), and Star Wars expanded universe books (adult, young adult and children's). In total there are 75 women spotlighted, and each description has a backstory about the character, her greatest features (good and bad), and her importance to the Star Wars universe and it's fans. And each character has beautiful artwork to accompany their description.
An Art Showcase
Overall 18 women or non-binary artists contributed to this book. The art is simply gorgeous. Every single piece is unique and special. There are of course the most famous and well-know characters, such as Leia Organa, Rey, Ahsoka Tano, Padmé Amidala, Hera Syndulla, and Jyn Erso (among just a few). There are also many characters only seen or described in books, some of which this is the first time they have been put into official Star Wars art.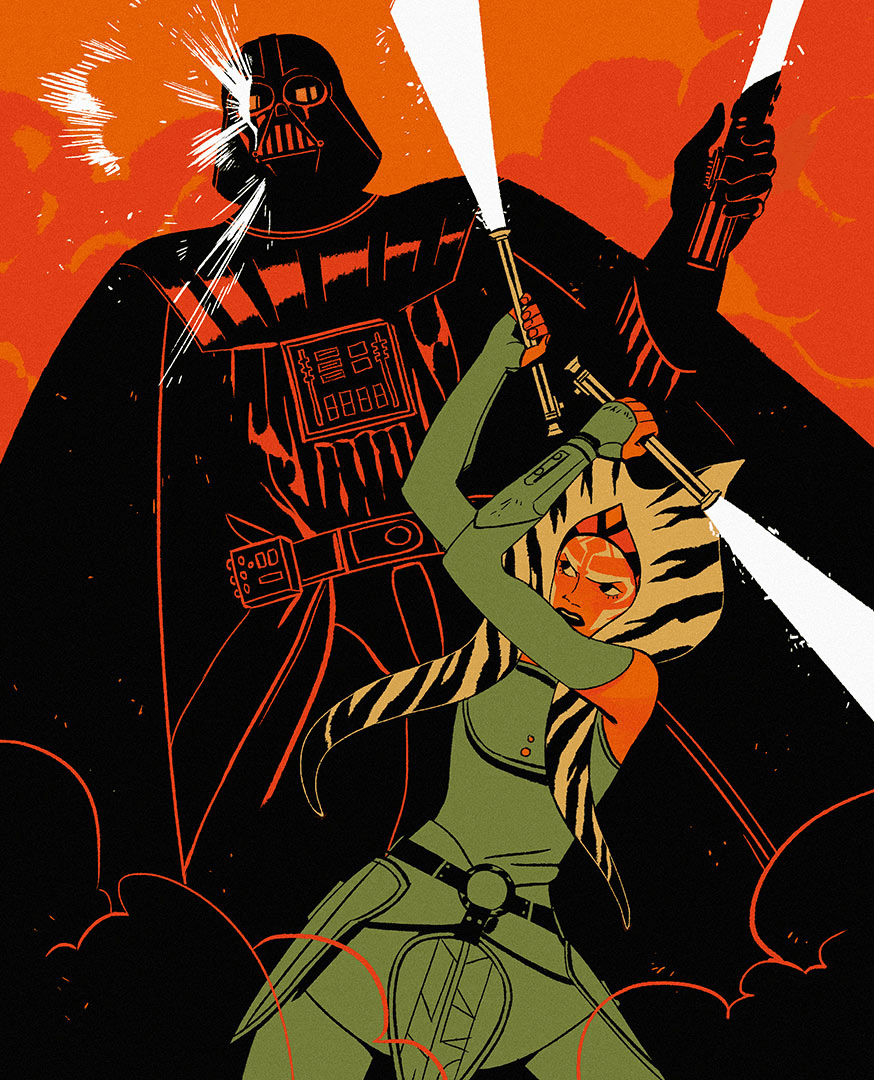 Character Design and Backgrounds
Ratcliffe does a superb job of giving readers information on each character, and bringing new information forward on the characters. Some of the best descriptions are behind-the-scenes insights on how the character was developed within Lucasfilm. For example, Enfys Nest (a new character introduced in The Last Jedi), was developed in early drafts of the film, but her final look was developed over time. "The singular character needed a signature look, and Lucasfilm design supervisor James Clyne had the idea of envisioning her as the leader of a biker gang. Creating the mask was the most complex aspect of her design, taking at least a year to complete." That is an amazing bit of information, the character design was so important that it took a year to finalize!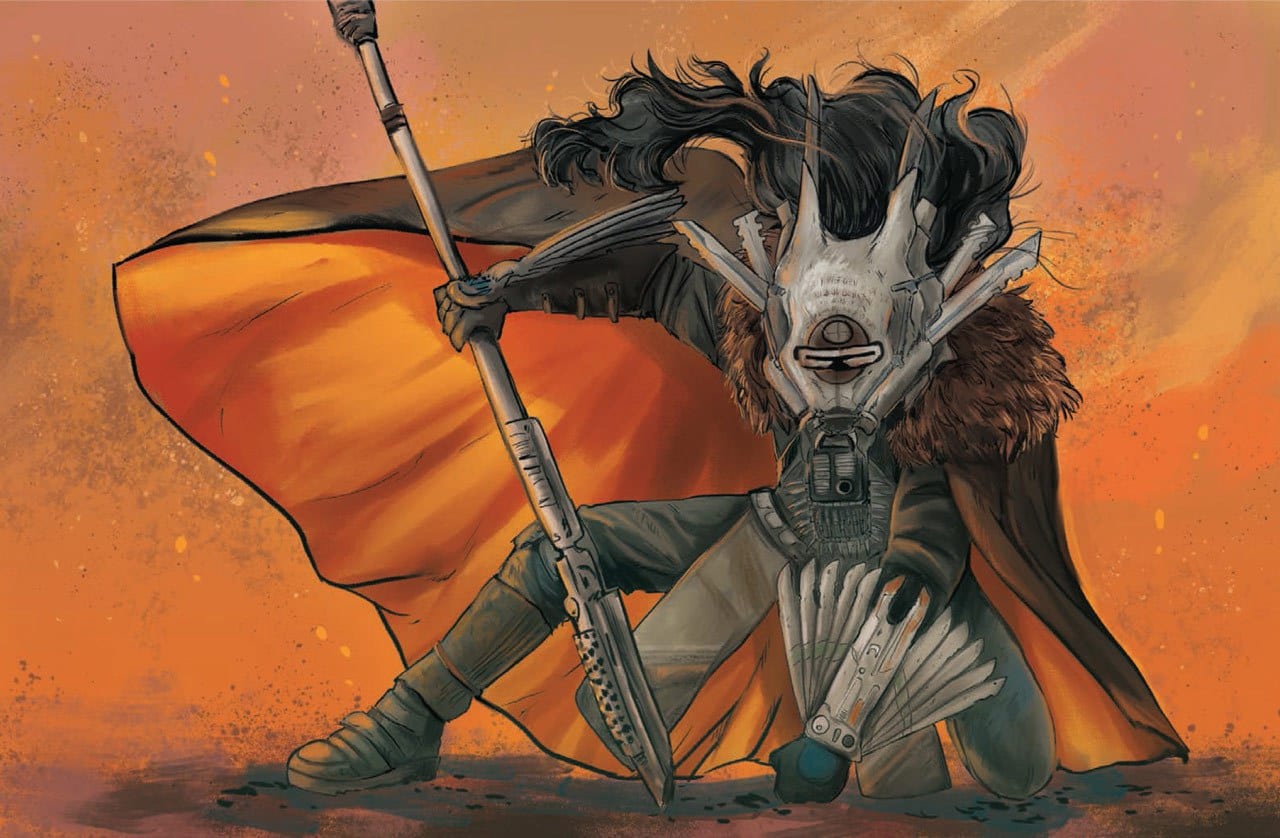 The book also features lesser known characters and brings their parts in Star Wars to the forefront. Did you know there is an Ewok princess warrior? Princess Kneesaa is the daughter of Chief Chripa (from Return of the Jedi), and she'd do anything to protect her home, including helping the Rebels.
Droids
One thing the book does very well is point out that not only organics are important in the Star Wars universe. Female droids are influential as well. Ratcliffe writes about the droids and their significance. Featured in the book are L3-37 (Solo: A Star Wars Story) and the pink astromech droid R2-KT. R2-KT has a very special story, one not known to some fans. The official R2-D2 Builders Club "constructed R2-KT for Katie Johnson, a young girl diagnosed with terminal brain cancer who wished she had a droid to watch over her, just as R2-D2 watches over Padmé Amidala in Attack of the Clones." Now there are pieces of the book that will make fans misty-eyed for sure, but this highlight absolutely brings tears.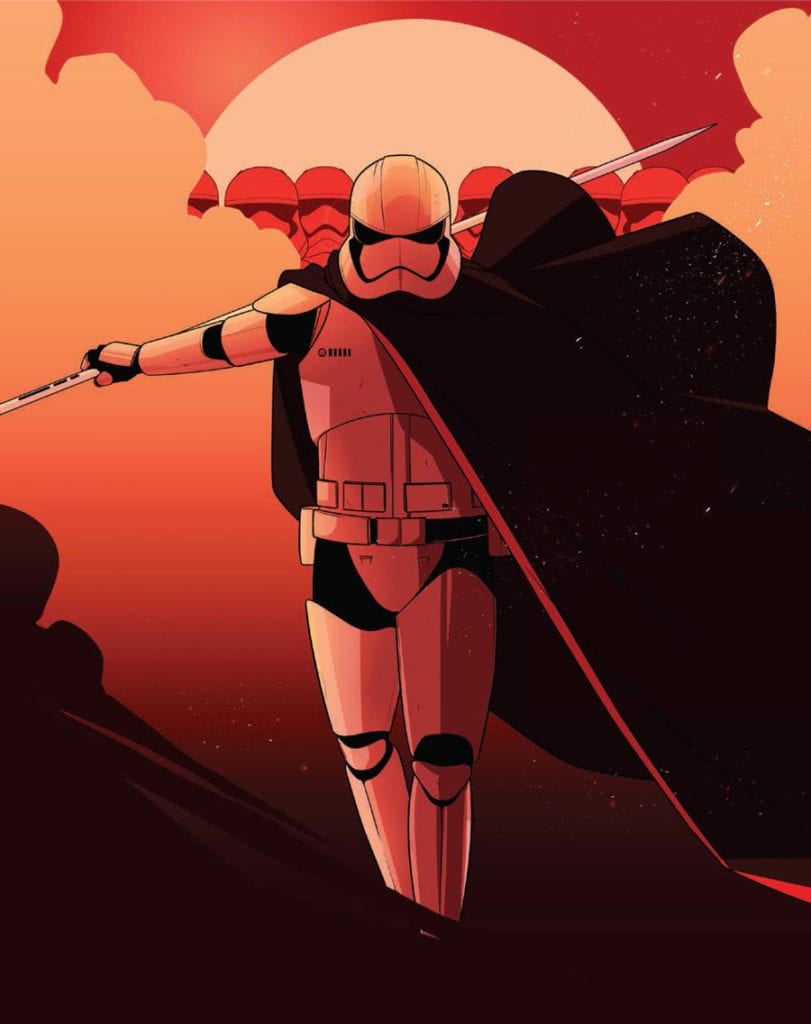 The Women Behind the Characters
Also included in the book are interviews and quotes from actresses who portrayed the characters that are featured. This gives a wonderful perception of what the actresses thought of the character they were playing. One great example is when actress Gwendoline Christie describes her thoughts on Captain Phasma, the first female villain in a leading Star Wars role, "The costume is absolutely amazing. It is restrictive, but I think it gives us an insight into Captain Phasma. This is a woman who is wearing armor, but her femininity is still displayed. She doesn't try to hide it; it only empowers her further." Christie goes on, "I thought it was a really interesting opportunity to play a female character, where we formed an opinion on her based on her actions, rather than the way she has been made flesh." This is quite interesting, seeing how the actress feels about her character. There are many more examples of this throughout the book, and it is a captivating way to look at these women characters.
This book is a wonderful and welcome edition to the plethora of Star Wars media. Not only is it insightful, but the art featured within is truly splendid. Amy Ratcliffe is an outstanding writer who has brought her love for Star Wars to this book. She and the featured artists of Star Wars: Women of the Galaxy given fans a great look at the women of Star Wars, both in words and in art.
Courtney Martin is a graduate of Indiana University and works in publishing. She's an avid Star Wars fan and wrote the recipe blog Courtney Cooks Star Wars on suvudu.com. When not enveloped a science fiction or fantasy novel, she is watching television with her husband and son, doing crossword puzzles, or playing with her Shih Tzu, Burt.