Thrawn! Rukh! Hera in an X-Wing! Rebel Assault brings the Alliance to Lothal, and it's one hell of a battle.
Rebel Assault sees the Rebel Alliance follow through on their promise to send aid to the Imperial occupied world of Lothal. After receiving word in Crawler Commandeers that reinforcements were en route to the planet, Hera arrives behind the yoke of an X-Wing with assorted X-Wing's and Y-Wings for support. An intense space battle takes place, with Hera and rebel pilot Mart Mattin taking out not only the vaunted TIE Defender but a Star Destroyer as well. Assisting from the ground, Ezra and crew take down a number of surface turbolasers to take the heat off of the fighters. With the TIE squadrons destroyed, Hera and the Rebels head towards the surface.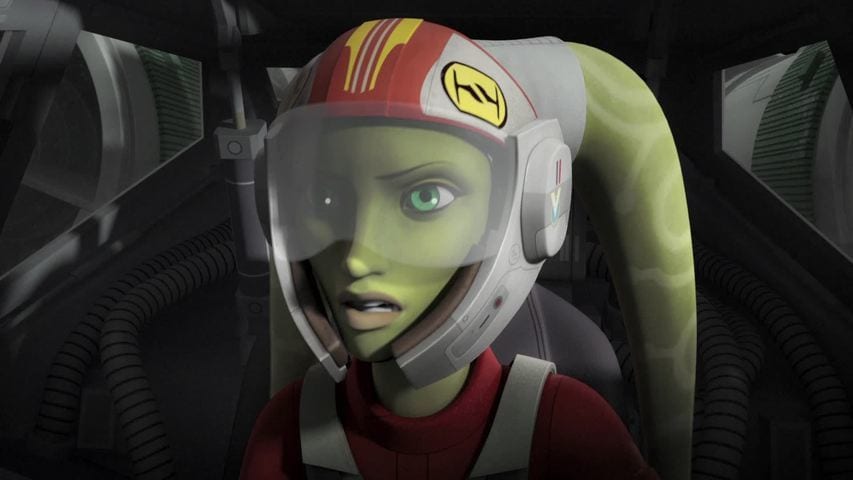 Grand Admiral Thrawn, aboard the Chimaera, surprises the rebels however by sending in additional squadrons of TIE's in atmosphere. From outside the capitol city Kanan, Ezra, Sabine and Zeb witness the arrival of their would-be liberators albeit not in the way they'd hoped. Destroyed craft rain down over the capital and all is seemingly lost. Knowing that there would be survivors among the crashed pilots, Thrawn sends out his assassin Rukh to hunt them down. Specifically Hera Syndulla.
Governer Pryce locks down the city to prevent escape and Stormtroopers are able to capture several crashed pilots for interrogation. Before they are able to subdue Mart Mattin and his astromech, Hera comes to the rescue. Salvaging the transmitter off of Mart's Droid, they fit it to Chopper to send word to Kanan that she is alive. The Empire is jamming all frequencies however, and are unable to get word through.
Kanan is not ready to lose hope quite yet and heads out alone back towards the city for Hera. His rescue mission is soon interrupted by the return of the Loth-Wolves. Cornered by three Wolves, the lead communicates with him again by uttering "Dume". He finally understands just what they've been trying to tell him and he knows what he now must do. Meanwhile, Hera and Mart are causing some major damage to the Empire but things take a turn for the worse. Rukh catches up with them and captures Hera while Mart and Chopper escape. Mart makes his way out of the city and meets up with Kanan. While Mart feels guilt for leaving Hera behind, Kanan knows there is still a chance.
Dogfighting
Some of the most iconic scenes from A New Hope are the dogfights between the Rebels and the Empire. X-Wings and TIE fighters weaving around each other with the backdrop of the Death Star made for a very intense and visually satisfying sequence. It's also been well documented on just how George Lucas created the very realistic fights; by using old movie footage of World War one and two aerial fights. The space battle at the start of Rebel Assault benefits heavily from this technique.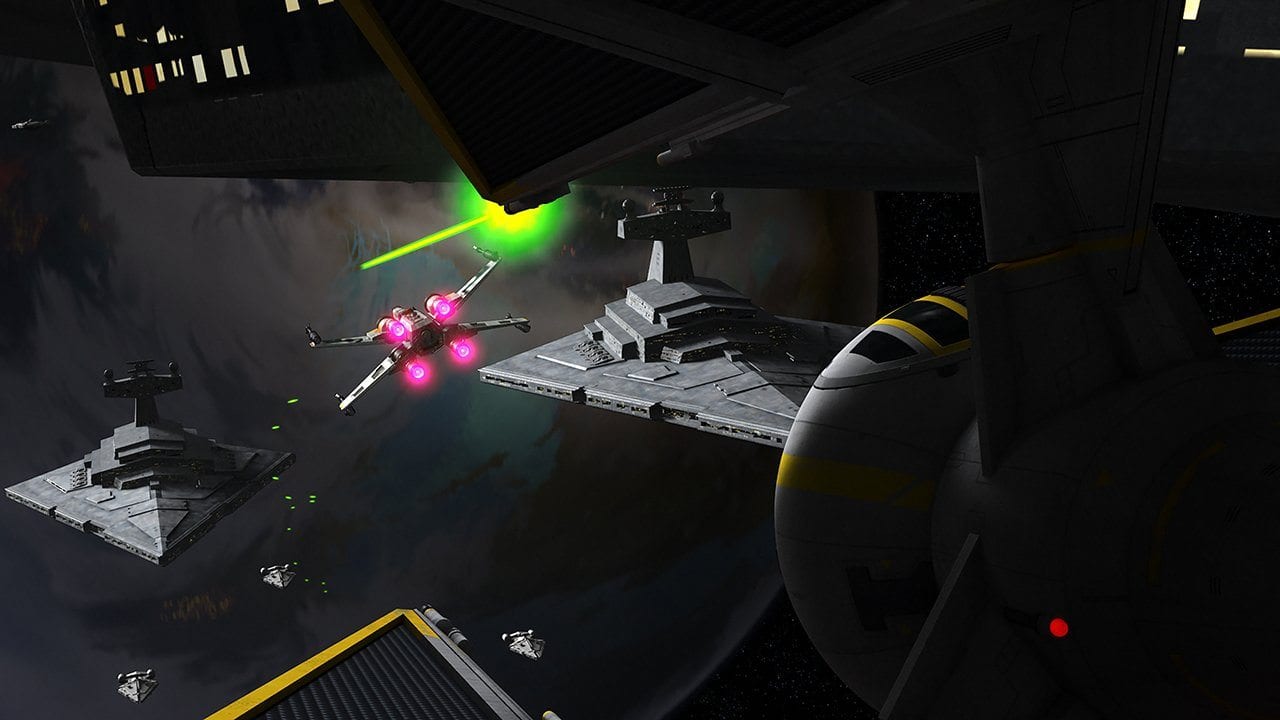 With the exception of being in space, the scene plays out just like the classic aerial fights from which A New Hope borrowed from. The action is intense as the battle rages in between scores of Star Destroyers with the goal of Lothal in the background. And TIE fighters aren't the only threat here, but the elite TIE Defender with its pilot Vult Skerris engage with the Rebel pilots.
Hera here proves that she is the better pilot in a skillful move and takes out the Defender, forcing it to crash into a nearby cruiser which in turn collides with a Star Destroyer. Destroying both.
The success is short lived as the pilots encounter additional waves of TIE's in atmosphere. The ensuing fight is not shown, which adds suspense until the Rebels fighters are seen raining down onto Lothal. Cinematically it is a very sorrowful scene. The hope that was brought with Hera going down in flames as her family looks on unable to help.
Threads
The mystery of the Loth-Wolves returns here, but still no answers. The Wolves are very prescient of what is happening on Lothal but up until now have been cryptic in their "communication" with the heroes. It's implied now that Kanan knows what they're asking of him or what he needs to do, but the audience is still left in the dark.
It feels drawn out.
Hopefully the payoff of the wolves and their Force connection with the Jedi will be explained in due time, but as this is the mid-season finale, there is not much time left. When the series returns in 2018, there will only be 7 episodes left. There are still open threads to tie up and the wolves are one of the largest. A great mystery is an important piece of the Star Wars universe. It has been since the very beginning. Not everything needs to be explained in its entirety, but creating mystery just for mystery's sake can be frustrating. Hopefully that won't be the case here.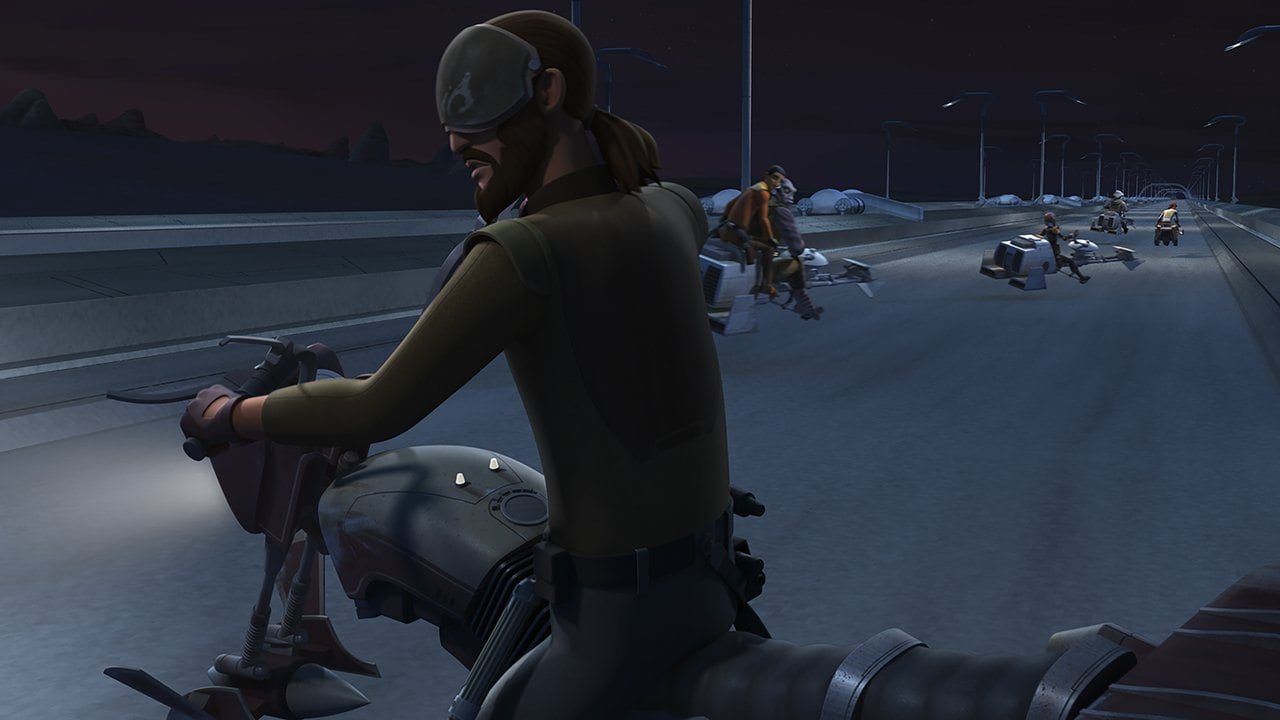 The cliffhanger in Rebel Assault is the capture of Hera. Kanan can't leave her to the Empire and departs the group to return. Now that fans have gotten to see Hera and Kanan's relationship out int he open, the excitement could soon reach a heartbreaking conclusion. Hera survives to Rogue One, but Kanan is conspicuously absent in media beyond Rebels so it's anyone's guess as to his fate.
Ezra doesn't get much screen time this episode, it's very much a Hera-centric episode, which is a refreshing change. Hera's role in this episode is a culmination of her piloting skills and increasing leadership roles that will earn her the rank of General that she is referred to as in Rogue One. This is her mission.
It's Not Over Yet
Rukh also returns in Rebel Assault with a bigger role this episode. Rukh's species, the Noghri, are known for their speed and agility and a keen sense of smell. Those traits have carried over from the old expanded universe known as Legends into Rebels. When he was introduced a few episodes ago it was slightly lackluster. The deadly assassin failed to capture his quarry and might as well have been any other Imperial agent.
Here in this episode he lives up to that legendary status. Hunting and tracking down the Rebel survivors are where his unique skills shine. Rukh is shaping up to be a formidable threat as Thrawn's most dangerous chess piece.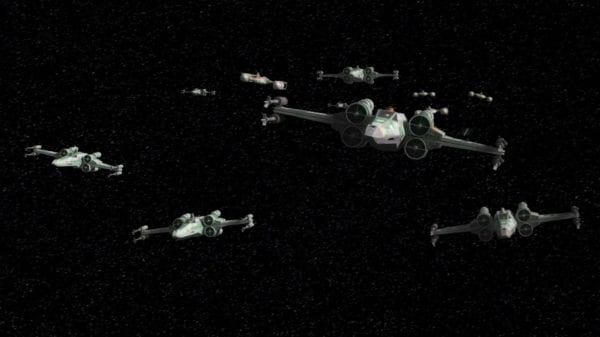 Thrawn's grip has tightened over Lothal, with the planet still under Imperial occupation the attempted liberation has all but failed. But like Kanan said, there is another chance.
Star Wars Rebels returns in 2018 for its final episodes.
Mike Harris hails from the suburbs of Chicago and has been a fan for most of his life. Working as an industrial radiographer and raising a family with his wife take up most of his time, but there's always room for Star Wars books and podcasts! Just looking to give back to Star Wars and the fan community, it's been a source of fun and learning for him for so long.