Zeb and Agent Kallus do an Enemy Mine–or is it Midnight Run–in this episode and see eye to eye for the first time. Read the amazing review by Dan Lizotte.
Have I ever mentioned I love this show? Star Wars Rebels is here this week with another fantastic episode. If  it seems like I have been making that statement every week, it is because I am and the show keeps getting better and better. "The Honorable Ones" is a journey that takes the beloved group of rebels to Geonosis looking for evidence that the Empire is being sneaky and constructing something out there. While investigating, the team is ambushed by Agent Kallus and his Imperial forces. During the skirmish, Zeb gets separated from the group and he and Agent Kallus end up in an escape pod heading for a frozen moon of Geonosis. The two must push aside venomous feelings towards each other in order to survive.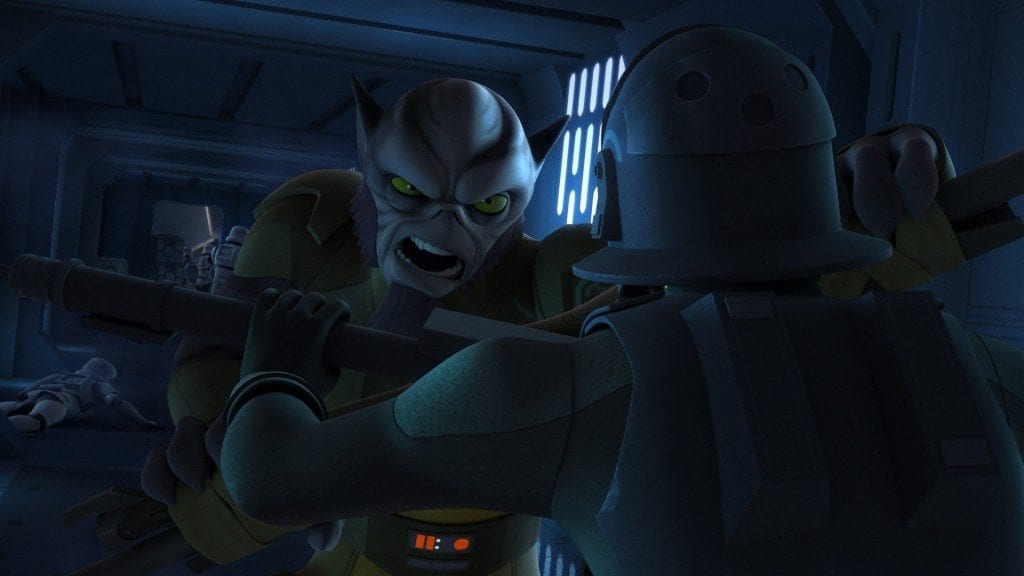 What could be so big that it needed to be constructed out in space? Death Star! Death Star! Death Star! Ezra and the gang head to Geonosis looking for evidence of construction by the Empire. There are construction modules floating in orbit above Geonosis, and there are no signs of life below on the actual planet. I love this! At this point in the timeline the Death Star either has been completed or is damn well near completion for it to have left the area of Geonosis. Secrecy was paramount in the construction of the Death Star. With Captain Rex on board and his vast knowledge of Geonosis, he is surprised that the Ghost is unable to pick up life forms on the planet. I guess that is what happens when an entire planet undergoes Imperial sterilization after the Clone Wars. Emperor Palpatine and Grand Moff Tarkin couldn't have anyone spoil the surprise of the Death Star. Now, this might be hot air or wishful thinking on my part, but I am hoping for a tie-in with Rogue One. The timing would be perfect for the first half of season three, and the mid-season finale being a tie in with Rogue One right before it hits theaters?! It does not have to be a big tie-in, just a little nod towards the movie.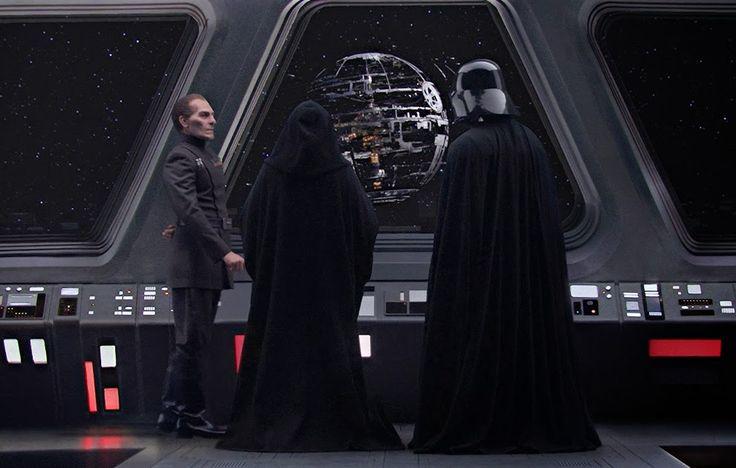 Aside from the Death Star Easter egg in this episode, the driving forces this week were Zeb and Agent Kallus. During the battle between the two inside the escape pod, Kallus injures his leg and his his fate is left in the hands of Zeb. Luckily for Kallus, Zeb is an "honorable one" and would rather beat a healthy Kallus and not a crippled version. While watching this, I thought of the movie Midnight Run with Robert DeNiro. Two completely different guys trying to make it out in one piece by reluctantly relying on each other. Classic movie, check it out if you have never seen it. The two of them begin to voice each others displeasure's' about what cause they stand for. Zeb challenges Agent Kallus to ask questions of  things that he has seen in the galaxy. Why was Geonosis barren of all life and why would the Empire do that? Kallus' reaction to Zeb's version of what happened on Geonosis is interesting. Does Kallus truly not know what happened there? Or does Kallus just simply downplay the action of the Empire in order to cope with the things he has done?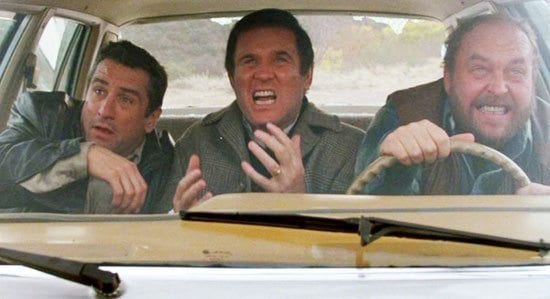 Kallus was not just surprised by how well Zeb was treating him, but wanted to show that he too was not like all Imperials, and that he was just doing his job. There were a few chances in the episode that Kallus could have destroyed Zeb, but he chose not to. While I am sure there was some guilt involved on on Kallus' part for being saved by Zeb, I think he also wanted to show that he too is honorable. Kallus also reveals that the Lasat bo-rifle that he uses was given to him,  and not a war trophy as Zeb had thought.  According to the "Lasat Warrior Way" if you are bested by your enemy, before you die, you present him with your weapon. These statements hit home with Zeb in a big way, and it was easy to see the new found respect Zeb has towards Kallus. Kallus also states that he knows the Empire was trying to make an example of the destruction of Lasan. By admission to this fact, it shows that Agent Kallus is not blind to what the Empire has done.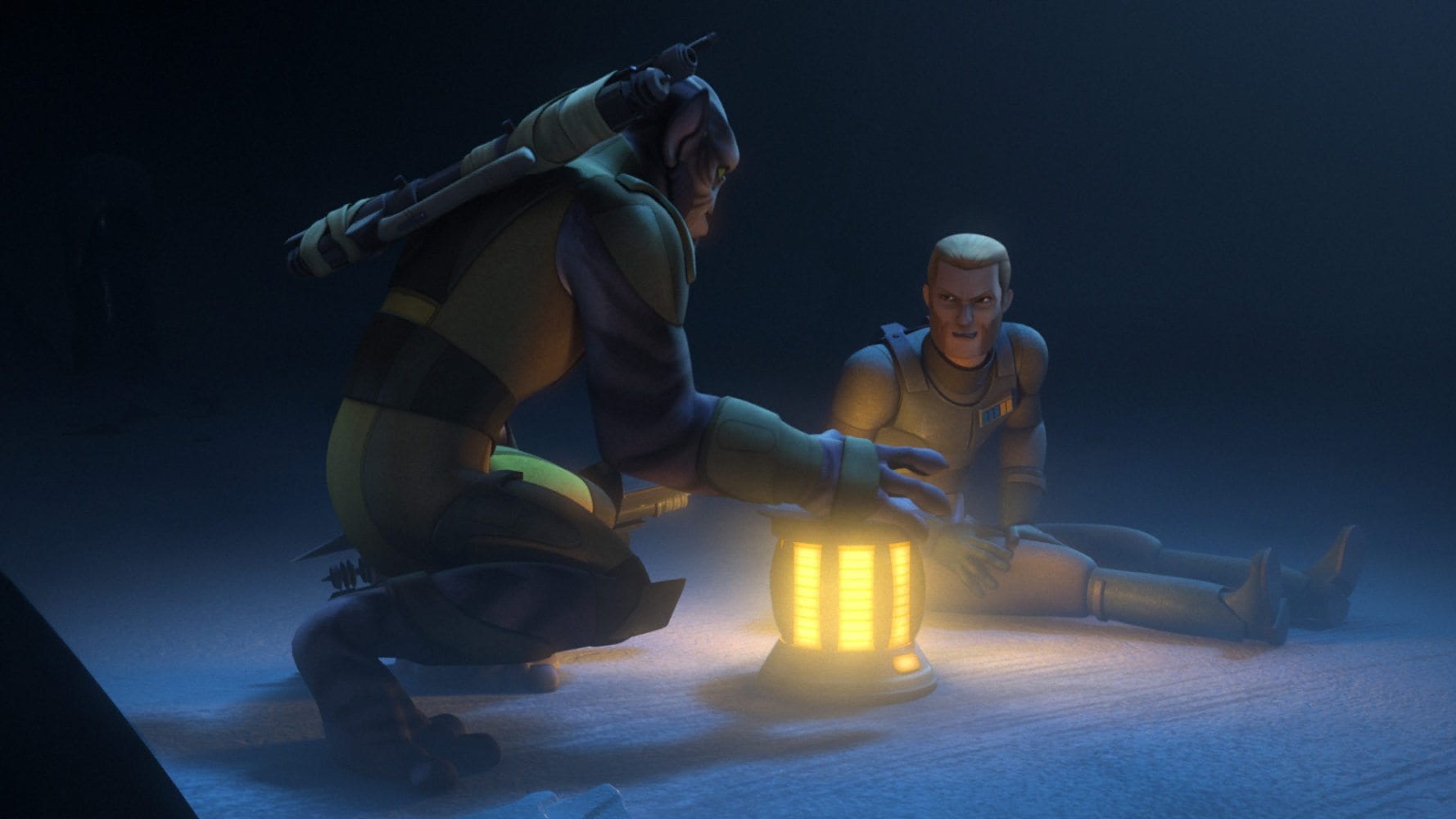 Kallus and Zeb are able to fight off two creatures called bonzami and make it to the surface of the frozen moon. With Zeb having fixed the transponder and one frigid night filled with Kallus and Zeb snuggling, the Ghost arrives to bring Zeb home. Zeb tells Kallus that he will be treated fairly by the rebels, but Kallus elects to wait for Imperials to come a get him. Zeb and Kallus have a new-found respect for each other by the time this ordeal is over. They are both warriors, acting on behalf of the cause they believe in. One of the last things Kallus sees is Zeb's warm welcome and happiness from Ezra and company.  Call me crazy, but I think Agent Kallus might be thinking about turning towards the rebellion. Kallus received no warm welcome and in fact the script states that Kallus was picked up by an independent trader due to the fact that the Empire had since used up its allocated time and money searching for Agent Kallus. The cold and hard nature of the Empire looks to have taken a toll on Agent Kallus.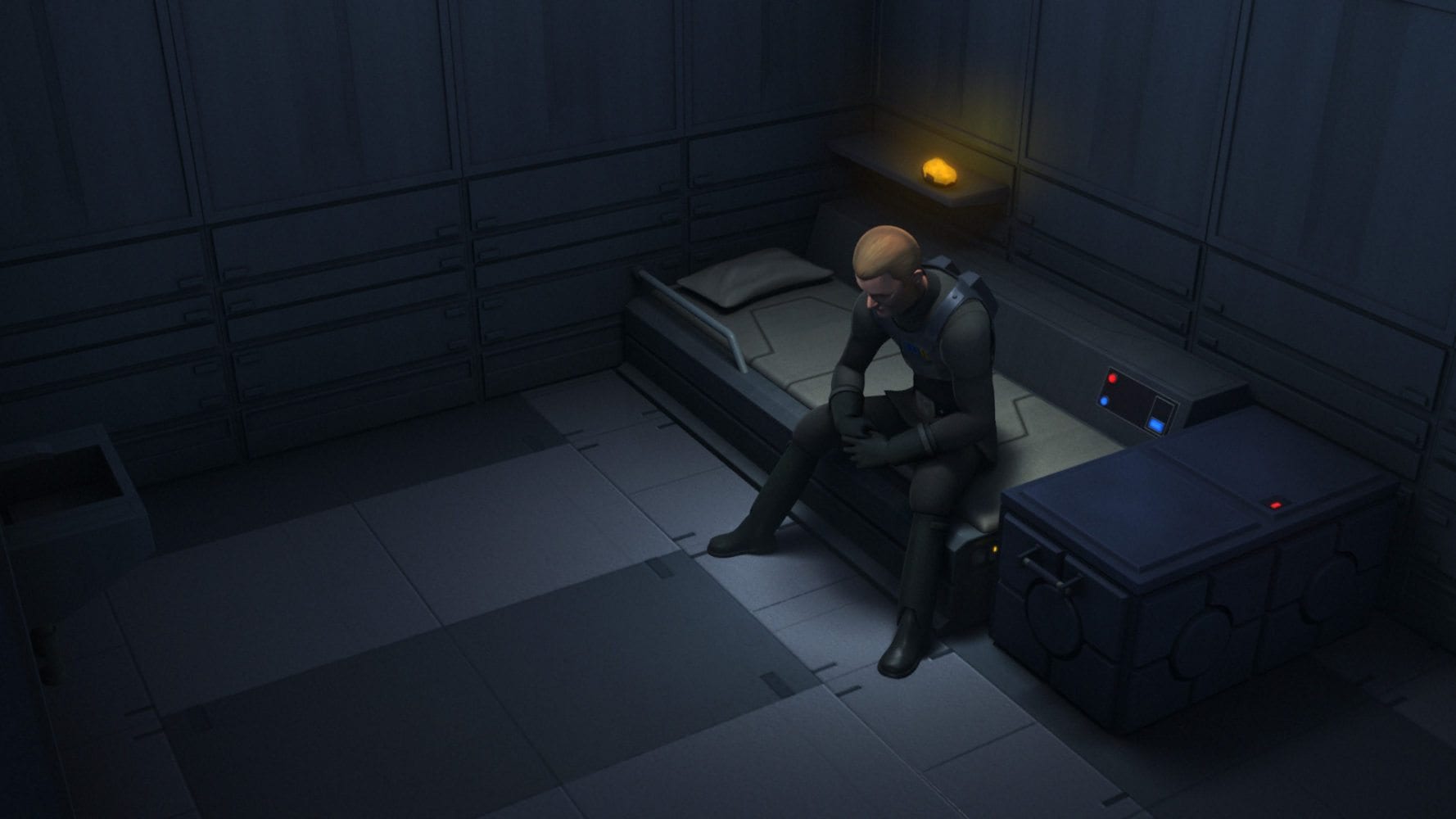 Chalk another fantastic episode up in the books. Rebels has five more episodes remaining this season, and at its current rate every Wednesday night is must-see TV. Be sure to check out Rebels Recon on StarWars.com for further information on every episode. 

ODDS and ENDS
Bonzami creatures were named after zamboni.
Ralph McQuarrie artwork was used as inspiration to this episode.
Still no Rogue One trailer.
Strep throat is not fun.
Follow me on Twitter @DengarDan and let us talk about all things Star Wars!