The two-part premiere Heroes of Mandalore sets the bar high for the fourth and final season of Star Wars: Rebels!
The season four premiere of Star Wars Rebels is finally here, first airing on Disney XD at 12:30 am ET on Monday, October 16th, and if this pair of episodes is any indication, this is going to be quite the swan song for the series. Heroes of Mandalore delves into some very poignant themes: family, choices, and consequences. Mistakes that are made, whether out of the ignorance of youth or simply being misguided, can have dire repercussions for countless people.
The Heroes Of Mandalore
The episode opens with the crew of the Ghost reunited with Sabine and her family on the planet Mandalore in an attempt to rescue her father. Her father is being held by Imperial forces led by Tiber Saxon, a Mandalorian who has sided with Palpatine and the Empire. His brother Gar Saxon had previously faced down Sabine and her family in season three, on the planet Krownest. Leading a band of Mandalorian Supercommandos, they have captured Sabine's father in the hope of luring Sabine into a trap.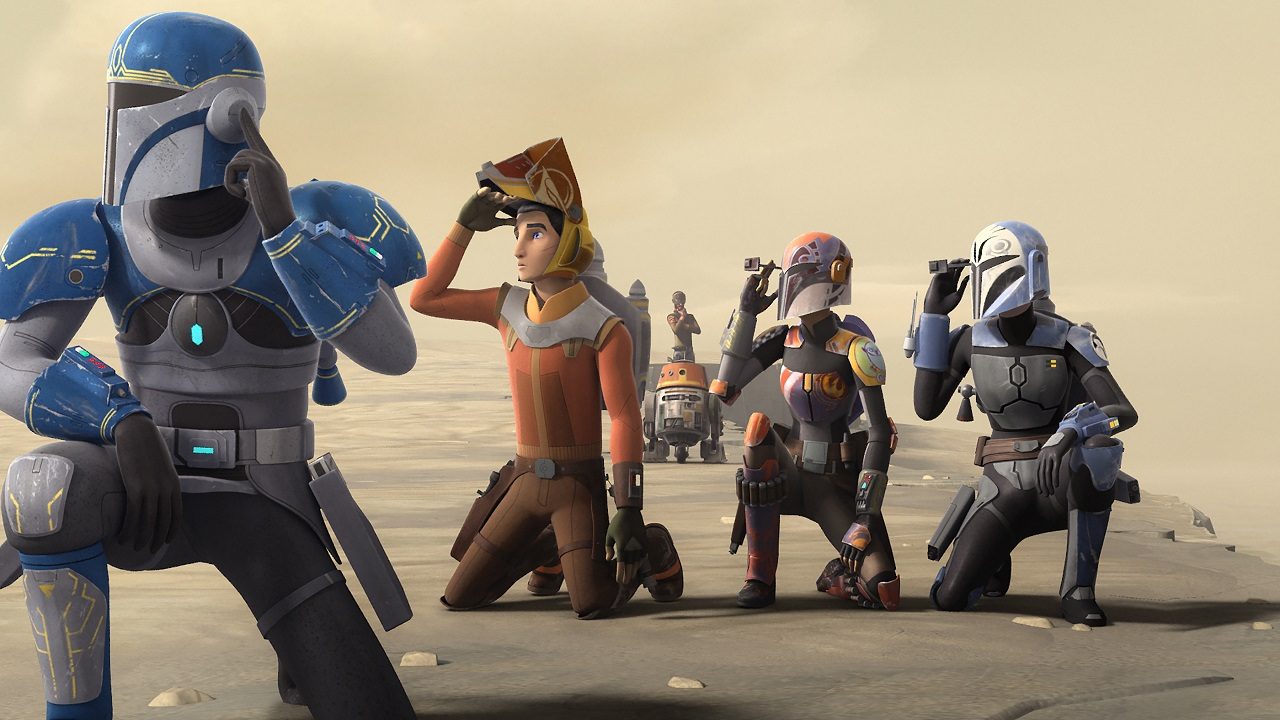 An all-out battle ensues with Sabine and her army of Mandalorian warriors, including her mother and brother Ursa and Tristan, and the Protector Fenn Rau, going face to face with the Empire. Chopper, Kanan and Ezra are there to fight by her side as well. Wielding the Darksaber, Sabine is a force to be reckoned with, and it is apparent that the time spent back with her family and her people has helped her mature even more.
The intense battle takes place on the ground and in the air, as Mandalorians display their agility with jetpacks. Ezra, in moments that add some levity to the episode, is also learning how to use one with mixed results.
Mandalorians have long been one of the most fascinating cultures in the Star Wars galaxy. From their fierceness and honor as warriors to the iconic look and design of their armor, these ancient warriors have a mythology that Dave Filoni has been able to capture and put on screen. The episode also carries over the storyline of the Mandalorian Civil War from The Clone Wars and previous seaons of Rebels.
After the crew successfully rescues Sabine's father, and their relationship is explored a bit more, Clan Wren is joined by Bo Katan and Clan Kryze. Bo Katan, voiced by Katee Sackhoff, is a former member of Deathwatch and the sister of the former ruler of Mandalore, Duchess Satine. Her character first appeared in The Clone Wars, and her story has come full circle as she is once again fighting to restore Mandalore's greatness.
Strength Of Iron
The reunion is short lived.
Ursa and Tristan Wren make contact over the comm but it is cut short with static that Sabine immediately recognizes. Rocketing off to their location, she is not ready for what lies before her.
A charred and smoky landscape devoid of any survivors. Only the burnt remnants of Mandalorian armor.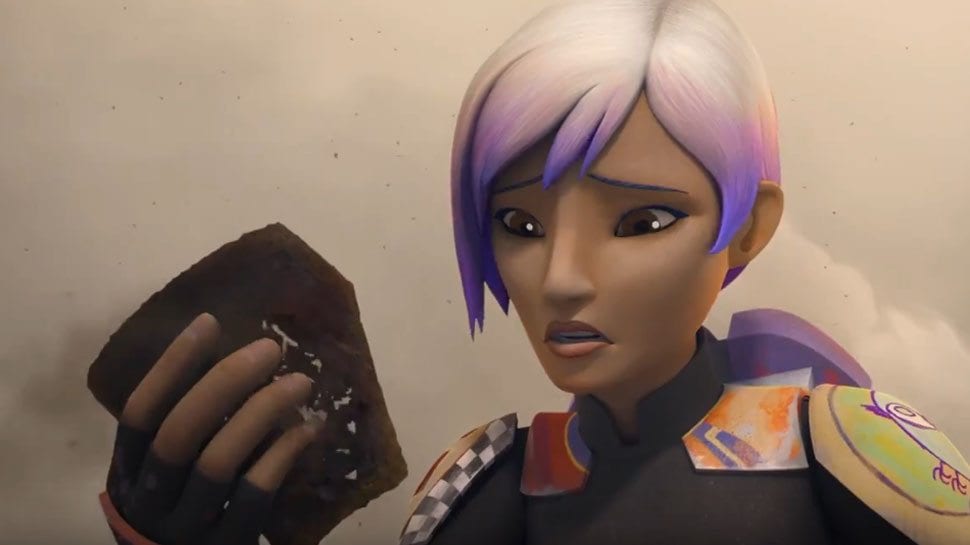 Heroes of Mandalore Part 2 picks up where the first part leaves off, with Sabine distraught over the apparent death of her family. Fortunatley her mother and brother were able to get out of the way thanks to her warning. It's then revealed that the weapon that was deployed was designed by Sabine during her time in the Imperial Academy.
It is triggered to target only those wearing the beskar armor of Mandalorians, vaporizing the wearer. When Sabine learned how it was to be used, she destroyed the prototype. Tiber Saxon in his quest for personal glory and to rule over Mandalore has pieced what he could together, but needs Sabine Wren to bring out the full potential of its destructive capabilities.
It is an emotional moment, an innocent challenge from her youth is now being used against her and her people. This earns her the ire of her fellow clans she is desperately hoping to reunite. There is a great parallel here to Galen Erso and the Death Star that was explored in Rogue One. Because of this, Sabine experiences feelings of self doubt and of being lost. Can she be the leader that her people need? Is just possessing the Darksaber, a symbol of Mandalorian leadership, really all it takes?
For Mandalore
Bo Katan recognizes her potential however, and decides that she will aid the strike against Saxon and the Empire, to destroy the weapon once and for all.
The final battle is the infiltration of the Imperial base, and it's a fast pace one at that. As Ezra, Kanan, Fenn Rau and the remainder of the Mandalorian forces take on Stormtroopers and Walkers, Bo and Sabine head to destroy the superweapon. Knowing ahead of time that they would make such an attempt, Tiber heads them off and stuns them by activating the weapon. Hark, who is Saxon's second in command, expresses his doubt and is subdued along with them.
He seemingly convinces Sabine to help him restore the weapon in order to save her friends, but it's a way for her to reprogram it. Now targeting those in Imperial armor, the weapon takes out the facilities entire garrison along with the Star Destroyer docked to it.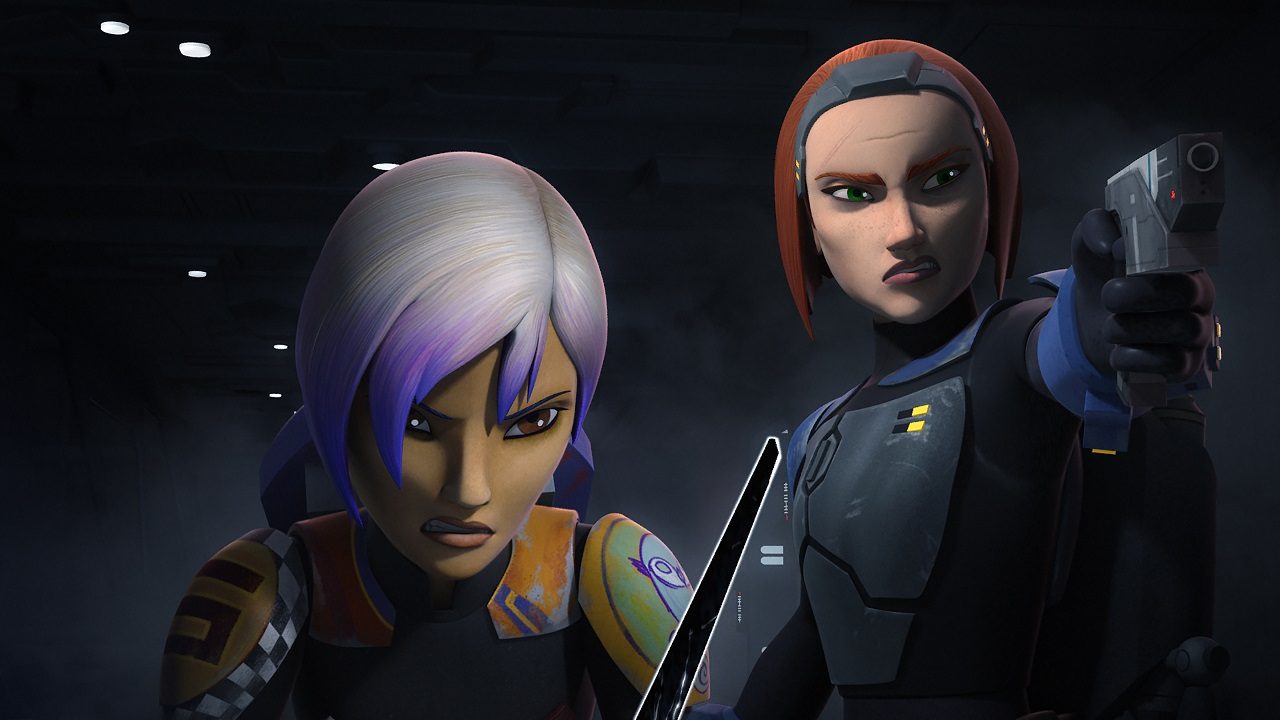 Sabine has her chance to take out Saxon, but Bo is able to persuade her out of it. Mandalore must be free, but at what cost to one's honor. Or the honor of her people. It's a far cry from the Katan that was a follower of Pre Viszla and Deathwatch years ago. It's an incredible way to resolve her past and continue her story forward. And hopefully this is not the end of her time on Rebels.
This fantastic story closes with a beautiful moment in which Sabine, recognizing why she was chosen to carry the Darksaber, passes it to Bo to lead her people. As hundreds of Mandalorians stand before her, the clans pledge their allegiance. Clans Wren, Viszla, Rook, Eldar, Kryze and the Protectors. The civil war has ended and she takes up the sword for her sister and for Mandalore.
The Beginning Of The End
Heroes of Mandalore is setting the tone for a dramatic and emotional wrap up of Star Wars Rebels. The journey started not too long ago in 2015 is on its way to what is hopefully a satisfying conclusion. So many questions remain. A truly great story focuses less on answering all of these, rather leaving its audience with things to ponder for years to come.
Yet, what does become of our beloved crew? Aside from the brief cameo in Rogue One from Hera and Chopper, the rest are unseen in the rest of the franchise beyond that. Can Ezra and Kanan survive when Luke and Leia are both the last hope for the galaxy? The unknown adds a weight to this season like never before. Anything can happen.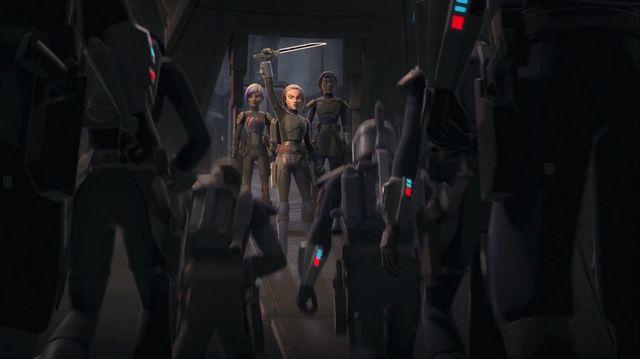 The two standouts in this episode hands down are Tiya Sircar and Kevin Kiner. Tiya has grown into her character so much in such a short amount of time that the two are now indivisible. The first half of this series did not devote nearly enough time to her and her growth, but now she is one of if not THE strongest character on this show. The animated tales of the Star Wars universe have some of the best voice talent in the business. Honestly, I am floored by how much emotion was in her performance, and her dialogue with Katan is the heart and soul behind the premiere.
Kevin Kiner's work here as composer is almost flawless. There are quite a few emotional scenes in Heroes of Mandalore, but some of the more powerful ones contain very little dialogue. Rather, the score is all that is needed to convey the darkness and immensity of the challenge they face, or the deep honor and tradition of the Mandalorian people.
Heroes of Mandalore is a strong opening salvo from the team over at Lucasfilm and it is only going to get better. As the stakes are raised as we draw towards a conclusion, I'd expect quite the emotional roller coaster over the next several months.
The next episodes In The Name of the Rebellion 1 & 2, air on Disney XD Monday, October 23rd.
Mike Harris hails from the suburbs of Chicago and has been a fan for most of his life. Working as an industrial radiographer and raising a family with his wife take up most of his time, but there's always room for Star Wars books and podcasts! Just looking to give back to Star Wars and the fan community, it's been a source of fun and learning for him for so long.