Threats abound in Flight of the Defender and help comes from a mysterious "ally".
The follow up to The Occupation is Flight of the Defender and picks up the next day after the Rebels are rescued by local rebel leader Ryder Azadi. From out of sight, the rebels are gathering information on the new and improved TIE Defender. The Defender is an elite starfighter that boasts shield generators and its own hyperdrive system. Not satisfied with just observation and photos, Sabine makes an attempt to sneak onboard and steal the ships flight data recorder. While a diversion is created, Sabine is able access the ship but unexpected company arrives overhead. Grand Admiral Thrawn and Governor Pryce flanked by Death Troopers have come to witness the Defender's test.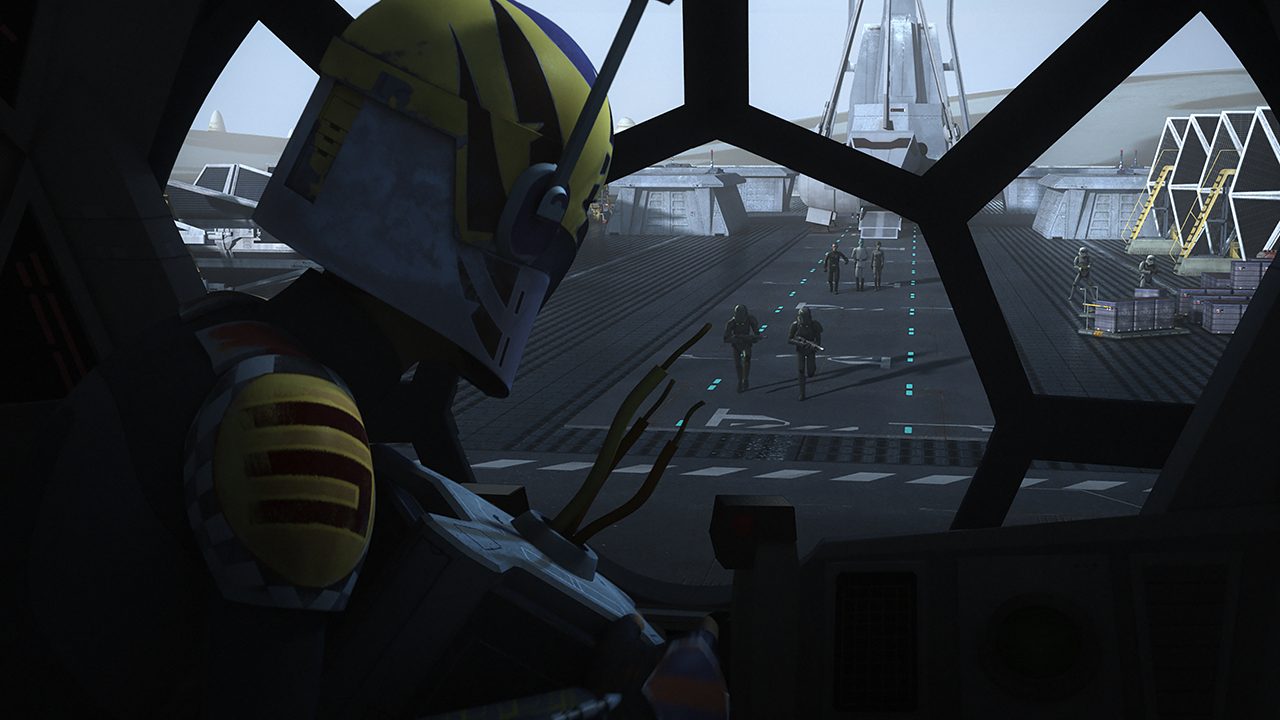 The stealth mission quickly turns to chaos as Ezra attempts to give Sabine more time to steal the recorder. As Ezra fends off the Stormtroopers as best as he can, the Death Troopers make their way to the TIE Defender. Seeing this Sabine quickly responds by launching the TIE and raining laser bolts down onto the Imperial base. Ezra leaps onboard and they blast out of the area followed by a trio of TIE Interceptors. The Defender makes short work of them proving that is the far superior ship. Pryce activates a kill switch on the Defender and forces Ezra and Sabine to make an emergency crash landing.
Deciding to salvage the hyperdrive off of the TIE Defender to replace the one on Ryder's U-Wing, Ezra hides it in a cave that he is lead to by some local "creatures". Loth-Cats and a Loth-Wolf have been following them and seemingly observing them on their mission. As the Empire descends on the area in search of the crash survivors, the Loth-Wolf approaches and puts Sabine to sleep. It gestures for Ezra to climb on with Sabine and races them past the searchlights to safety.
Imperial Muscle
The muscle of the Empire is sufficiently flexed this episode with the TIE Defender and the elite Death Troopers.
The Defender first appeared last season but looks to play a bigger role in season four. It's an agile and deadly fighter and has looks that could kill on their own. Figuring out exactly what this ship can do is vital for the rebels otherwise they are in for a fight. The new upgrades on it include shields and a navicomp which sets it above standard TIE's. Seeing the wings on it pop off before crashing is a great detail that should make every toy collector or child smile too.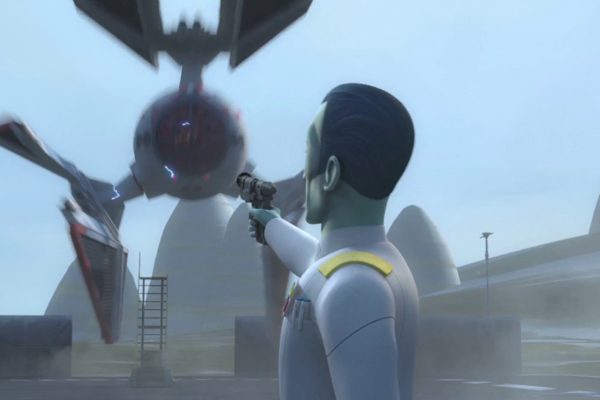 Behind the wheel so to speak is the cunning pilot Vult Skerris. Sabine has a history with Skerris as she went undercover as a TIE pilot previously to extract Wedge Antilles and others who were defecting from the Empire. With Vult in charge of the program he is being set up as a serious adversary for the Rebellion.
The Death Troopers return again this week, broadening their usage but still very much attached to critical and/or vital roles only. It's great hearing them speak Basic as opposed to the garbled transmissions in Rogue One. They still have some voice modulation so it distinguishes them from their lower rank counterparts. The specifics of these troopers and their origins are still up in the air which adds to their mystery. Hopefully it's kept that way at least for a little while.
Local Wildlife
Ezra has long had a connection in the Force with all manner of creatures from many of the worlds he's visited. This has been seen in several episodes but the way it played out in Flight of the Defender could very well be what it's been leading up to. The local Loth-Cats can't seem to stay away from Ezra. Distracting to others the payoff is that a pair of them attack and lead off two Stormtroopers standing between them and the TIE Defender. Without them they would have needed another diversion and may have risked being caught.
The next time it happens is after Sabine recommends taking the hyperdrive off of the crashed Defender. It is a large piece of equipment and is drastically slowing them down. Following a white Loth-Cat leads them to a small cave where they stash the hyperdrive to be picked up later.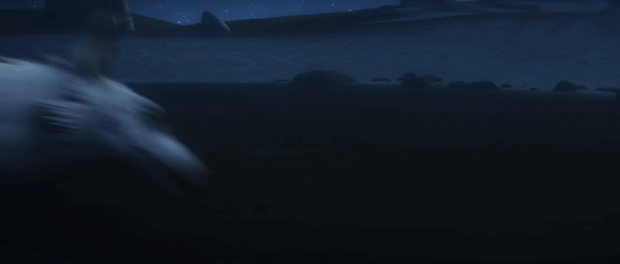 Early in Flight of the Defender Ezra spots a lone Loth-Wolf far in the distance. Looking right at him. He feels their connection although he doesn't know what it means quite yet. Towards the end of the episode the wolf appears again when Ezra and Sabine are trying to go unnoticed amongst the searchlights of Imperial ships. The wolf appears behind Sabine and it puts her to sleep by breathing in her face and uttering the word "sleep" to her. It speaks! Why it needs to do this is not revealed but must have something to do with the inherent connection between it and Ezra.
It's a stunning creature with markings that some have said resemble Ahsoka's own markings. This has lead to some fan theories as to these wolves and their purpose. Ezra has mentioned that they have not been seen in a hundred years so whatever is bringing them out is fairly important.
All Paths Are Coming Together
This line was featured prominently in the season four trailer and appears in the last moments of Flight of the Defender.
The end is nigh.
A complaint from past seasons is the accusation that portions of the run is merely "filler episodes". Fluff pieces to extend the season and maybe offer some levity between more serious arcs. There is nothing filler about the six episodes from season four that have been released, and from what has been seen in trailers so far, don't expect any.
A culmination of plot points from previous seasons and loose ends from other parts of the galaxy far, far away are all converging in this last season of Rebels. So much remains up in the air. This season has been emotionally very satisfying so far and it's not even at the half way point yet.
The next two episodes Kindred and Crawler Commandeers air on Disney XD on Monday, November 6th!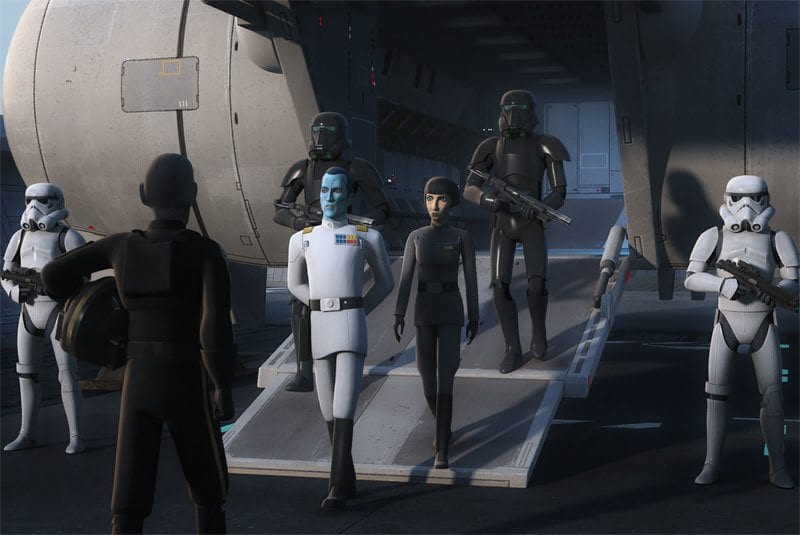 Mike Harris hails from the suburbs of Chicago and has been a fan for most of his life. Working as an industrial radiographer and raising a family with his wife take up most of his time, but there's always room for Star Wars books and podcasts! Just looking to give back to Star Wars and the fan community, it's been a source of fun and learning for him for so long.