John Liang looks at Star Wars: On The Front Lines, a new book focusing heavily on the "Wars" in Star Wars, taking an in-depth approach into the tactics and analysis of key battles in the saga.
Yes, this is a review of Star Wars: On The Front Lines, but before I get to that, I gotta get one thing out of the way.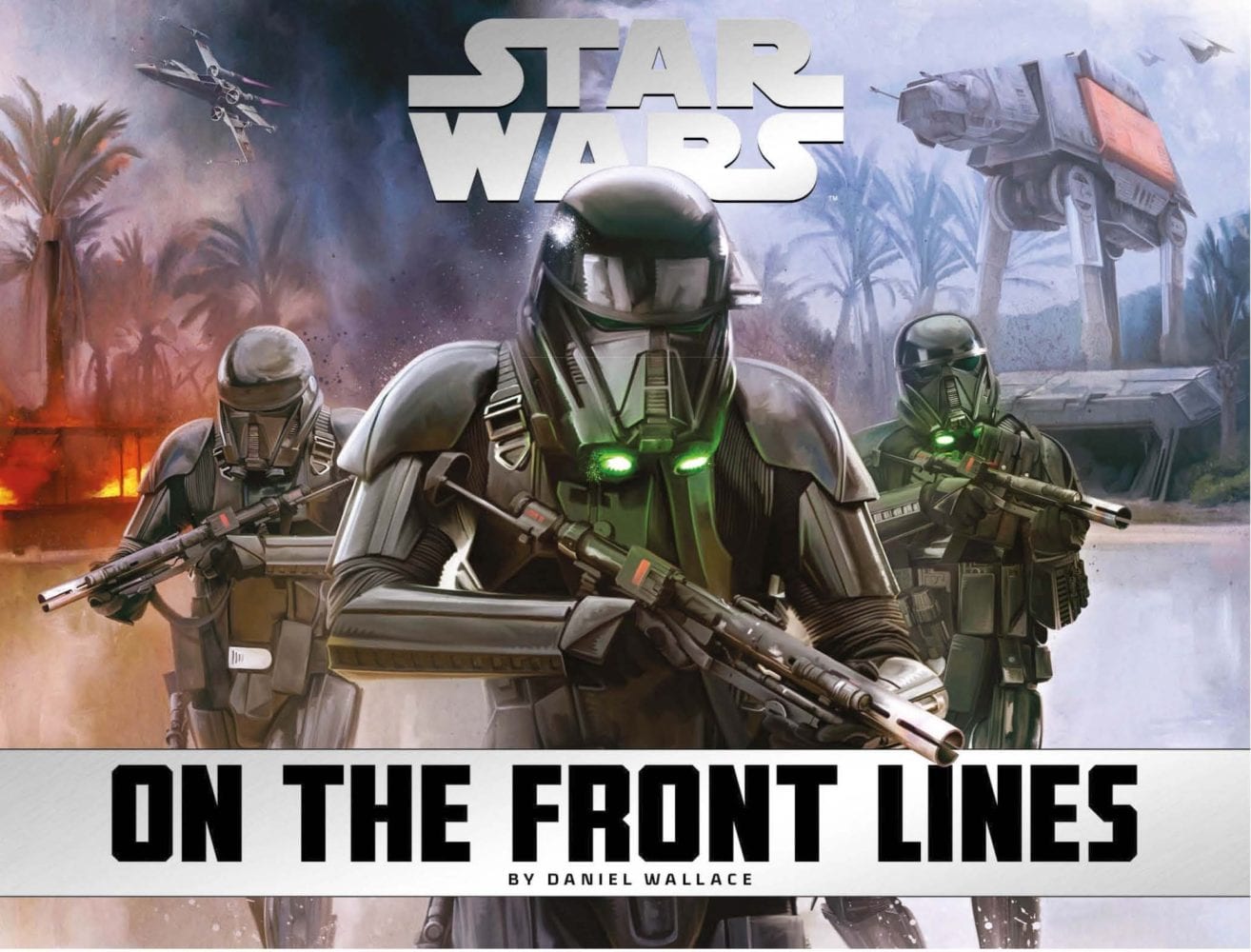 Star Wars: On The Front Lines
Author: Daniel Wallace | In-book Illustrations: Adrian Rodriguez, Thomas Wievegg, Aaron Riley, and Fares Maese | Front jacket artwork: Brian Rood; Back jacket: Fares Maese | Publisher: Titan Books
If you're a military history junkie and a Star Wars fan, you've probably already devoured Star Wars: The Essential Guide To Warfare, by Jason Fry and Paul Urquhart, and with artwork by a host of artists. That book, glorious as it was, has been reviewed multiple times here, here and here, to name a few. It's important to note that Essential Guide was published in 2012, the same year as Disney's $4 billion purchase of Lucasfilm and prior to 2014's splitting of the Expanded Universe/Legends from current continuity. Consequently, of course, Essential Guide had a whole host of references to Legends characters and events like Ysanne Isard and Juno Eclipse, among others. Not that there's anything wrong AT ALL with that, it's just that the book was a product of its time.
The cool thing, however, is that if you're an aficionado of the Battle of the Atlantic during World War Two, you've got a plethora of books to choose from that tackle the subject from multiple angles. Why should Star Wars be any different? The folks at Titan Books have answered that with the imminent publication of Star Wars: On The Front Lines.
An In-Depth Look at the GFFA's Military History
To be perfectly honest, I wasn't sure if  Star Wars: On The Front Lines would hold its own compared to Fry et al's Essential Guide, but opening the former up to any page dispelled my concerns. Crisply written by Daniel Wallace and lushly illustrated by Adrian Rodriguez, Thomas Wievegg, Aaron Riley, and Fares Maese (front jacket by Brian Rood), the 127-page, coffee-table-style book gives the reader an in-depth look at eleven in-canon battles–on the ground and in space–that take place from Naboo through Starkiller Base, encompassing the seven saga films, Rogue One, Star Wars: The Clone Wars, and even books like Claudia Gray's Lost Stars and Chuck Wendig's Aftermath trilogy.
Each chapter is organized into specific sections: "Prelude to Battle," where Wallace writes about the political and military situation leading up to that particular battle; a "Tactical Analysis" of the battle itself; and an "Aftermath" section that looks at the consequences of that battle.
The chapters also each have illustrated and captioned sections on "The Combatants," both human/alien and droid; "Tales of Valor" that describe a particular character's (some known to the audience, some not) actions during that battle; first-person "I Was There" accounts (a certain well-known side character's account of the Battle of Yavin was of particular interest); and a "Tools of War" section that outlines some of the vehicles or ships that were present during the battle.
One cool thing about the book is that it features male and female characters both known and unknown, each one doing their thing to further the cause of the Republic/Empire/Rebellion/New Republic/First Order. The two books have different styles and approaches to Star Wars and warfare.
The Art of War
The chapters in Star Wars: On The Front Lines all end with a massive, two-page spread of artwork that depicts a moment from each particular battle.
The artwork in this book is nothing short of spectacular. Each picture, particularly those of individual characters, is portrait-quality, good enough to be hung on a wall. It has a wonderful coffee-table feel to it, akin to the highest-quality art books you'd buy from a major museum. You could literally open it up to any page and just go from there.
Reading the whole thing cover-to-cover took me the length of the "Best of Star Wars" music playlist on Spotify. Of course, I re-read the book again several times, taking in all the details the artists highlighted, specifically in the end-of-chapter, two-page spreads.
Titan Books' Star Wars: On The Front Lines is an absolutely worthy addition to any Star Wars geek's bookshelf or coffee table, with enough detail–both in the writing as well as the artwork — to merit multiple re-reads. It's available at all major book retailers, or direct from Titan Books here.
John Liang is a producer for the Beltway Banthas, a Star Wars and Politics podcast on the Retrozap Podcast Network. He has appeared on panels at Star Wars Celebration and DragonCon related to politics and the military in Star Wars. A journalist since 1994, John has covered the U.S. military for the past 20 years. He saw A New Hope at age eight when it first came out in theaters in 1977, but didn't become a fan until reading the novelization two years later. He's been a Star Wars book geek ever since.