Courtney reviews Paul S. Kemp's tour de force Star Wars novel.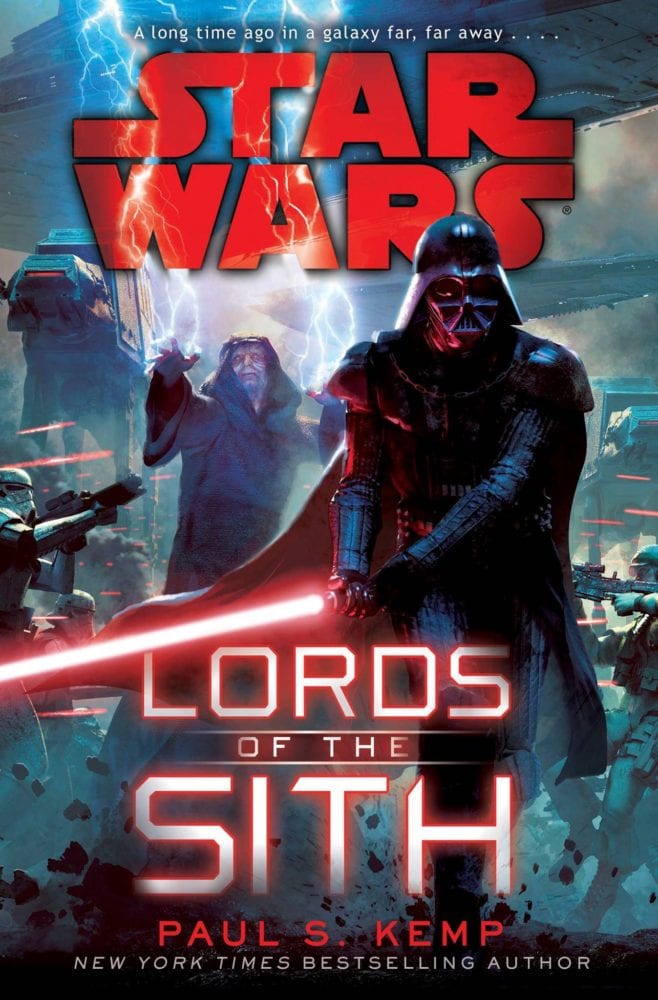 Star Wars: Lords of the Sith, Paul S. Kemp
Lords of the Sith is the newest title in the official Star Wars canon, published on April 28, 2015. I've read all of the new official canon books in the Star Wars universe, and I have to say this one is a breath of fresh air. Compared to the other novels in the new canon thus far, this book reads more like an adult sci-fi novel, whereas the others seemed more young-adult oriented.
Lords of the Sith takes place on and around Ryloth, the home world of the Twi'leks, and is approximately eight years after the end of Revenge of the Sith. We get introduced to a host of new characters, both Rebel and Imperial. We also get to see the foundations of Darth Vader and Emperor Palpatine's formidable, yet duplicitous, relationship.
The Free Ryloth movement, led by Cham Syndulla (Hera's father), has been initiated small attacks on Imperial-held hubs around Ryloth, causing the Empire to look more closely at their actions. They learn of an upcoming visit by a Star Destroyer, the Perilous, to their system, and decide to take their biggest strike yet against the Empire. They plan to take it down. And bonus, they discover Vader and the Emperor will be onboard. Now they must destroy the ship, not only for Ryloth, but for the galaxy.
I don't want to give the plot of this book away, so I'm going to refrain from giving too many details. Kemp does a masterful job of giving character insights and detailing emotions. He's introducing new characters, which isn't always an easy task. I love the group dynamics of the Free Ryloth movement, as well as the background stories of the main cast (especially Isval).  Readers also get a feel for the Imperial characters, the main focus being Ryloth's top commanders, hedonistic Moff Mors and ambitious Commander Belkor.
After a crash, Vader and the Emperor become stranded on Ryloth, and are faced with surviving on the planet's harsh environment and being pursued by the Free Ryloth rebels. Not only does Ryloth pose a threat of insurrection to the Empire, it becomes the place where Vader and Palpatine's partnership is tested. This is the place in the book where we get a glimpse into the internal struggles of Darth Vader. Vader has fully become a Sith Lord, proving again and again his loyalty to the dark side and his master. Yet his emotions balance on the cusp of his memories from his past, his allegiances, and his actions. As Vader and the Emperor must rely on each other to survive, the Emperor cunningly tests Vader and his loyalty at every turn. In all honesty, I started to empathize with Vader here; he willingly chose a path from which he cannot escape, but did so for complex reasons. On the surface, he's evil incarnate, but deep, deep down he's still Anakin Skywalker.
We also get to see the depth of Emperor Palpatine's dark side powers in this book. Not only is he a master of the Dark Side, he's a master manipulator too. Palpatine is constantly multiple steps ahead of the rebels, and Vader as well. Kemp truly portrays Palpatine's evilness; I think I may have a deeper dislike for the Emperor because of this book!
Lords of the Sith is an excellent read. Kemp has a great feel for Star Wars canon, and creates detailed space battles, character interactions, and plot lines. If you haven't yet read any of the new novels in the new official canon you should pick this one up. It's not connected to any of the other books, so you won't miss any plot details, and is a great stand-alone read. Hopefully Kemp gets additional offers to write in the new Star Wars expanded universe, because this book is a great addition to the galaxy far, far away.
Courtney Martin is a graduate of Indiana University and works in publishing. She's an avid Star Wars fan and wrote the recipe blog Courtney Cooks Star Wars on suvudu.com. When not enveloped a science fiction or fantasy novel, she is watching television with her husband and son, doing crossword puzzles, or playing with her Shih Tzu, Burt.