Kendall Schroeder, returns to share his work as he takes part in the annual Inktober Challenge with a Star Wars flair.
In this digital age, where computer-generated images grace the screens and virtual reality is the latest trend, going back to the basics seems primitive. Many artists are enjoying the newest technology. State-of-the-art computers, iPads, virtual headsets, and the like. But, there is value in returning to one's roots. And, that's one reason artist Jake Parker created the Inktober Challenge in 2009.
Additionally, Parker created Inktober as a challenge to improve his own inking skills and develop positive drawing habits in the process. Little did he know that it would become a worldwide phenomenon in which millions of drawings are submitted every October. Check out some of Jake's amazing work here.
Back to Basics
My reasons for taking on this challenge are similar. Consistently drawing every day creates a habit that strengthens ones drawing abilities. And, getting away from digital drawing to pick up pen and paper brings me back to the fundamentals of the art. It frees me from the feeling of perfection. If I make a mistake on the iPad, I can easily fix it. No one would ever know I messed up. However, with pen and ink, if I goof up, it's there for the world to see. Sure, I don't have to post the drawing, but as a wise Jedi master once said, "The greatest teacher, failure is." I learn from my mistakes.
Drawing every day is not easy. Although, I know It's something I need to do to hone my skills, it's still difficult. Dedicating myself to the Inktober Challenge holds me accountable to putting pen to paper every day. It becomes a personal attempt at growing in my craft, an attempt to develop my style. By developing this habit, I will be on the path to finding my true style as an artist. As a result, it allows me to break down the artificial barriers that digital so easily creates, and essentially relearn how to do what I love to do.
Inktober Prompt List
The Inktober Challenge is more than just drawing each day of the month. Artists are encouraged to follow the daily prompt when creating their pen and ink art. Finding my style is one thing but creating a new drawing each day based on a given prompt is entirely something else. Star Wars is my passion, therefore the added challenge for me is to find a Star Wars reference that would correspond with the word of the day.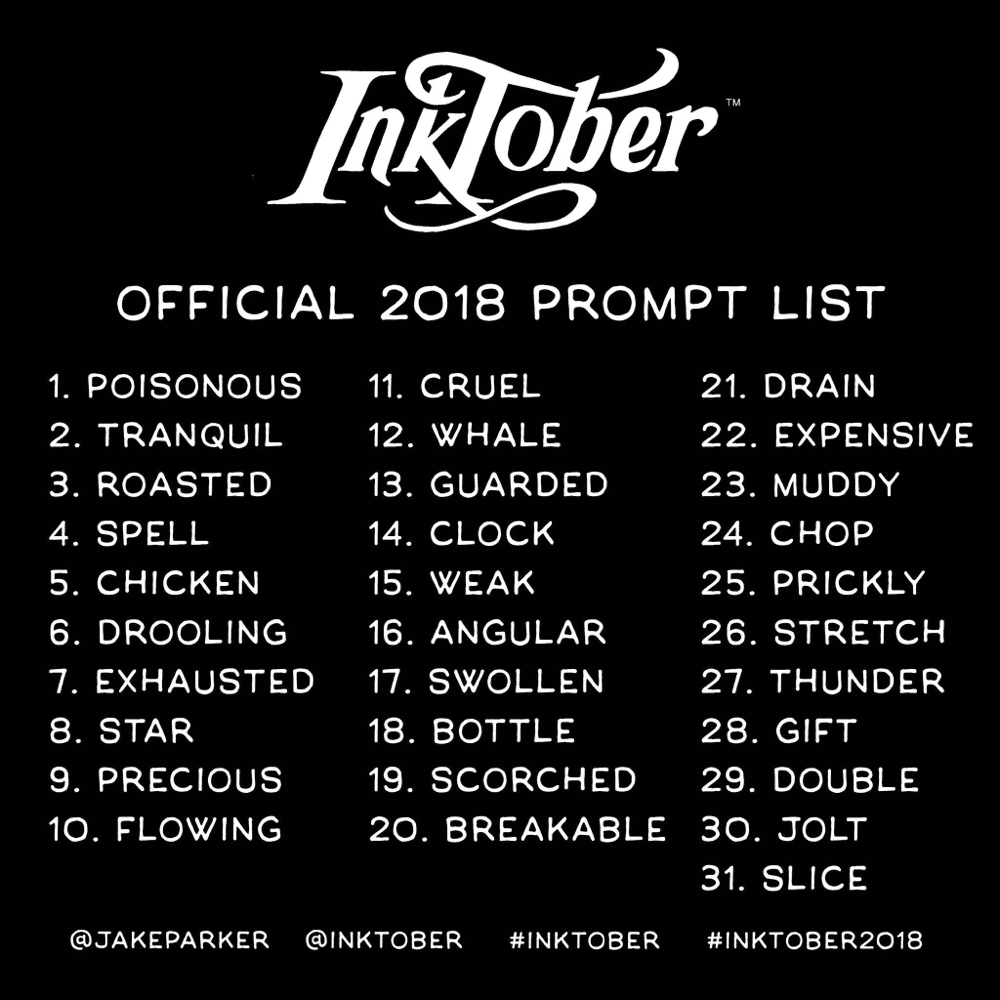 Tools of the Trade
Just as challenging, is selecting the right tools for the job. Utilizing pens I receive from a monthly subscription to ArtSnacks, and a generous donation from Marabu Creative, I had plenty of choices. Creating images on real paper provides a more tactile experience. The variety of pens, from fine tip to brush, allowed for varying degrees of emotion and, dare I say – style –  to come through in my daily submissions. The paper used varied from heavy watercolor paper to thin copy paper. From left to right: Marabu Fineliner Graphix Pen, Sharpie Ultra Fine Point Pen, Tombow TwinTone Dual-Tip Marker, Sakura Classic White Gelly Roll Pen, Kuretake Nihondate Kabura Fude Brush Pen, Marabu Aqua Pen Graphix Pen, Robert Simmons Watercolor Brush, Kuretake Bimoji Fude Brush Pen, Tombow Monograph Mechanical Pencil, Staedtler Pigment Liner Pen, Sakura Pigma Micron PN Archival Ink Pen.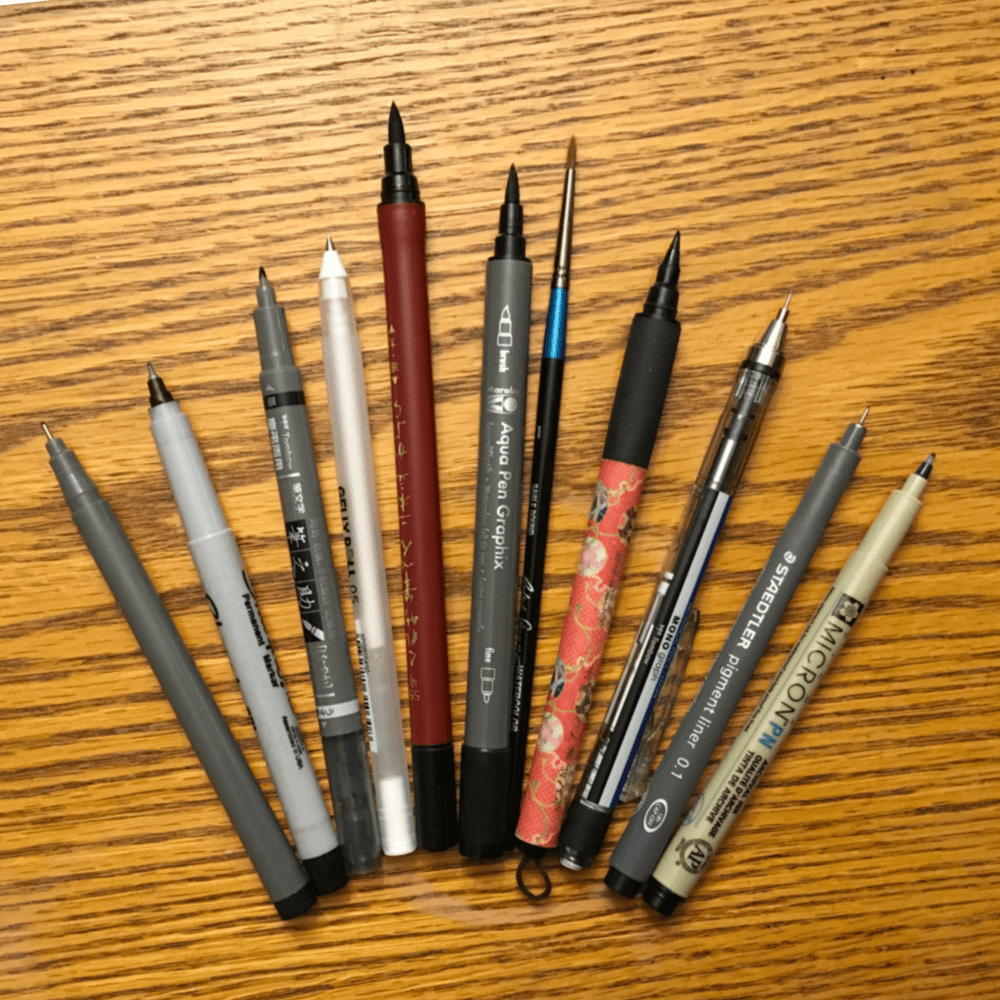 My Star Wars Inktober
A drawing a day for 31 days is not easy, however I have had practice. Earlier this year, leading up to the theatrical release of Solo: A Star Wars Story, I drew 60 sketches in 60 days. I can't say I tried a different approach for each drawing, although I varied the techniques. Some sketches use cross-hatching for shading, some use color or an ink wash. On some of the pieces, I use stippling to create different values. One thing to note, October saw the release of the latest installment in Star Wars animation from Dave Filoni – Star Wars: Resistance. My Inktober posts started to take on some of those characters.
Day 1: Poisonous
My first for the Star Wars Inktober Challenge is the weird and wacky alien, Amanaman. His skin is poisonous so be careful around this guy!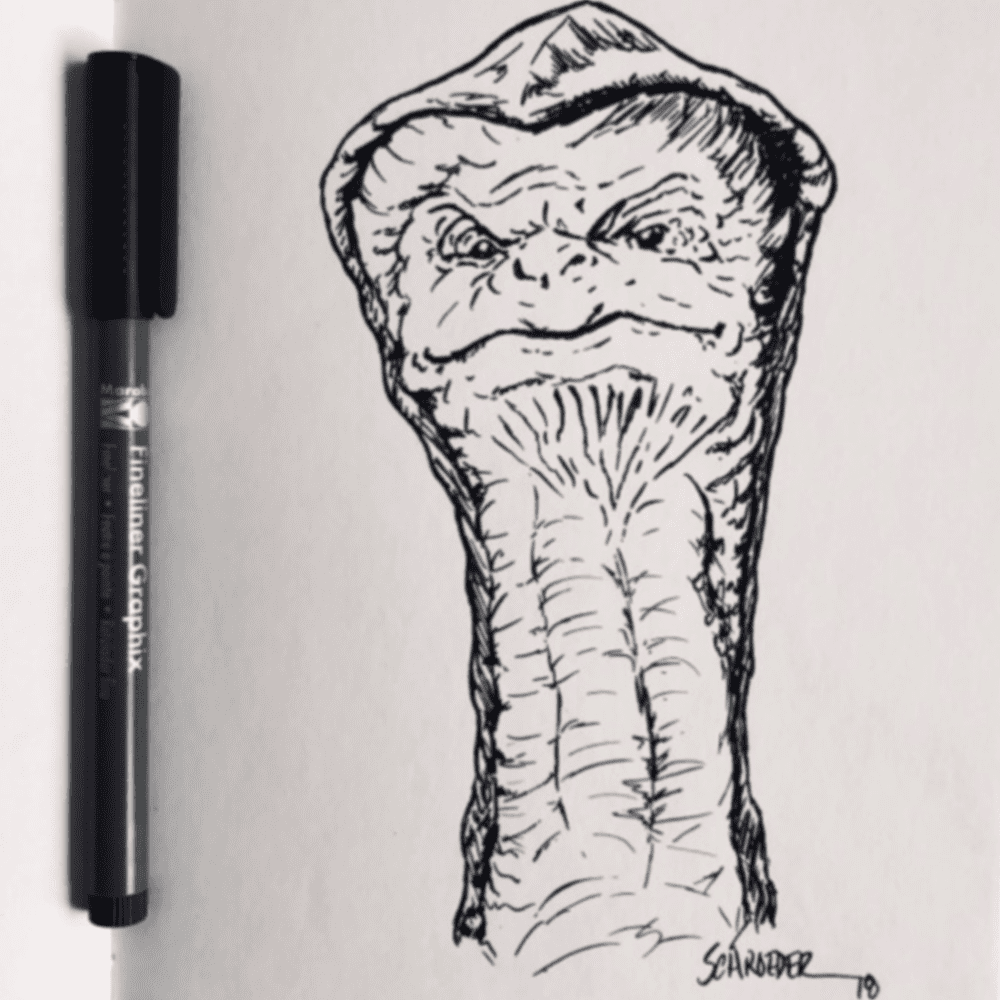 Day 2: Tranquil
The planet Naboo is a tranquil place in the Star Wars universe and the home of the lovable Jar Jar Binks.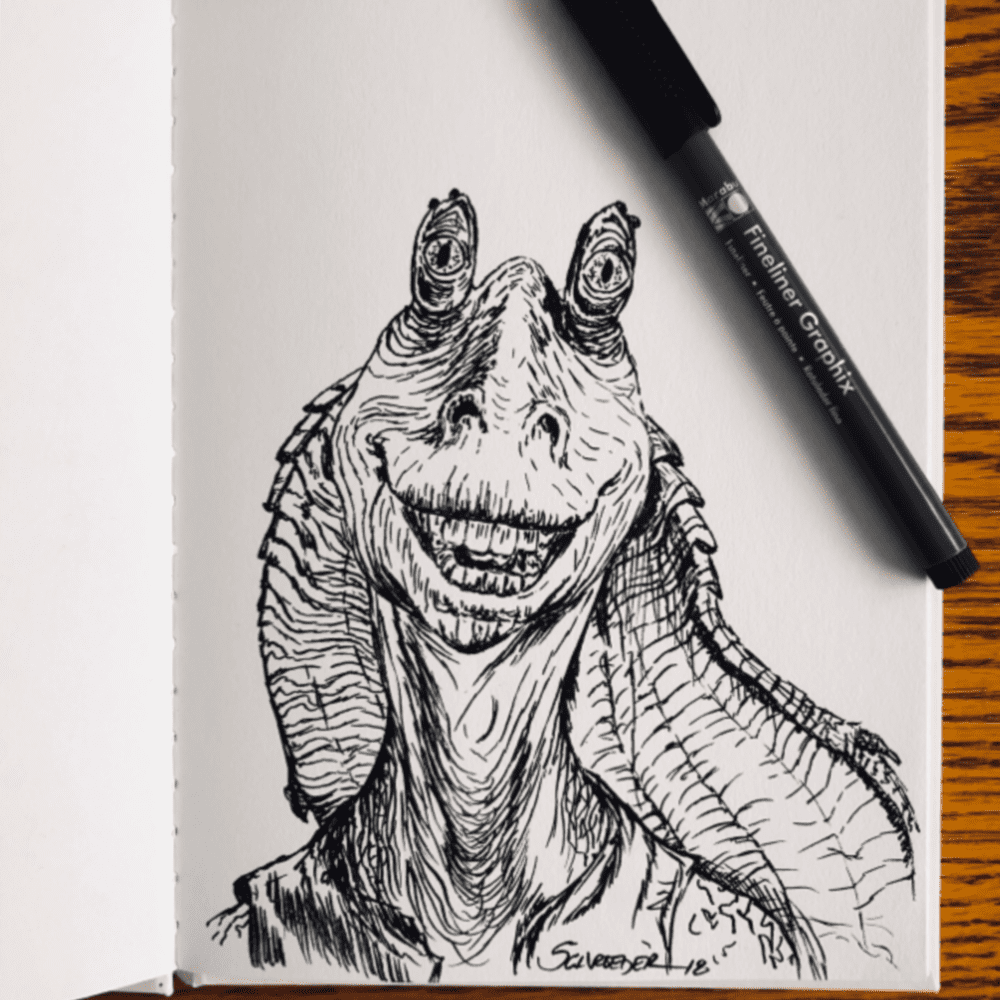 Day 3: Roasted
The firefighter droid from Star Wars: The Clone Wars is here to make sure things don't get too roasted.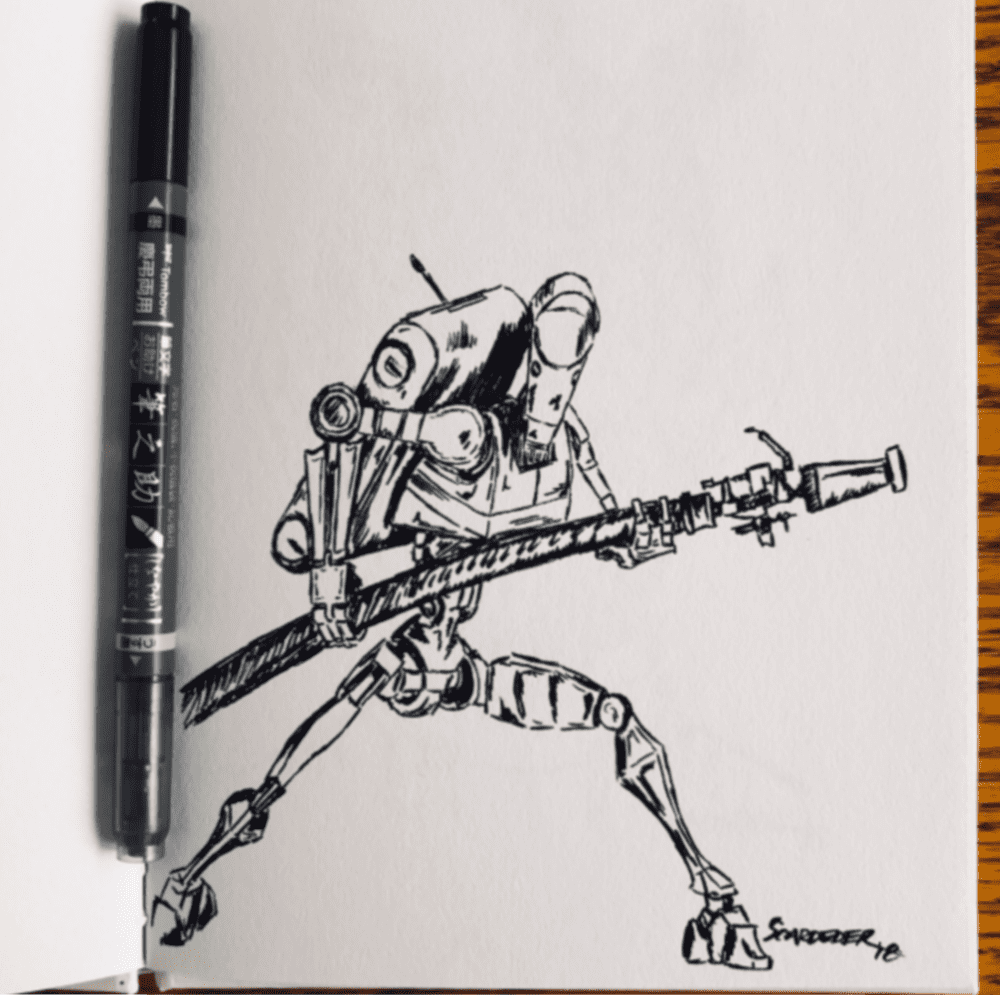 Day 4: Spell
Look too long into these eyes and they'll surely put a spelling you. Oh, Greedo!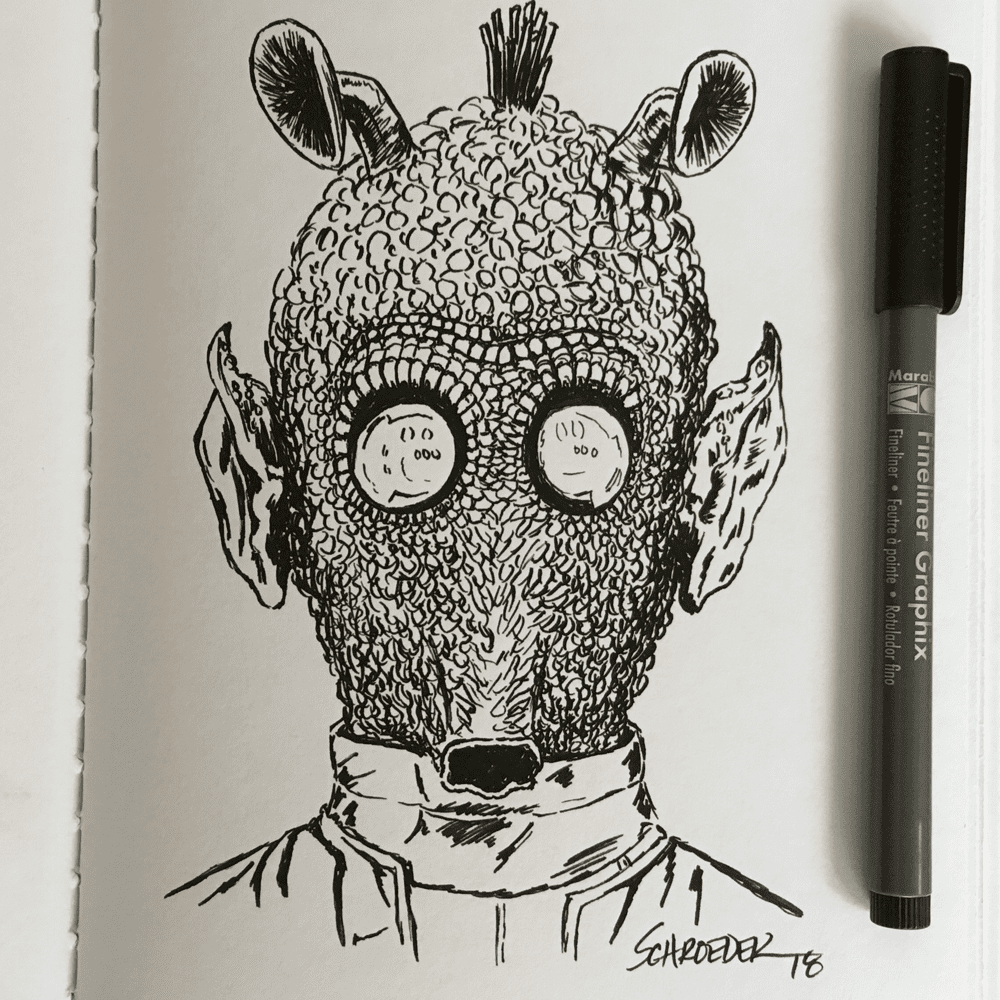 Day 5: Chicken
Straight from the creepy lair of Dryden Vos comes Hirang Birren, the chicken-face, featherhead guy of Solo: A Star Wars Story.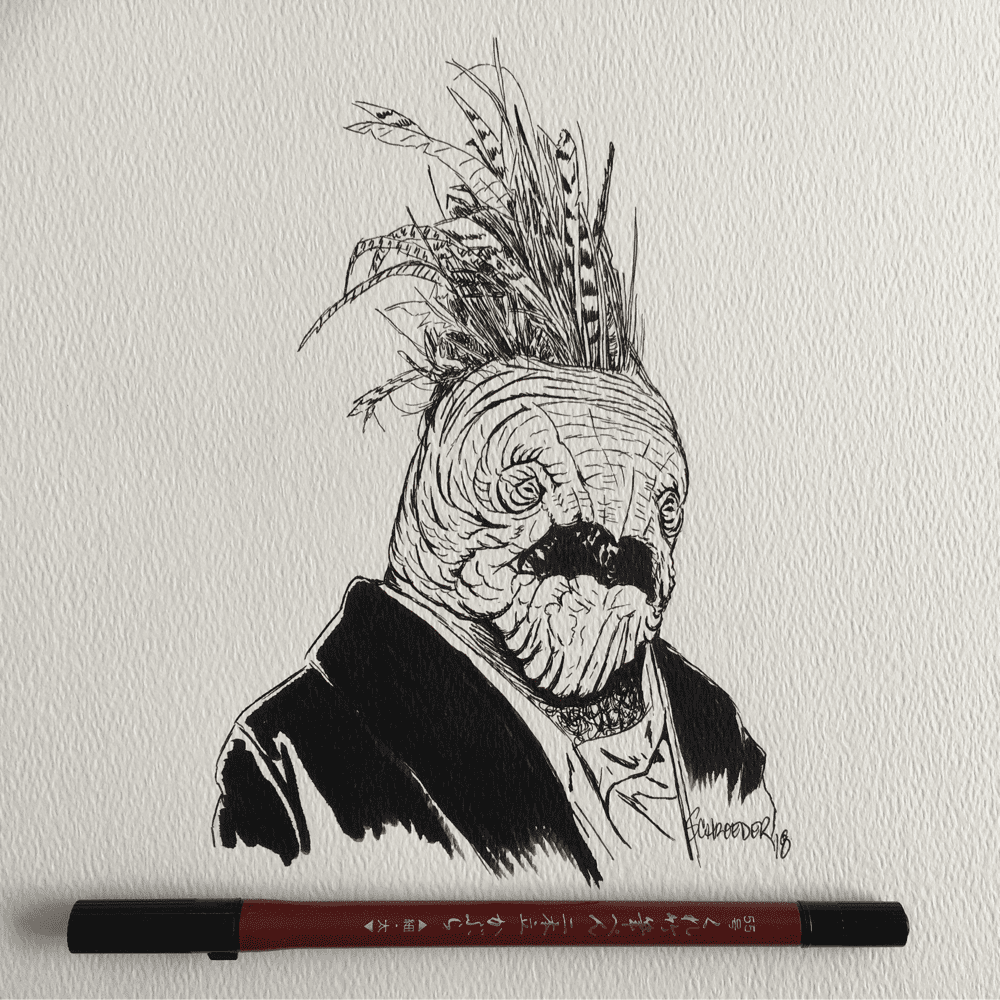 Day 6: Drooling
This Gamorrean Guard is drooling to get his prey. He's coming fast! Watch out!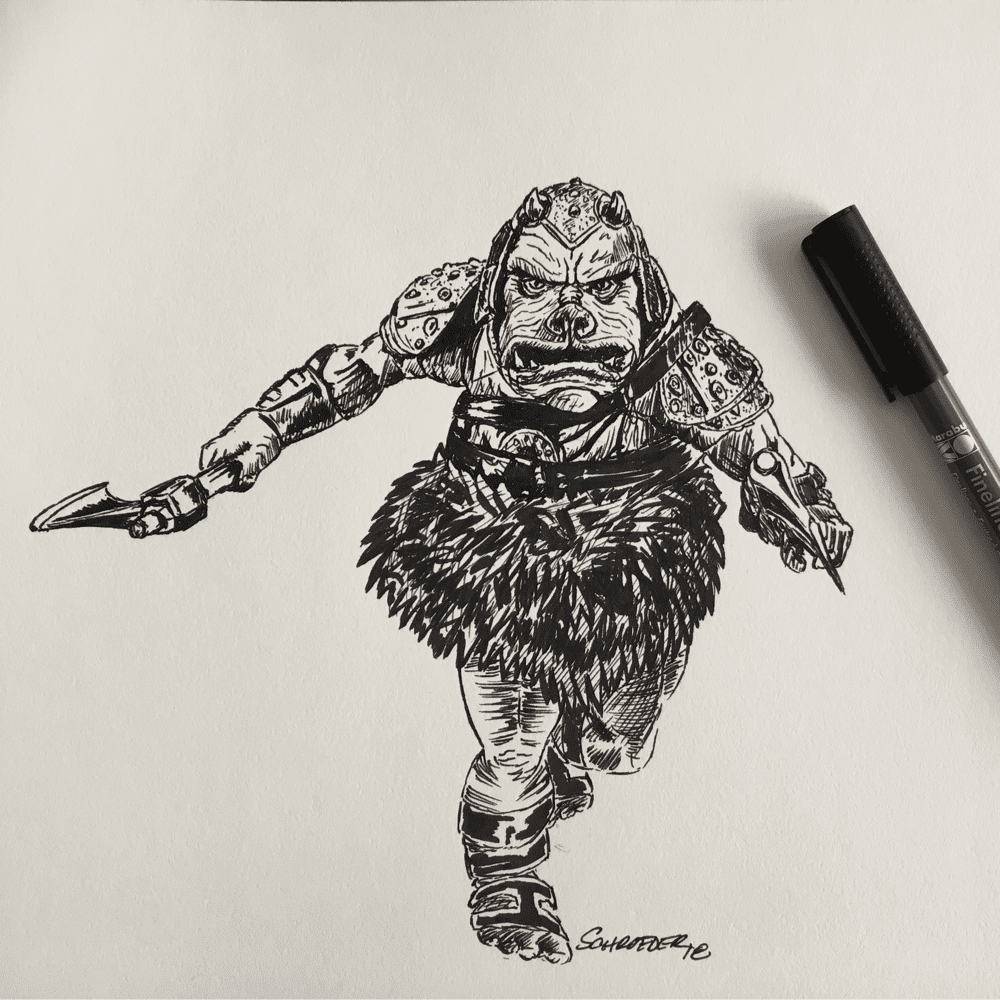 Day 7: Exhausted
If you find yourself exhausted, here's a few gonk droids to power you up! Gonk!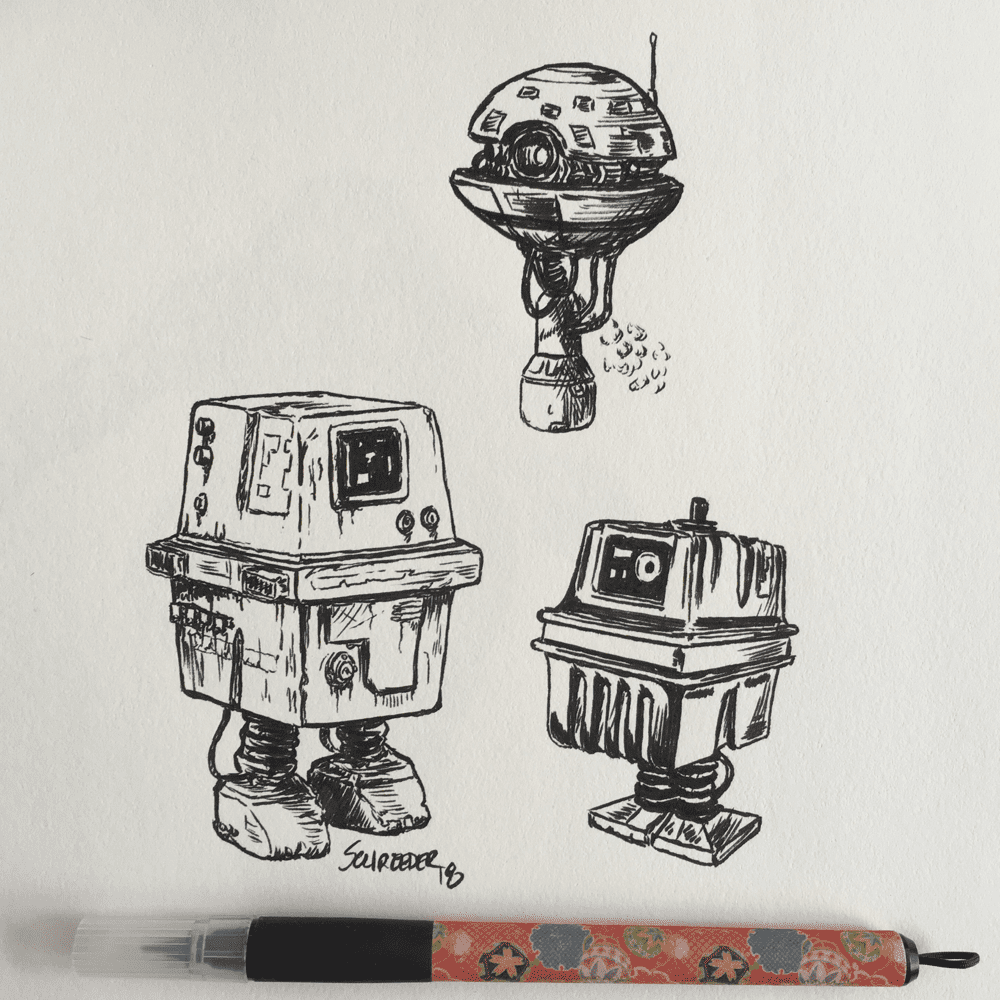 Day 8: Star
Couldn't resist drawing the "star" of Star Wars: Resistance. Flix is a new character in the Star Wars universe! He works alongside his pal, Orka, in the Acquisitions Department on board the Colossus.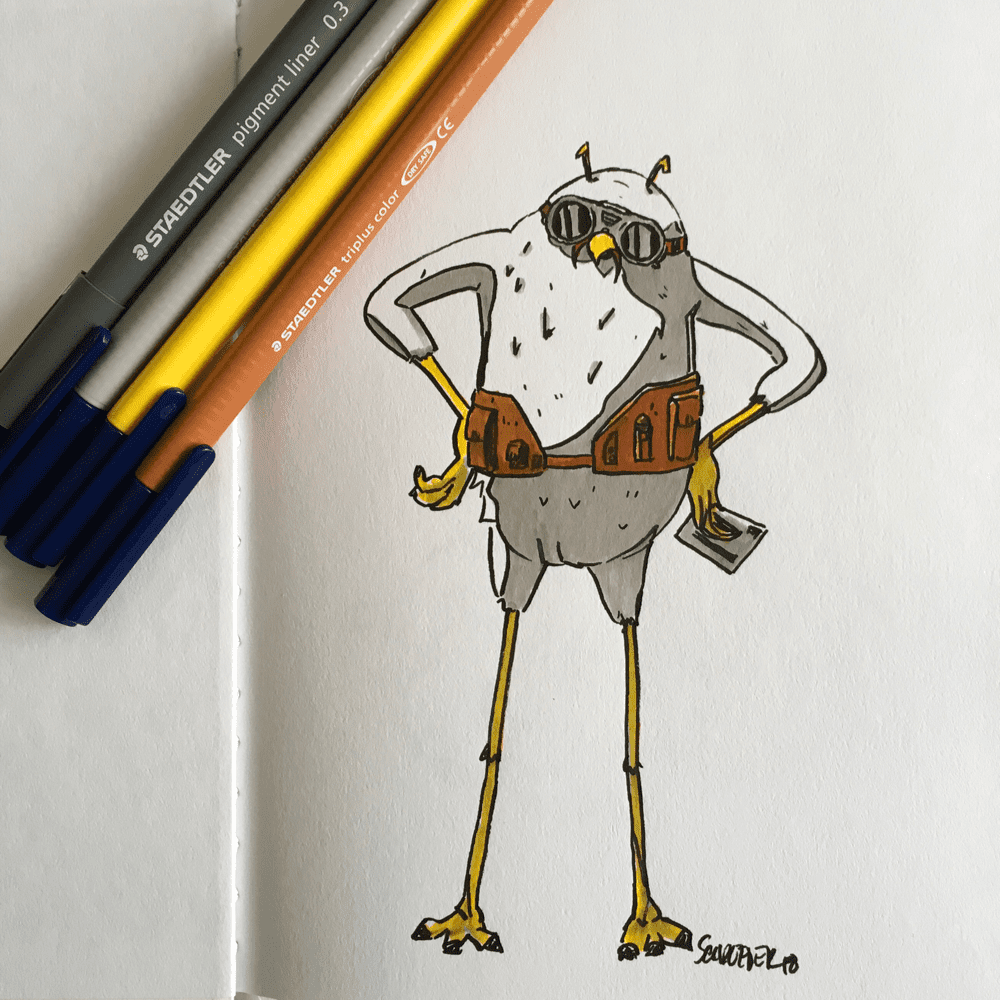 Day 9: Precious
It's not wise to upset a Frigosian janitor by tracking all over his precious, freshly buffed floors. Opeepit seems to be the only janitor on the Colossus.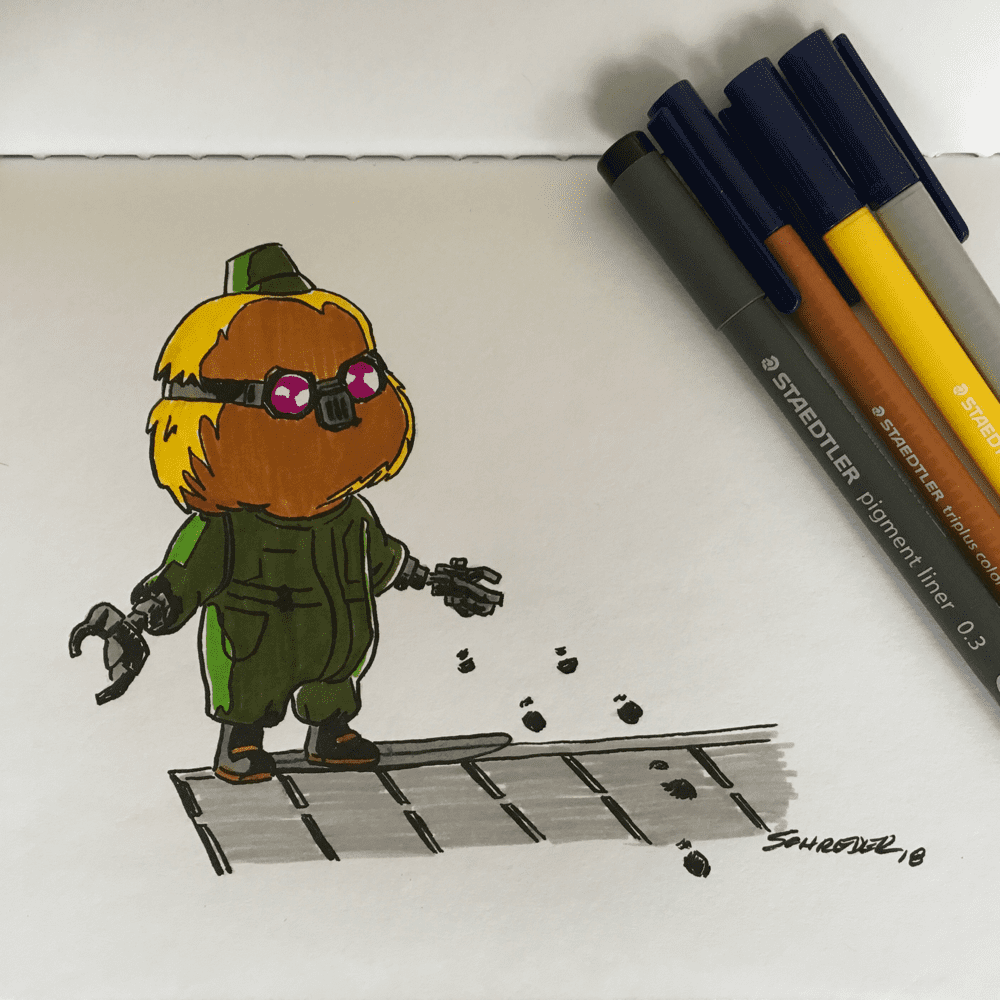 Day 10: Flowing
Aunt Z's Diner is flowing with customers and drinks, but Glitch will be sure to take care of you.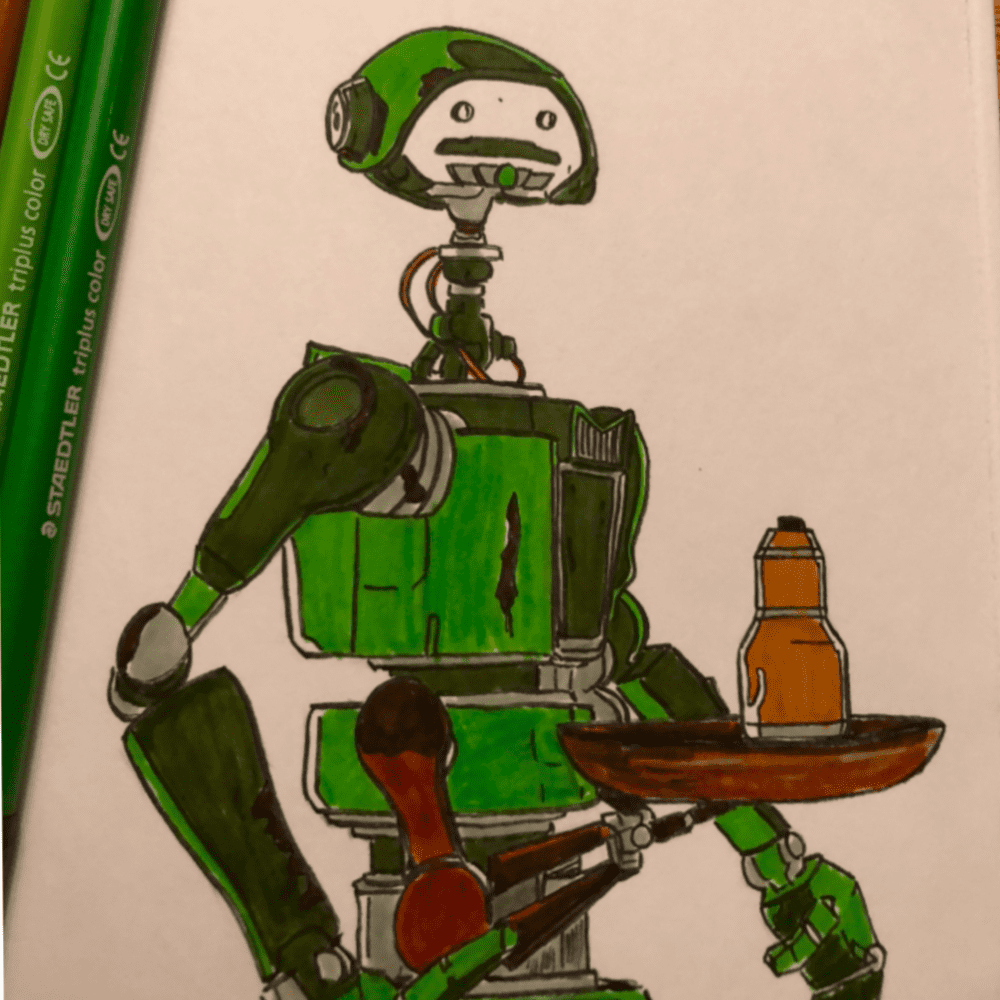 Day 11: Cruel
Bolza Grool, the Klatooinian, may not be cruel all the time, but he does have a mean streak! And, his name even sounds like "cruel."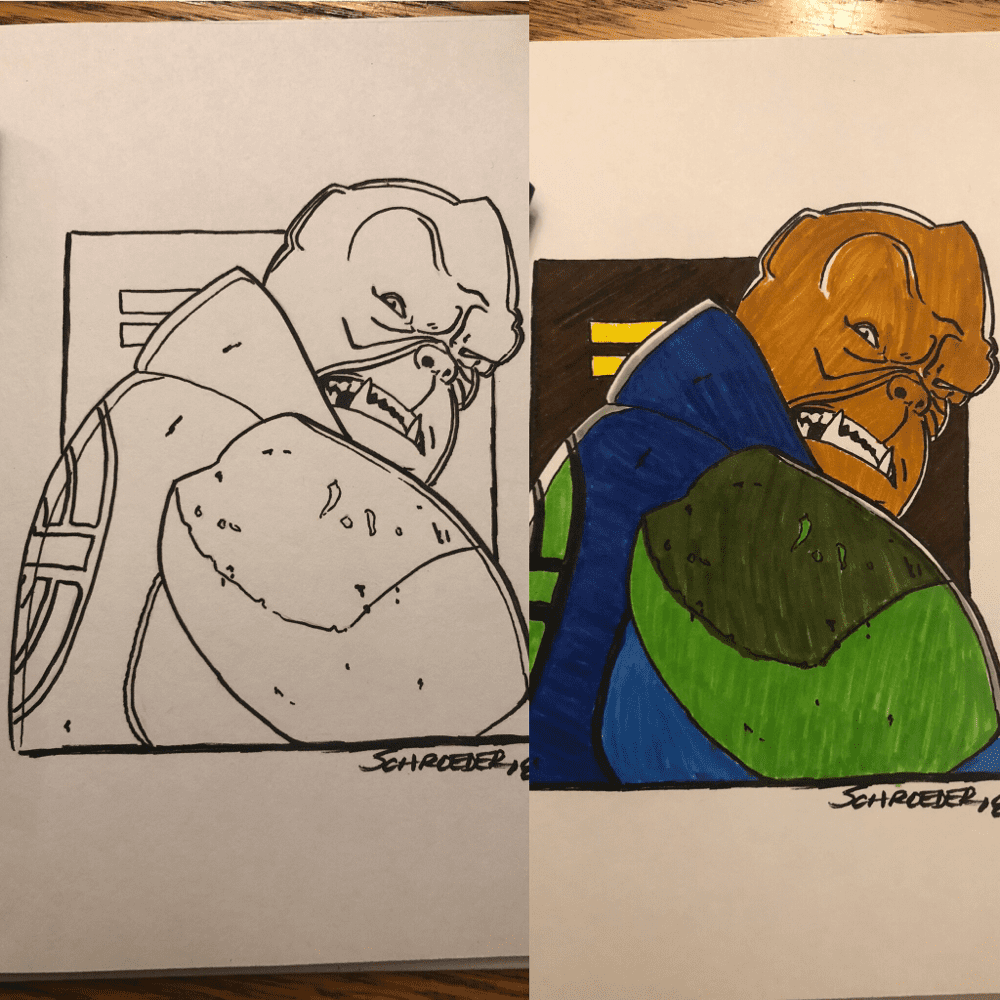 Day 12: Whale
I'm advocating for the purrgil from Star Wars: Rebels to make an appearance in Star Wars: Resistance. Star Wars needs more space whales!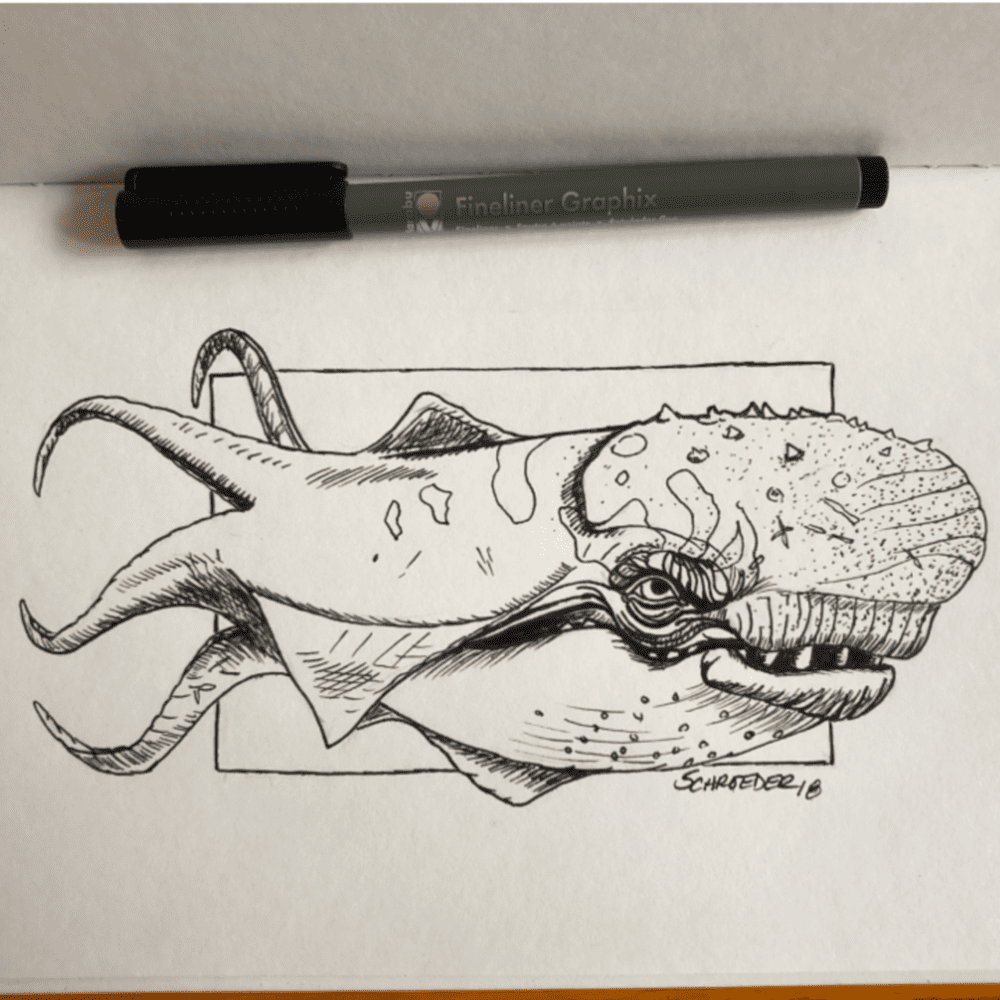 Day 13: Guarded
Jarek Yeager is a bit guarded when Kazuda Xiono comes aboard the Colossus. He has a team to take care of.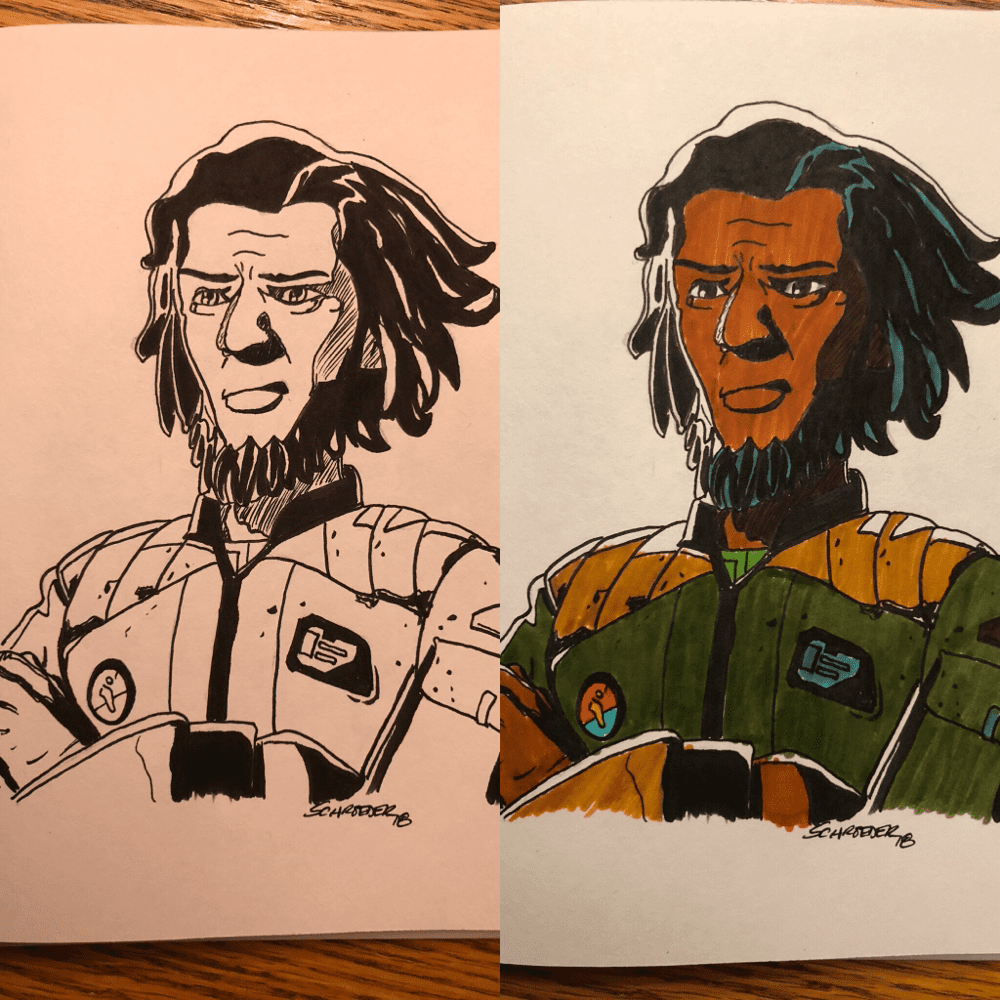 Day 14: Clock
Yeager's trusty droid, Bucket, is an old R1-unit who's inner mechanics are exposed like an old clock.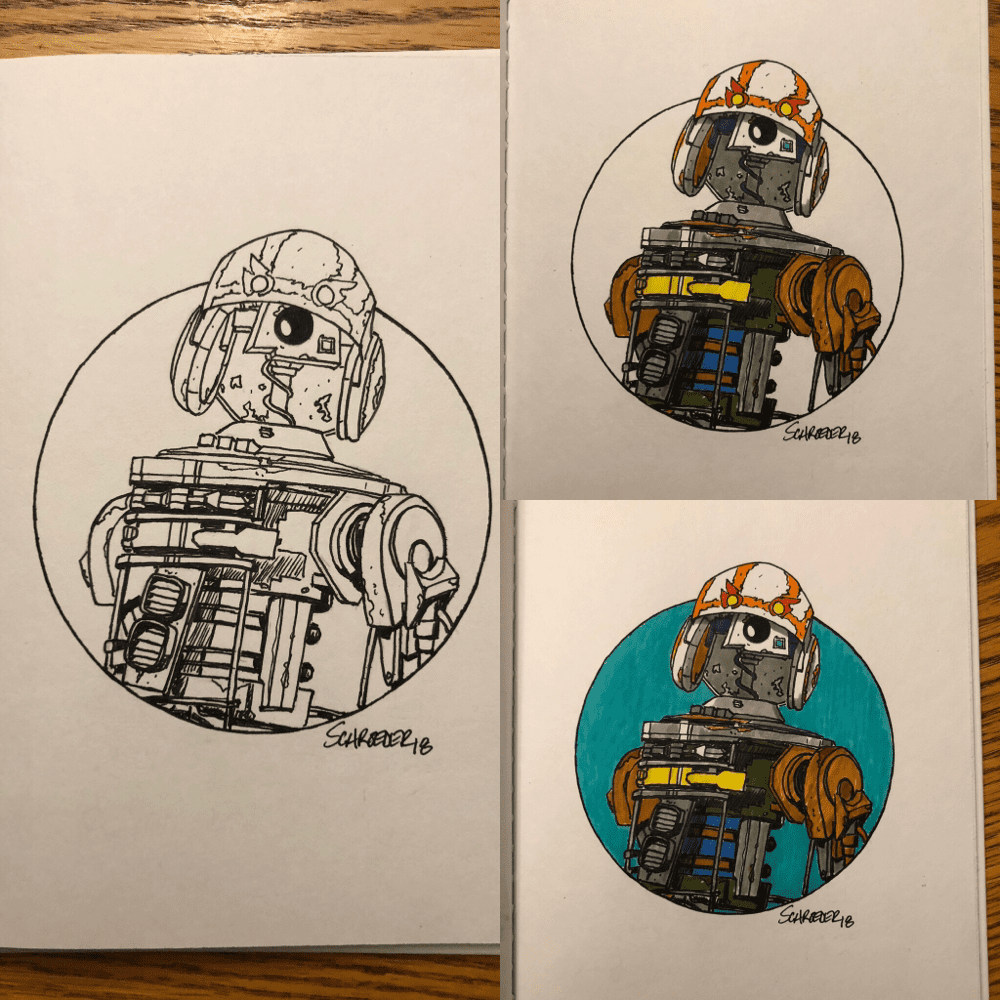 Day 15: Weak
The Neimoidian, Hallion Nark, is a nervous, weak-minded character in league with pirates who want to take over the Colossus on Star Wars: Resistance.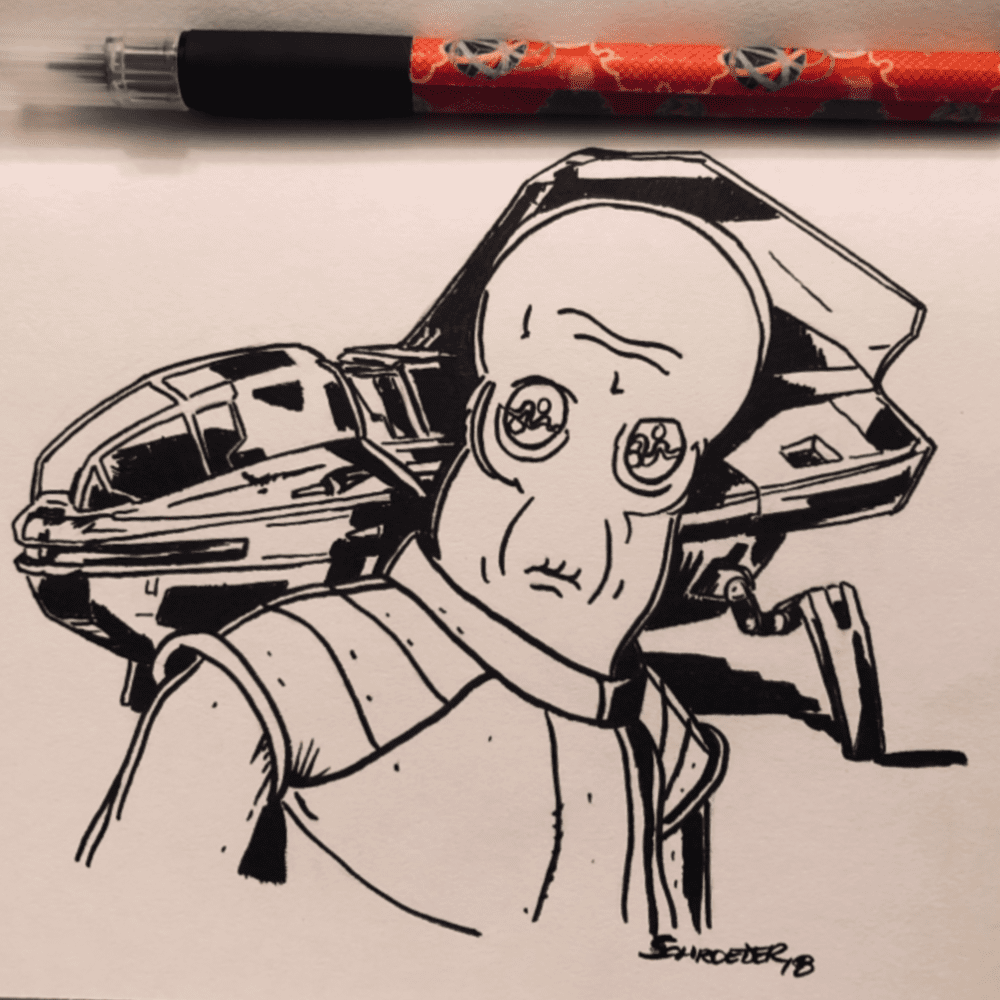 Day 16: Angular
Kaz impressed none other than Poe Dameron with the way he handled himself in the angular New Republic T-85 X-wing.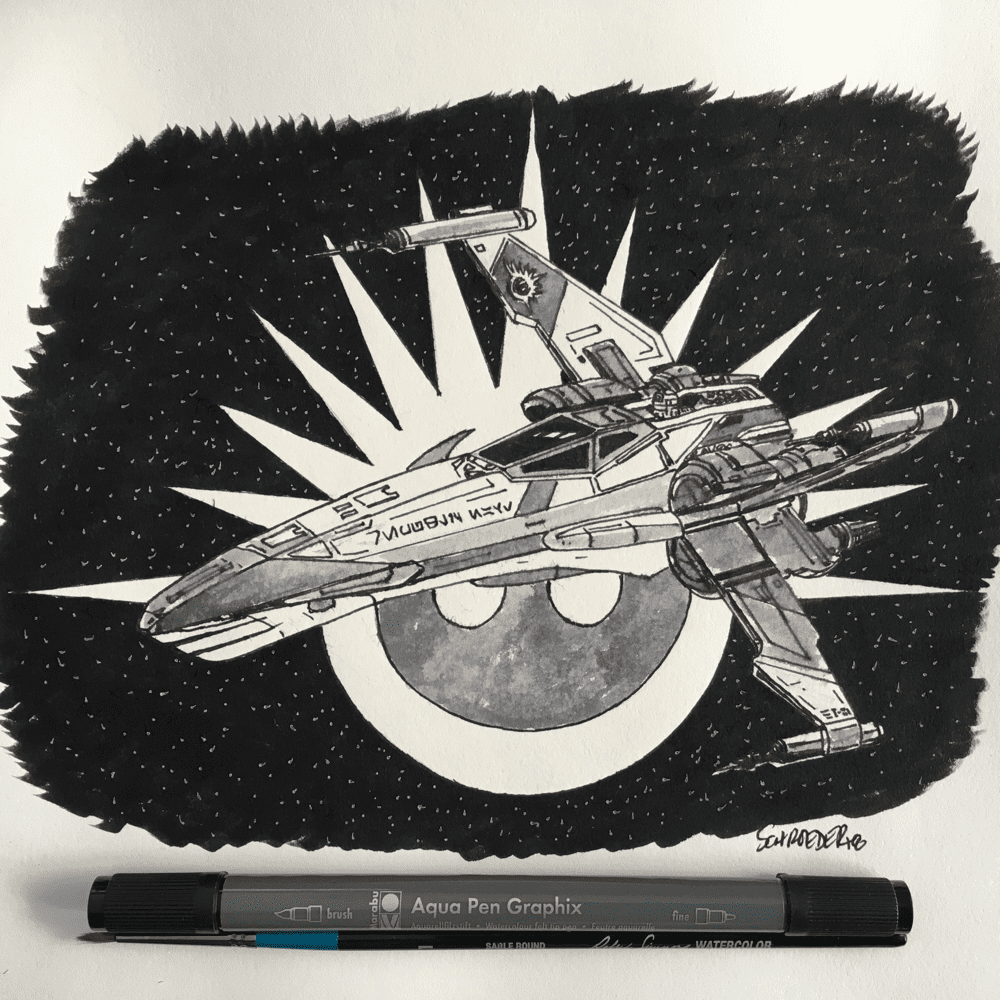 Day 17: Swollen
This Rodian mechanic works with the crew on the Colossus.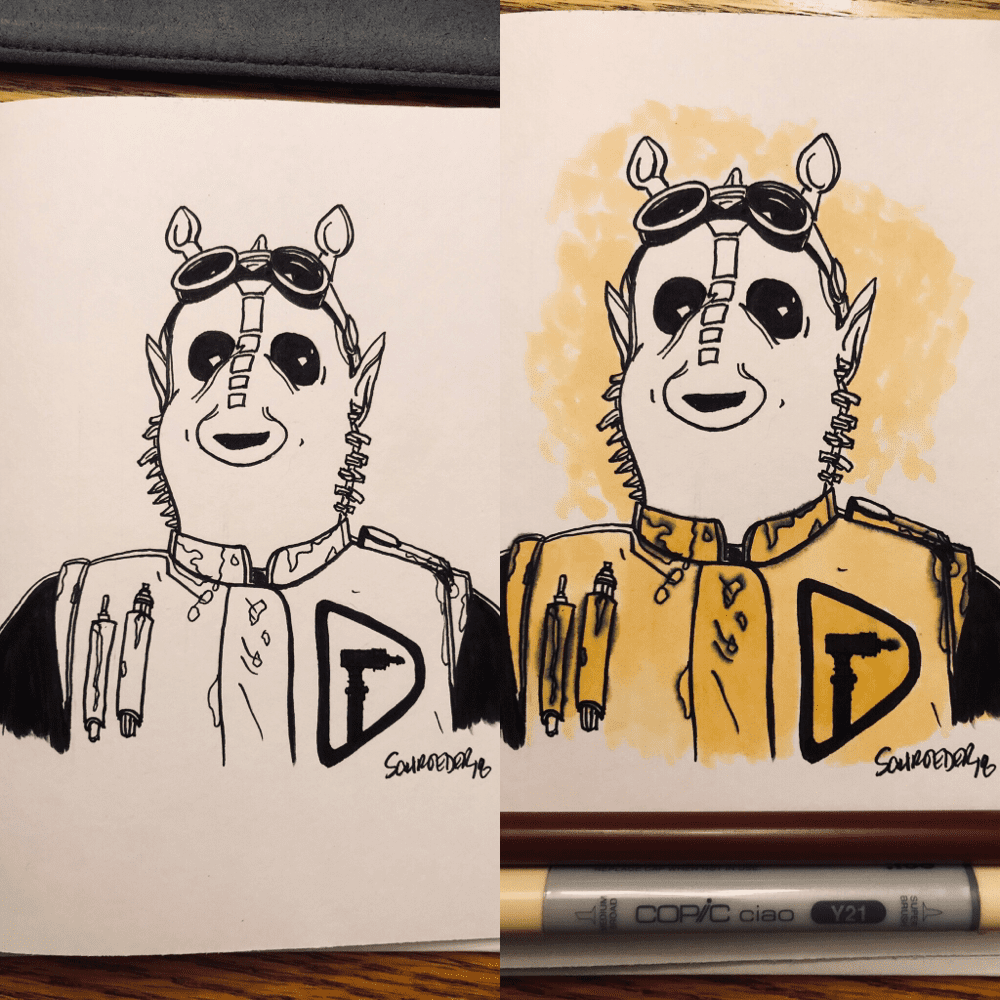 Day 18: Bottle
You're sure to see many patrons at Aunt Z's Diner sipping their Jet Juice from bottles.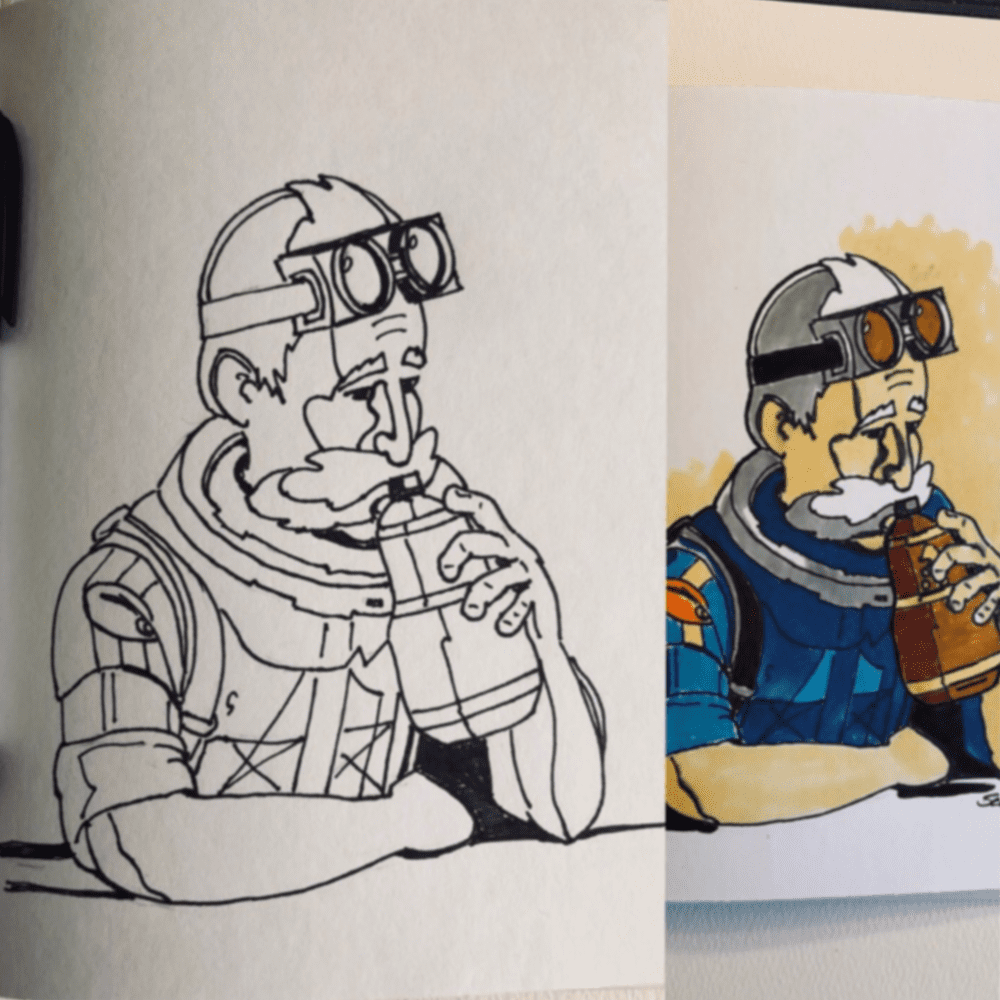 Day 19: Scorched
When Kaz pushes The Fireball a little too hard, things get scorched!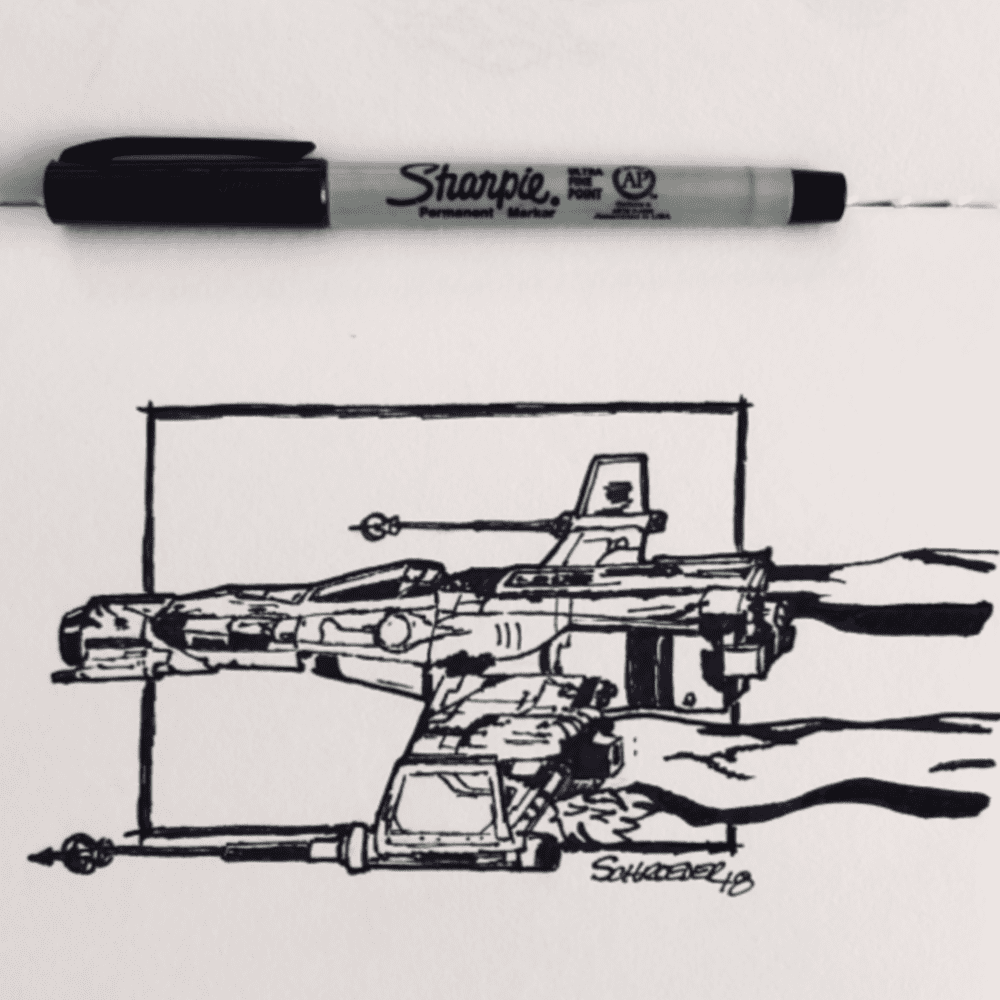 Day 20: Breakable
Be careful as you make your way through the office of Dryden Vos. There are many rare artifacts in fragile, breakable displays.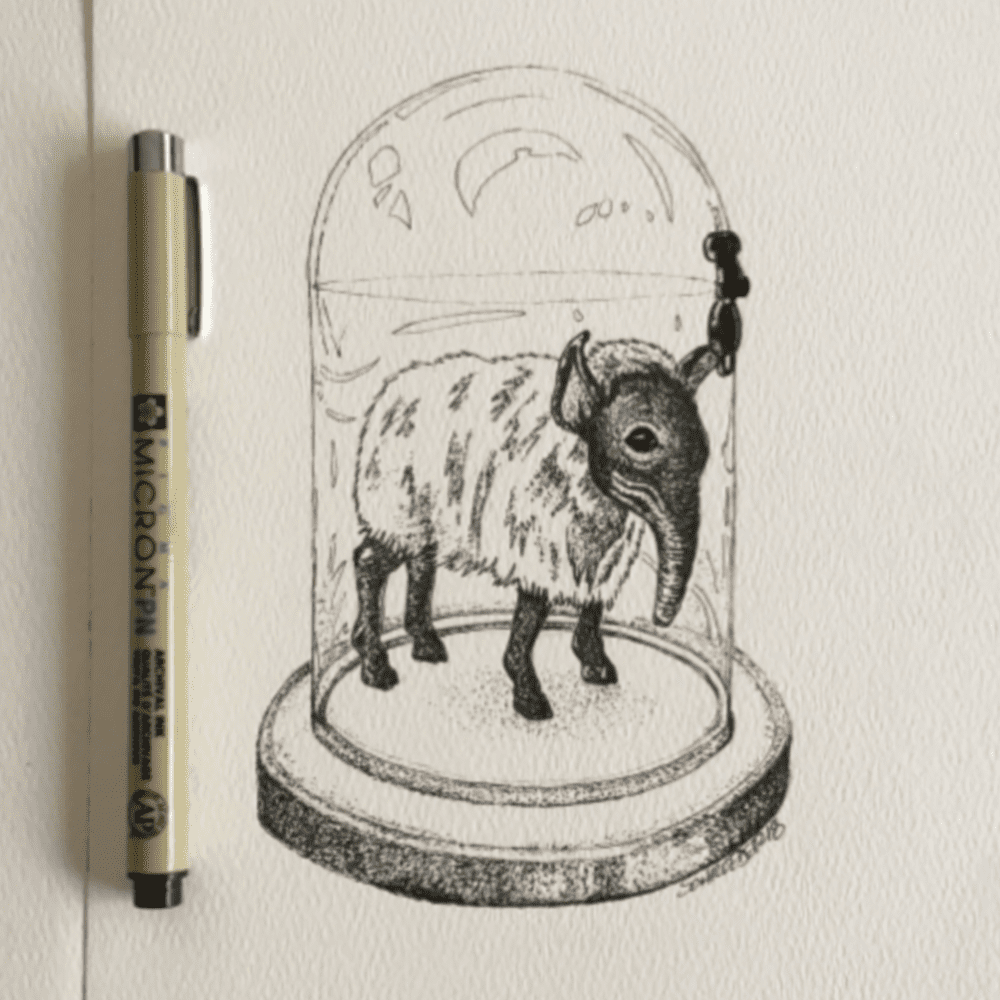 Day 21: Drain
When Carrie Fisher left this earth, there was a significant drain in passion in the world.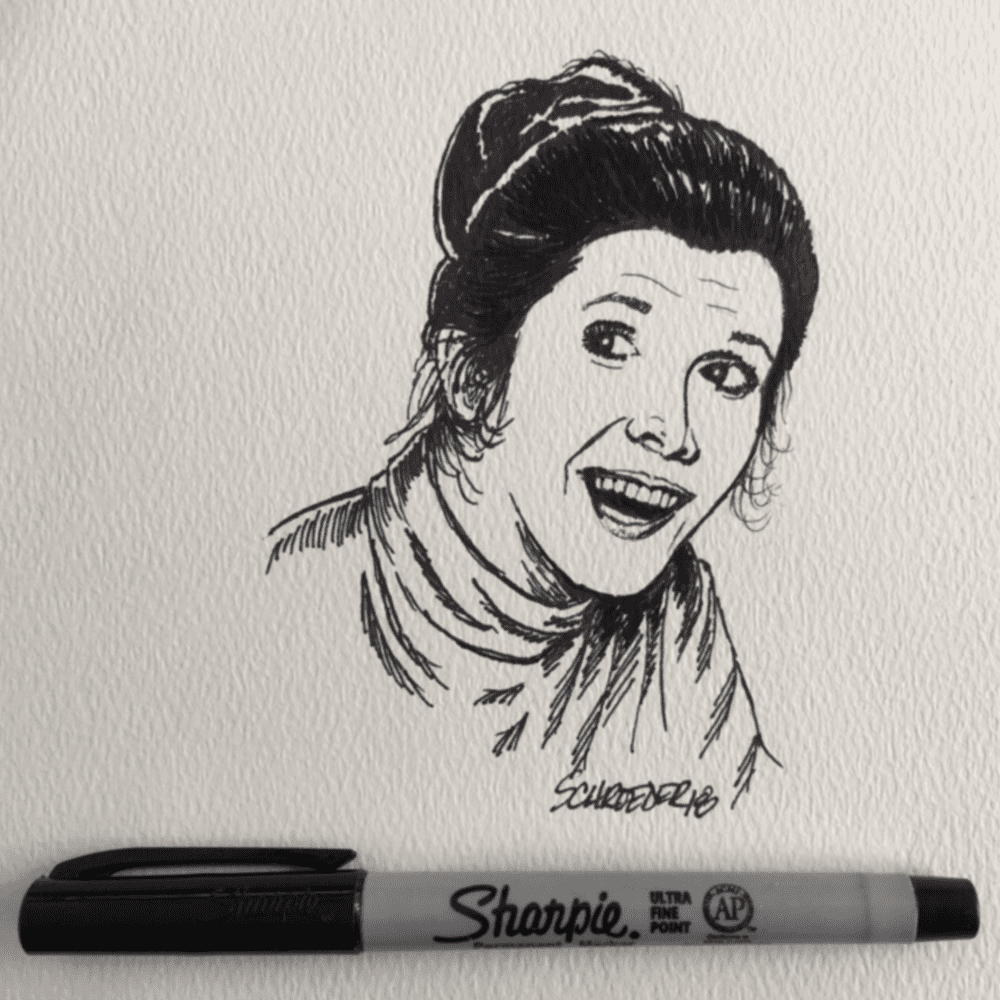 Day 22: Expensive
Kaz struggles to make enough money to buy even a few sips of water, let alone something more expensive. But, when he does score some, he'll be happy to share. Cheers!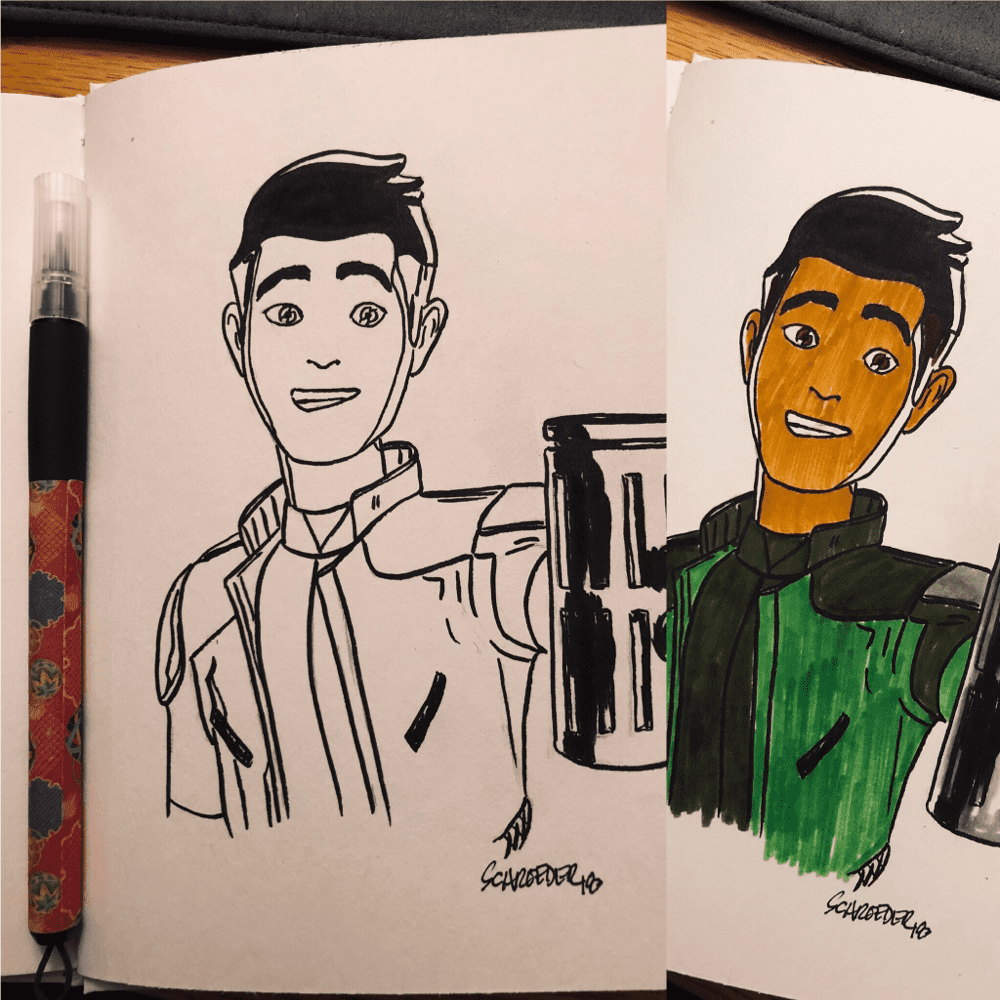 Day 23: Muddy
A Mimbanese soldier from the muddy planet of Mimban was a member of the Cloud Riders led by Enfys Nest.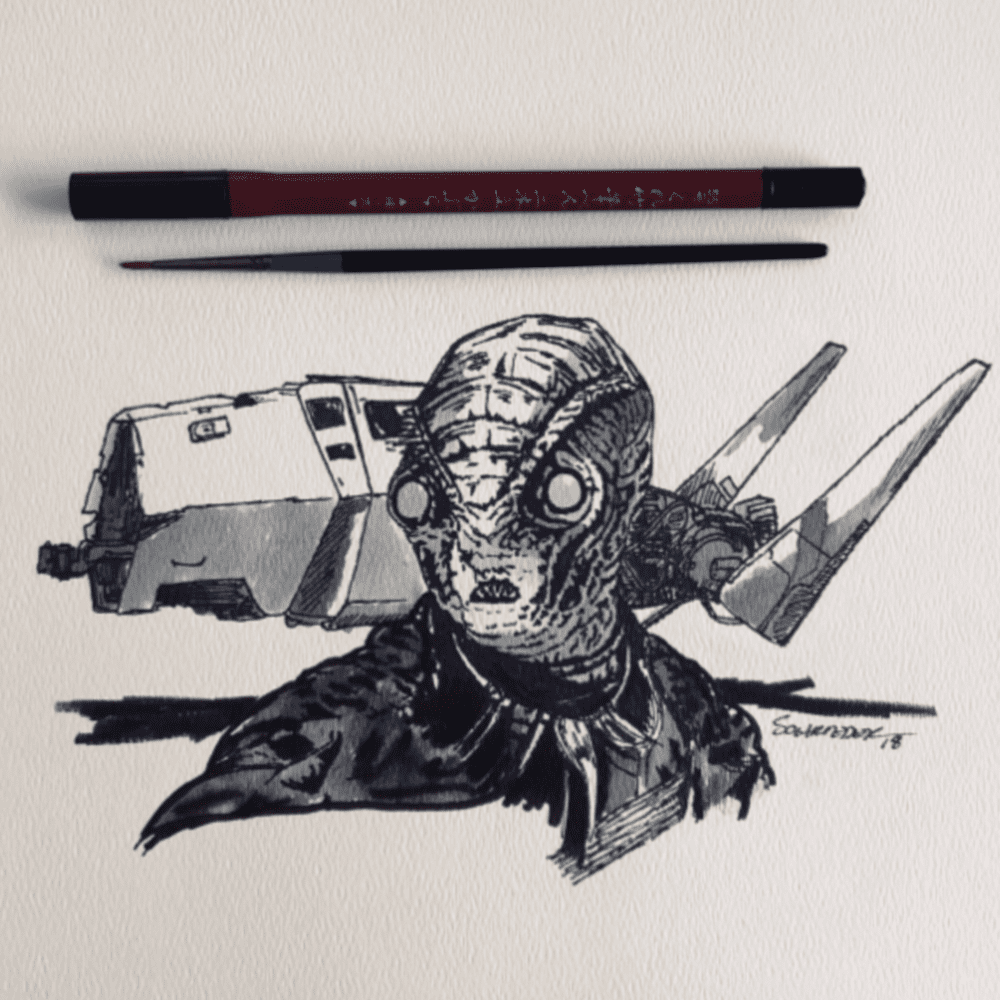 Day 24: Chop
Chopper is showing off his chops in front of Bucket!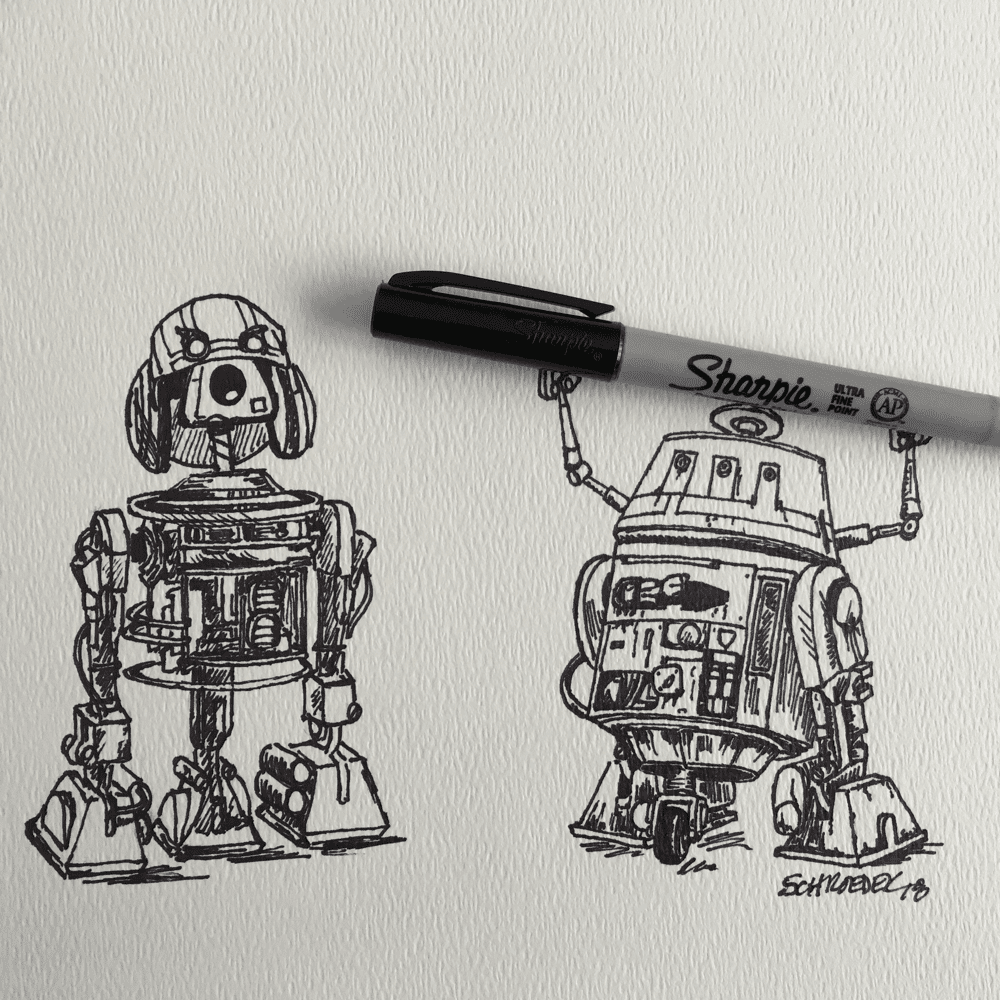 Day 25: Prickly
The Nikto is a prickly creature in the Star Wars universe. This guy, Klaatu, looks a bit more so than the newest member of the family, Neeku.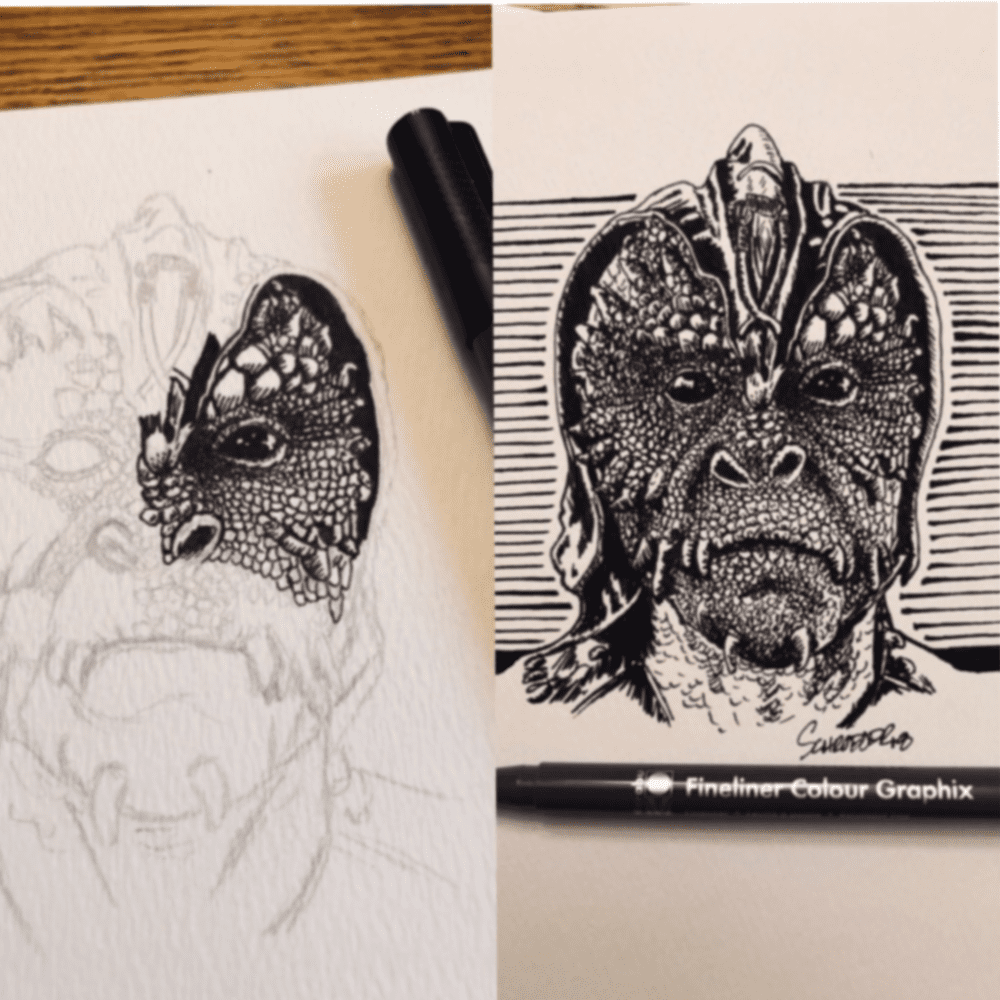 Day 26: Stretch
A variety of creatures can be seen in the background of Star Wars: Resistance and this worker droid is one of them. He's stretching to say hello!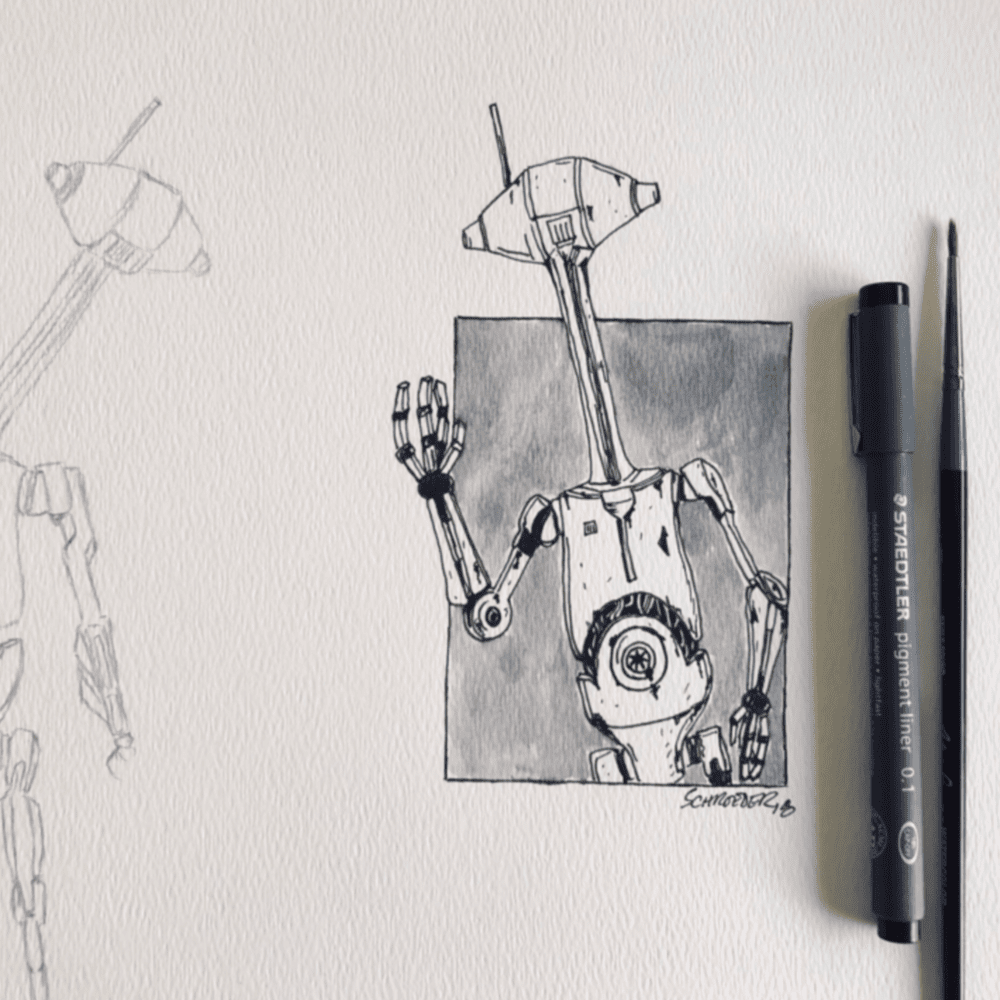 Day 27: Thunder
Inspiration for this drawing was ripped from the pages of classic Marvel Star Wars #34 from 1980, Thunder in The Stars. Luke Skywalker, jet packs, and lightsabers! What more could anyone ask for?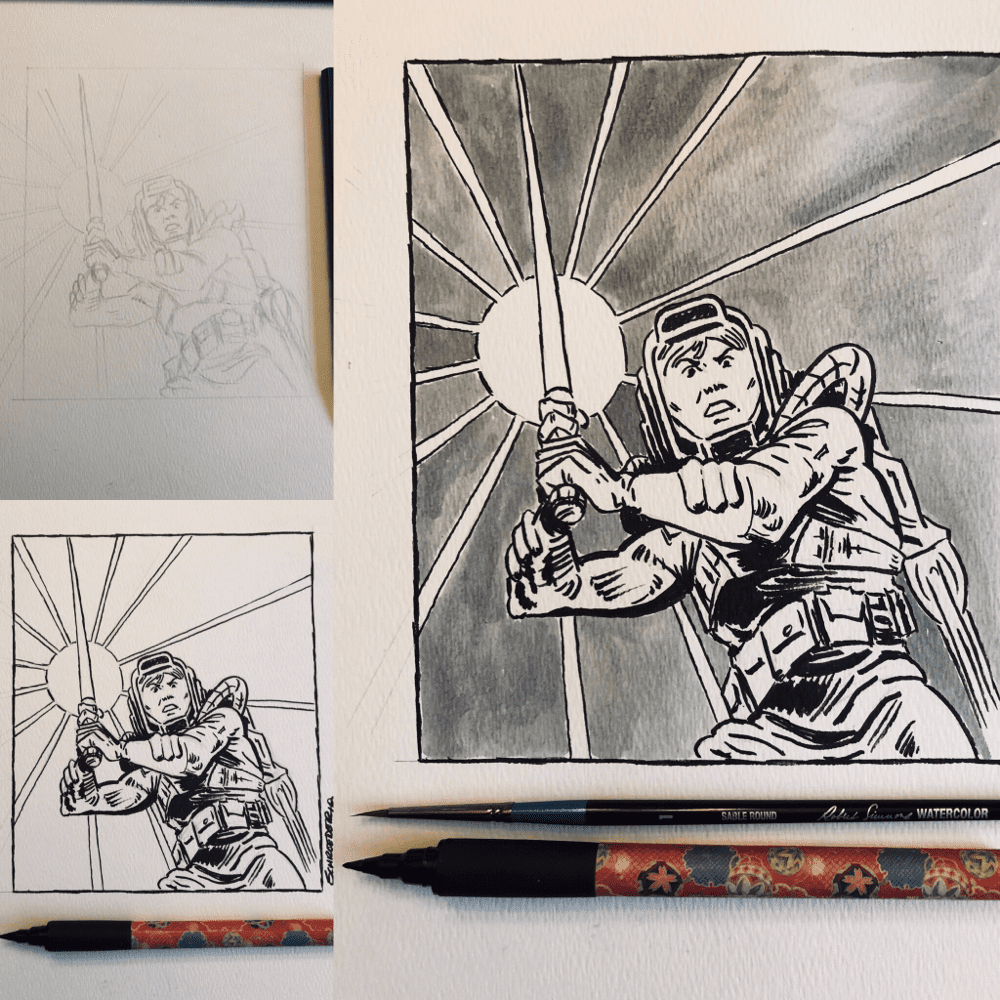 Day 28: Gift
Star Wars: Resistance is a gift that keeps on giving! The adorable pit droid, GL-N (Glen), works in Acquisitions with Flix and Orka on the Colossus.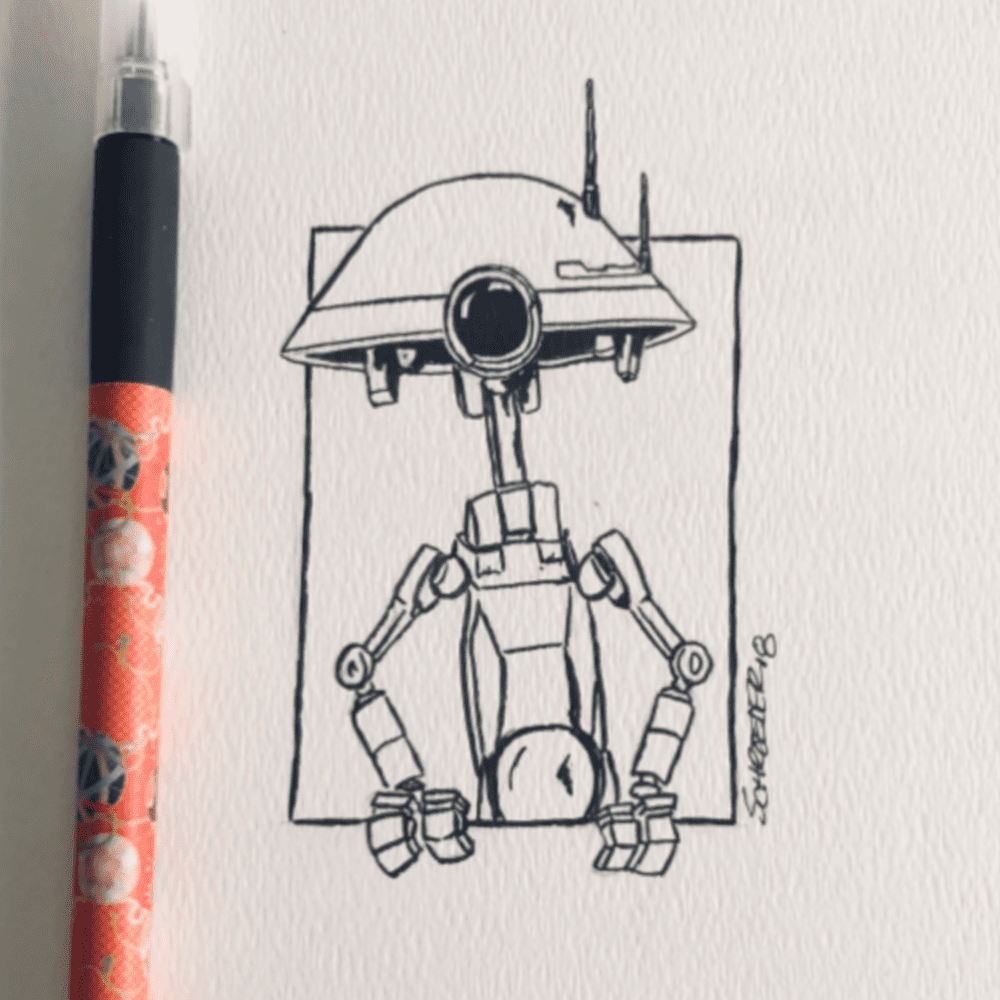 Day 29: Double
Our friendly announcers, Fode and Beed, double up to give us the action on the podracing course.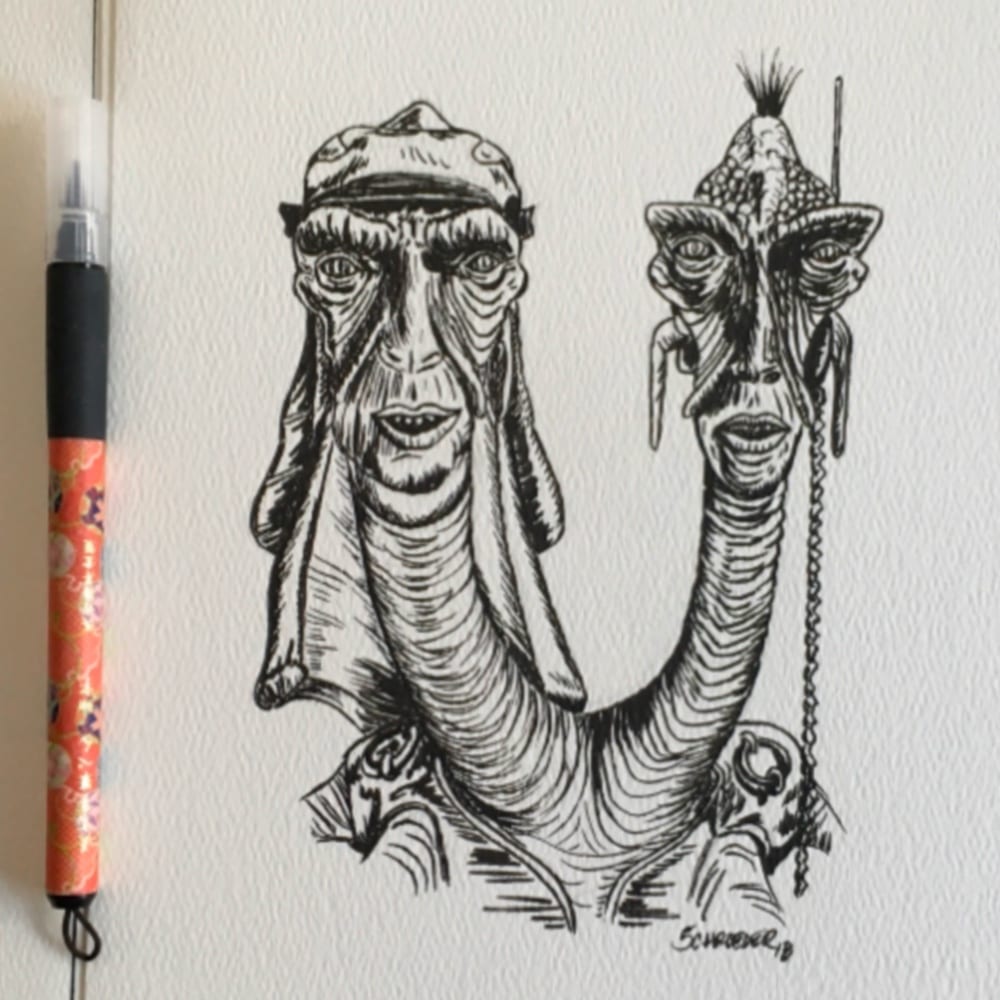 Day 30: Jolt
That's no Great Pumpkin, Charlie Brown! Linus and Charlie Brown's sister, Sally, got a jolt as they awaited the arrival of The Great Pumpkin!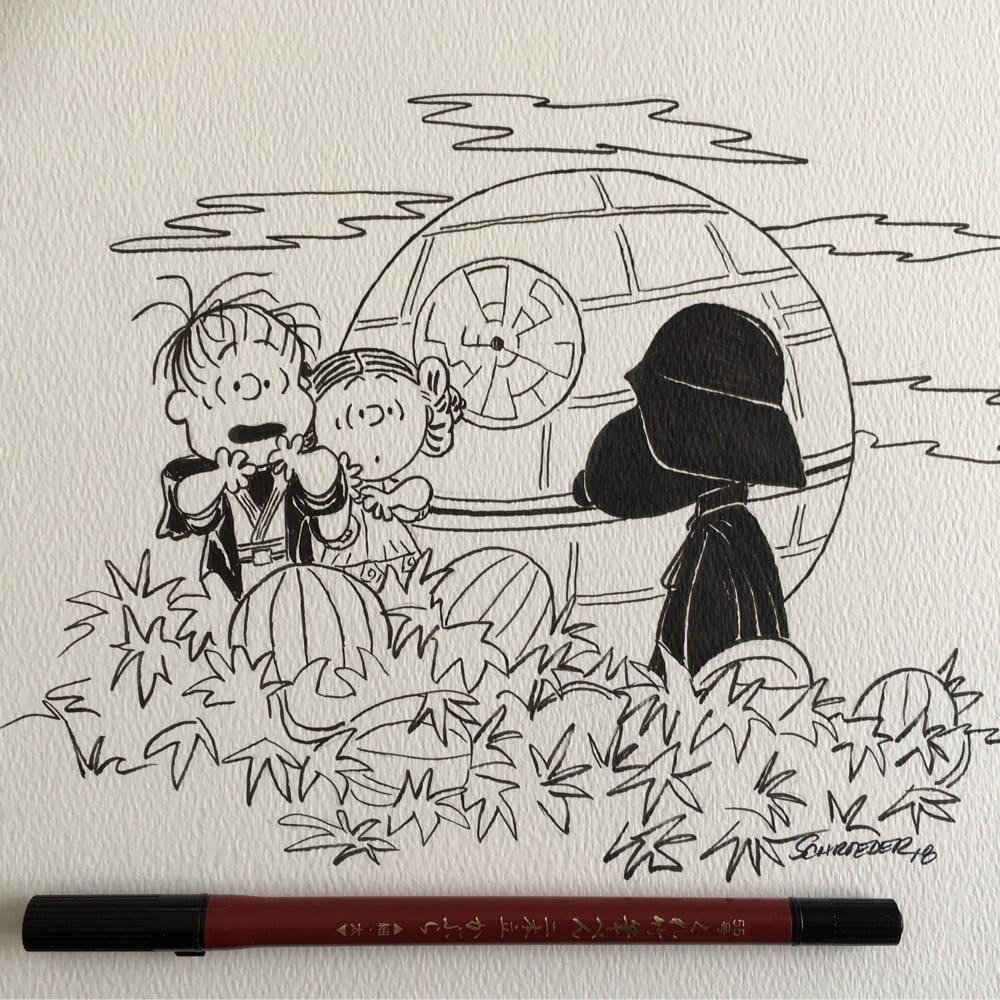 Day 31: Slice
We see a brief, slice of life in Torra Doza's Bedroom in an episode of Star Wars: Resistance, like this poster of a cloud rider at sunset.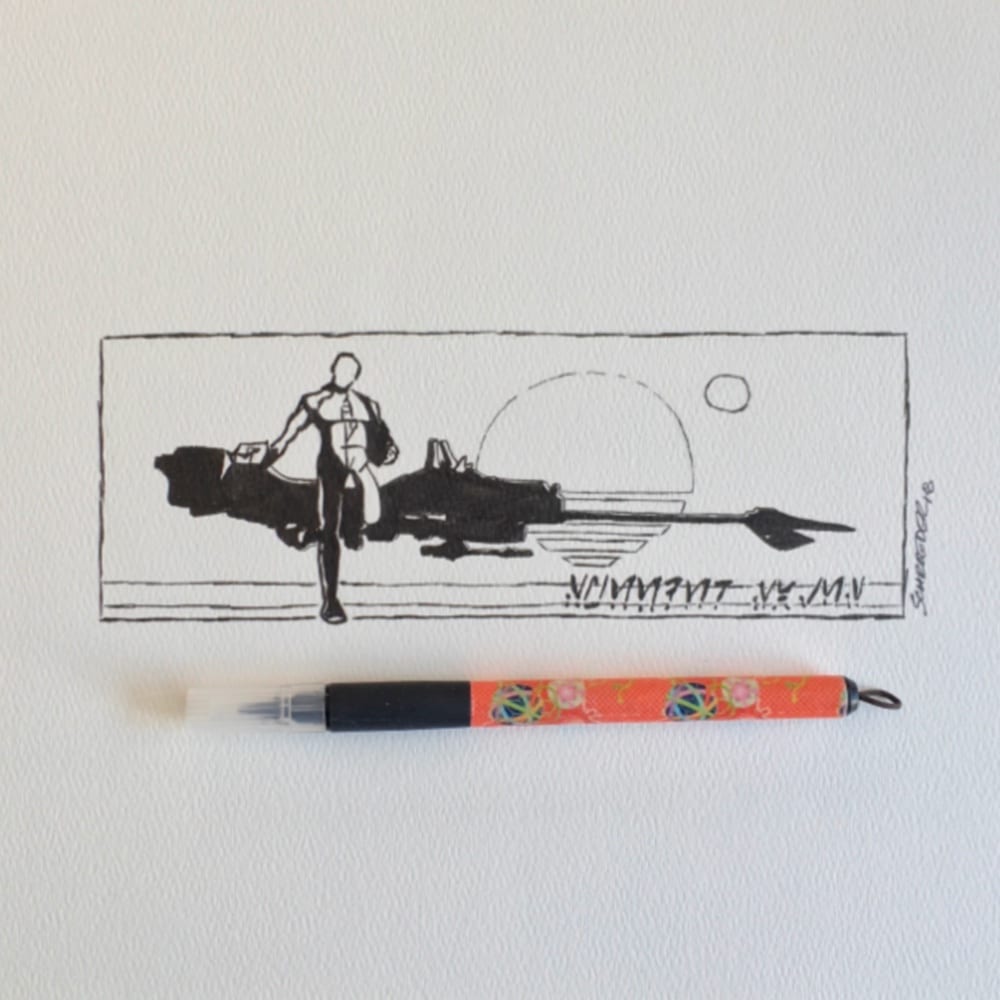 Finished
I did it! Thirty-one ink drawings in 31 days! Each day, I was eager to start a new drawing, well on my way in establishing a creative habit, hopefully honing my skills as an artist along the way. So, what's next? Check out my Twitter and Instagram feeds and, stay tuned right here for exciting things to come.
Kendall Schroeder saw the original Star Wars in a small theater in the summer of his 10th birthday and immediately fell in love with the Far Away Galaxy. Pretending to be either Jedi Luke Skywalker or Colonel Steve Austin, the Six Million Dollar Man, Kendall always believed he had special powers. Maybe that's why he truly believes there is good in all people. And, he will stop at nothing to help rid the world of evil. When Kendall is not creating art, he is leading educators as the head of an online school. Kendall lives in West Michigan with his wife and two kids.