JediShua grew up anticipating Star Wars on Christmas morning, but now he shares it with his kids.
I'm 8 years old and waiting impatiently at the top of stairs on Christmas morning. My brother and I are not allowed to go downstairs until Dad is ready. He's gotta get the camera ready to capture our reactions as we walk into the festively decorated family room where the Christmas tree is located. But first…he's gotta get his coffee. Oh man! Held captive by Sanka.
Meanwhile I stare down the mountainous stairs that is my only obstacle between this nervous excitement and the holiday bounty that I was about to receive. My brother and I are squirming so violently, it's amazing our pajamas stayed on. How long were they going to make us wait? Easter?
Looking back in retrospect, I really never wanted it to end. See, that's the kicker. We had tons of fun ripping into whatever kind of childhood wonder my parents managed to afford that year.  But in reality, it was the anticipation that we enjoyed. I'm sure it was a good Christmas haul that year; Luke Skywalker, Ben (Obi Wan) Kenobi, and a Landspeeder. Of course we played the heck out of them, but while Dad is napping on the couch and Mom is upstairs finishing breakfast, I began coming down from that "Holiday High".
To me, it's what comes before Christmas that makes the magic. Anticipation and hype. The nervous feeling you get that something great is coming fills me with happiness. When you're happy, you spread the joy. My brother and I would spend hours narrowing down exactly what we thought we could get in the Sears catalog. And I know that Mom would watch us laying on the floor debating if we'd rather have one Millennium Falcon, or a bunch of action figures, and she'd smile, knowing that she'd made us happy before we'd ever opened anything.
Fast forward to 2015. Star Wars – The Force Awakens was on it's way to theaters. Everyone was buzzing about it of course, and that joy spread everywhere! You couldn't go anywhere without seeing something with Star Wars plastered on it. For me it began with the announcement of the movie, but for my family the hype really started at Star Wars Celebration in Anaheim, California. They saw my excitement and started getting excited too. Then came Midnight Madness when the girls valiantly went out on a late night shopping spree with Daddy. We had so much fun that we took the next day off and went out looking for more!  
And then came the Christmas season. Well, it was really the Star Wars season. It really permeated everything the holiday was about. There were so many laughs and good times with the family that year. And sure enough, I caught my girls looking in a catalog for Star Wars gifts that they wanted. Sure, they'd grown out of toys but that didn't limit their options.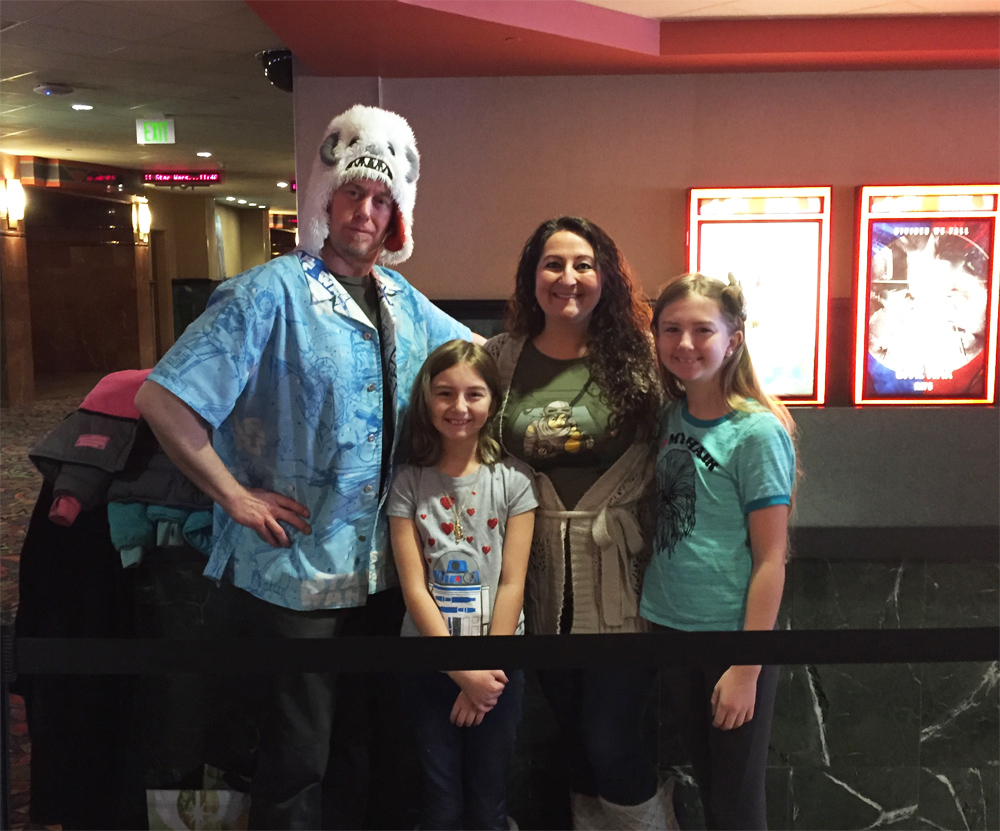 And soon came the big morning. The excitement was in the air! Not Christmas of course, but December 15. Release day. The whole family was squirming to head out, just like my brother and I were when we waited at the top of the stairs. Dressed head to toe in Star Wars gear, we brought games to play in line, paper to make Star Wars snowflakes, and a list of jokes to tell the other line members. That Christmas excitement was back, all due to the galaxy far, far away. And this time I was able to share it with my own kids.  We headed to the theater with only one stop planned. After all, Dad had to get his coffee first…