Star Wars and Christmas just go together. Always have. Is the 1980 holiday album Christmas in the Stars proof of this fact? No. But listen anyway!
Its' possible to have made it to 2017 and not heard of it. It's been slightly elusive, only whispered about in the dark alleys of fandom and second only in scorn to the controversial Star Wars Holiday Special. Yes, it's the Star Wars Christmas album; Christmas in the Stars.
Just What The Heck Is This?
Imagine just getting an idea, writing up a pitch and mailing it to George Lucas. Yes, George Lucas. Then imagine that George Lucas reads said letter and calls you up to discuss the details. That's pretty much exactly what happened.
Fresh off of the success of another intergalactic album, Star Wars and Other Galactic Funk, producer Meco Monardo wrote to George a treatment for what could possibly be a holiday album for the franchise. After a phone call with the Star Wars mastermind hashing out some do's and do not's for the album, the Lucas approved stamp was given and the project was underway.
Having received the blessing from "The Maker" himself, Meco was able to recruit some great talent to help the album from concept to realization. For starters Anthony Daniels reprises his role as C-3PO for both the spoken word and singing sections of Christmas in the Stars. And supplying the sound effects for R2-D2 and Chewbacca was legendary sound designer Ben Burtt.
Even the cover of the LP had Star Wars royalty written all over it as it was designed by Star Wars artist Ralph McQuarrie.
Plus Bon Jovi!
Yes, THE Bon Jovi credited here as Jon Bongiovi in one of his earliest recordings sings in "R2-D2 We Wish You a Merry Christmas".
Does It Hold Up?
That depends on your definition of "holds up".
Is it good. No, not really. Aside from a few songs that are enjoyable just for their semi-ridiculous novelty most of the album is a little too cheesy. But maybe that's not all bad. The appeal is that it captures the feeling of being a Star Wars fan in the late 70's and early 80's. It was everywhere and on everything in a way that was unheard of before 1977. Fans were clamoring for anything Star Wars. That sentiment is what sparked, during a heyday of holiday specials, the Star Wars Holiday Special in 1978.
So in 1980, the year of The Empire Strikes Back, what better way to capitalize on the film during the holiday season than a Star Wars Christmas album. And it was successful. After the initial first run RSO Records was intent on a second printing that was unfortunately not to be. Due to an unrelated lawsuit the record label folded and that was that.
But the rarity and novelty of it add to the cherishing of a piece of Star Wars nostalgia from its prime. So yes, it is still worth listening to.
Songs like "Bells, Bells, Bells" may not be the best but "What Do You Get a Wookiee For Christmas" is solid gold. "Sleigh Ride" is done in the vein of a very familiar holiday classic with some intergalactic lyrics thrown in for good measure. It even has a song, "The Meaning of Christmas" which tells the tale of Santa Claus' son who flies around the galaxy delivering gifts. It's insane.
A Holiday Tradition
The aisles of all the major retailers are filled not only with Holiday decorations and toys but with Star Wars decorations. Blow up lawn décor, Darth Vader and Yoda stockings and much more. The iconography of both just seem to go together. And now with the Disney owned Star Wars films coming out in December it drives it home even more. It's the perfect Christmas gift.
Christmas in the Stars fits perfectly between the Peanuts holiday album and all of the other great music that comes out of the woodwork this season.
It may not be Burl Ives but it's a Christmas/Star Wars/Retro hybrid that will put a smile on your face.
And for an even more, check out Skywalking Through Neverland's episode on Christmas in the Stars here on RetroZap!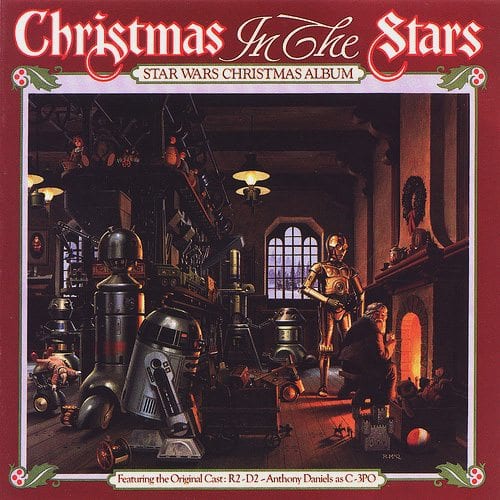 Mike Harris hails from the suburbs of Chicago and has been a fan for most of his life. Working as an industrial radiographer and raising a family with his wife take up most of his time, but there's always room for Star Wars books and podcasts! Just looking to give back to Star Wars and the fan community, it's been a source of fun and learning for him for so long.