Dan finally meets Funko, and has the breakdown of his Star Wars Celebration Funko booth visit and the all the Pop!
Hey there Funko fans! I am back this week and I happy to announce that I survived my first Star Wars Celebration! It was unlike anything I have ever done before and it was an absolute blast. I'm not going to sugar coat it all, it was a little touch-and-go for a bit with crazy lines and the shear number of people. The good thing is that great times far outnumber the times my feet hurt. Alright then, this week I thought I'd bring you all my Funko experience at Celebration and show off some photos of the Celebration exclusive Pop! The Star Wars Celebration Funko recap begins–let's get to it!
The Staff
Before I get into all the stuff about the booth and the Pop, I just wanted to say thank you to the marketing team from Funko. When I introduced myself to everyone, the looks on their faces was what I can only imagine being laughter and confusion. Seeing as how I was told they thought I was going to look "whispery," my appearance was quite the opposite that they imagined. Now, as I sit here I am wondering if they pictured me like Squints from The Sandlot. I got to meet Mark, Yoko, Cameron, Sully and Hillary. They all were incredibly nice, and it was awesome to meet them after our long love/hate Twitter relationship. I think Sully was the only one truly excited about the custom Funko pins I made for them, but at least there is hope that one out ten didn't end up in the trash can.
A huge revelation was that I now know Mark is the leader behind my suffering with the lack of Dengar Pop! He is the one that takes joy in my misfortune. For awhile I thought it was Cameron, but he looks to be off the hook right now. Time will tell. Oh and if you guys are reading this and are wondering who these people are, I have no clue why you are reading this then.
Mark, Dengar Dan, Cameron
I got to take a picture with Mark and Cameron and it pretty much sums up the past year plus of our Twitter interactions. Just the way it should have been. For the short time I was at the booth, they made me feel welcome and for a moment made me feel like we could all be friends outside of the interwebs and then Mark would ruin that feeling rather quickly. Funko appreciates and cares about their fans, and it was on display in full view at Celebration. Thanks guys.
No more nice things from me until I get my Dengar.
The Star Wars Celebration Funko Booth
This is the first convention that I had ever been to where Funko had a booth set up as well. The booth was set up right in the middle with the rest of the toy and collectible big dogs. Funko's booth was sleek and had nice neon green lights all around it and a huge Funko sign hanging over head. With neighbors like Hasbro, Lego, Kotobukiya, and Gentle Giant, it was prime real estate.
Every time I walked by or visited to booth, it was crowded. It was cool to see so many fellow collectors trying to get in on the action. One thing I did notice in my time by the booth was how many people had no clue about the lottery and the booth procedures. Felt bad a couple times when a few fans were realizing there would be no shopping on that particular day for them. That is a big part of the reason for wanting to do this guide is that I want to help new collectors. Be sure to follow Funko's official social media and read their blog, it has everything you need to know for conventions and more.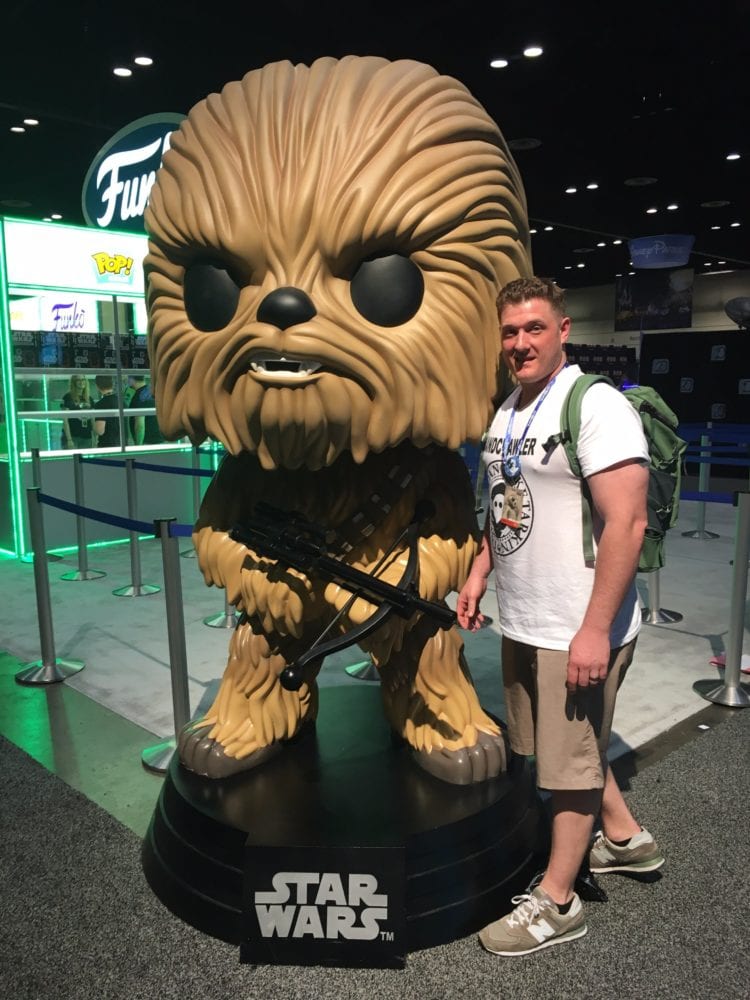 The queue line was very well organized and easy to understand. Which was the complete opposite of how the autograph and photo lines were run. Huge points to Funko for running a tight ship.
The Pop!
Holy schnikies did these things fly off the shelf. Some items were gonzo before the general admission time of 2 pm. The line at times was bananas. The staff did a great job of keeping the line moving and their system of taking the orders worked well. I didn't have a lottery ticket, but I still was very lucky and extremely thankful that I was able to have the opportunity to purchase them all. I only went with the Pop due to money and trying to figure out how to get everything back on the plane. It was a total of 8 normal sized Pop and the larger Rey with speeder. A lot to carry. I am sure I looked ridiculous walking around Celebration was the giant blue Funko bag all day. Totally worth it.
Alright, so below will be some pictures I took of the Pop when I got them home.Look for the actual guide post when I hit there respective numbers in about 20 years. These will be vintage by then. Until then, enjoy these pictures.
125 Princess Leia Hoth

126 Luke Skywalker Hood

127 Garindan Empire Spy

128 Qui Gon Jinn Glow in the Dark

133 Chopper Imperial Droid Disguise

169 Han Solo

170 Grand Admiral Thrawn

171 442nd Clone Trooper

174 Rey with Speeder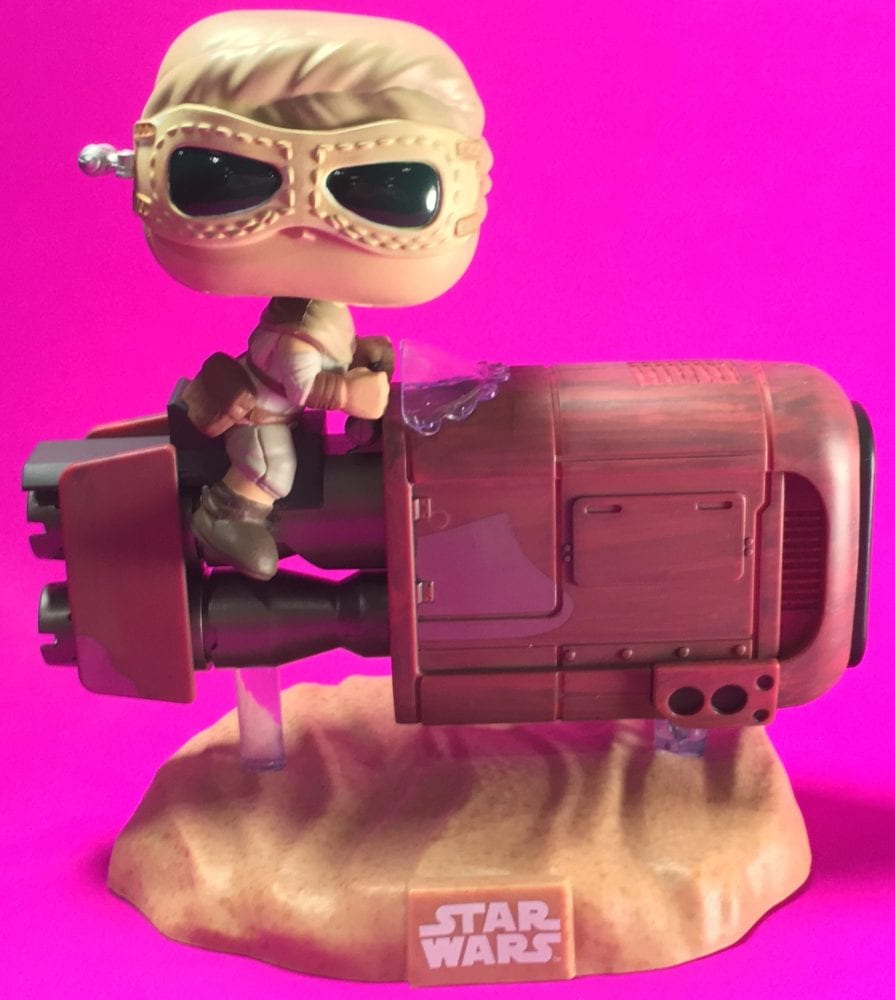 I had a blast at Celebration and a big part of that was Funko. Funko Pop got me back into collecting and it's the reason I am having so much fun do all of this now. If you have any questions or comments please find me on Twitter @DengarDan. I will be back with a normal guide next week and look for some new things to come. PSA: If you have not subscribed to Smuggler's Bounty yet, do so NOW. You do not want to miss the 40th Anniversary box, It is going to be awesome.
[embedyt] https://www.youtube.com/watch?v=TJhIWJgxHj8[/embedyt]
Until next time friends, happy hunting!